1.
Time to logically interact (a) Obama and Hillary using fake intel to get Silicon Valley (SV) to suppress their political enemies, and (b) the increasingly obvious divergence between the
#VeryFakeNews
media and
#RedPillReality
, because it leads to a critical idea:
#FakeFuture
2.
I would like to thank a variety of dead and imaginary teachers, from Pythagoras to Hugh Everett to Robert Langdon (*WINK*), for their persistent needling about this topic.
4.
One would almost think they were constructing an alternate reality. THAT, my friends, is a very good thought. ?RealRobertLangdon, who is not simply a
#FakeFuture
shill, like the !RobertLangdon we find on the grocery store book rack, approves of that idea.
5.
What did I just say? It's a pure Andrew Breitbart idea - the idea that culture is
#Upstream
of politics. Change the culture - change the politics - but most importantly CHANGE THE FUTURE. This has been working for everybody who wants to control the future for a long time.
6.
What's different NOW - thanks largely to POTUS and his supporters - is that we can SEE and FEEL a really big DIVERGENCE between where we ACTUALLY are, and where we were SUPPOSED TO THINK WE ARE. The latter timeline - or more accurately a worldline, is our
#FakeFuture
.
7.
Quibbling over who EXACTLY is trying to change the future is exactly what those who do so *deceptively* WANT you to do. Like all criminals, they have many ways to cover their tracks, keep you off their trail, etc. Let's just say "THEY" and "THEM" to get past THEIR tricks.
9.
The folks we are up against are really good at what they do. As an indication of how on-the-ball our opponents are in this WAR OF IDEAS, it's very instructive to watch your Twitter Promoted Tweets. This is one of the big ways they try to
#Upstream
you.
10.
Let me do a "Carnac" here. Sometimes your Twitter Promoted Tweets seem like Twitter is reading your mind, and it's a bit creepy, and you don't like that thought because it would seem kinda crazy, and besides, there's something REALLY INTERESTING that makes you wanna CLICK!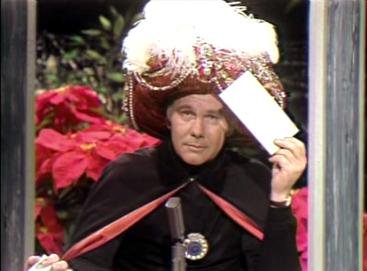 11.
In the past, I found much of the stuff they were using to
#SeedMyFeed
was just reactive cultural Marxism, trying to counter Trump's ideas, or tech tricks to get me sucked into BAD THINGS like Google Home or honeypot SV tech projects to both isolate and study me. AS IF!
12.
Past stuff was SMART, but not really CUNNING. But today - TODAY they fed me cunning stuff that actually MATCHED what I was thinking and dreaming about last night - which they simply could not know. Coincidence?
BOTH YES and NO. As I will explain.
13.
The basic stuff about the
#FakeFuture
and DIVERGENCE from it is roughly what I wanted to tweet about when I woke up. It depends on the idea of diverging worldlines and the fight for control of these. It's a key idea for seeing what the other side is up to. So looky here!
14.
It looks like a potentially interesting intel site (typical Twitter Promoted trick), but it's actually just a tease for a
#Hollywood
drama that sucks in all kinds of interesting reality and thinking from people who actually have a clue about what's going on. AND TWISTS IT.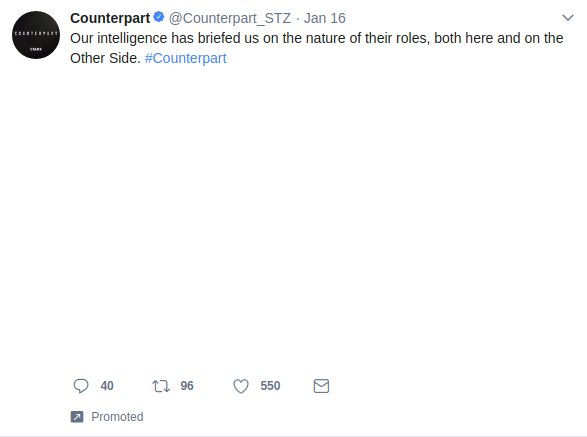 15.
Parallel universes - diverging worldlines - whatever - exactly the stuff you need to predict what the other side is up to. The stuff THEY use on US. And what are they doing? Trying to write the rules of our thinking. They ain't listening, folks. They're TALKING OVER US.
16.
Read the synopsis. Having cut the cable, I see it ALL differently now. The "lowly cog" stuff is how they seat you in their theater without chains on your legs. You're the hero! The good honest UN guy! This show is ALL ABOUT changing YOUR thinking.
en.wikipedia.org/wiki/Counterpa…
17.
What
#Hollywood
is producing is basically TIRE STRIPS FOR YOUR MIND. What the
#FakeNews
is producing is FAKE SIGNS pointing you to the WRONG EXIT RAMP. And
#FakeSocialMedia
is now BAD SIRI giving you WRONG DIRECTIONS. They want you on THEIR HIGHWAY to THEIR
#FakeFuture
.