Richman received 4 of the seven memos Comey took with him after he was fired as FBI Director by President Trump.

When you're fired, you're not allowed to take documents containing classified information with you as 'personal papers'.
How many memos did Richman say he got from Comey? FOUR.

So if there are 7 memos, and Richman receives 4 of them, then at least ONE memo he received had classified information in it.

And....hold on......

Interesting development.

Politico has changed it's story.
When I wrote my column about the Comey memos on July 13, 2017, Politico had a news article posted that related an interview that Richman had with Fox News.
I took screen grabs. Here they are:
Now here's how the story posted at
@Politico
reads today:
politico.com/story/2017/06/…
Note the DATE and the TIME under the byline has not changed. And there is no mention of this story being updated, retracted or amended.
The HEADER of the news article is exactly the same: Compare the screen shot I took back on July 17 with the one I just took a moment ago:
BUT the text body of the news article is much shorter and about 1/2 of it has been removed with no indication of that.
Here's a paragraph I screenshotted in July 2017 vs. how the entire article reads today:
Now, Fox News is still going to have this interview with Daniel Richman up somewhere.

But it's really interesting that Politico later felt a need to go back and dramatically change this news report without any indication it had removed entire paragraphs.
And it took me about 5 seconds on Google to find it. Here's the news report on Fox News where Richman gave them an interview:
foxnews.com/politics/2017/…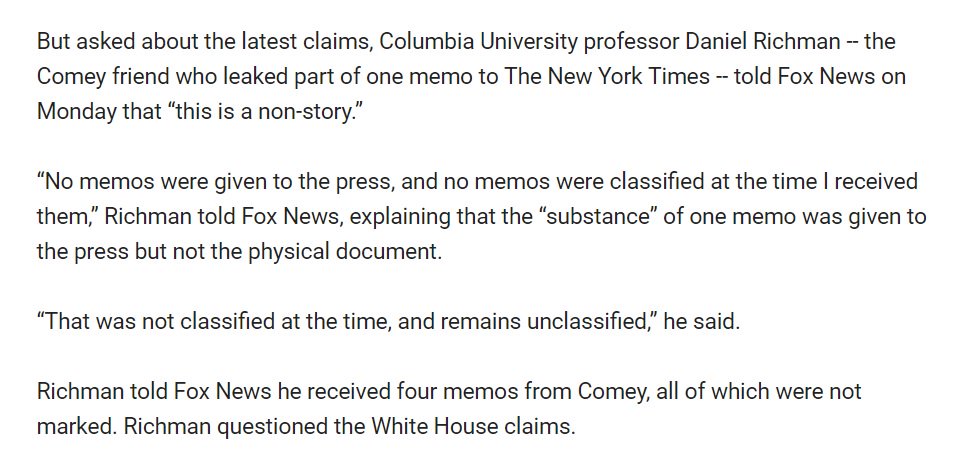 Note the argument Richman tries here: he's claiming since none of the 4 memos he got from Comey were *marked* classified at the time, none of the information in the memos was classified, so no laws were violated.

This is patently false.
Retroactive classification is extremely rare. A document containing classified information is classified at birth; from the moment of creation, whether anybody ever officially stamps or marks it classified or not.
For Comey at THIS late date to suddenly declare the same person he gave at least ONE classified document to, a person with no security clearance, is now his LAWYER is comically absurd.
It's already public information that Comey gave 4 memos to Richman. 4 of the memos had classified information in them. Richman was not authorized to have this information in his possession. This means a CRIME was committed.
Comey testified about this crime under oath.

Richman gave an interview to the news media.

Any attempt to avoid the classified information exposure issue is gonna be a hard sell in a court room.
Oh you want another interesting tidbit? Go back and read Comey's testimony before Congress last June 8th.

Look how incredibly evasive he was.
In over 2 hours of testimony in which he answered questions from Senators, Comey manages to never tell the Committee:
1)
how many memos there actually are.
You want to know how useless most members of Congress are as questioners?

Ponder this. In over 2 hours of testifying, no member of the Committee even managed to get Comey to say HOW MANY MEMOS DID HE ACTUALLY TAKE WITH HIM.
He mentions he had 'nine' conversations with Trump that he summarized in his memos, so the Senators assume there must be nine memos.
You can see this assumption in the questions he's asked:

Comey NEVER...AT ANY POINT... corrects this false impression there are nine memos.
In fact, it's not until over a month later it's revealed in this report by The Hill that the number of Comey memos is SEVEN, not nine, as several of the Senators were assuming.
Comey *also* manages to never tell the Committee
2)
how many of these memos that he took with him contained classified information.
I'm not joking. In over 2 hours of testimony he never tells them exactly how many memos he took OR how many had classified information in them.

The questioners never nail him down and he NEVER volunteers it.
Look at the word salad Comey throws at Heinrich here. Heinrich is INVITING Comey to tell the committee how many of the memos classified info in them.
Watch what Comey says:

"On a few of the occasions"....."the first one..."......"the one I started typing...."

The same one? A different one? So one was classified or two were?

You can't tell. THAT'S THE POINT.
Naturally, the subject of just how many documents with classified information that he took without authorization from his last job isn't an issue Comey wants to go into great detail about, so he doesn't.
In fact, according to The Hill's report, four of Comey's seven memos contained information that was classified at the 'Secret' & 'Confidential' levels.
And as far as I can see, none of the Senators on the Intel Committee ask Comey the obvious follow up question to the admission that some of these memos contained classified information:
"Wait, you thought it'd be OK to take classified documents with you after you were fired?"

"So how many had classified info in them? Be specific...."
Comey is a long time federal prosecutor. He's been in government service for awhile. He knows quite well what happens to people to take documents with classified information without authorization.
He not only gets the same training in spotting, handling, recognizing, protecting classified info that all other top Federal branch executives get, he ran a bureau charged with PROSECUTING people who exposed classified information.
OK one more for you from Comey's June 8th testimony.

Did the Senate Intelligence Committee *at least* get Comey to tell them how many memos he gave to Daniel Richman?

They did not.
Ponder, if you will, how pathetic this is.

Comey's been called into testify before the Senate Intel Committee because he gave memos to a professor friend to leak to the New York Times for him so he could be called in to testify & dramatically demand the appointment of a SC.