On
#HolocaustMemorialDay
remember the 11 million people killed by the Nazis in camps due to hatred and bigotry. 6 million Jews were murdered as well as 5 million disabled people, political dissidents, and LGBT people. Let's also remember how this bigotry started & the US role
/1
The US ignored many warning signs of anti-Semitism and Fascism in Germany and refused help to Jewish refugees. Many in the US, Europe, and even Germany justified Hitler's rise w/ economic worries and ignored the anti-Semitism and fascism
#HolocaustMemorialDay
/2
Hitler and the Nazi party capitalized on anti-Semitism as a scapegoat for the interwar economic depression. Their answer was extreme nationalism and bigotry, and fascism
#HolocaustMemorialDay
/3
Some early signs of fascism include a disdain for human rights, rampant sexism, intertwining government and religion, an obsession with national security, rampant corruption, and fraudulent elections. Does any of this sound familiar?
#HolocaustMemorialDay
/4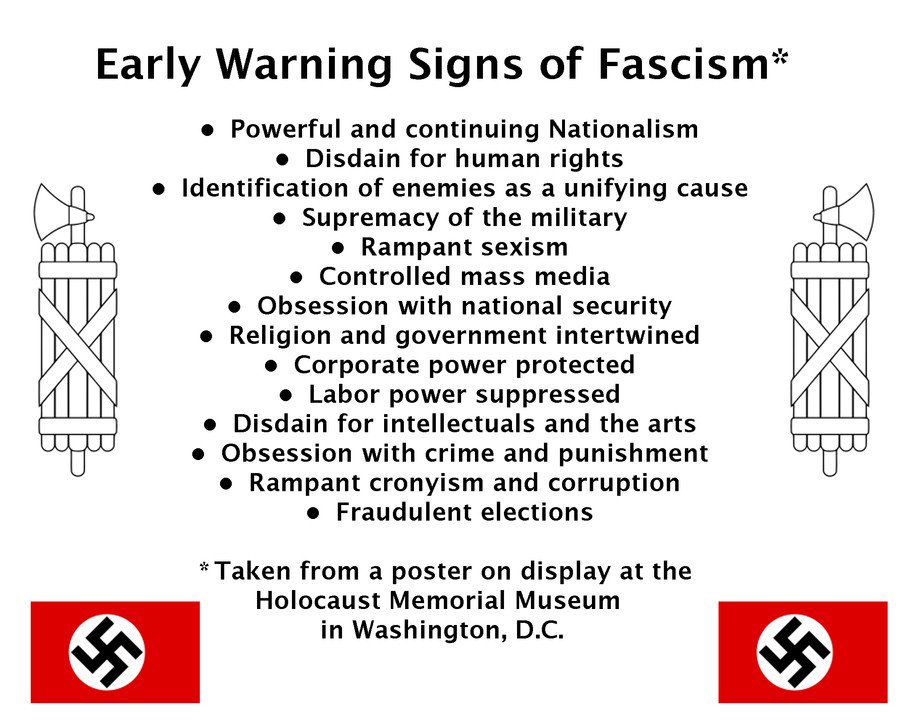 Hitler and the Nazi party didn't win the election of 1932. He captured 36.8% of the votes on the 2nd ballot. As a compromise Hitler was offered the chancellor position by President Hindenburg which included cabinet positions for Nazi members
#HolocaustMemorialDay
/5
While many found the rhetoric of the Nazi party & Hitler to be bigoted % problematic, press around the world including the US excused Hitler's anti-Semitism & twisted themselves into pretzels to humanize him & excuse his behavior
#HolocaustMemorialDay
/6
thedailybeast.com/the-american-p…
In the 82 press conferences FDR held in 1933, the subject of the Nazi persecution of the Jews arose just once. It would be five years, and an additional 348 presidential press conferences, before anything about Europe's Jews would be mentioned again by the president
/7
In 1939, 935 people, almost all German Jews, set sail from Hamburg, Germany on a ship called the St. Louis. The ship was headed to Havana & Miami but negotiations for the passengers broke down & the ship was sent back. 254 of the passengers on the St. Louis died in the Holocaust.
In Feb of 1939, Sen. Robert Wagner (D-NY) & Rep. Edith Rogers (R-MA) introduced a bill that would allow 20,000 German Jewish children to come to the US, over and above the annual quota for German immigrants.
#HolocaustMemorialDay
/9
vox.com/policy-and-pol…
The bill's opponents took an "America-first" approach to rejecting refugees: The wife of the US' immigration commissioner testified that "20,000 charming children would all too soon grow into 20,000 ugly adults." Because she assumed Jews would be ugly.
#HolocaustMemorialDay
/10
In the summer of 1942, the SS Drottningholm set sail carrying hundreds of desperate Jewish refugees, en route to New York City from Sweden. One was Herbert Karl Friedrich Bahr, who claimed he wanted asylum from Nazi violence. /11
smithsonianmag.com/history/us-gov…
The FBI accused Bahr of being a Nazi spy. They said the Gestapo had given him $7,000 to steal American industrial secrets & that he'd posed as a refugee in order to sneak into the country unnoticed. His case was rushed to trial, and the prosecution called for the death penalty/12
His story was used as an excuse to deny visas to thousands of Jews fleeing the the Nazi regime. Gov officials & Pres Roosevelt himself argued that refugees posed a serious threat to national security. Immigration restrictions tightened as the refugee crisis worsened.
/13
Pres Roosevelt repeated an unproven claim that Jewish refugees were coerced to spy for the Nazis. "... in some of the other countries that refugees out of Germany have gone to, especially Jewish refugees, they found a number of definitely proven spies."
/14
Remember the horrors of the Holocaust so that it never happens again. We can't close our eyes to the aspects of history repeating itself. Remember that nice people made the best nazis and national security was always used as an excuse to deny refugees
#HolocaustRemembrance