The stuff I do for research. I'm reading a Nazi fanboy forum to find information on Nazi fat hate.
Seems the Nazis had a prodigious streak of healthism linked to their othering of Jewish people and classifying their bodies as fat.
This should be unsurprising given all the Nazis did to disabled people as well.
There's definitely shades of the speech to the Hitler Youth in Kennedy's piece that predated the Presidential Fitness Test, ideas about the right body for citizenship baked into the idea of an "Aryan ideal."
But I'm legit having trouble finding a whole translation of the speech. :/
Media history can show us how the Nazis used fat hate for their nationalism, particularly in the othering of Jewish people. Posters that depict Jewish people as both fat and dark skinned abound.
The Nazis also were deeply racist against other people than Jewish people, including black people, Roma people, queer and trans people and disabled people.
Touching on their hate of black people, that might be where some of their use of fat hate in their propaganda arises from. Using fatness as a shorthand for "atavistic" traits from "uncivilized" people makes sense for the time.
You can read more about that construction of fat as ethnic in Fat Shame by Amy Erdman Farrell if you want, and I suggest you do.
Anyway, I'm looking for a Nazi speech for research, that's how my day is going, if you'd like to contribute to a joint for self care afterwards, god knows I'd appreciate it.
I really can't get over how... familiar all this body shaming and health shaming is, how familiar the demands for a fit national body are. It's honestly scary.
So in 1935, addressing the Hitler Youth, Hitler says they need a new German who was "more disciplined, fit and trim." Yeesh.
Think about how familiar that is. Messages to militarized youth about how the national body and by extension their bodies should be "disciplined, fit and trim." Consider how that can be used for nationalism.
It's important to remember that in 39, Hitler made German youth membership of the Hitler Youth compulsory, and it remained compulsory until disbanded by Allies in 45.
Hitler had been more interested in the physical discipline of youth, often dressed as militarism, since he had written Mein Kampf though.
Children as young as ten were drafted into these Hitler Youth groups. Now, given what we've read about cultural panopticons, how is this healthism also used as a measure of control over the young?
We can see how this fat hate was used to other Jewish people, disabled people, Roma people, queer people, trans people, but it was also a tool for controlling the general populace.
Let's go over Chamberlain's discussions of American nationalism and fat hate in a minute. Let me grab a glass of water and get some notes together. Still doing research, but glad you're all with me through it, this is a dark, scary topic.
I'm just going to do the notes, like I do, and talk about Nazis and fat hate, but if you're interested in the topic and me not getting a $35 overdraft fee, your tips are always greatly appreciated.
paypal.me/kivabay
cash.me/$kivabay
Oh my god if I'm going to find this stupid speech I may need to buy a horrible nazi book, please kill me
On the one hand, ew. On the other hand, this may be an area of scholarship that could use some research. ugh ugh ugh ugh ugh the things i do for anarchist academia maybe i can pirate this stupid nazi book
So basically I guess I'm going to see what I can do to get my hands on a bunch of Nazi speeches to the Hitler Youth, read them, and actually break down how they use fat hate for nationalism and panopticism.
Let's talk about American nationalism and fat hate for a bit
"Not only is obesity a sickness, it reflects on one's citizenship. The right kinds of food in the right portions are key to sound national identities.
"To promote better health, Americanization programs taught Mexican American mothers to substitute white bread for tortillas, green lettuce for frijoles, and boiled meat for fried meat.
"But they also warned immigrants to choose "white" foods ... Mainstream foods were less threatening as well as supposedly less fattening." (Bodies Out of Bounds p
101)
"Fat, according to the President's Council on Physical Fitness at the time, was distinctly un-American. And fat minorities were seen as a particularly cruel affront to a picture-perfect nation."
(93)
Here Chamberlain is describing the backdrop of Oscar Zeta Acosta's autobiography, the 50s, 60s, and 70s. Acosta was the friend of Hunter S. Thompson who Dr. Gonzo is based on, for reference.
We can observe the way fat hate, nationalism, and racism work together by reading about his childhood and the Americanization programs his mother and other Mexican American mothers were subjected to.

There is a second reason beyond dehumanization for these programs. Panopticism.
I think LeBesco really hits the nail on the head when she says in Revolting Bodies that only Others internalize things.
The constant awareness of the cultural Eye of Sauron forces anyone who does not fit the proscribed national body (white male abled cis fit etc) to exist on their surfaces and internalize white cishet patriarchal expectations of those surfaces, policed thru threat of harm.
Our sense of "I" is constantly challenged by an outside gaze
Hang on I'm getting off topic, let me read about these Nazis some more and we'll bring it all together
So Hitler, addressing the Hitler Youth, told them "a young German must be as swift as a greyhound, as tough as leather, and as hard as Krupp's steel."
Weird sentence, right? He'd actually come up with it 10 years earlier in Mein Kampf. To Hitler, the Aryan nation in his deranged fantasies was one also with no fat people in it.
This may explain why membership in the Hitler Youth was mandatory and started as young as 10, to indoctrinate and also to maintain state control over the future of the national body.
Indeed, concern over the the health and militarism of the national body seemed baked into the program. Children were taught to shoot, but also did fitness programs, and even handed out anti-smoking literature.
Now, considering that Jewish people were regularly depicted as fat, this shouldn't come as a surprise. Propaganda wanted to show the Jewish body as degenerate, the Nazi body as pure.
"As one young woman told US
interrogators after World War II, she had long thought, even prior to her school classes in race theory, that Jews were simply disgusting.
"'They are so fat, they all have flat feet and they can never look you straight in the eye. I could not
explain my dislike for them.' She then readily admitted that such views had been inherited in childhood from her father." (
yadvashem.org/odot_pdf/Micro…
)
Here we can see that a young Nazi, even before reaching the "race theory" indoctrination classes, had already absorbed the idea of fat hate as it relates to the Jewish body.
What the hell kind of rabbit hole have a fallen down. More to come.
Though I've read about her before, she keeps coming up in my research, being a German-born Jewish psychoanalyst who fled Nazism and did some of the early work on fatness that opposed the "race theory" teachings of the Nazis, but should I tell you all about Hilde Bruch?
Not all of Bruch's work is without its, er, problems, and she pathologized fatness to a high degree, describing it as a degenerative condition that pointed to a smothering mother in childhood, a predilection for homosexuality or effeminacy, or both, but... she's still important.
A complicated figure, we must consider what Bruch was working against at the same time. Fatness as a whole had become something ascribed to races and ethnicities that were highly othered in the West, notably black and brown people, Irish people, Jewish people, and Italians.
It wasn't just Nazis that liked to tie fatness to supposed ethnographic characterisitics. We've discussed the idea of "atavism" before and the idea of "civilized" vs "uncivilized/savage" cultures, and how that was used to denote boundaries of whiteness.
This was all over the western world, it should be noted. The idea that "lesser" races were more prone to fatness was a commonly held belief. The fatness was supposedly a sign of "atavism" that one could read on their body.
Now before you say that trying to read character traits on one's body is ridiculous, let me ask you a question:

How often do people try to read Trump's character traits off his body? Compare that to how often they try to read Pence's character traits off his body.
The Nazis loved this shit, by the way, the idea that one could read degeneracy on the body, and that this degeneracy was linked to race? Nazis LOVE this shit.
So it's important to remember that's what Bruch was trying to escape, a world where her people were seen as fat because they're Jewish. She escaped Nazi Germany, but the same ideas about Jewish people being fatter than "white" people were here in America, too.
With that said, let me grab a textbook and read to y'all a little bit, I'll do Farrell's Fat Shame.
"[T]he idea that Jews and other "racial groups" (meaning nonwhites) had a biological propensity to obesity remained powerful throughout the first decades of the 20th century.
"One of the most famous weight researchers to challenge this racial link to obesity was Hilde Bruch, a Jewish psychologist who came to the United States in the 1930s after fleeing persecution in Germany.
"Although she is best known for her later work on anorexia, Bruch began her U.S. career studying obesity.
"At the time, much medical attention focused on the supposed pituitary abnormalities of fat children, specifically a condition called Froehlich's syndrome, in which boys exhibited a lack of genital development, an effeminate appearance, and obesity.
"Bruch's first study focused on hundreds of children in New York, mostly Jewish and Italian, whose bodies she examined in detail at her Columbia University clinic.
"She also spoke at length with their mothers, and often conducted home visits, observing children playing, eating, and interacting with other family members.
"Noting their normal height and genital development, Bruch concluded that none of the children demonstrated any "glandular" problem. ...
"Resisting the racist, eugenic theories that fueled the rise of Hitler in her home country, Bruch argued that there was nothing physically inferior about her largely Jewish and Italian patients that led them to be fat." (Fat Shame, Amy Erdman Farrell, p
78)
However, Farrell will also tell us some of Bruch's failings in this, how she did not entirely discard the theory connecting civilization and fatness.
"Instead, she transposed the theory of ethnic physical inferiority onto the children's immigrant culture. ... The children are fat, she argued, because they ate too much and exercised too little, the result of smothering behavior of their strong-willed immigrant mothers.
"These mothers simultaneously resented and clung to their children, trying to make up for both their conflicting emotions and poor living conditions by providing excessive food and physical comfort.
"Bruch described the fathers of these fat children as weak willed, often absent, and "yearning" for the love that their wives devoted to the children."
(78)
Farrell points out that Bruch still located fatness as linked to an immigrant culture status, though she did important work delinking it from race itself, and worked hard to resist and oppose the eugenic teachings of Hitler and the Nazis.
In the end, I think we find a complicated figure in Hilde Bruch, one whose work remains imperfect and important.
But as we're researching the Nazis and fat hate, her name is going to come up a lot because, bless her though her conclusions were problematic, she stood up to the Nazi construction of fat as an atavistic throwback linked to race.
For that reason alone, she's a very important figure to learn about when discussing the history of fat hate.
I'm trying to figure out where we go next with this. We've discussed cosmetic panopticons, we've discussed Bruch...
Oh no. I just found a very ugly book that may be VERY helpful to this research and I'm pinned with horror at the thought of adding it to my wishlist.
I don't want to request it at the library because I simply DO NOT WANT IT IN THE LIBRARY for people to come across. I want it in my library so I can tear it apart. Like my skin is crawling from this description.
This honestly terrifies me but I think this may be something I need to complete this research. God help me.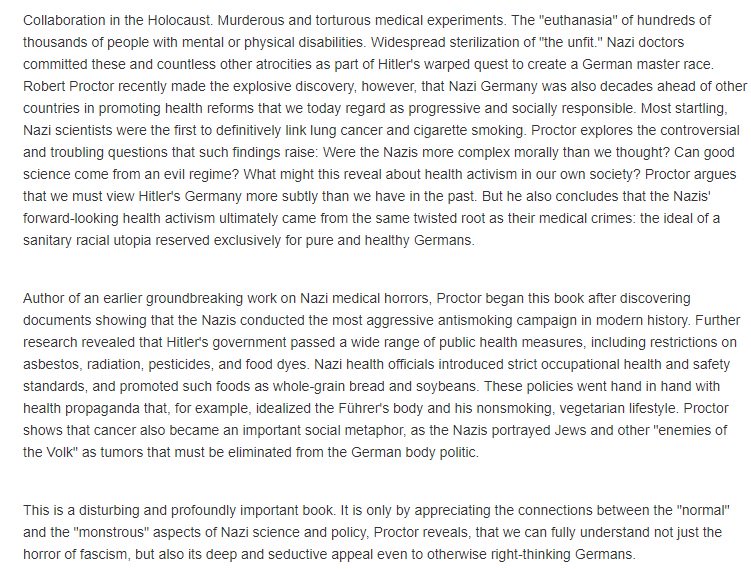 Fuck it. I'm putting it on the wishlist. *shudder*
Alright. If you're interested in donating to the cause of me learning about nazis and fat hate, I put the honestly scary book on my wishlist. Used, please. Thank you. <3
a.co/7TzvixQ
This book is purchased. I'll be tearing into it when it arrives. I'm scared, but also hopeful. This is a subject of study that we MUST confront, I feel. It is so familiar in our own country and given the rise of neo-nazis and fascism, we must learn about it.
It's my hope that by understanding how fat hate and healthism contributed to the rise of the Nazis in Germany, we can combat the rise of Nazis here in the United States against a similar backdrop.
We'll be using Farrell's theory on the construction of fat and race extensively during this, I can tell already, and I fear that what we will be reading about will be truly horrific.
I am reminded of a teacher I had in highschool who told us that it was his job if he took us into dark places with the literature we read to bring us back out of those dark places. I feel that responsibility now. We will be travelling into a dark place, a dark subject.
I promise I will endeavor to bring us back out to the other side.
Obviously, if any fat Jewish people would like to join in this and help me teach this subject, I would prioritize your voice in this. However, I understand if the subject is simply too triggering and I am... well, not HAPPY but willing and able to break down the material for us.
"One factor contributing to contemporary concerns about obesity is assuredly fears around national security: specifically, fears of attack or infiltration as well as vulnerability to those things." (Shugart, Heavy, p
7)
"A case can be made then that obesity gained purchase and visibility as a critical issue in the mainstream at least in part because of the affective symmetry of concerns regarding control, discipline, monitoring, and strength relevant to both actual bodies and the national body."
Been mulling over the Shugart quote.