Yo my dudes I'm procrastinating on revising my book and my looming deadline so I'm gonna thread again and tell y'all about the invention of kabuki theater because it is
#WILD
Let me tell you the story of a woman
and her incredible pants
The place: JAPAN, OBVIOUSLY
The time: THE DAWN OF THE 1600S. The Portuguese had arrived sixty years before, in 1543, and promptly looked around and went "oh my gOD the
#AESTHETIC
" which blah blah blah eventually led to an outbreak of weeaboos in 18th century Europe BUT IRRELEVANT
Because right as the Portuguese were gawking like unwashed tourists, the Japanese were eyeing them up right back and ALSO going "Oh my god the
#aesthetic
tho"
and then it was about ECONOMICS 😍 and TRADE EMPIRES 😍😍
Just for funsies, here's a list of loanwords of Portuguese origin in the Japanese language:
en.wikipedia.org/wiki/Glossary_…
I will draw your particular attention to "tempura"
So while the Japanese were wholesale gorging on Portuguese
#aesthetics
(bread, fried food, guns for their civil war) there was also deffo a bunch of (I GUARANTEE YOU) teenagers who went LOOK AT THOSE *PANTS*
teenagers fucking love pants, it's universal across cultures and history
This is a Japanese painting of some Portuguese merchants. Look at those pants tho???? look how lovingly rendered those pants are??????????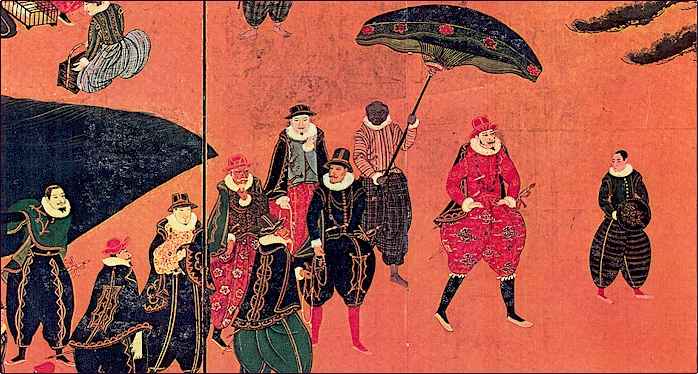 All of this is really just flavor text to warm you up so that you aren't blasted right out of your chair when I name the badass
IZUMO NO OKUNI
Cha girl Okuni was a temple maiden and a bit of a irreverent tart, bless her, and regularly said and did things like
"what if i do this temple dance but mAKE IT SEXY"
"what if i also TELL SOME JOKES"
"what if i also just fuck off and start my own troupe of street performers"
Which is indeed what she did, gathering up all the other local young women who were at loose ends and had no life prospects other than prostitution or poverty because hahahahah PATRIARCHY

Her troupe was, needless to say, a rAGING SUCCESS
I want you to picture her as she has been described, swaggering around Kyoto while wearing GIANT PORTUGUESE MAN-PANTALOONS with an ENORMOUS FUCKOFF GOLD CRUCIFIX hanging from a chain around her neck, like a woman without a fuck in the world
it was, as the kids say, a
#look
.
Literally that's the only reason I told you about the Portuguese, so you would have the cultural context for Izumo no Okuni's hammerpants

ONWARDS
Okuni's troupe (all women, remember!) was a MAGNIFICENT SPECTACLE. They sang! They danced! They danced again but sexy! They told dirty jokes! They did skits! They did amazing feats of acrobatics!

They were invited to perform in front of the Imperial Court!
They were so popular that people RIOTED IN THE STREETS
Also... they were all women. And they cross-dressed. And they were bawdy and lewd.
And so all the wet-blankets in the city went "Oh thank goodness for the riots, now we have an excuse to SHUT THEM DOWN, THIS IS AN OUTRAGE"
So they made it illegal to perform on the streets and in dry riverbeds, dusted off their hands, congratulated each other on a job well done, and turned their attentions elsewhere
Except that the troupes were made up of prostitutes -- businesswomen, in other words. Independent sorts. Not real inclined towards meek defeat.

"Okay, no probs," they said. "We can work with that," they said, and simply moved indoors, into the brothels and teahouses.
By this point, Okuni had retired, but kabuki was WILDLY popular with all classes of society and was growing in popularity by the day. Performances would go literally all day long.
Kabuki had also become more dramatic and structured, rather than the loose collection of spectacles that it had been -- more stories, more skits, some full plays, though it always kept to usually bawdy theme with a lot of low humor, and it kept its physicality
But see what I said there? "Popular with all classes of society". The upper class was Unsettled by this. They were unsettled and alarmed by the idea of everybody all mixing together under one roof. It was equalizing and therefore, it was... threatening.
"We must outlaw this travesty," they said. "Because of MORALITY," they said, pointing to the prostitute-actresses in their teahouses-that-were-also-brothels.

So they banned women from performing on stage. OBVIOUSLY. Dusted off their hands, turned their attentions elsewhere.
But the troupe owners spotted the same loophole that the actors in Shakespearean England spotted when confronted with the same problem, to wit: "Aha, but they never said we couldn't put a pretty boy in a dress to play a girl"
This did fuck-all to injure the popularity of kabuki theater & in fact might have made it Even Worse. Everybody went, including NUNS, fangirled for their favorite actors and fainted and had to be carried out.
By that point, this was what the theaters looked like: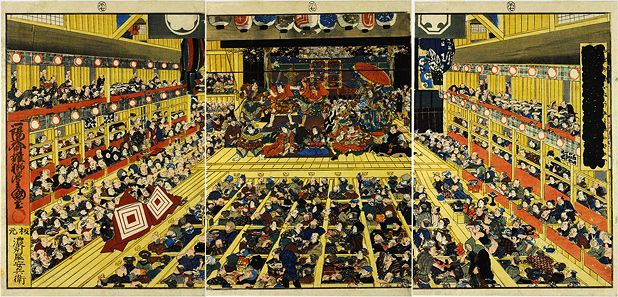 HUGE. Elaborate sets, loads and loads of space to pack people in like sardines. Attached to every theater was a teahouse, or several teahouses, where you could buy SOUVENIRS.

MERCHANDISE.
Yes, Japan invented merchandizing 400 years before anyone else.

You could buy things that your favorite actor had touched! Bottles of water that your fave had bathed in! A handkerchief that your fave had used on stage!

Hell, you could even buy your fave! bc still prostitution.
I cannot adequately emphasize the extent of the MANIA. This was POP CULTURE. This was entertainment for the masses in a way that even the troupes of Shakespeare's time, performing a DIFFERENT PLAY *every day of the week*, could have only aspired to
More riots, natch, bc by this point the upper classes were in the grip of kabuki mania too, and... Tickets cost money. And the upper classes mostly didn't HAVE money.
Who had money?
The people who always have money. My faves in any society.
That's right.
Fuckin' merchants
The price of a ticket to ONE kabuki performance (and that didn't include merchandise or a souvenir fuck) was about the price of a bushel of rice, which was about a year's wages for a farmer.

Upper-class guy wants to go to kabuki? Has to, GULP, borrow money

From a merchant.
With interest.

bc merchants
So you can guess what happens -- merchants have lent money, eventually say "So are you gonna pay that back?"
Borrower says "No, because I have a sword"
merchant says, "um i can hire people with big sticks, fuck ur sword, asshole"

GUESS WHAT? RIOTS
Nobody did anything about the riots this time because all the wet-blankets were going to the kabuki teahouses, and therefore probably getting laid more
Enter our next hero, an actor specializing in female roles, ICHIKAWA DANJURO VII
("VII" aka "The Seventh" is because every actor trained an apprentice who then took on his stage name; idk how the tradition has evolved in the last 400 years, but the most recent Ichikawa Danjuro, Ichikawa Danjuro XII, died in 2013. His son currently uses "Ichikawa Ebizo XI")
Anyway our dude, Ichikawa Danjuro VII, and no I will not be shortening his glorious name for twitter character limit convenience, was GRUMPY
He was grumpy because he was an Artist. He could wiggle his hips and flirt with the audience with the best of them. He was grumpy and he was BORED, and he thought that kabuki could be doing... MORE. Telling better stories, SAYING something, making art.
instead of this endless progression of humorous lewd stories. He wanted to do something NEW, something DIFFERENT. Something that would make people take kabuki SERIOUSLY
and not in the creepy "I'm going to buy a bottle of water that my fave bathed in" kind of way. Not in the "I'm going to jump on stage and chop my finger off in front of my fave to prove my love" way, which absolutely happened
so Ichikawa Danjuro VII wonders what he can do. What is there around that is a Serious Art Form?

he thinks of Noh theater. He goes, "Mmm yes." and then he goes "That's gonna be tricky."
See, kabuki was popular because ANYONE who could afford it could attend.

Noh, on the other hand, was strictly reserved for the aristocracy. Ichikawa Danjuro VII had never seen one, wasn't even allowed to get his hands on a script, wasn't even allowed to see the costumes.
So he went to his friend, a costumer for the Noh plays, and Made A Nuisance Of Himself for *actual months* until the costumer finally caved, gave him a script, and let him glimpse exactly one -- ONE -- costume, that of a beggar character
Of course, since this is Noh, even the beggar's costume was hideously elaborate and gorgeous, & Ichikawa Danjuro VII traipsed off content.

What's the motherfucker do? Only adapts the Noh play to kabuki and bullies all his actor friends into learning it even though it's "boring"
He stages it. Everyone goes "this is not the outlandishly lewd hilarious performance we came to see" and it probably would have gone down in flames as a piece of Pretentious Art...

except that there were aristocrats in the audience

And they recognized the story.
Ichikawa Danjuro VII promptly gets exiled from Edo, says "I DIDN'T GIVE A FUCK ANYWAY", puts his nose in the air, and traipses down to Kyoto where everyone is louche and pretentious anyway, and has a FABULOUS time
SCANDAL. Suddenly his Prententious Art is cool and hip and radical instead of "boring" in comparison to the old style of kabuki
Ichikawa Danjuro VII is eventually invited back to Edo in splendor and magnificence.

And it all started because of a woman with incredible pants doing a sexy dance in a dry riverbed.

THE END :D
Hi I'm Alex and I have a book, A CONSPIRACY OF TRUTHS, coming out this fall and I'm also starting a podcast this Wednesday! Check out
@serpentcast
for more info :D