199 subscribers
(1)
In the 30+ years that I have been studying Islamic National Socialism and their campaign against the West as a means of gaining power in the ME, I have had few periods of good news.
(2)
The apathy and outright incompetence in the response of West was perhaps the most frustrating aspect. Only every Blue Moon did I see any any measure that lived up to the threat.
(3)
Lo and behold!
It took a Blue Moon and an exceptional President to give me one such moment yesterday.
That's what lead to this tweet.
(4)
When I wrote Gander, as the fallacies of the Obama administration were in full bloom, the effect of decades of incompetence were evident.
(5)
After a brief interlude during the Bush administration, when the enormity of 9/11 forced people to see those who use terrorism as a weapon for what they were, a relentless campaign by the Democrats, especially after 2006...
(6)
...forced our government to relinquish those gains and return to the failed policy of treating prisoners of war as if they were common criminals.
This is what I wrote then:
(7)
"It is in this sense that I fear the terrorists are winning. Rather than confront the problem at its source, we are bombarded with false security, alienation and the slow destruction of our open society.
(8)
Sadly, the policies of the Obama administration in the Middle East have provided Jihadists with territory control and training camps in Libya, Sudan, Syria, Iraq, Yemen, and a dozen other countries, where they are preparing the next wave of commandoes.
(9)
These resources will inevitably dry-up, but the thousands upon thousands of trainees will then spread like a cancer through the world and force renewed retrenchment and loss of Liberty for the rest of us...
(10)
...while our own Social Democrats, perennial architects of failure, will continue to speak of their crimes as if they were no more than petty larceny, and react accordingly.
(11)
There might be a reason for their apparent blindness: while not all Social Democrats are necessarily Fascists, all Fascists are by definition Social Democrats first. And our garden variety "Progressives," schooled in the Fascism of Henry A. Wallace, Vito Marcantonio and
(12)
Elliott Roosevelt, might find it difficult to recognize an enemy that sounds just like they do and make the same demands that are dear to their own hearts.
(13)
After all, what could possibly be wrong with fighting against colonialism and imperialism and for social justice and the improvement of the downtrodden and forgotten masses?
(14)
What can possibly be wrong with the idea that the state has a role regimenting trade, business and industry? How can they be wrong who are willing to sacrifice their lives for such a noble cause?
(16)
This willful blindness led to the release of HUNDREDS of Jihadists, most of whom, like abu Bakr al-Baghdadi or Abu Musab al-Suri or Mohammed al-Zawahiri went back not just to fight, but to lead the fight and cause untold suffering and death in their wake.
(18)
The gains made at the cost of considerable treasure but, most importantly, the blood of our finest, was being wasted by those who were callous enough to use our security as a political prop,
(19)
stutid enough not to see the difference between a prisoner of war and a chicken thief, depraved enough to sympathize with the murderers of innocents, or all of the above.
(20)
Yesterday's EO put things back in their rightful place. Jihadists are not common criminals to be Mirandized and hauled to your local court. They are ENEMY COMBATANTS to be held at a duly appointed prison camp for such FOR THE DURATION OF THE CONFLICT.
whitehouse.gov/presidential-a…
(21)
Those captured in the "Field of Fight" are entitled to received treatment as laid out in the Geneva Conventions, not in criminal courts. I suggest you familiarize yourselves with them. Especially, in this case, the 3rd Convention, as amended in 1949:
ihl-databases.icrc.org/applic/ihl/ihl…
(22)
Note that "irregular combatants" MUST meet certain requirements to be considered prisoners of war (Art. IV), especially: "be commanded by a person responsible for his subordinates; to have a fixed distinctive emblem recognizable at a distance; to carry arms openly;
(23)
and to conduct their operations in accordance with the laws and customs of war."
Good luck with that one!
So much for those who conform to Article IV to be considered "prisoners of War."
(24)
But what happens when they do not? i.e. a combatant dressed as a civilian carrying murderous acts among the civilian population?
THOSE ARE EXPLICITELY NOT ENTITLED TO ANY OF THE PROTECTIONS OF THE GENEVA CONVENTION.
(25)
Therefore, those of the enemy so captured are not just irregular but "unlawful combatants" and, according to the Geneva Convention, they have no claim to any of its protections.
(26)
Unlike prisoners of war, these can then be tried for the crimes they committed at the discretion of the holding power.
Let that sink in.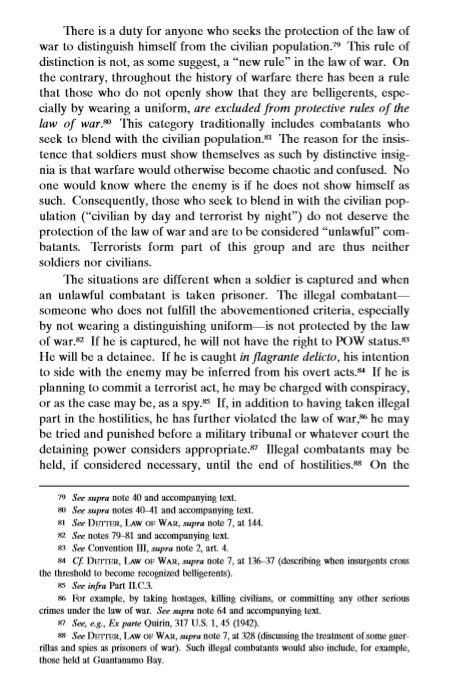 (27)
Guantanamo, and any other facility existing or to be built to hold this vermin until the cessation of hostilities or such time as they are tried and executed as the Geneva Convention clearly permits, is not only legal and humane, it is the ONLY reasonable option.
(28)
President Trump's clear designation finally restores sanity to the treatment of this problem and gives me renewed hope that the War on Islamic National Socialism has entered its final phase, and victory is, again, possible.
And that is why it is so important.
FINIS





199 subscribers
This content can be removed from Twitter at anytime, get a PDF archive by mail!
This is a Premium feature, you will be asked to pay $30.00/year for a one year Premium membership with unlimited archiving.
Don't miss anything from @Debradelai,

subscribe and get alerts when a new unroll is available!