What makes a future?
The concept of a shared "vision of tomorrow" - one adopted by an entire popular culture - is a miraculous testament to the power of design, and one of design's greatest humanistic achievements.
Let's talk about EPCOT, design, futures, and why we need them.
Before we begin:
my obsession with futures has been a huge motivator for my work on CROSSNIQ+, a 90's flavored arcade puzzle game now on Kickstarter. It's inspired by "y2k" design, an aesthetic worthy of its own thread. Any support would be appreciated
kickstarter.com/projects/11131…
Now, let's begin.
Let me be clear: this is not an EPCOT history or nostalgia thread, though parts of it will be historical.
By now, the story of Walt Disney's original vision of EPCOT, the park's attractions, and its decline are the stuff of legend. I'm not going to retread it.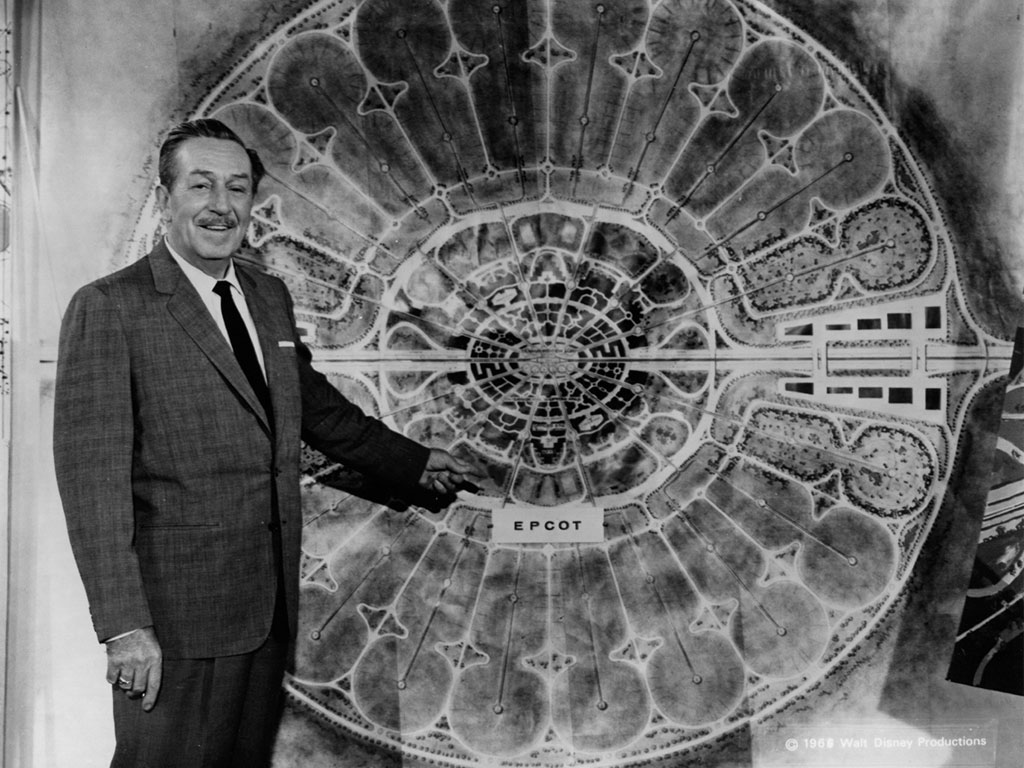 Instead, I'm going to start with the story of EPCOT's conception, planning, and execution, through the analytical lens of it being one of the most thorough, famous, and complete documentations of "building a future".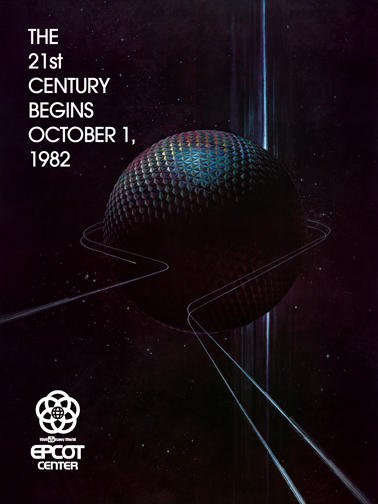 The greatest champions for the EPCOT theme park project were Imagineering legends Marty Skylar and John Hench. Marty oversaw the entire project formally, working closely with design-minded John to lay out the look and feel of a "park of tomorrow".
But they didn't work alone.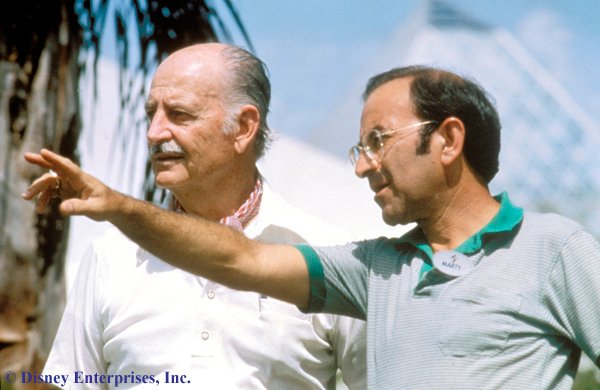 While Imagineering knew how to build worlds (Marty himself was responsible for the Magic Kingdom "philosophy book"), it wanted a future that offered solutions to modern problems.
This takes us back to 1975, Imagineer Peggie Fariss, the EPCOT Forums, and... Ray Bradbury. Yup.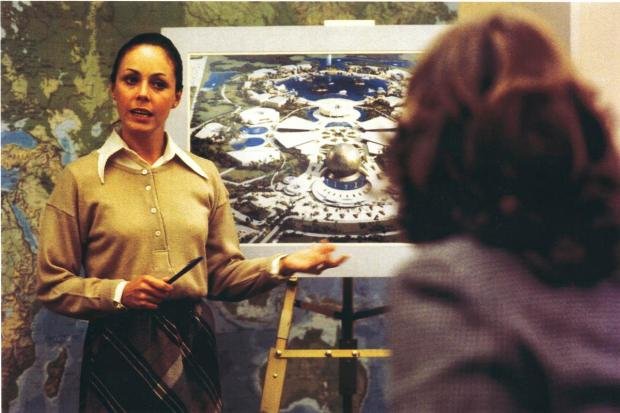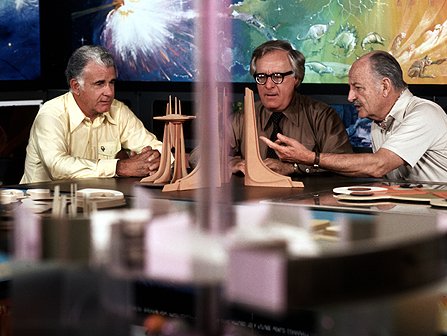 Future Component #1: A Unified Philosophy
The EPCOT Forums were conferences led by Peggie Fariss in 1975, which sought to assemble some of the country's greatest minds in engineering, sociology, diplomacy, arts, culture, etc. in order to define the philosophy of EPCOT's future.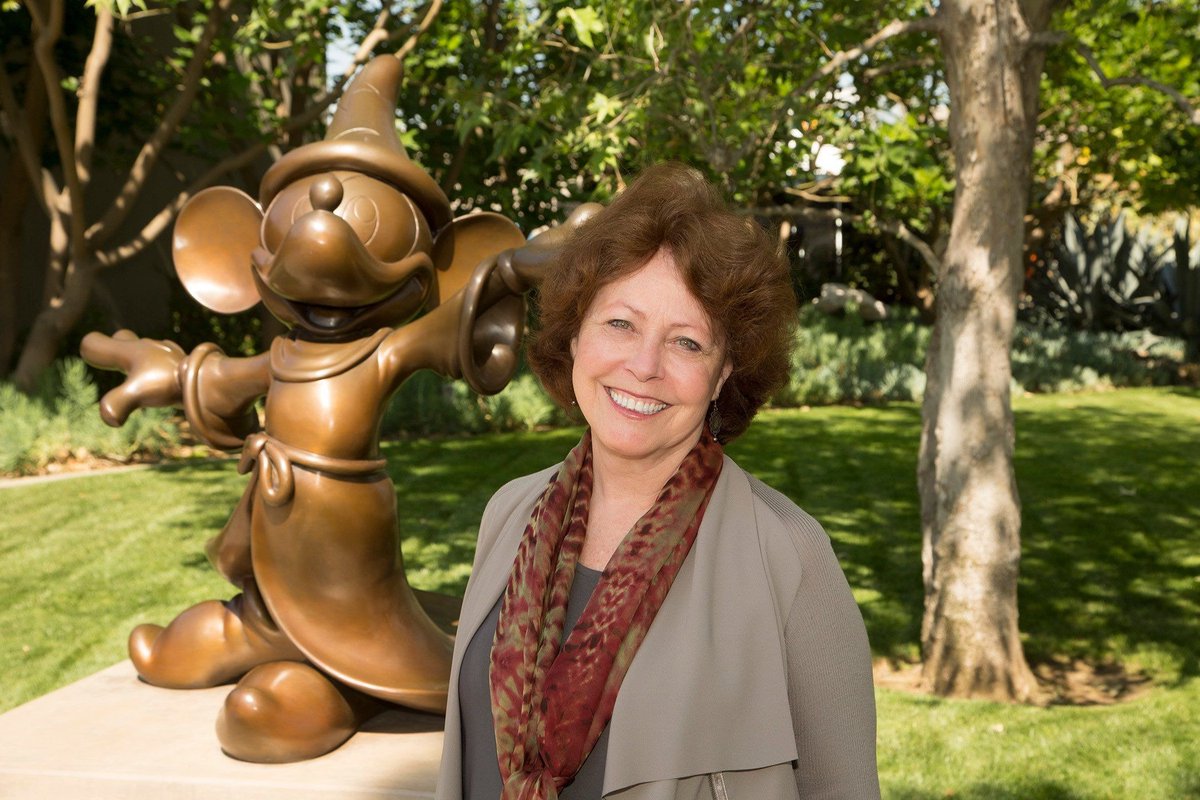 Some of the greatest icons, thinkers, and visionaries of the day were in attendance. Aerospace engineer and astronaut L Gordon Cooper. Asst Secretary of Commerce C Langhorne Washburn. Ray Bradbury.
EPCOT was a true cross-section of 20th century futurism.
Futures are designed.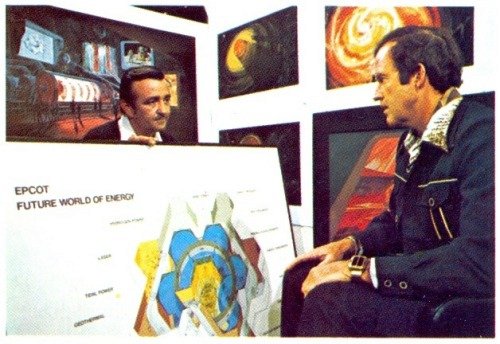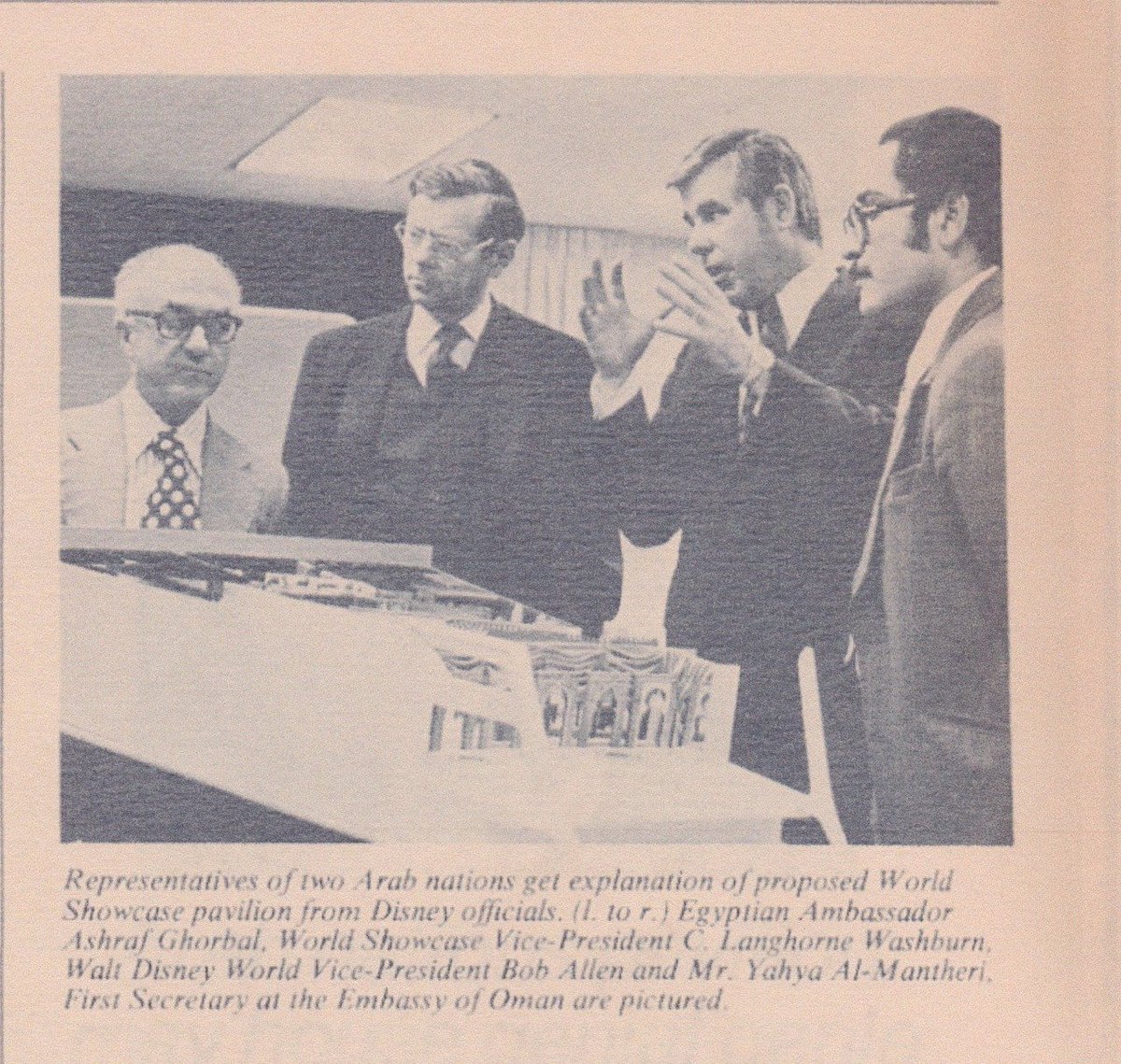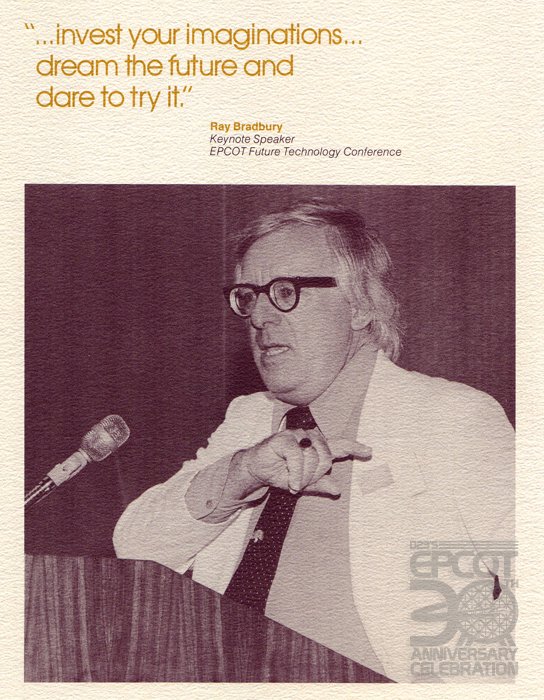 With great minds at the table, the next step was for Imagineering to synthesize their core philosophy into design. A couple of key figures were responsible for that.
Let's start with John Hench (right), the biggest mind behind Future World, and designer of Spaceship Earth.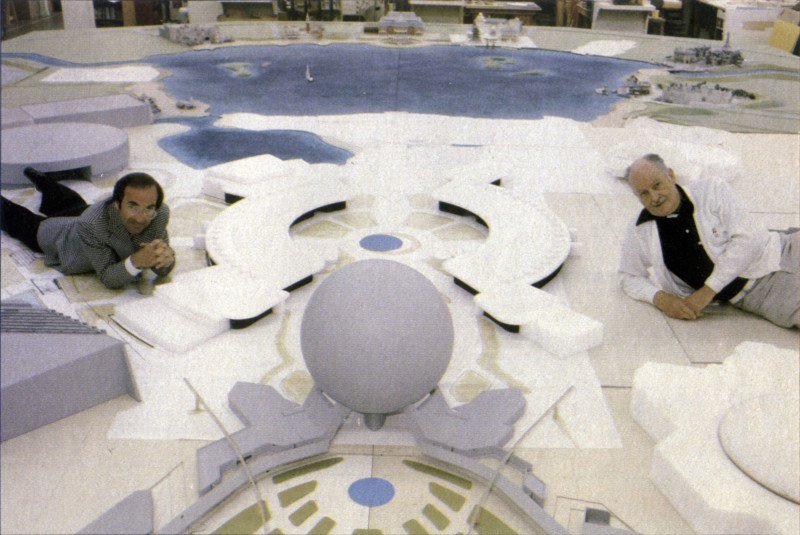 Spaceship Earth's name and shape were both inspired by famous architect and futurist L Buckminster Fuller, creator of the geodesic dome. The name "Spaceship Earth" is taken from Fuller's 1968 book "Operating Manual for Spaceship Earth".
An early model can be seen here.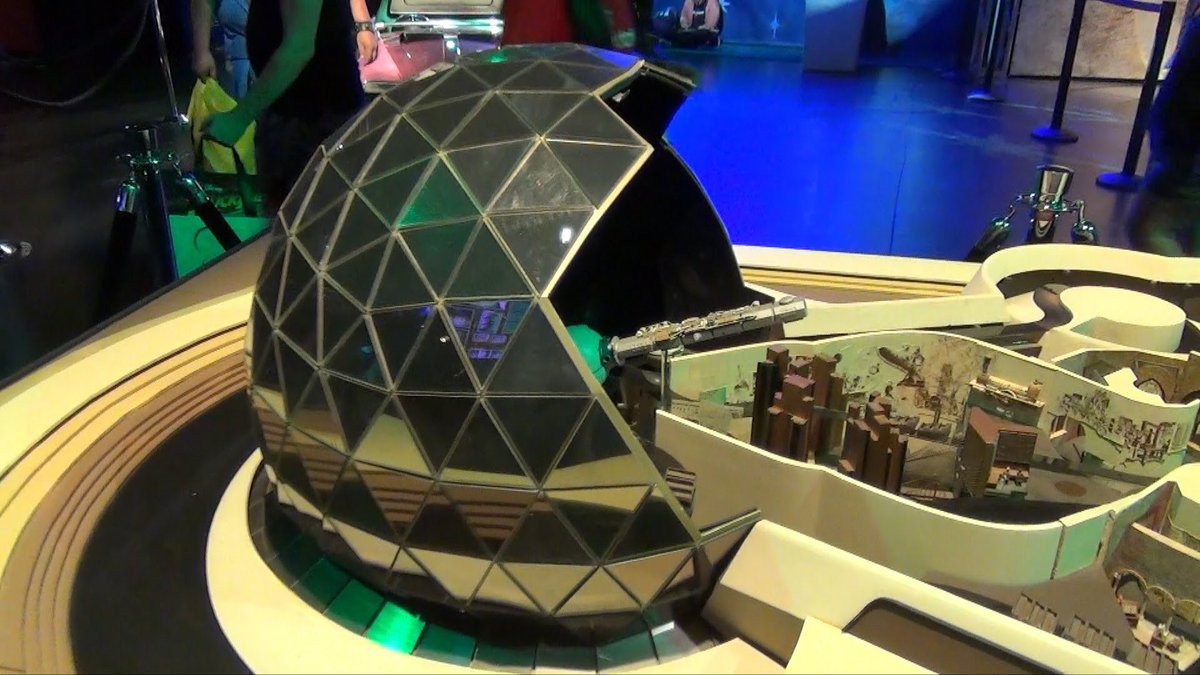 John Hench worked closely with Ray Bradbury on Spaceship Earth's features and design. Bradbury even lent his writing and voice to the first incarnation of the ride's narration.
It was the gate to Future World, the heart of EPCOT's design.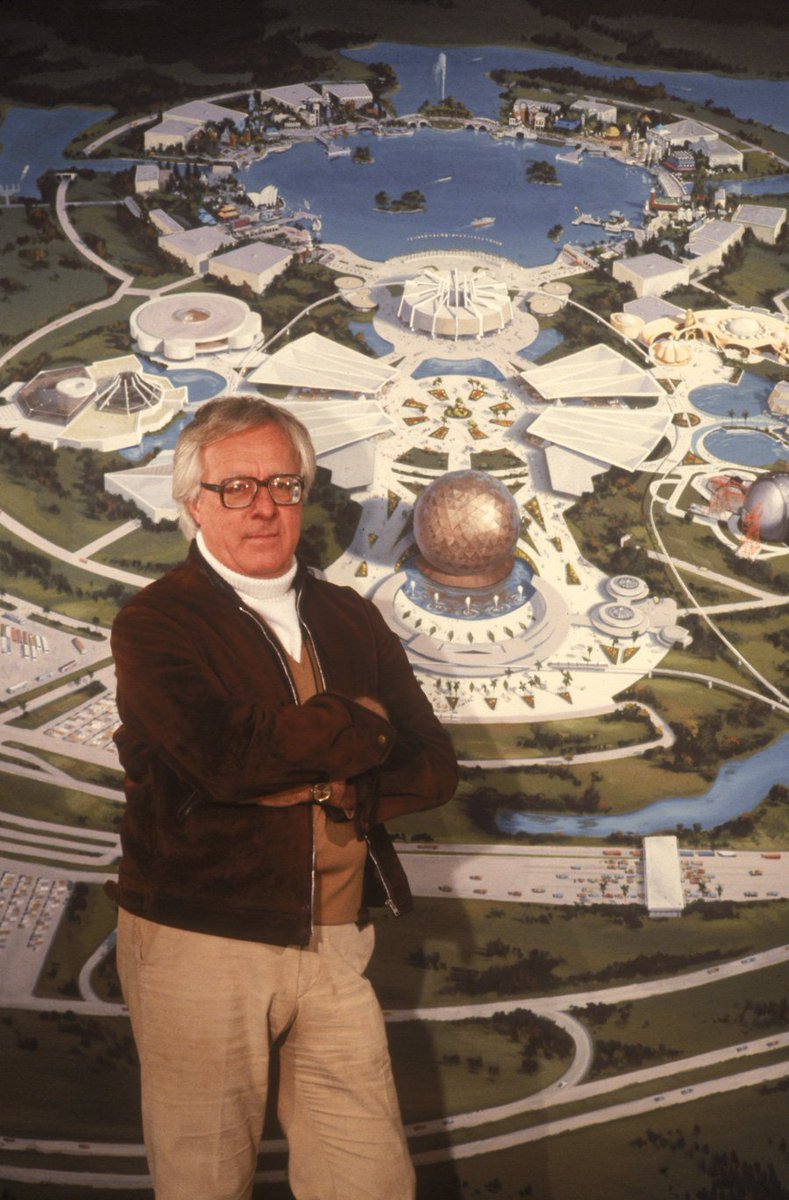 Future Component #2: Unity in Design
The "spine" structure of Future World, w/ Spaceship Earth at the gate, was designed for several pavilions to circle around its center. But how would so many concepts - motion, energy, the land, the sea - be visually united?
Enter Norm Inouye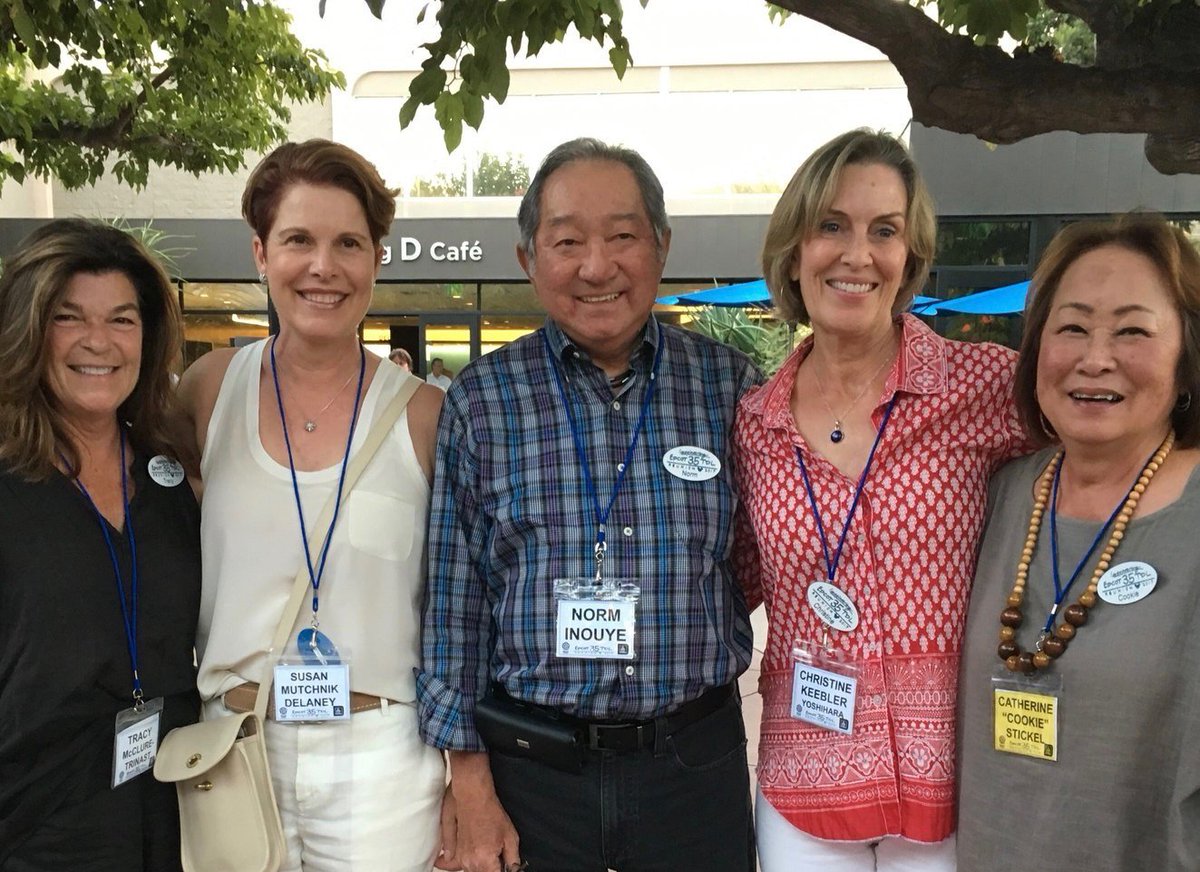 Norm Inouye, a graphic designer previously responsible for high-profile projects like the logo for the Pontiac Firebird, was brought onto Imagineering to head EPCOT's logo and graphic design.
Norm knew what united all of EPCOT, AND the future: the sphere of earth, our home.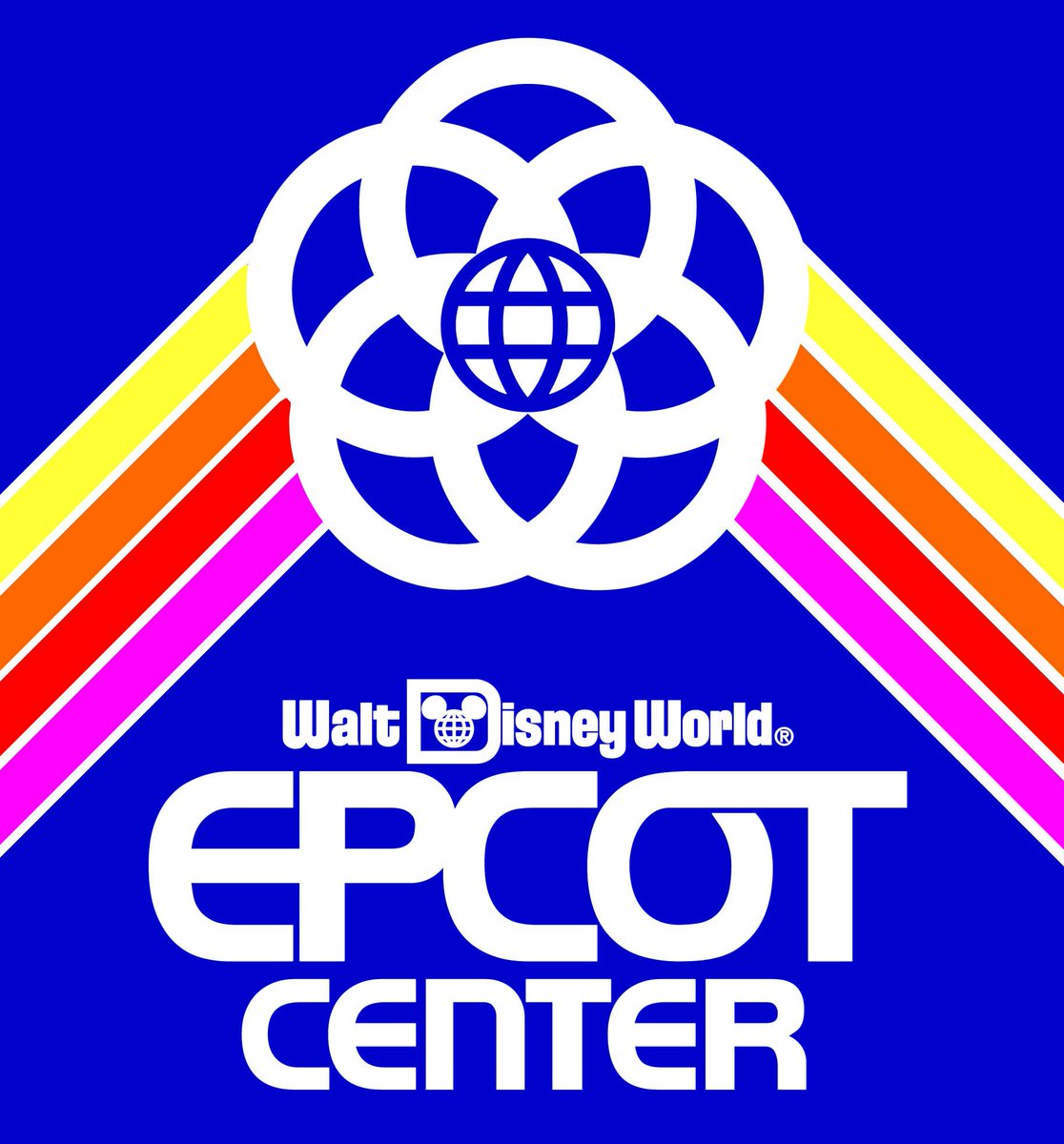 Various logo drafts had been drawn up for EPCOT, but none of them satisfied Marty, John, or the other leadership. The arms-outstreched logo here, which would later be used for World Showcase, was described by Marty as "looking like a stop sign".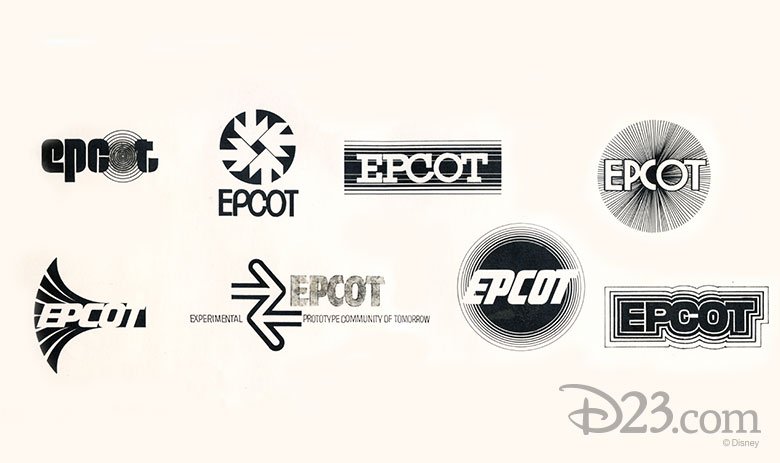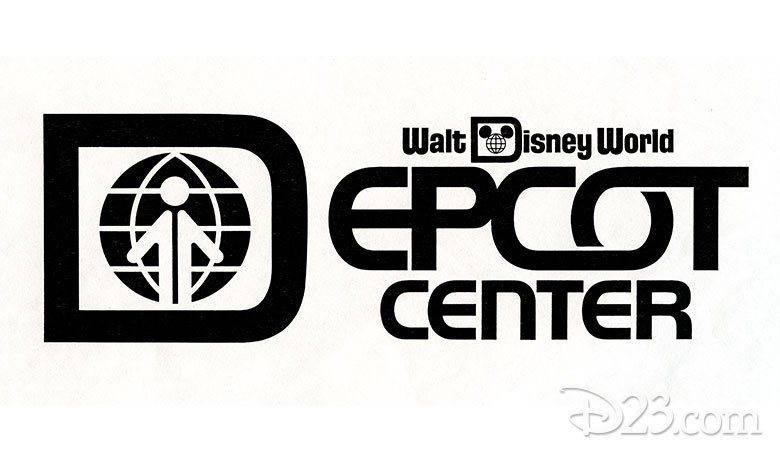 Seeing that circles were repeated elements, from Spaceship Earth to the shape of the park to even the shape of some pavilions, Norm proposed a flower made from circles, with a star at its center. This was the first draft for what became affectionately known as the "EPCOT fleur".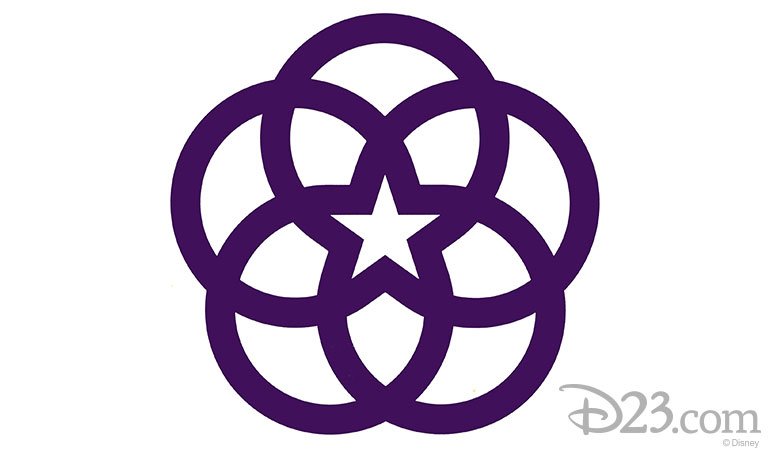 Marty proposed that Spaceship Earth be nestled in the center of the star, and the EPCOT fleur was finalized.
Now, Norm was tasked with creating a set of logos for each Future World Pavilion to unite them with Spaceship Earth and the fleur, the hearts of EPCOT. He delivered.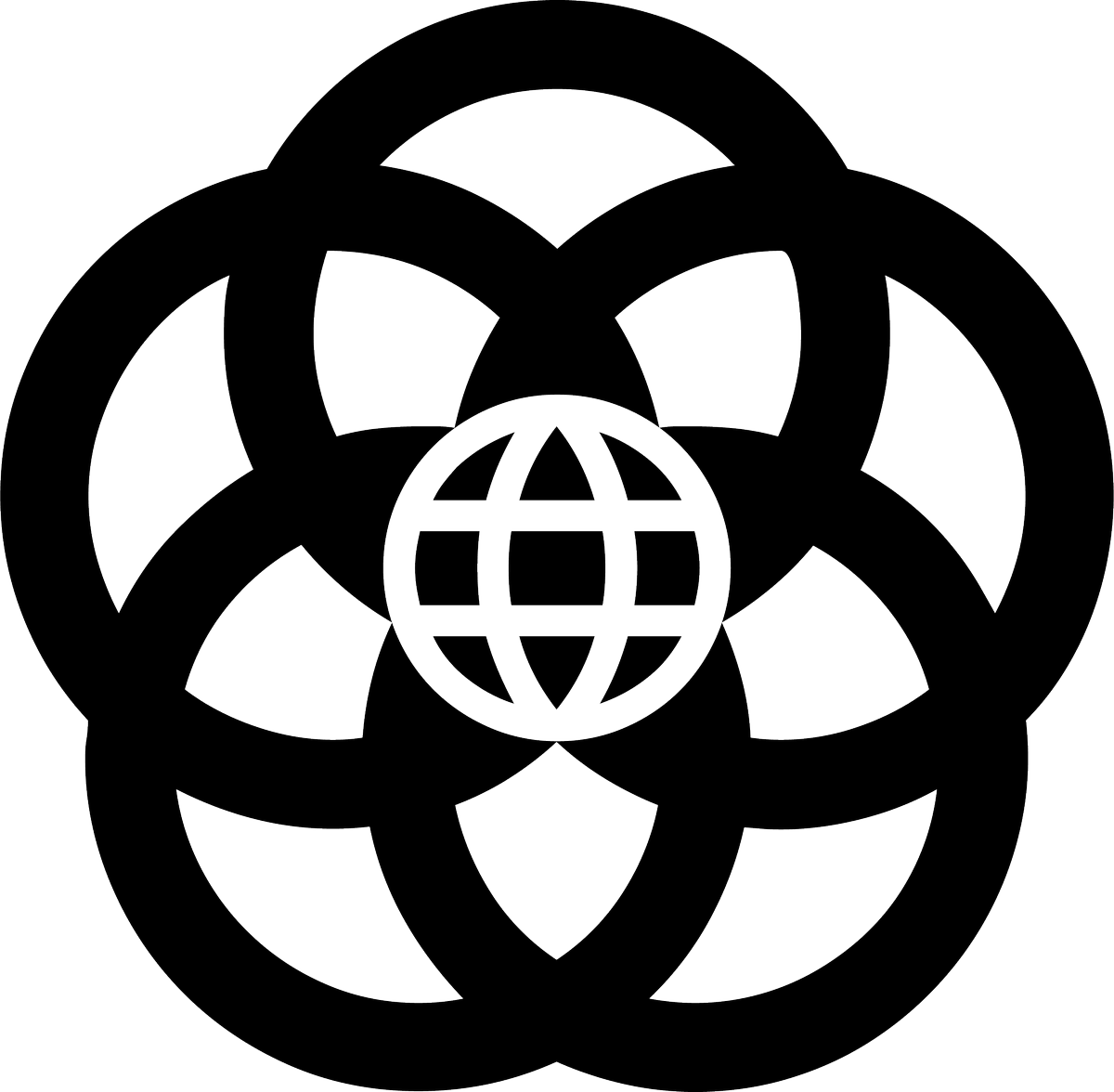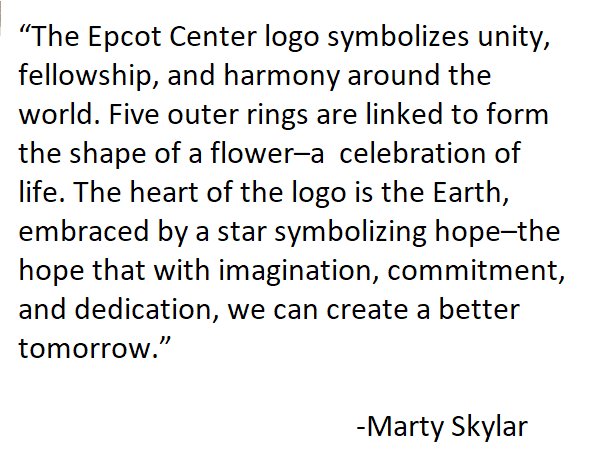 The circle theme was maintained. Soft gem tones identify each attraction uniquely.
-Horizons, using perspective to draw a road to tomorrow
-Imagination, depicting an iris or lens shutter
-Spaceship Earth, depicting the structure in motion
-The Land, signifying nature and earth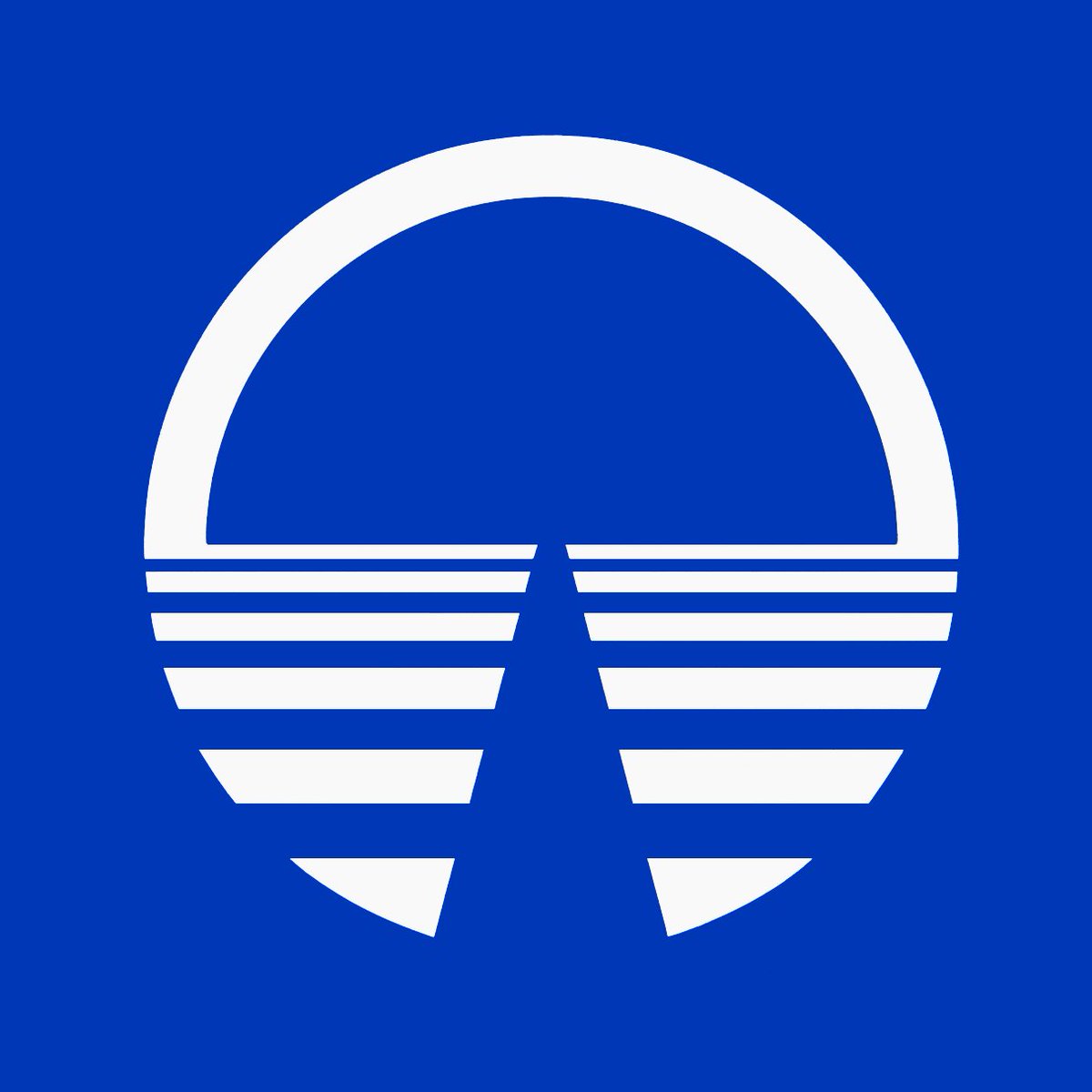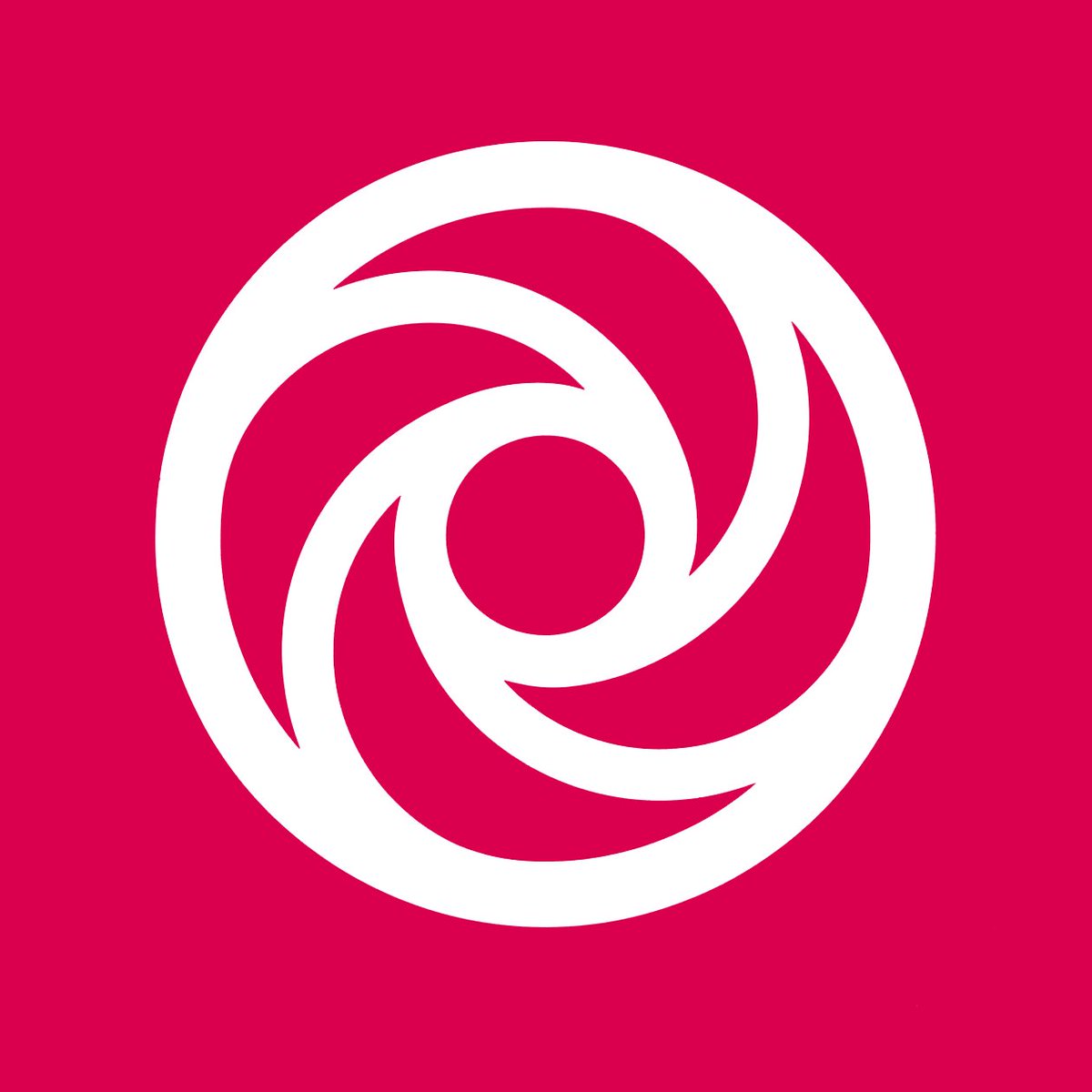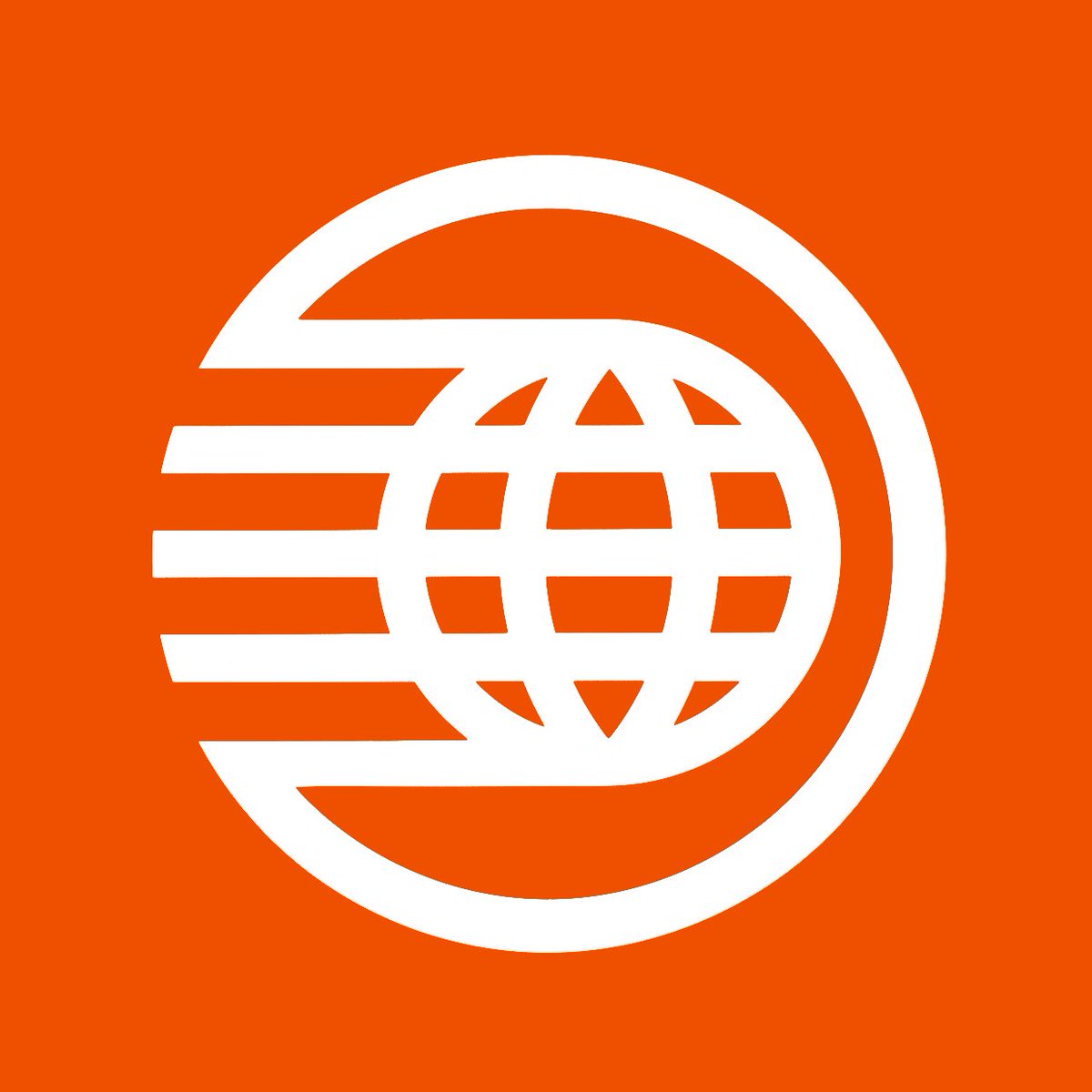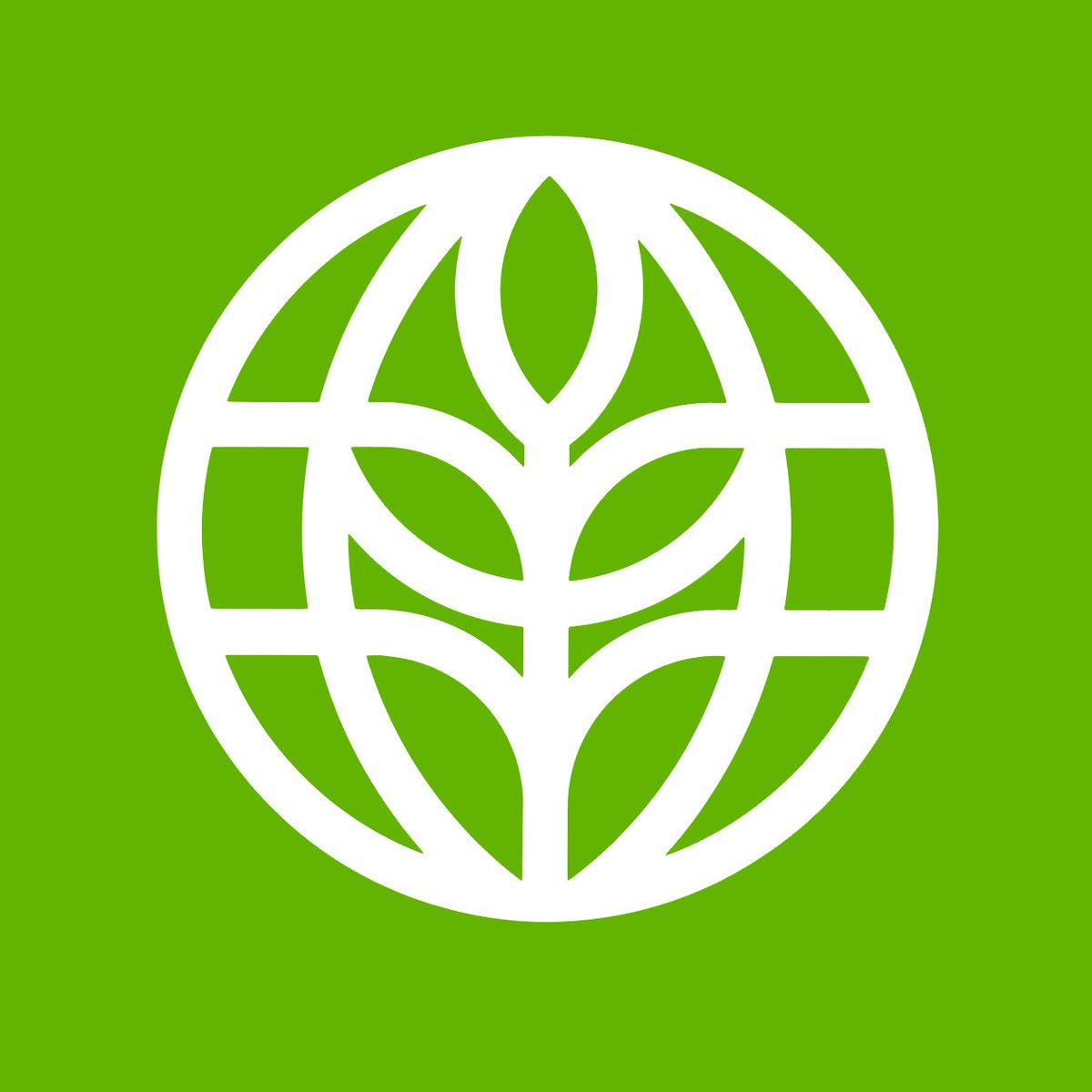 -The Seas, depicting waves
-Energy, depicting emission of energy, whether from a star or an atom
-Motion, representing an object's kinetic energy. This is my personal favorite.
The only logo not designed by Inouye was for the infamous Wonders of Life pavilion, built far later.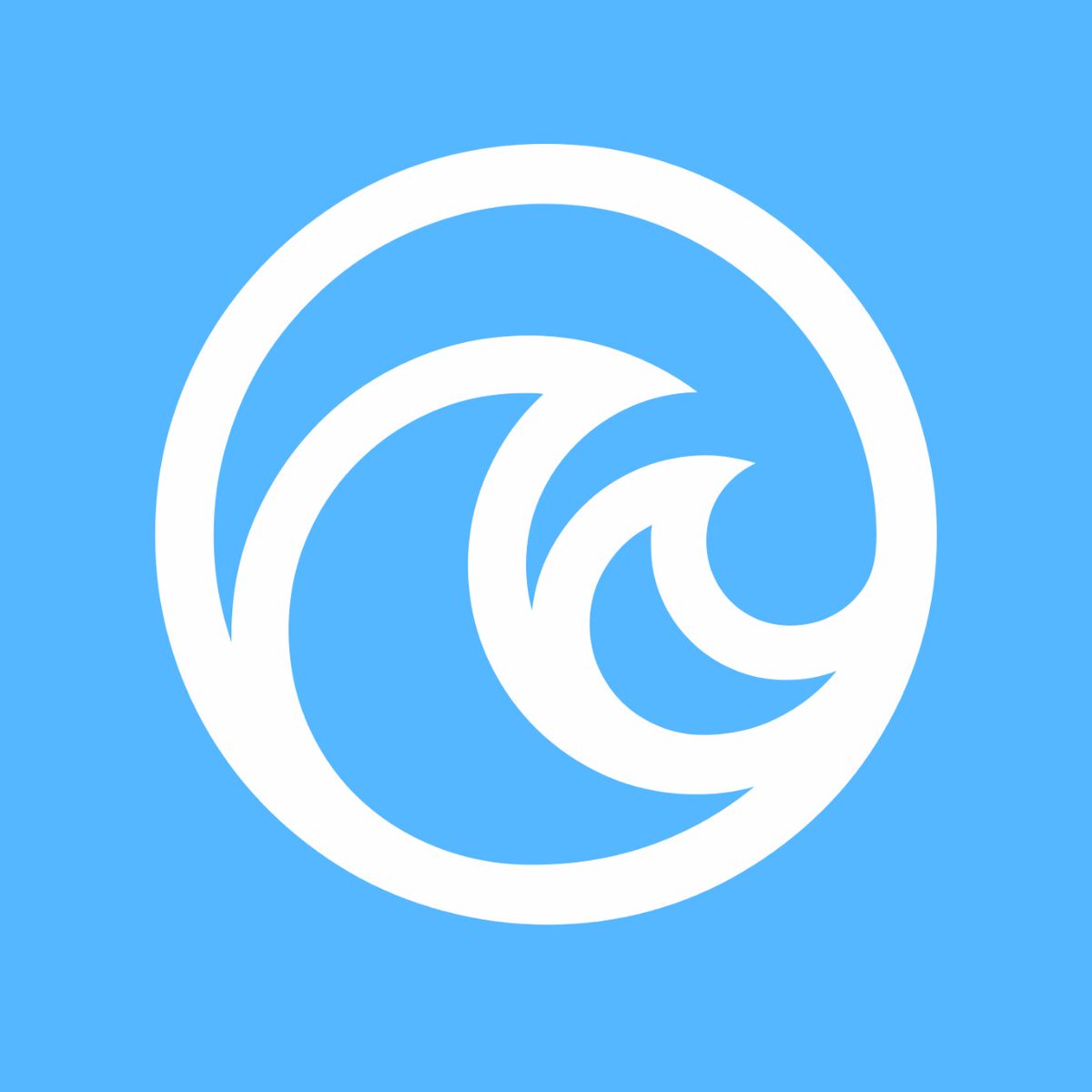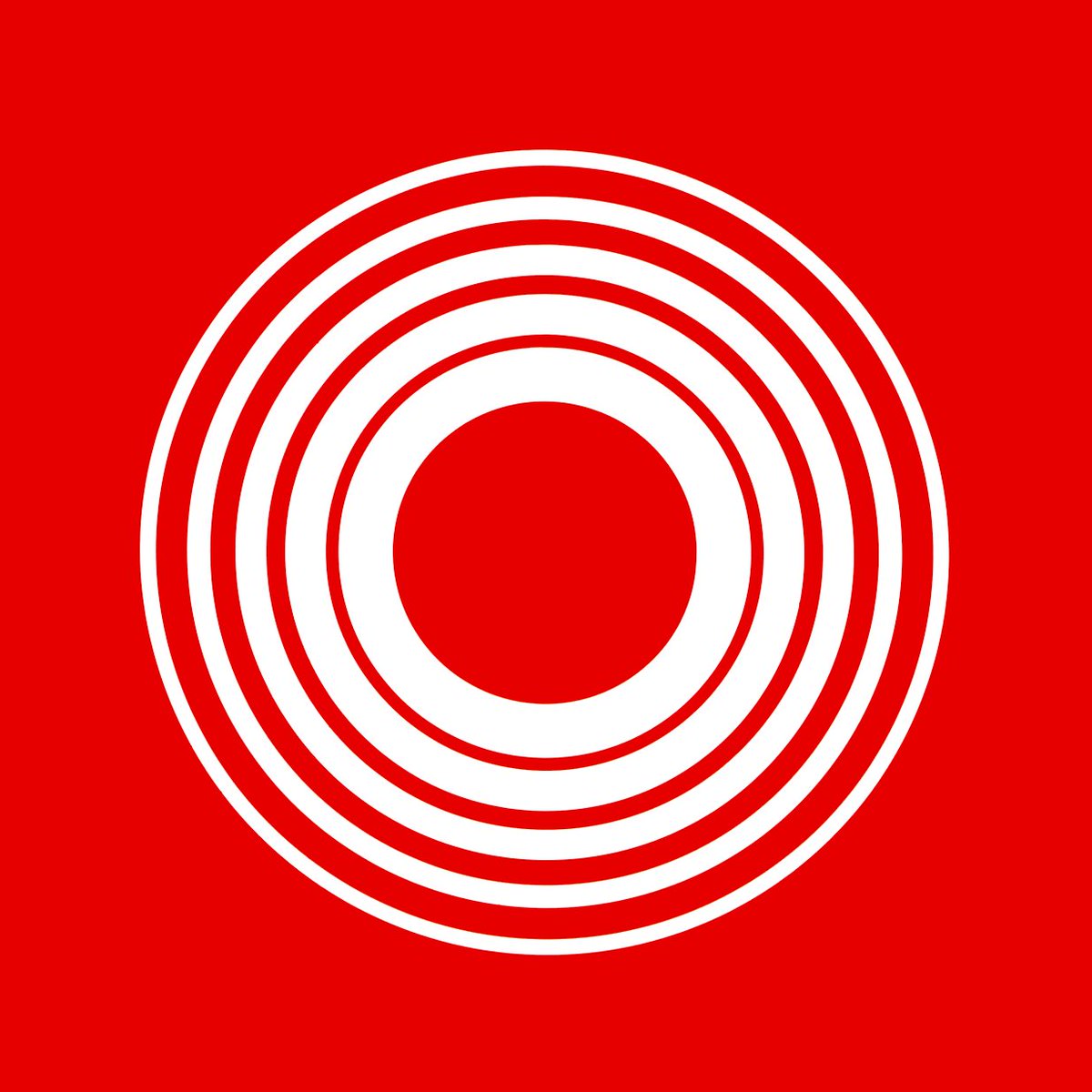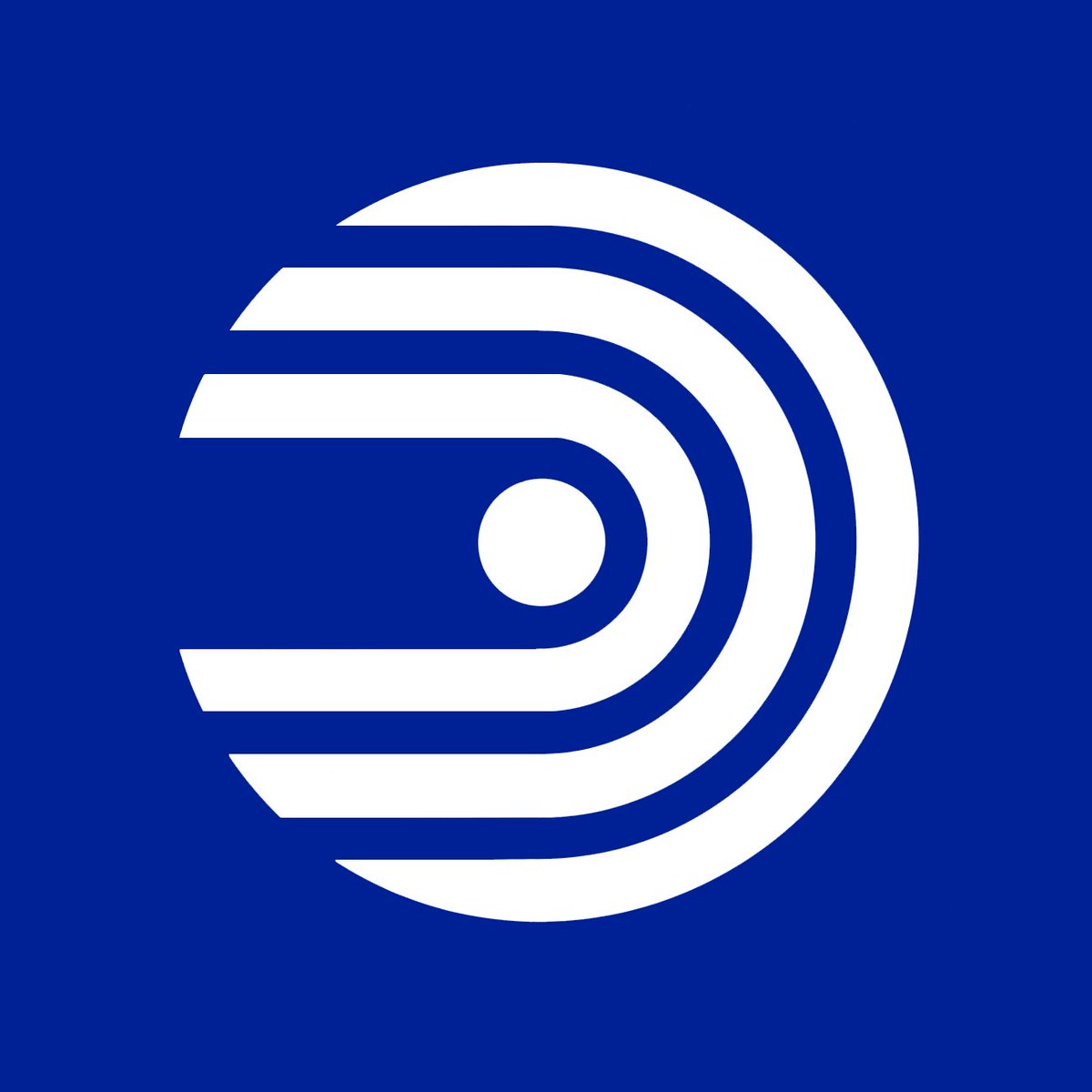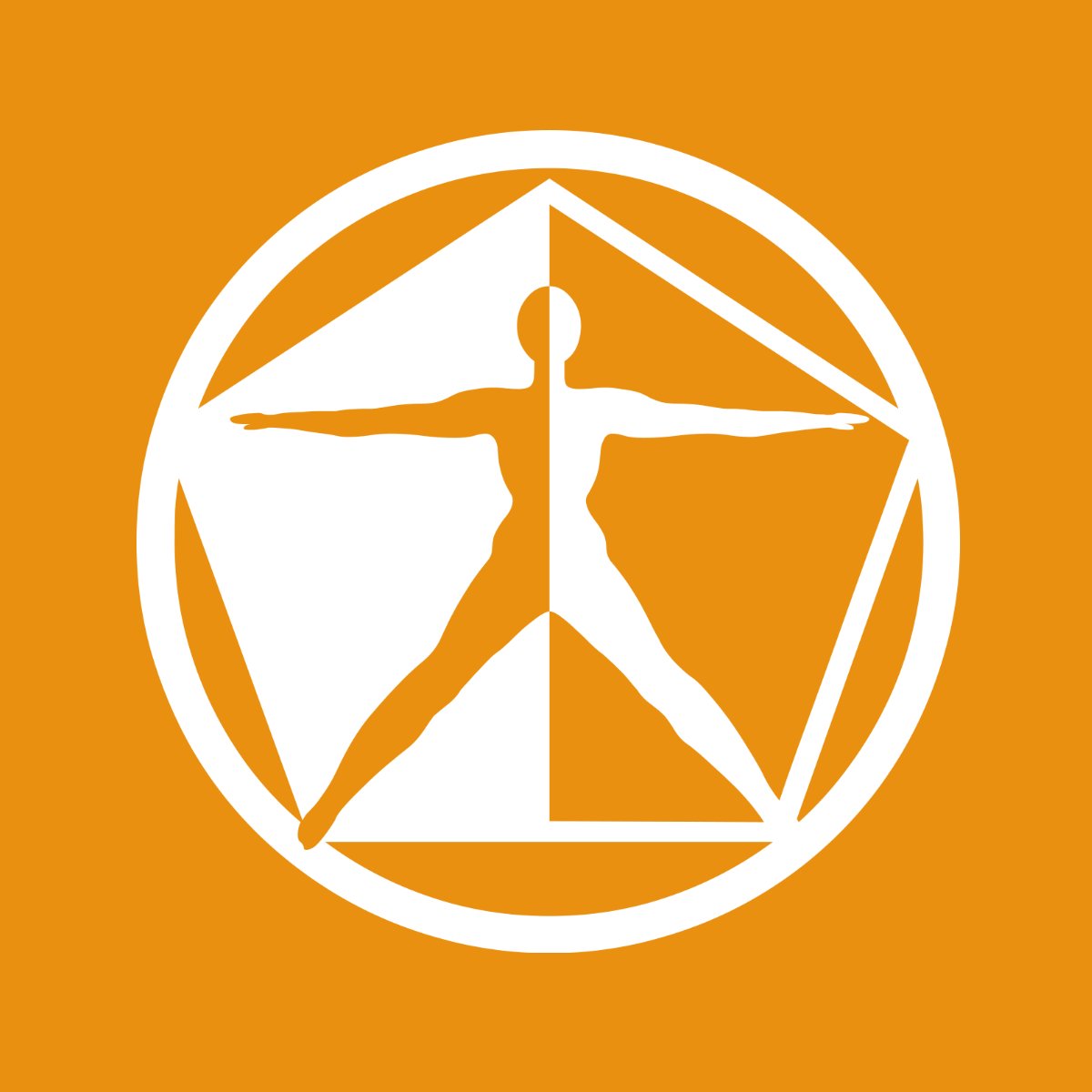 Finally, Communicore, designed to serve as the connective tissue to all of Future World. The logo was shaped like the layouts of the two massive Communicore buildings, which housed technology exhibits from park sponsors to showcase their latest innovations.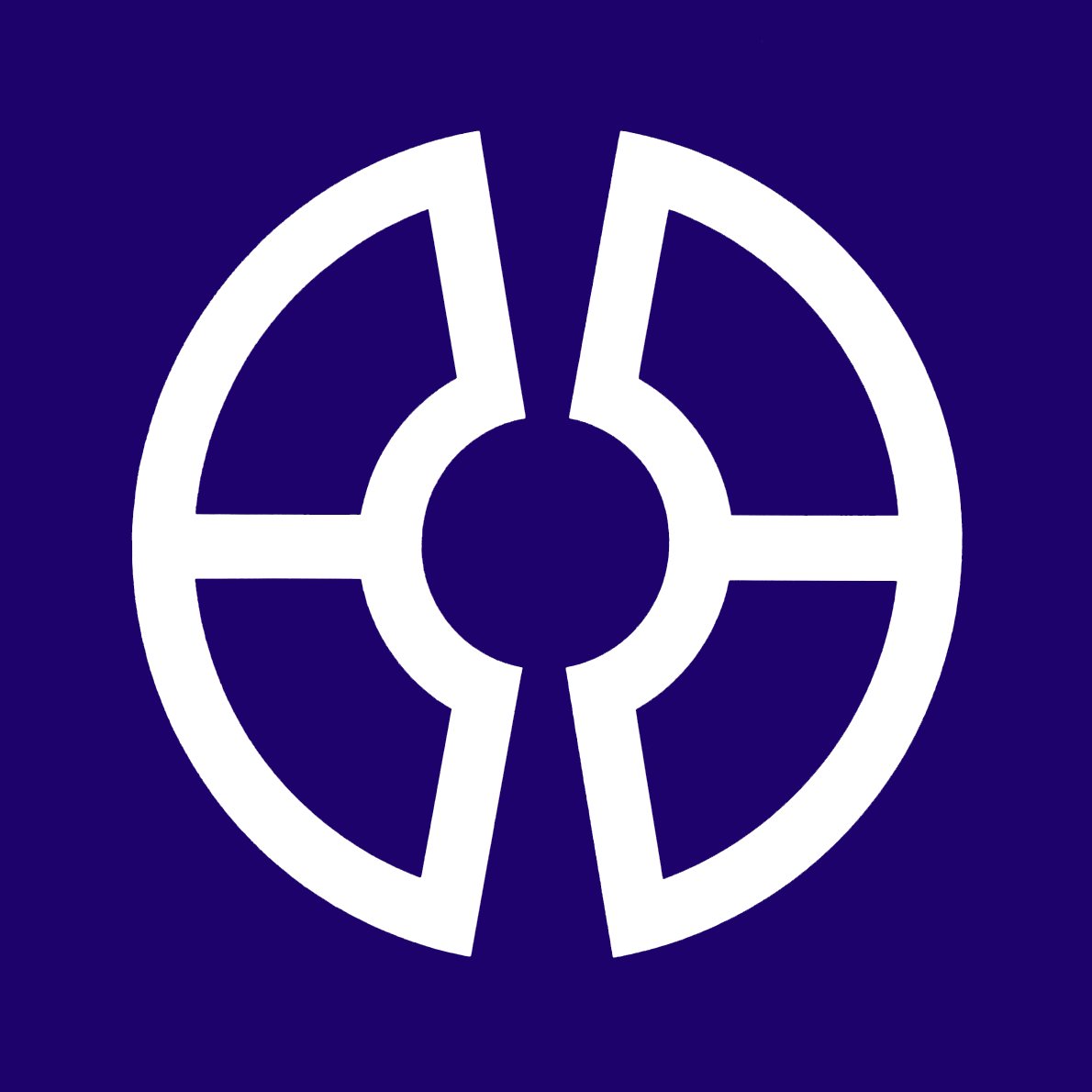 To put the genius of these designs in perspective, take a look at this park map of Future World from the 80's.
Communicore's shape, and purpose of connecting all of the concepts of the various pavilions, is reflected. Spaceship Earth is the heart to Communicore's brain.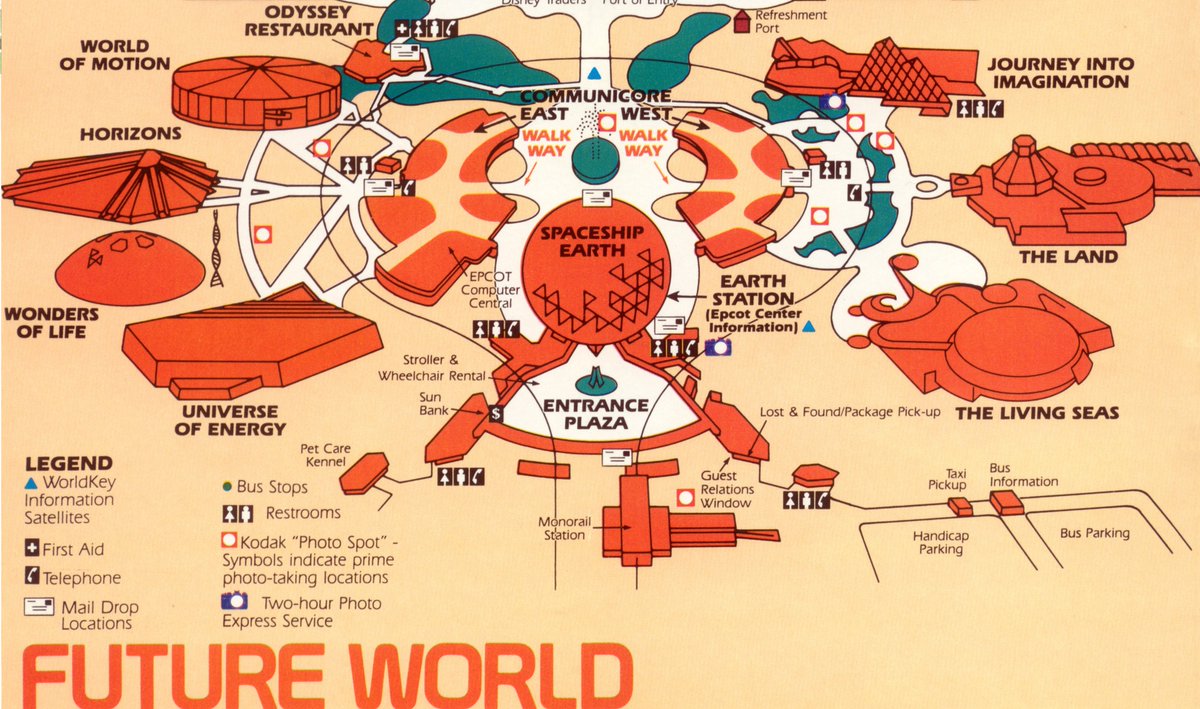 Future Component #3: Consistency in Detail
A future and a theme park both need consistency to be convincing, and EPCOT carried both missions in stride. Signage maintained use of the logos/colors, and a modified Handel Gothic font reinforced the park's futuristic utopian gravity.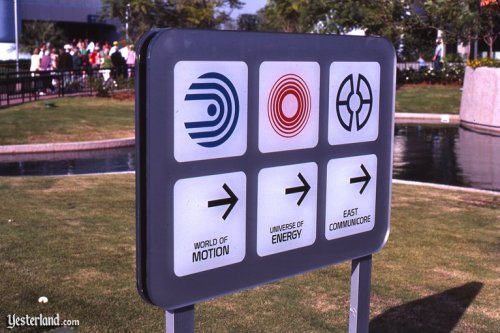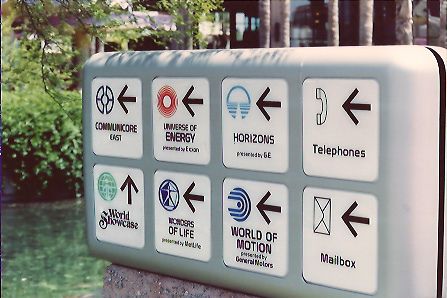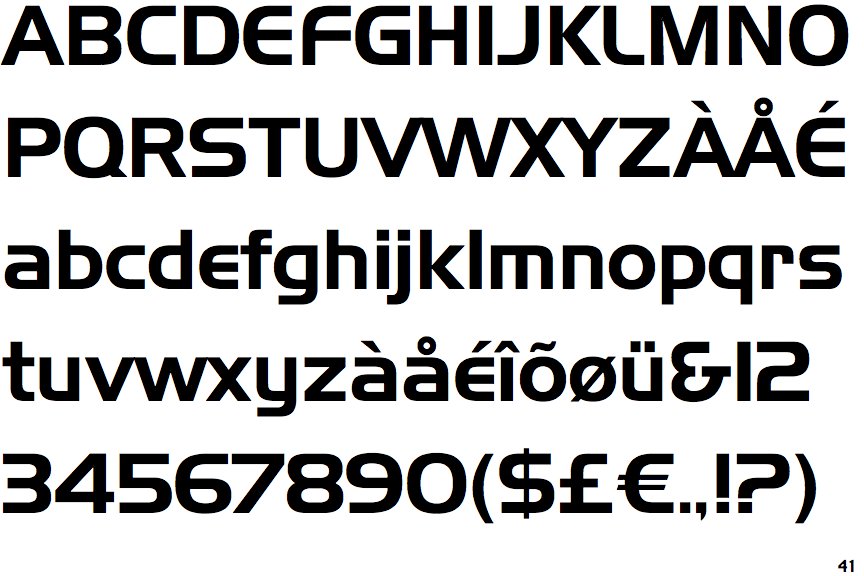 Features of pavilion architecture frequently were referenced in their logos, such as the radiating bands of the Energy pavilion and the wave shape of The Seas pavilion.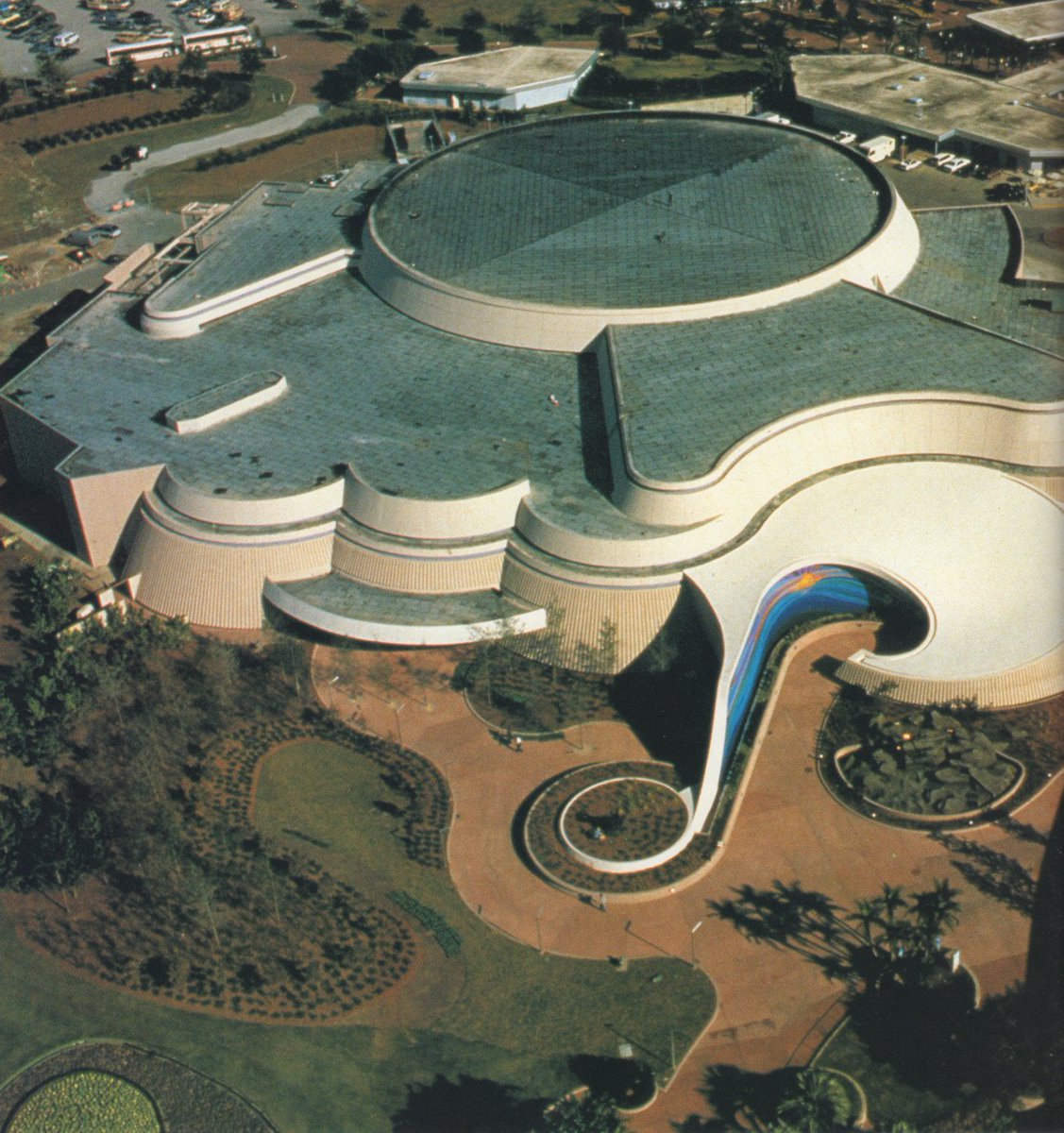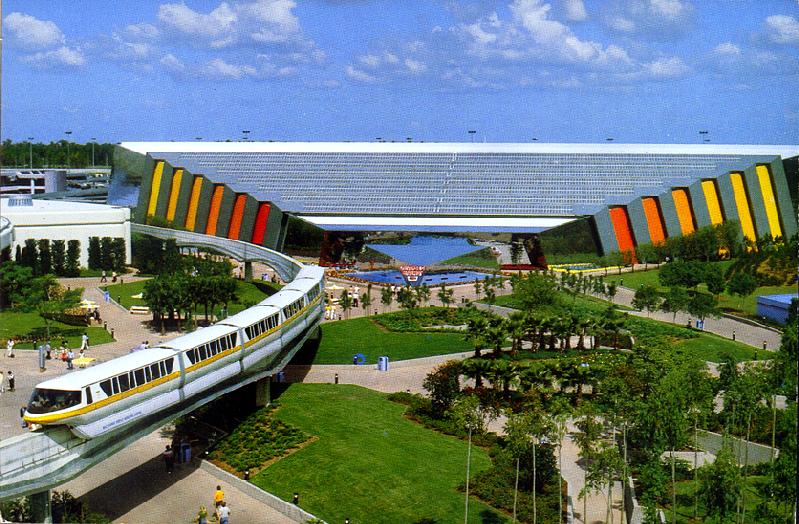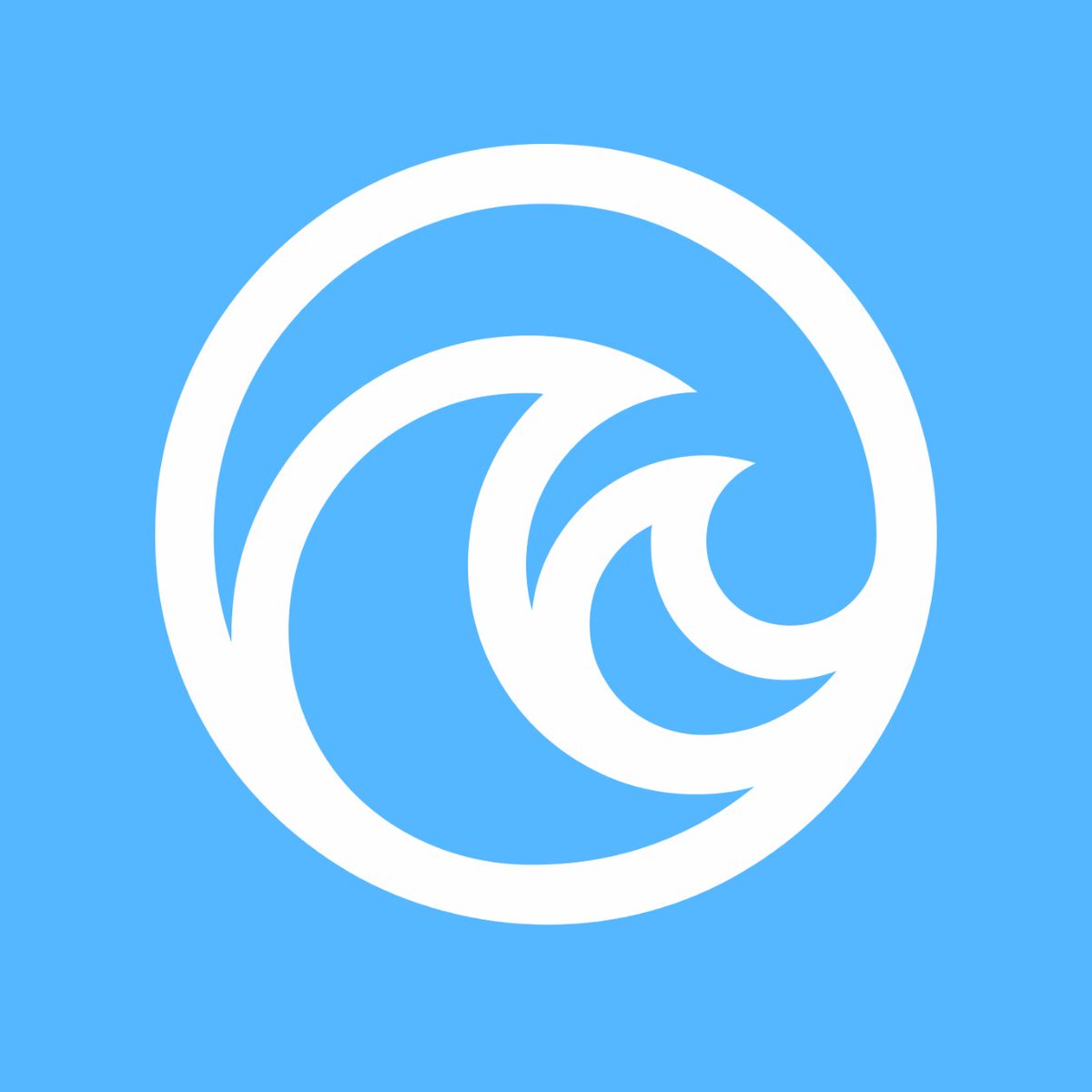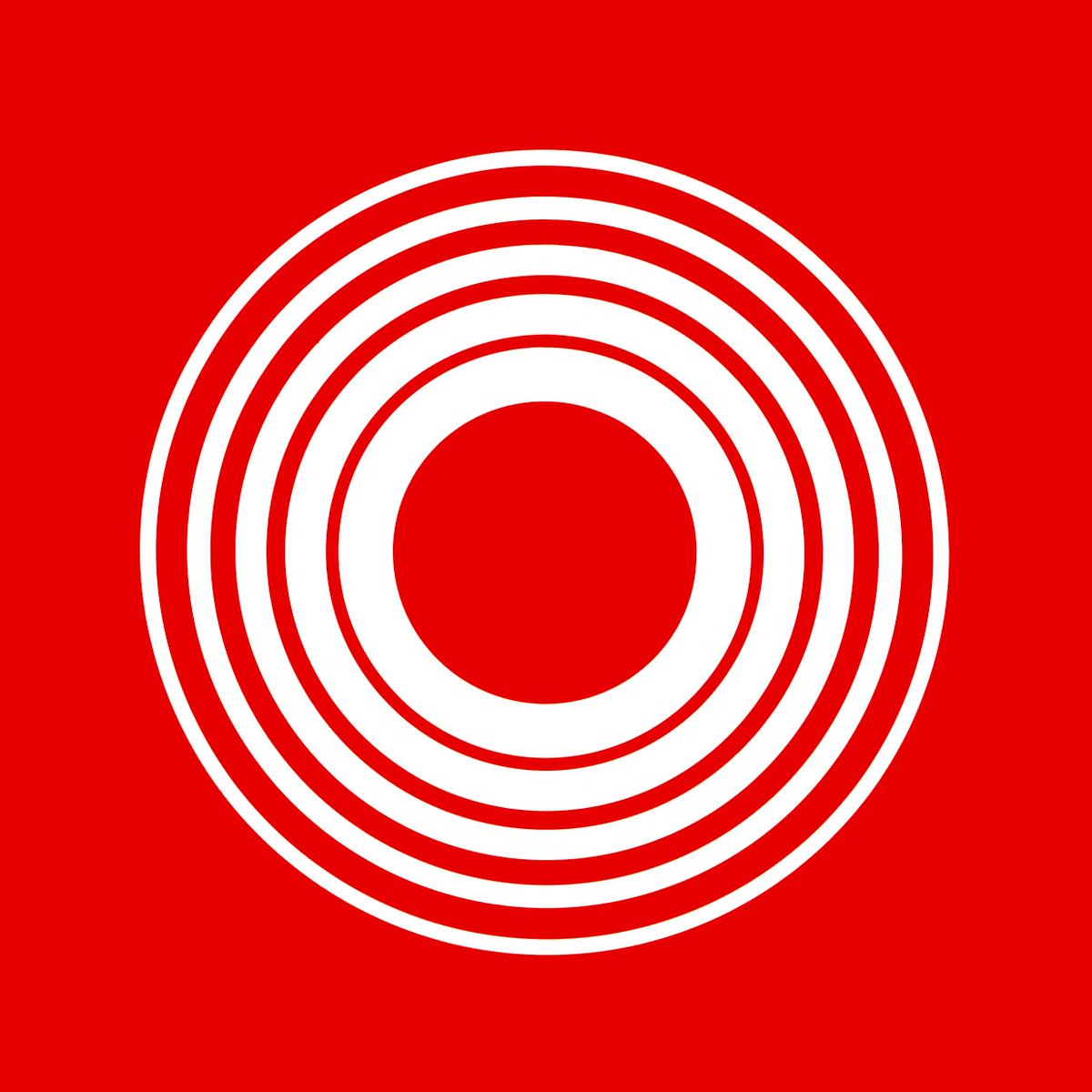 The architecture of EPCOT's original buildings further reflected the spherical dynamicism key to the park's design, seen here in the almost comet tail-like stonework on the side of Communicore East.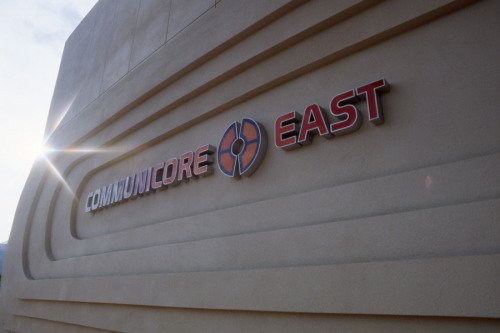 Color choices were largely driven by John Hench - purple was a predominant color, (reminiscent of both dawn and the cosmos), as well as other cool tones.
Hexagons and triangles, both harkening back to Spaceship Earth and Fuller's geodesic dome, were also a popular design motif.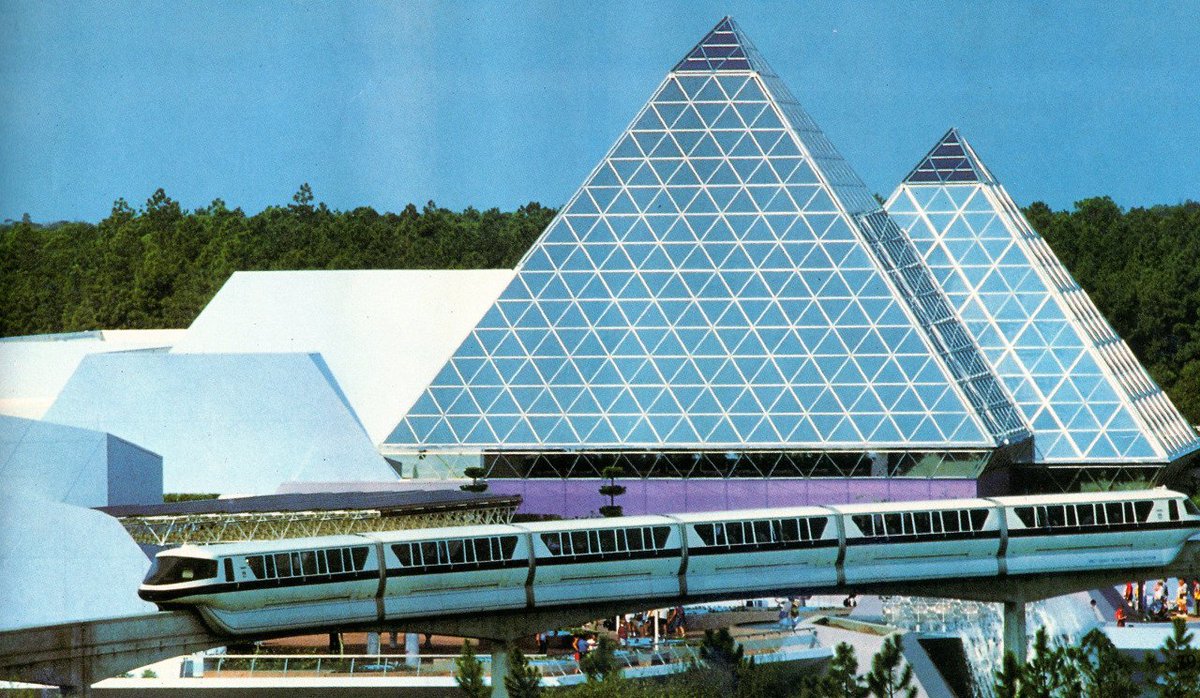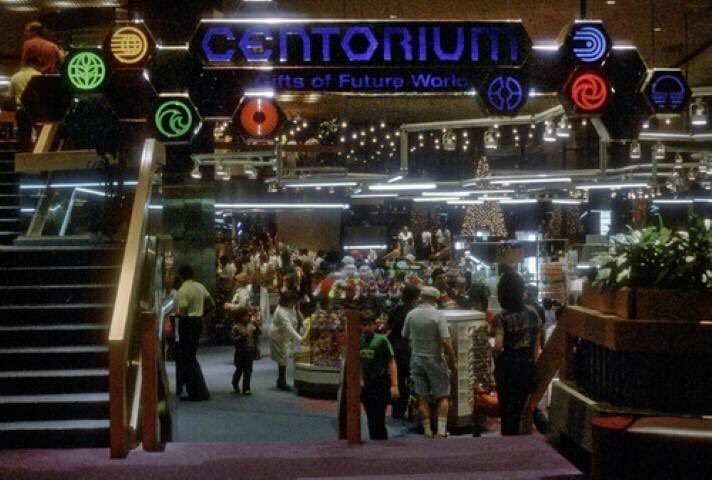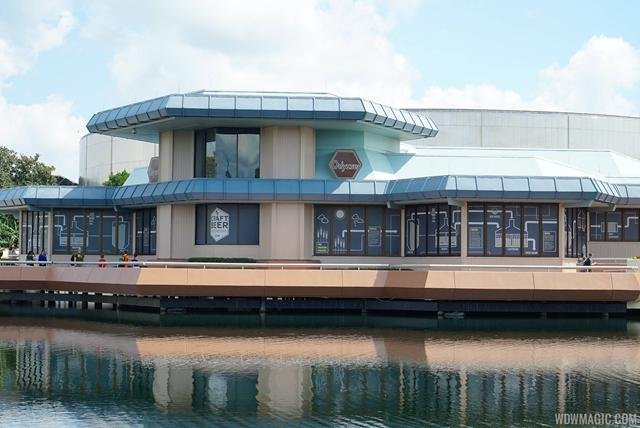 Future Component #4: Sentimental Humanism
All of this elaborately interconnected design came to a head on October 1st, 1982, the same year as the release of the Compact Disc.
EPCOT opened to the public.
Bradbury described it as "the greatest moment in my life".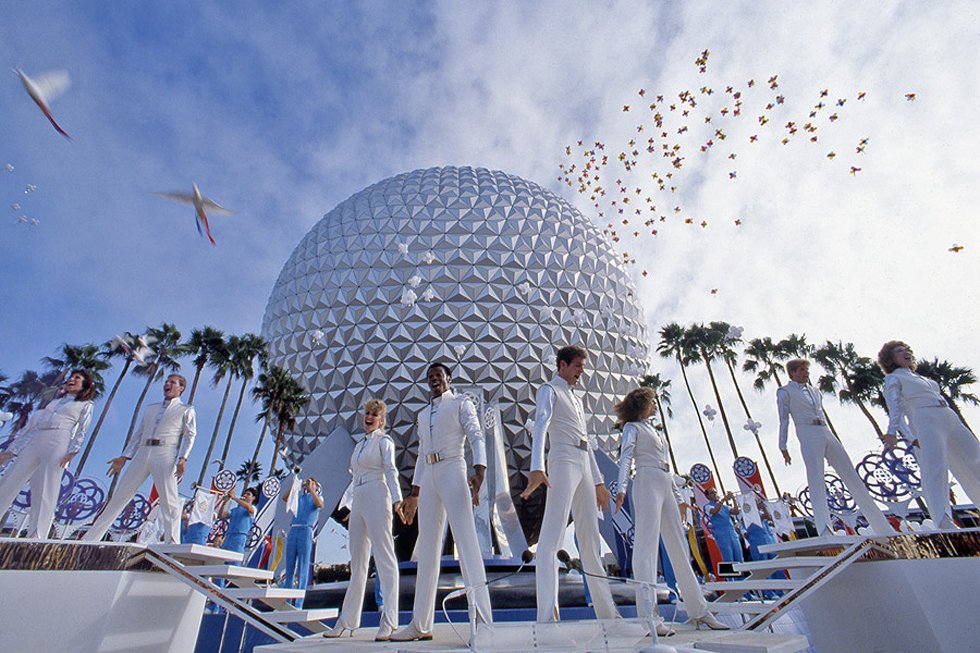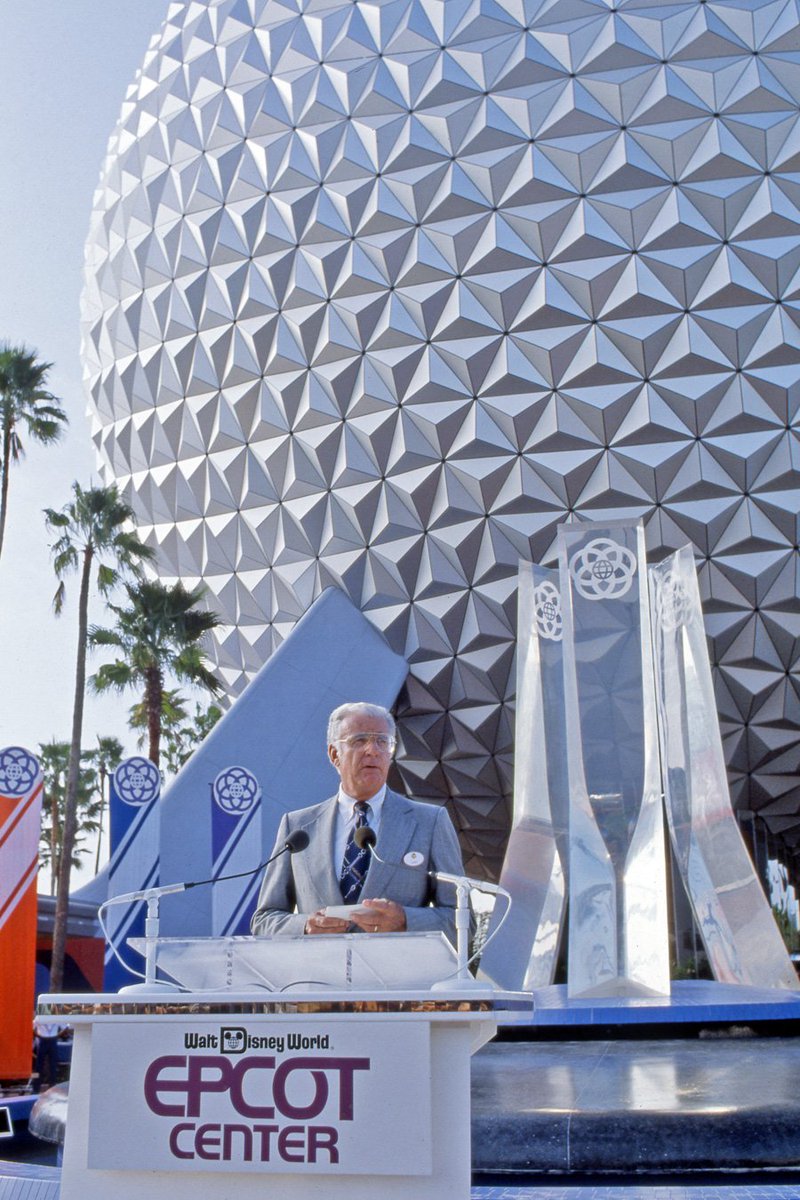 "We want to first entertain, then inform, and inspire all who come here. And above all, to instill in our guests a new sense of belief and pride in mankind's ability to shape a world that offers real hope to people everywhere in the world."


This opening celebration feature, broadcast on CBS on October 23th, 1982 and hosted by Danny Kaye, offers the best available look at the park in its opening day state (lacking The Seas and Wonders of Live Pavilions).


I've purposefully avoided talking about the second half of the park, the World Showcase, but not for the reason you think.
We're only halfway through this ride, yall. I wasn't joking when I said this was gonna be a big one.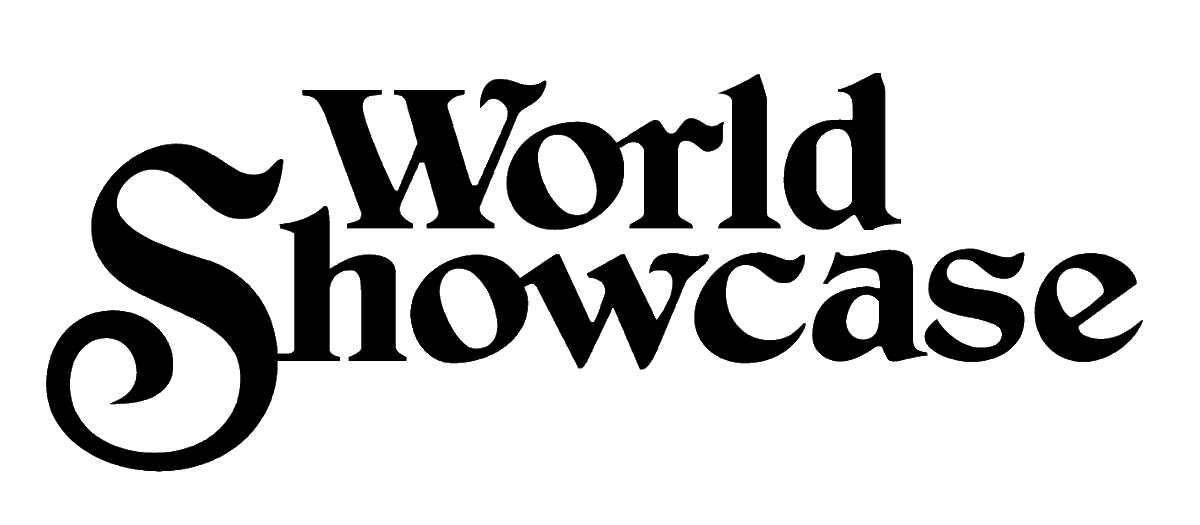 The World Showcase was Marty's dream - the presence of the 1964 New York World's Fair still hung in the air, and he wanted a permanent one at EPCOT.
He worked with C Langhorne Washburn, former Asst Secretary of Commerce for Tourism, to get countries around the world talking.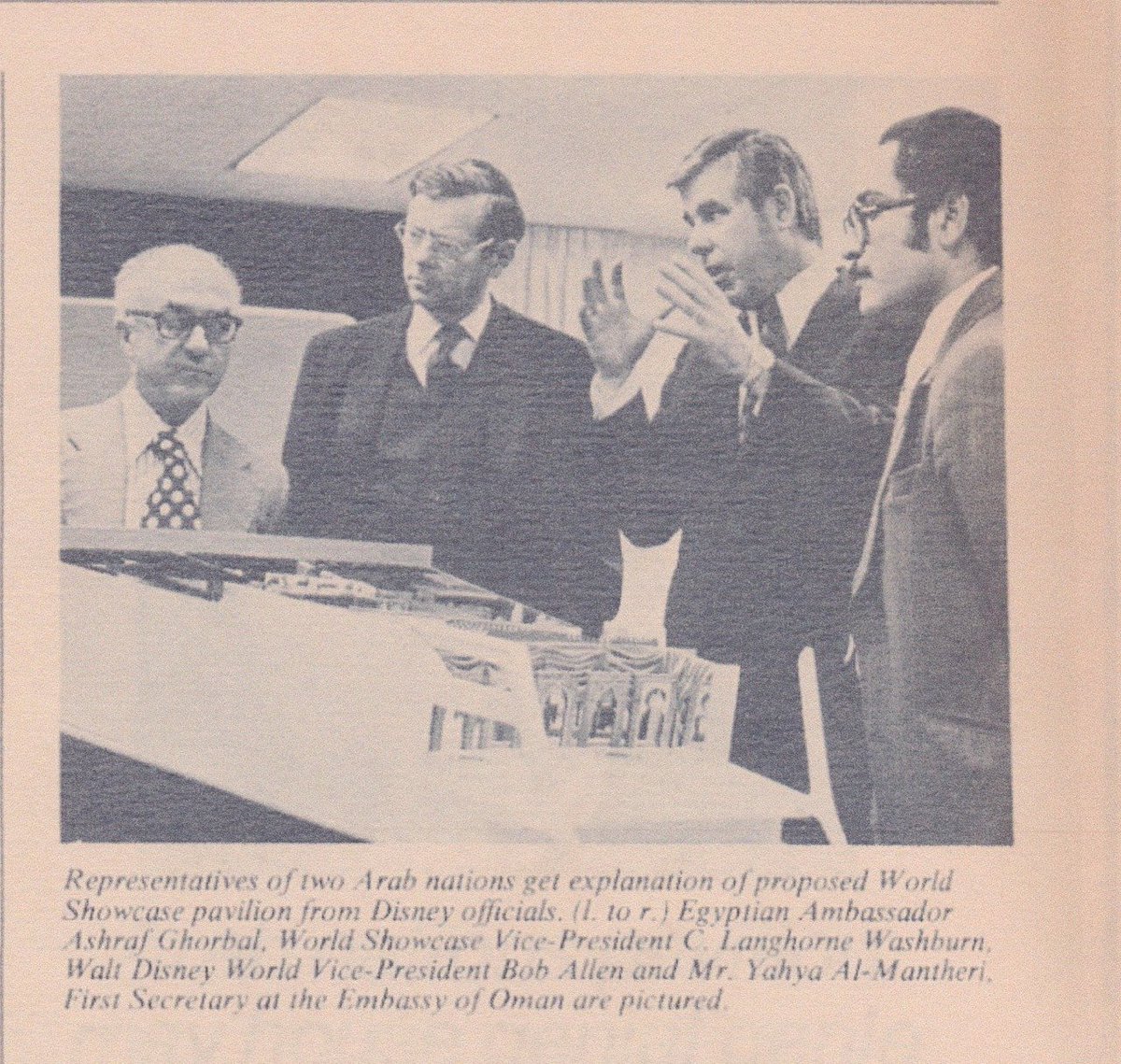 Ultimately, nine countries were chosen: Canada, China, France, Germany, Italy, Japan, Mexico, the United Kingdom, and (of course) America.
The countries would be positioned around a circular (surprise!) World Showcase Lagoon, forming an hourglass shape with Future World.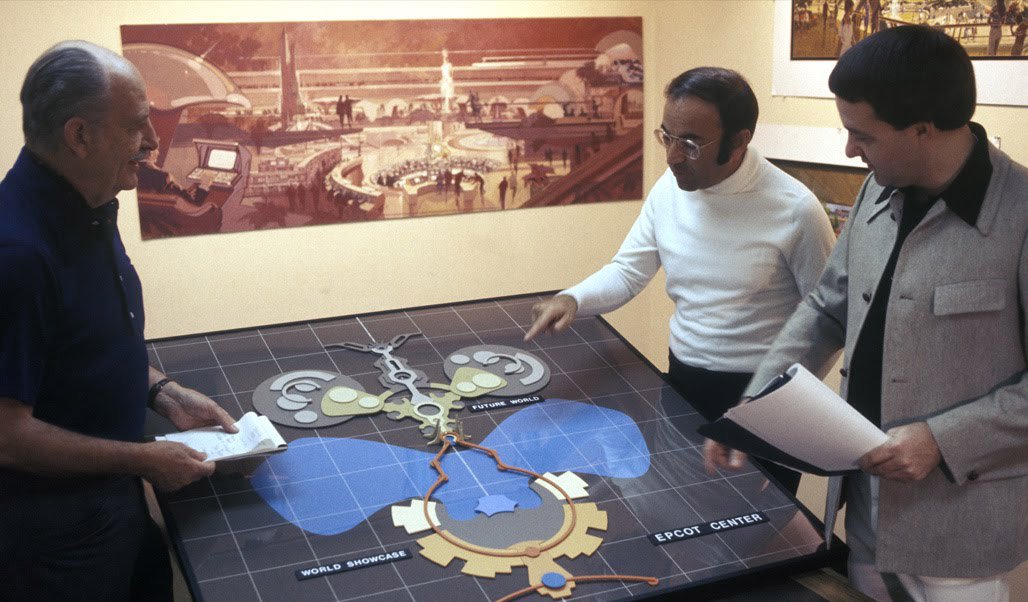 Here are the logos for the various countries. Not particularly futuristic, but well-designed.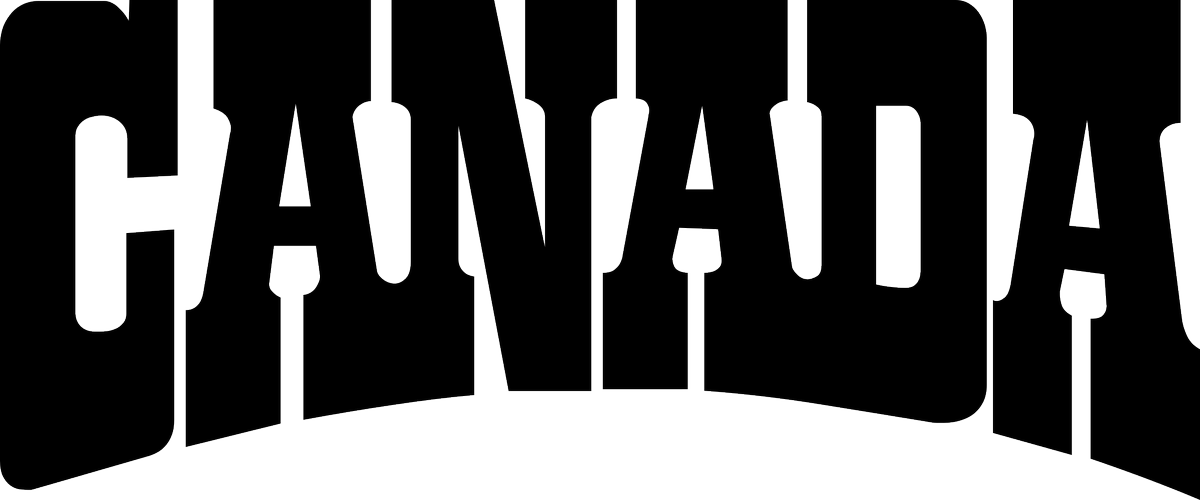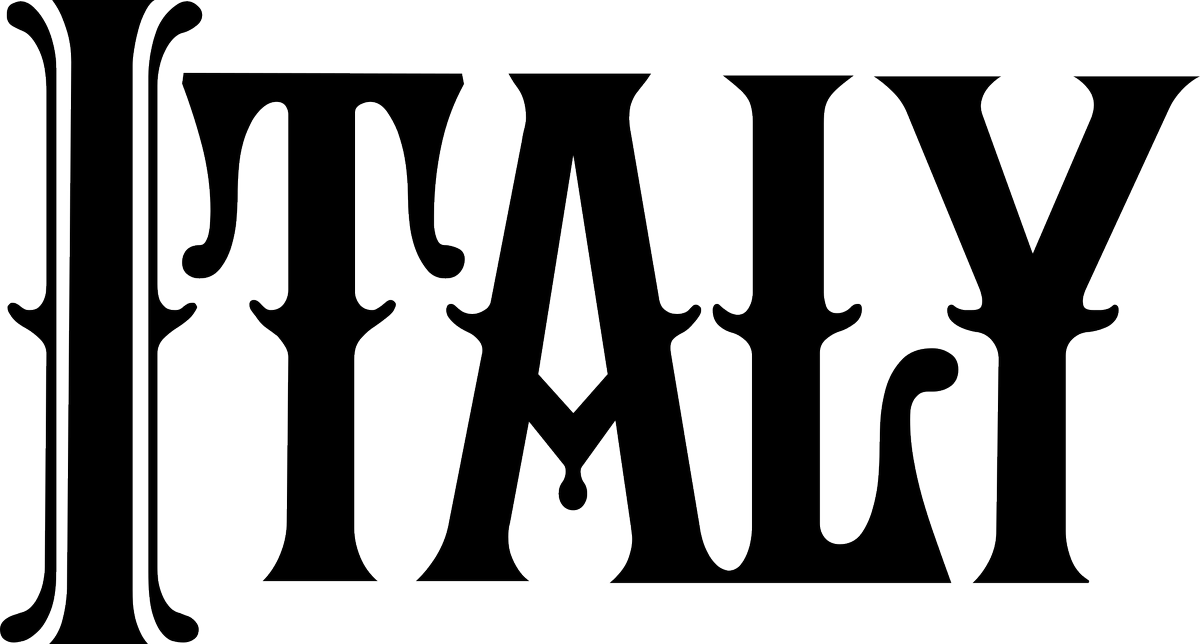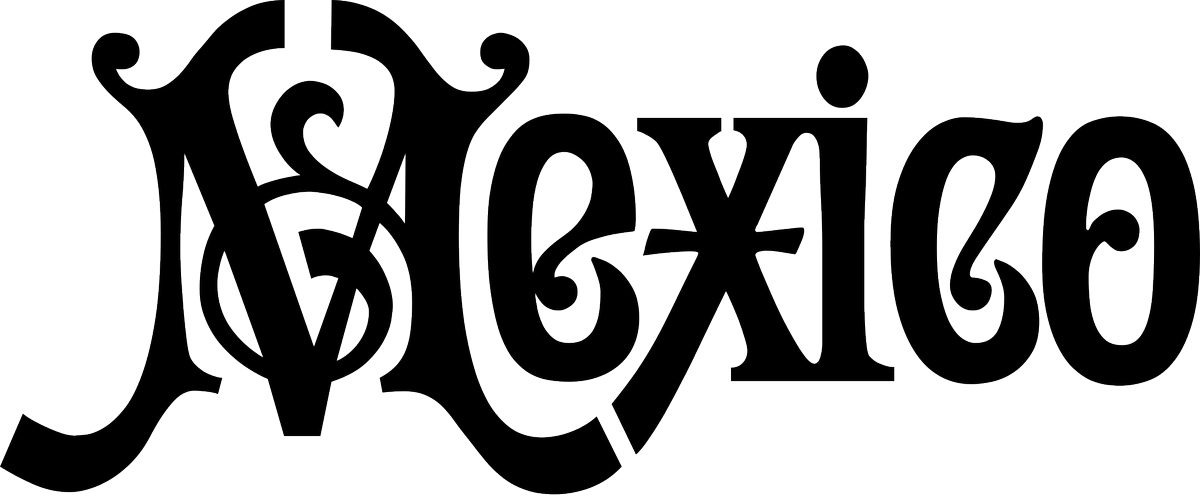 The American section went onto be called "The American Adventure", and resembled colonial Boston to harken back to the country's history.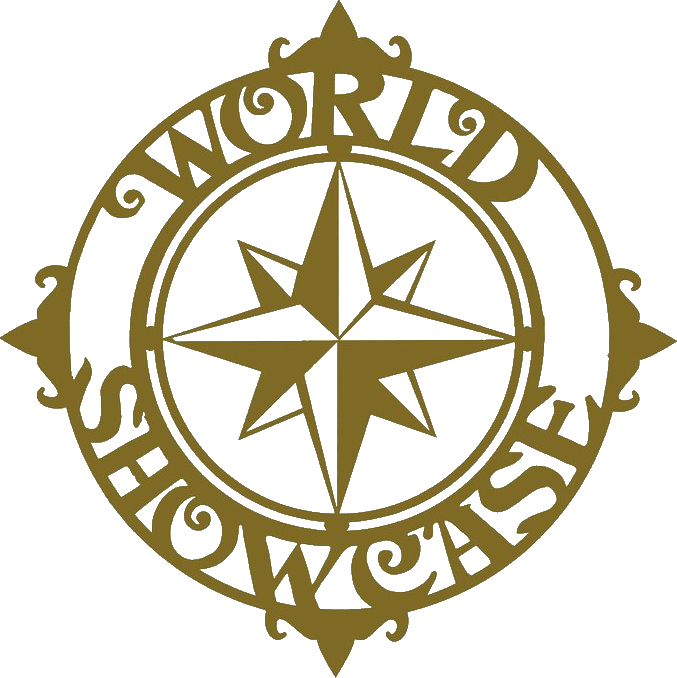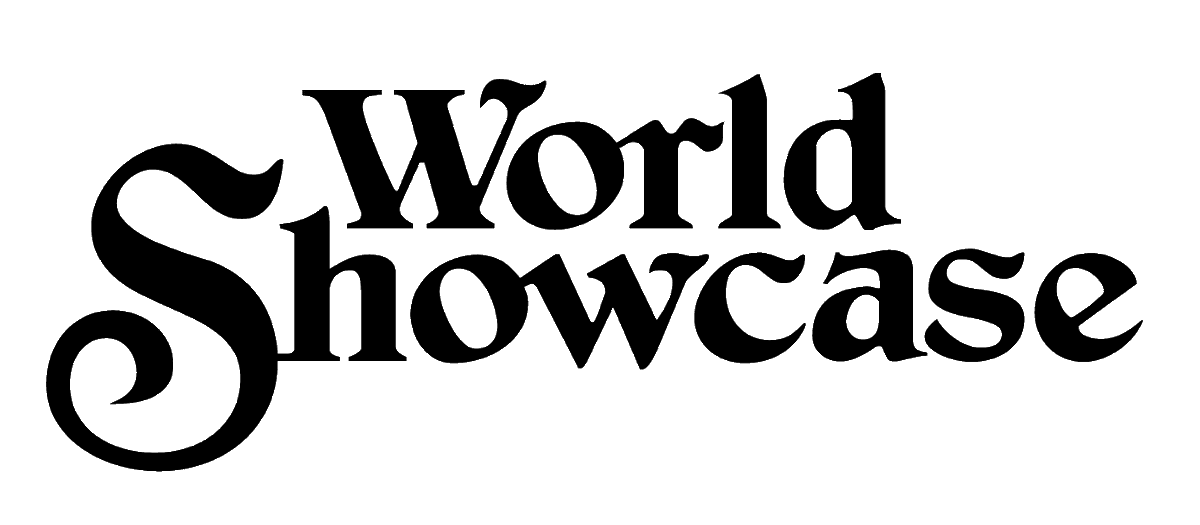 Two more pavilions, Spain and Equatorial Africa, were planned but scrapped due to lack of international cooperation (the African Outpost area salvaged the former concept on a smaller scale).
Noray and Morocco pavilions were added later. Their logos are uh
lacking in comparison.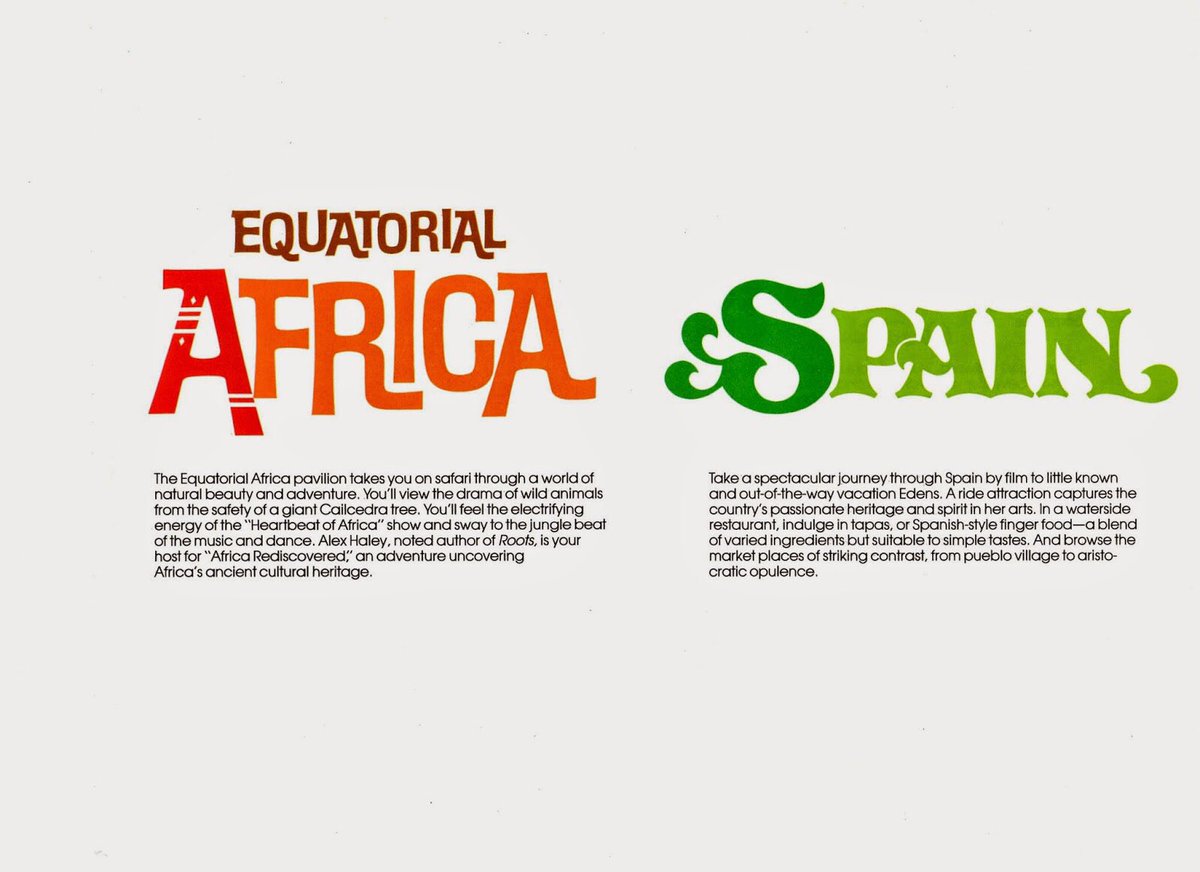 These pavilions were more or less modeled to be representative of their respective countries, with actual foreign staff, chefs, etc.
What does this have to do with futures, you may ask?
To answer that, we'll have to go forward almost 30 years from the park's opening.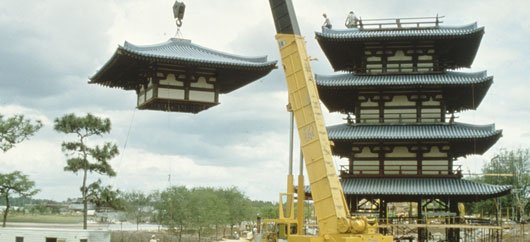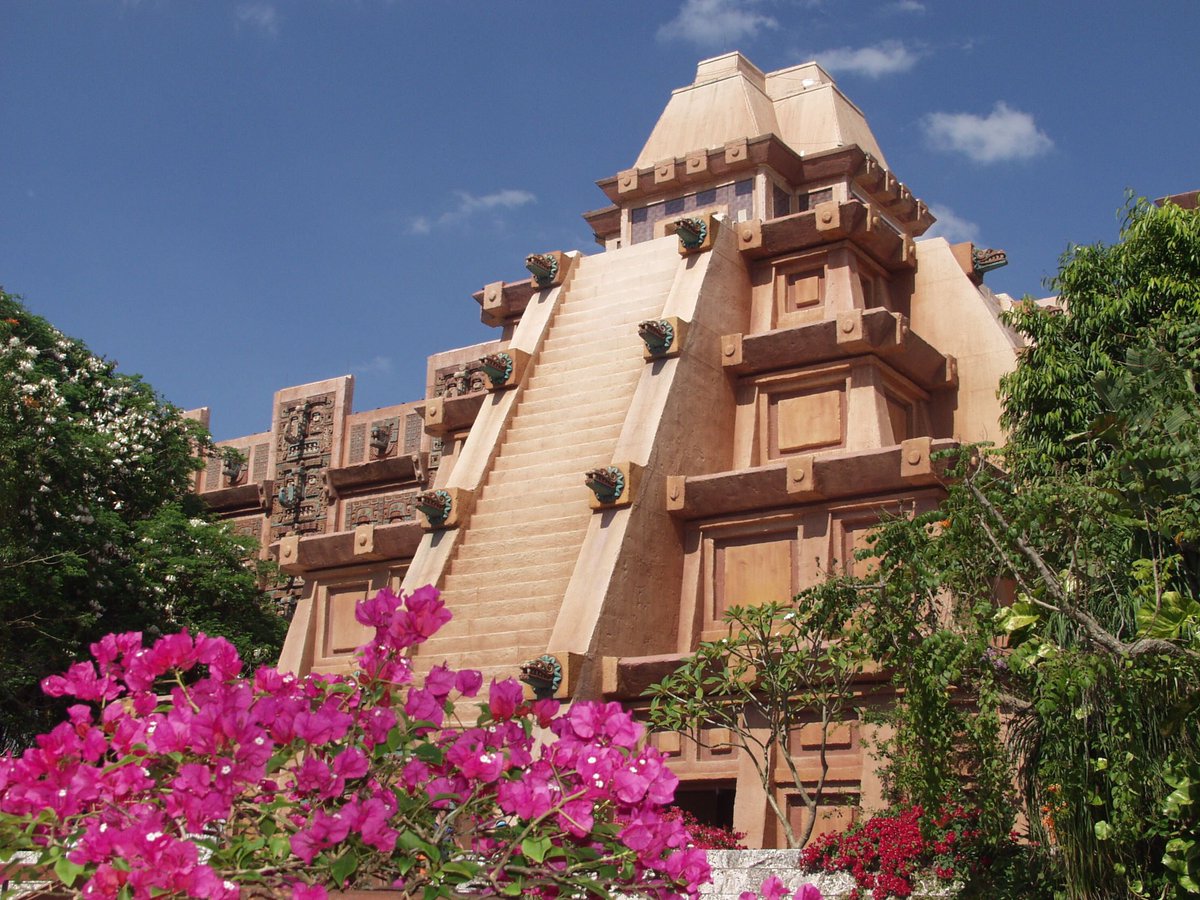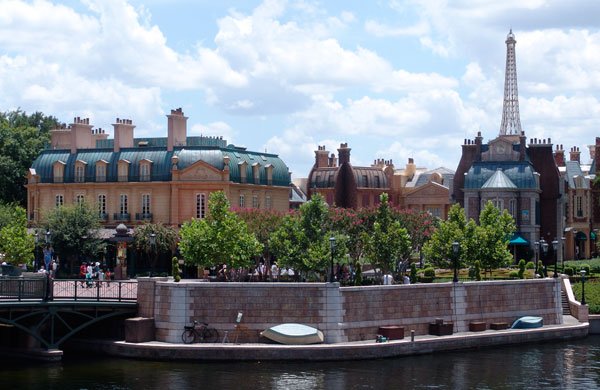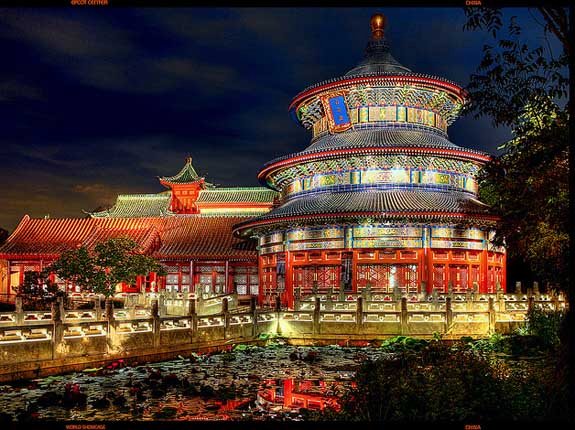 28 years after it was built, EPCOT gave a vision of the future to the world once again.
The year is now 1999.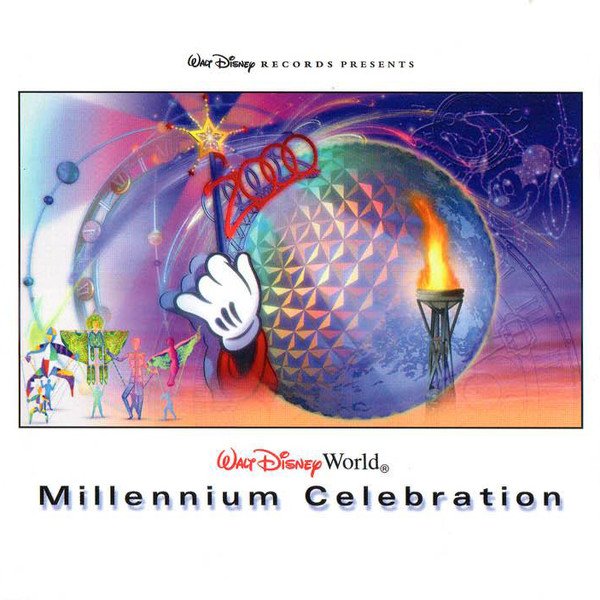 With the year 2000 close at hand, and with its once glittering Future World just beginning to decay, EPCOT turned to its World Showcase to create a vision of a new "global village", a then-popular term used to describe the presumed future of globalization and neoliberal economics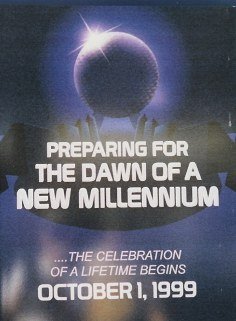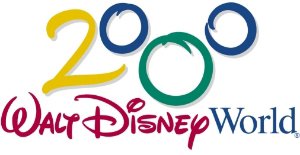 This manifested in the Disney Millennium Celebration, a park-wide event that ran from 1999 - 2001
While a radical departure from the techno-utopian vision of Future World, this celebration was its own "vision of the future"
It would also be the last for EPCOT as we know it now.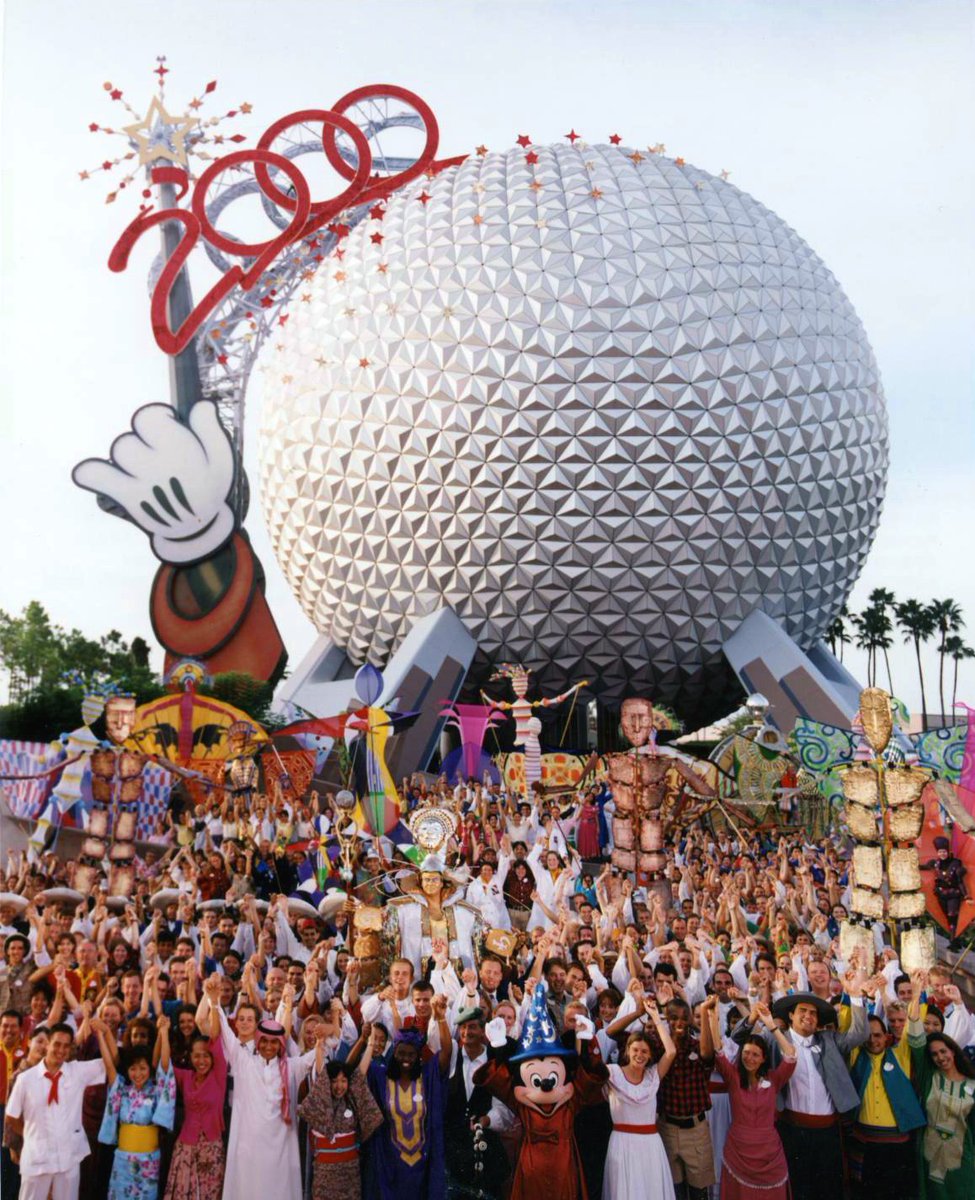 Worldwide unity and peace were the ideals embodied by this future, carrying popular hopes for a better 21st century.
"Leave a Legacy" stone monuments were constructed outside of Spaceship Earth, imparting a greater sense of gravity. Disney knew EPCOT was a monument itself.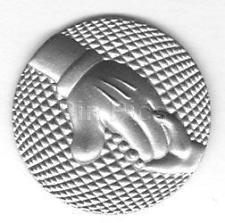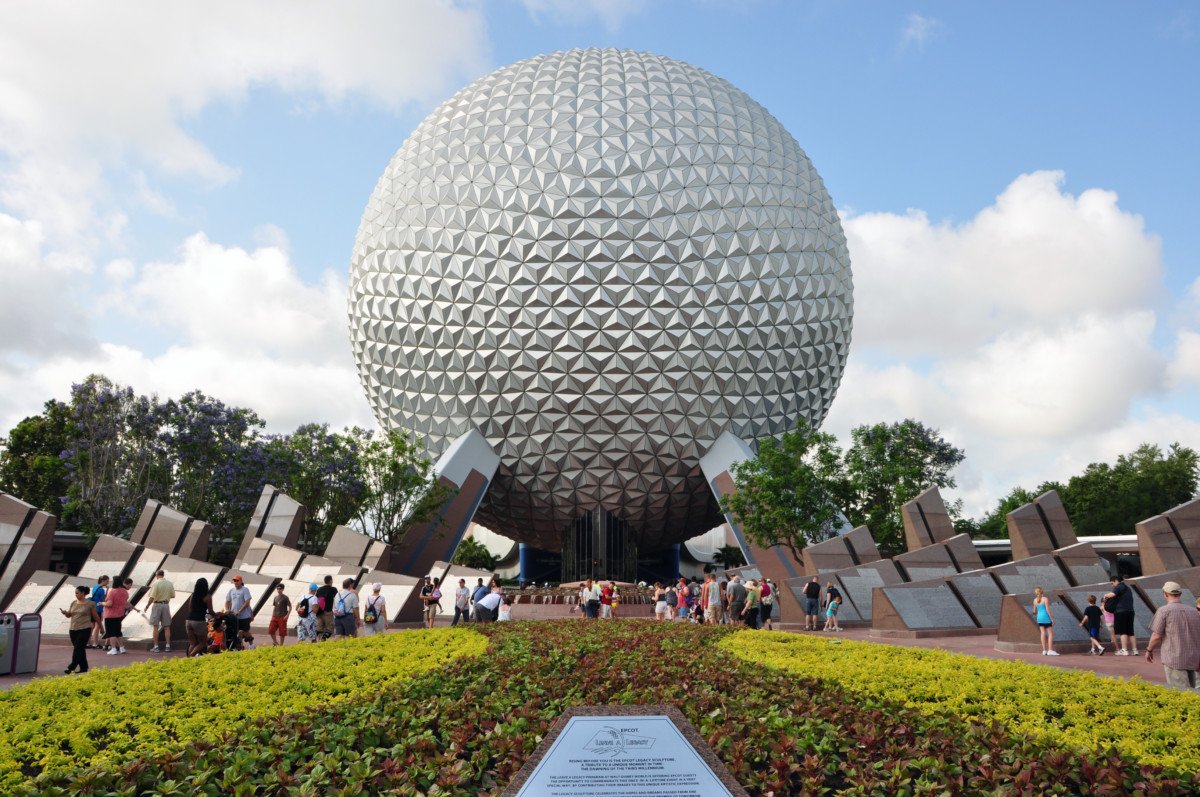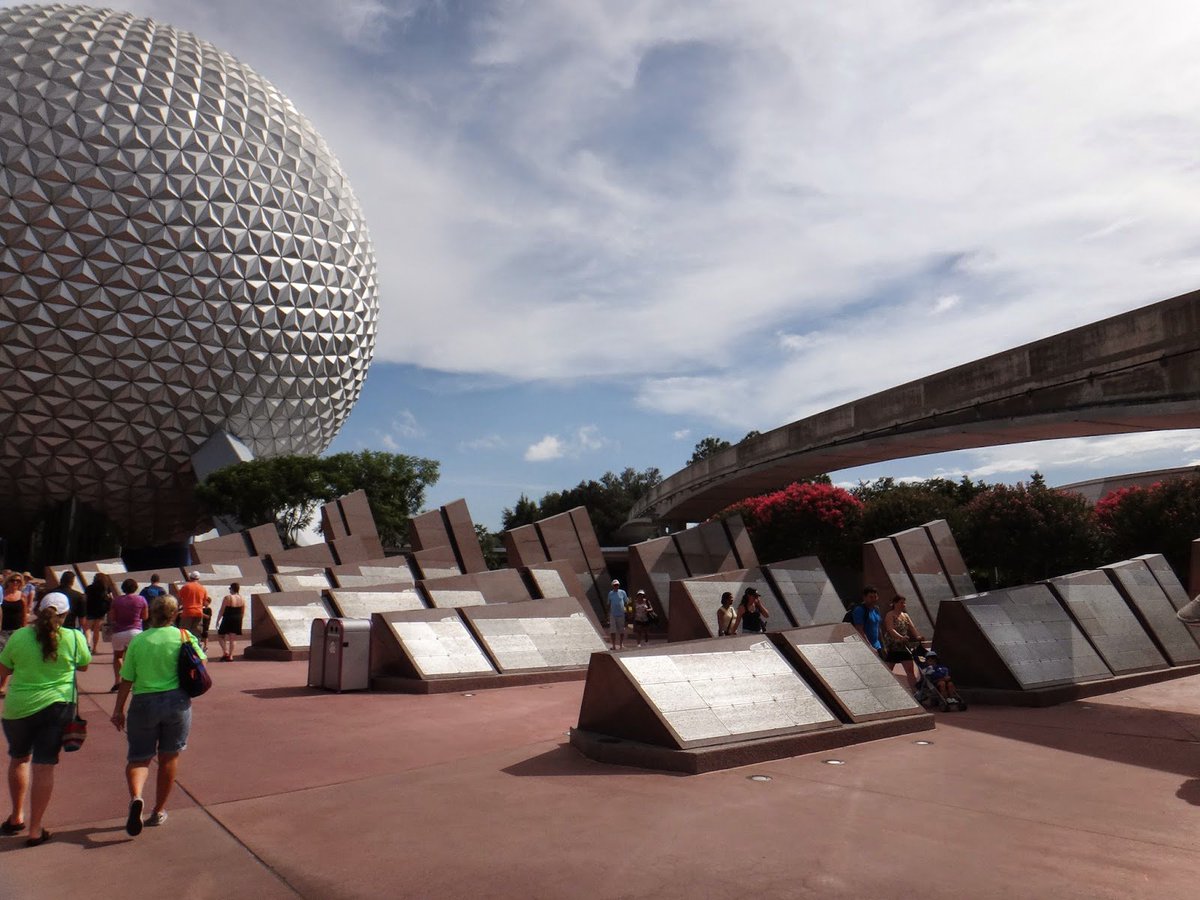 The biggest component of this celebration was the Tapestry of Nations parade, a stunning parade in tribute to themes of global unity and the broad possibilities of the future.
The parade was overseen by the Sage of Time, a delightfully pagan entity for a Disney park.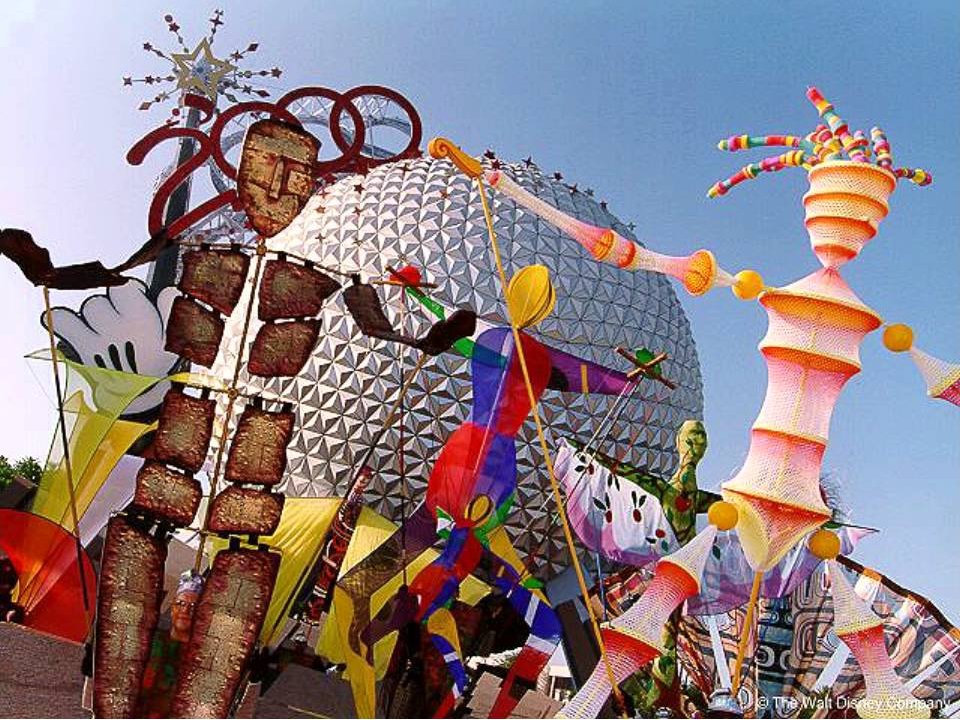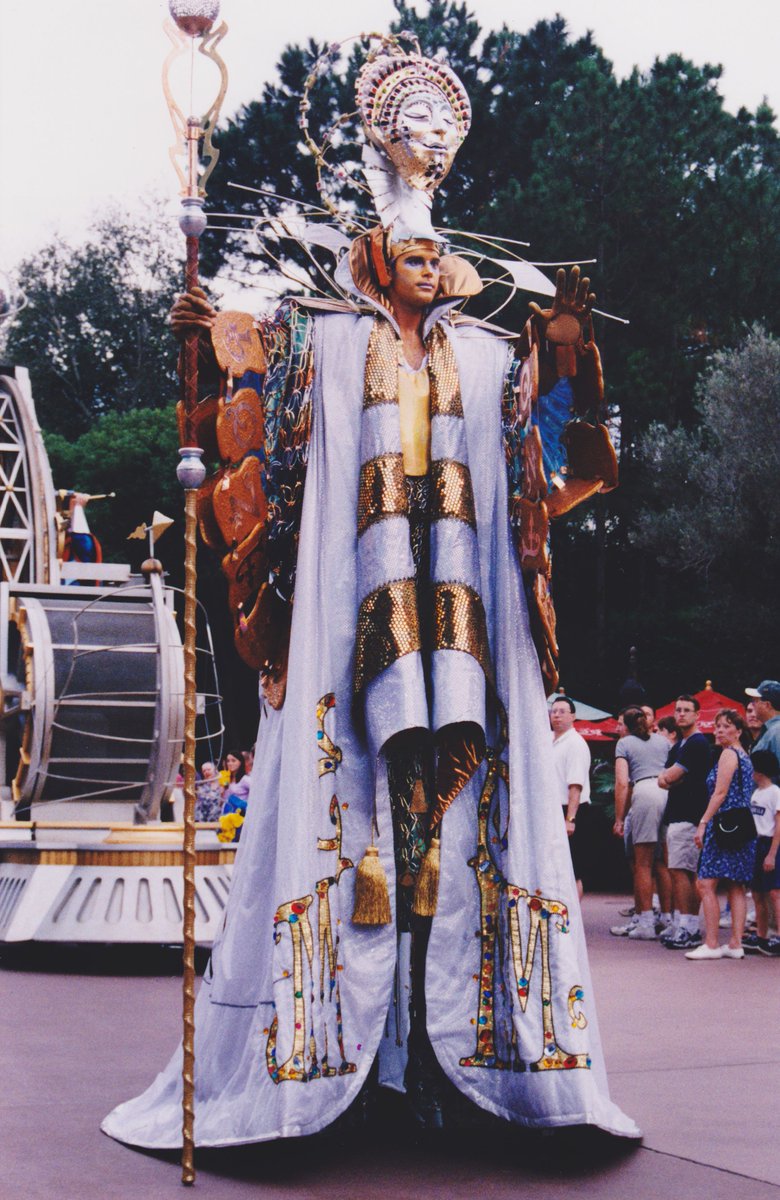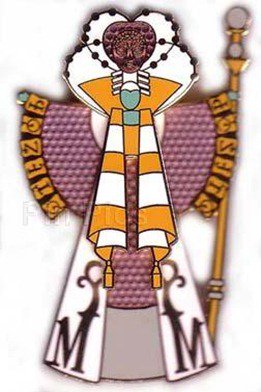 Costumes were designed by veteran Hollywood costume designer Marilyn Sotto-Erdmann, whose legendary credits include Around the World in 80 Days, The Ten Commandments, and Rear Window.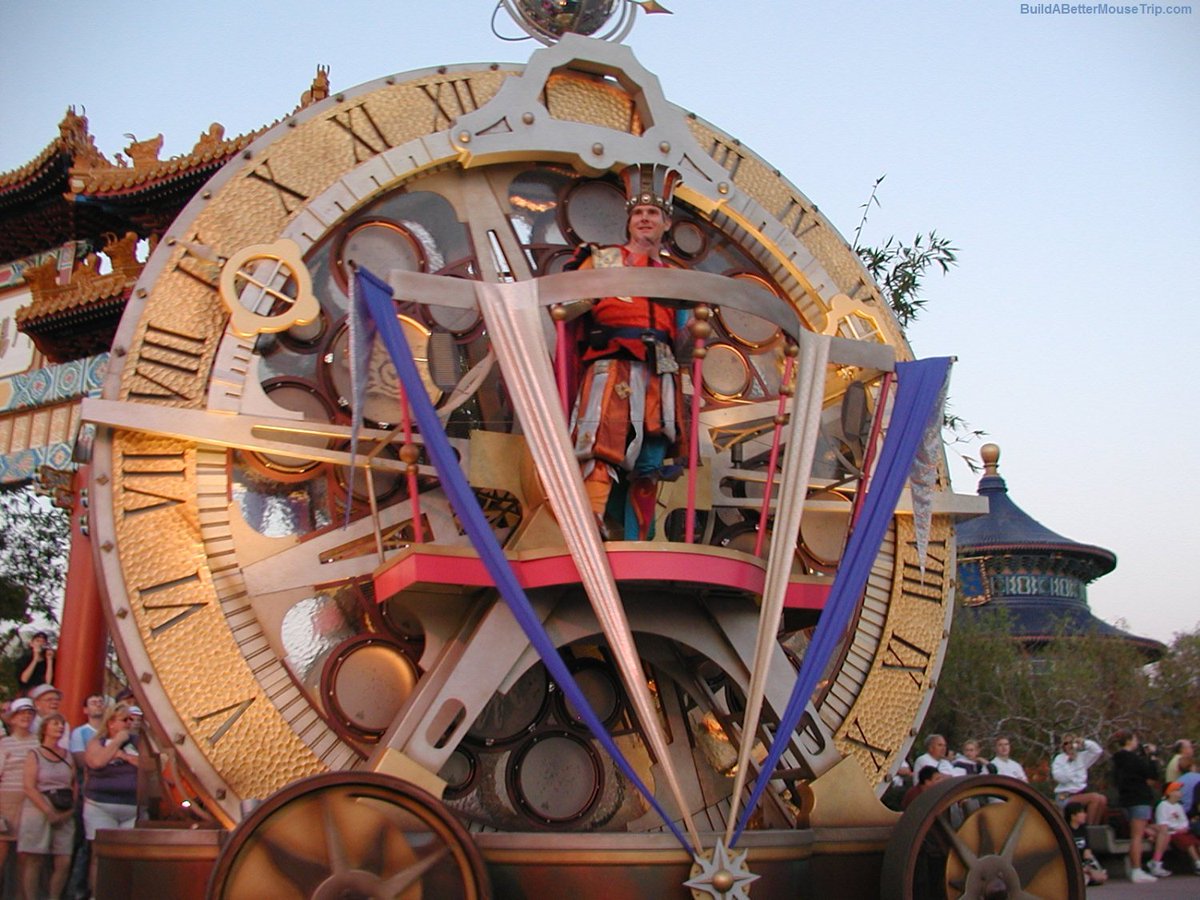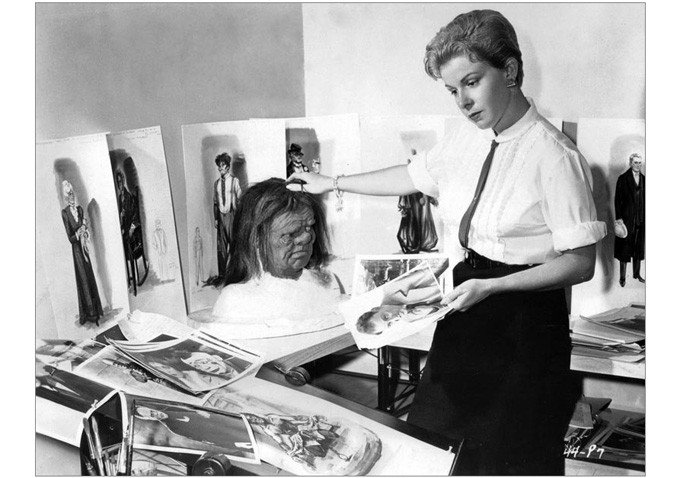 Regarding the stunning Sage of Time, Marilyn cited several influences that reflect EPCOT's millennium future.
His "orbiting" collar and mask were inspired by the sun - the most universal symbol in all of human history, uniting every country and time.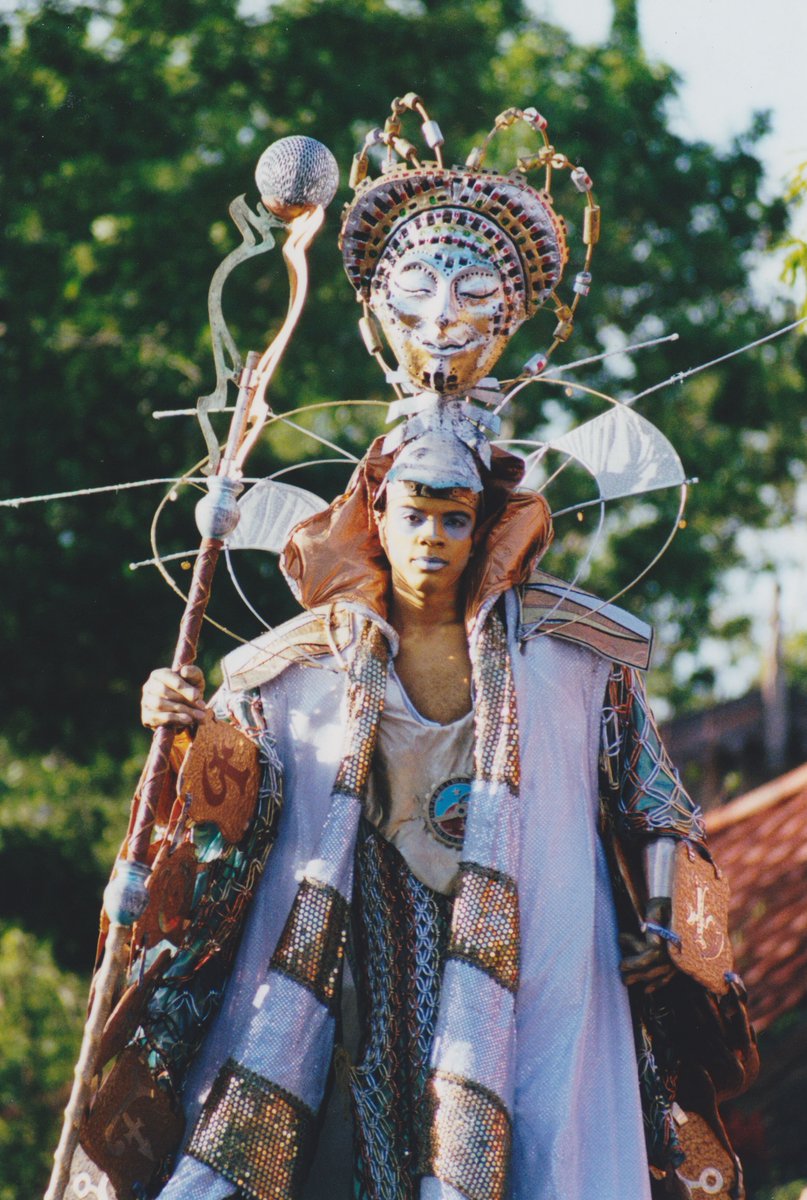 Gold, silver (a particularly iconic motif of 2000 millennium), and bronze were his chosen colors - "fruit of the earth", as described by Marylin. Alchemic symbols, also relating to silver and gold, furthered humanistic imagery, and masks were particularly inspired by African art.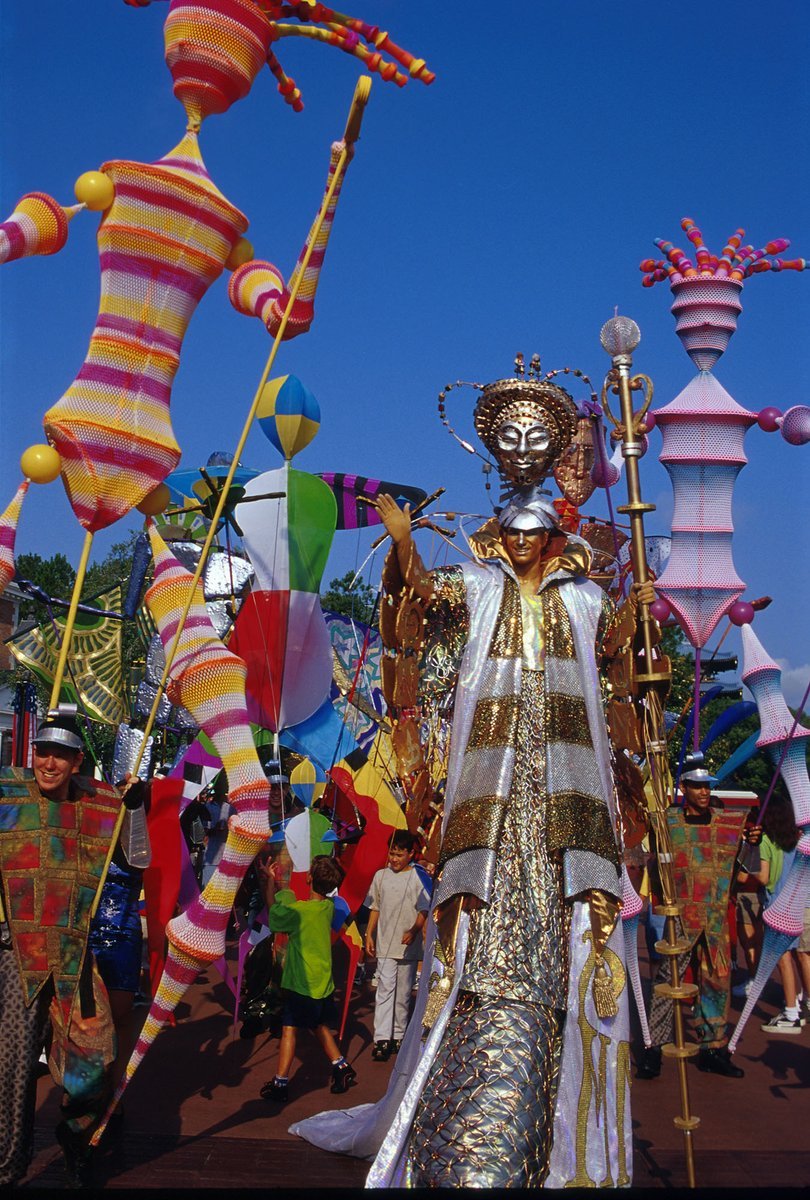 Puppets were designed by the similarly legendary Michael Curry, whose work spans from Disney Broadway to Cirque Du Soleil to Harry Potter.
Curry wanted silhouettes that could apply to people from any nation, as well as spiritual, lighter-than-air forms built for dancing.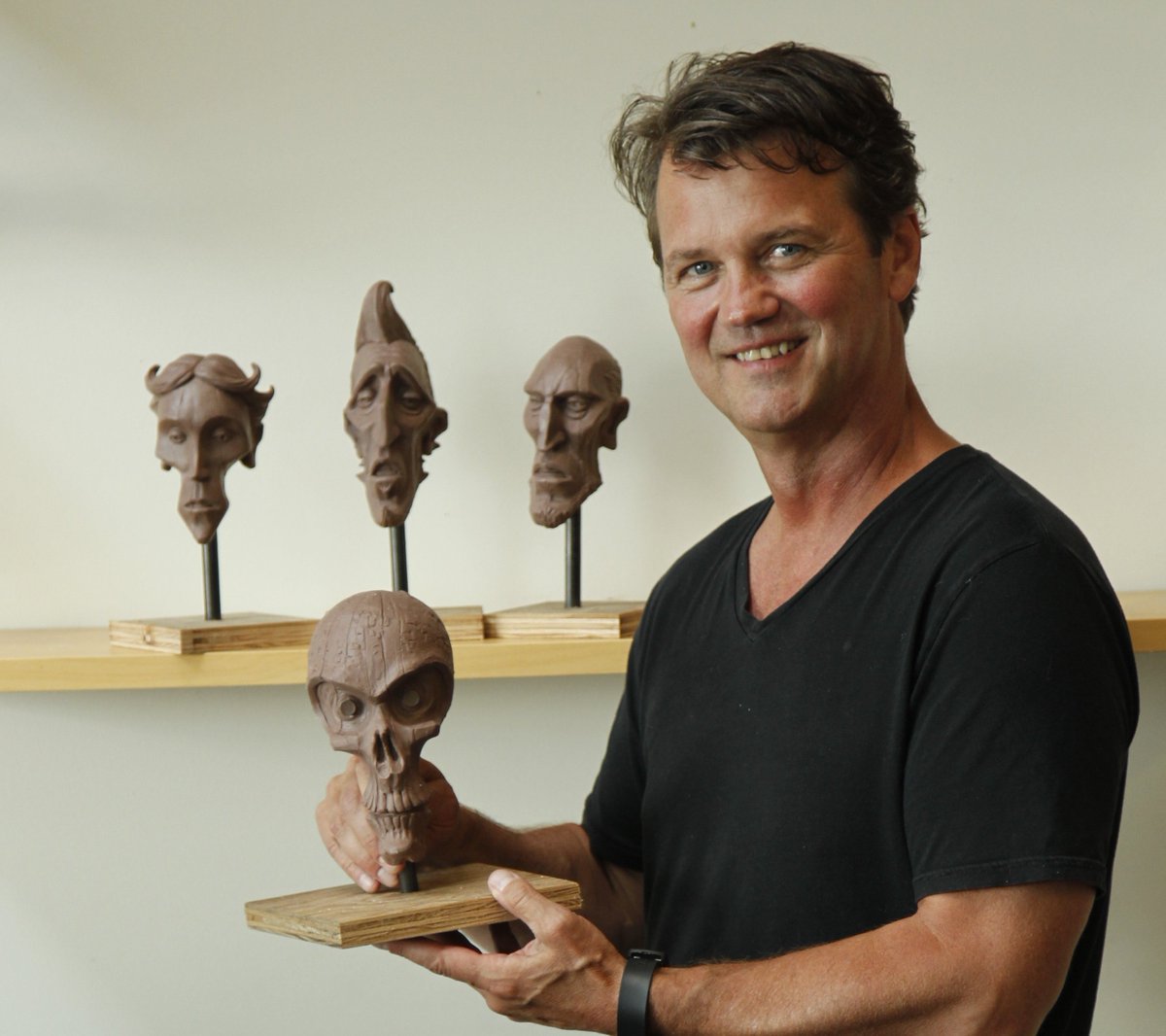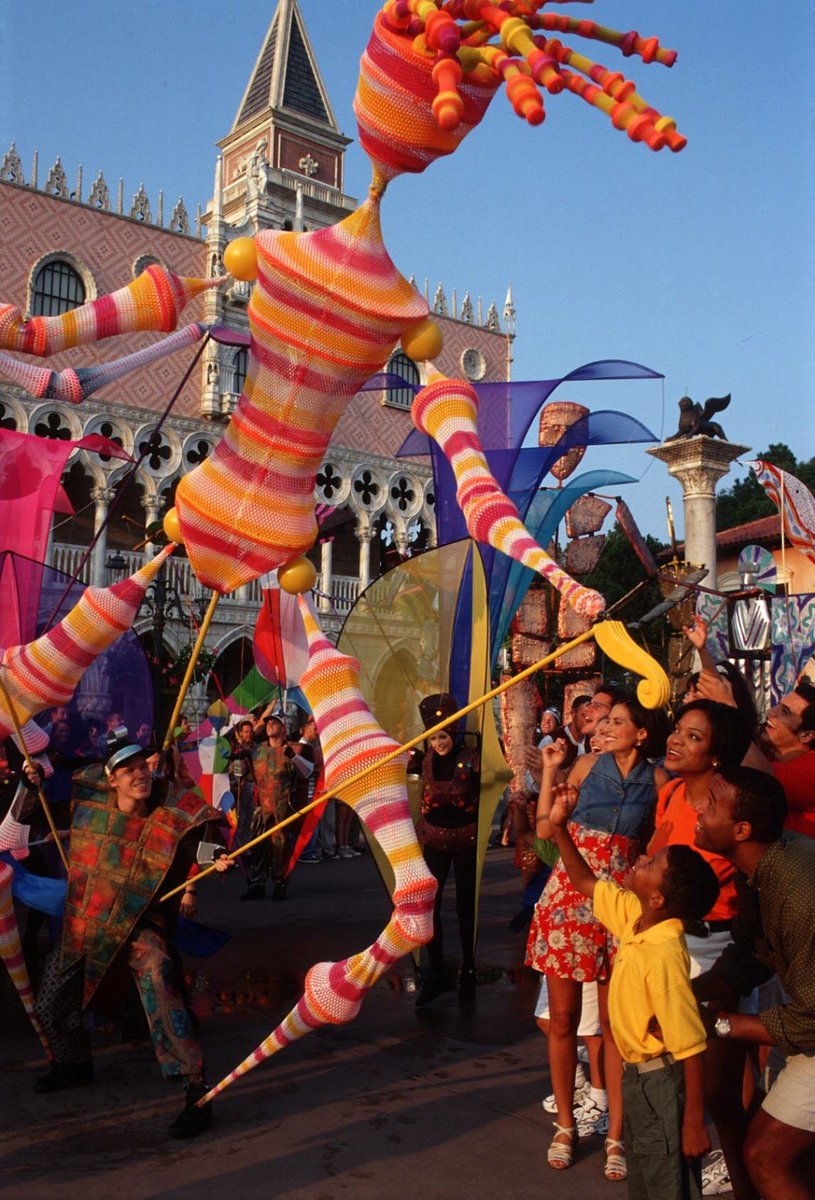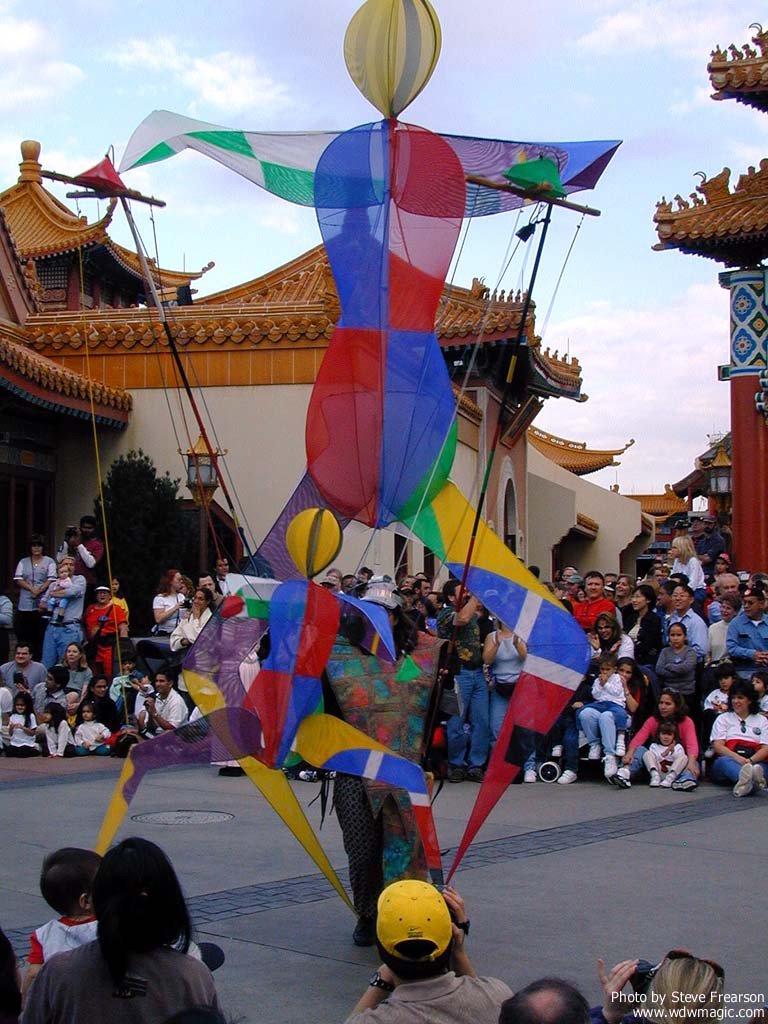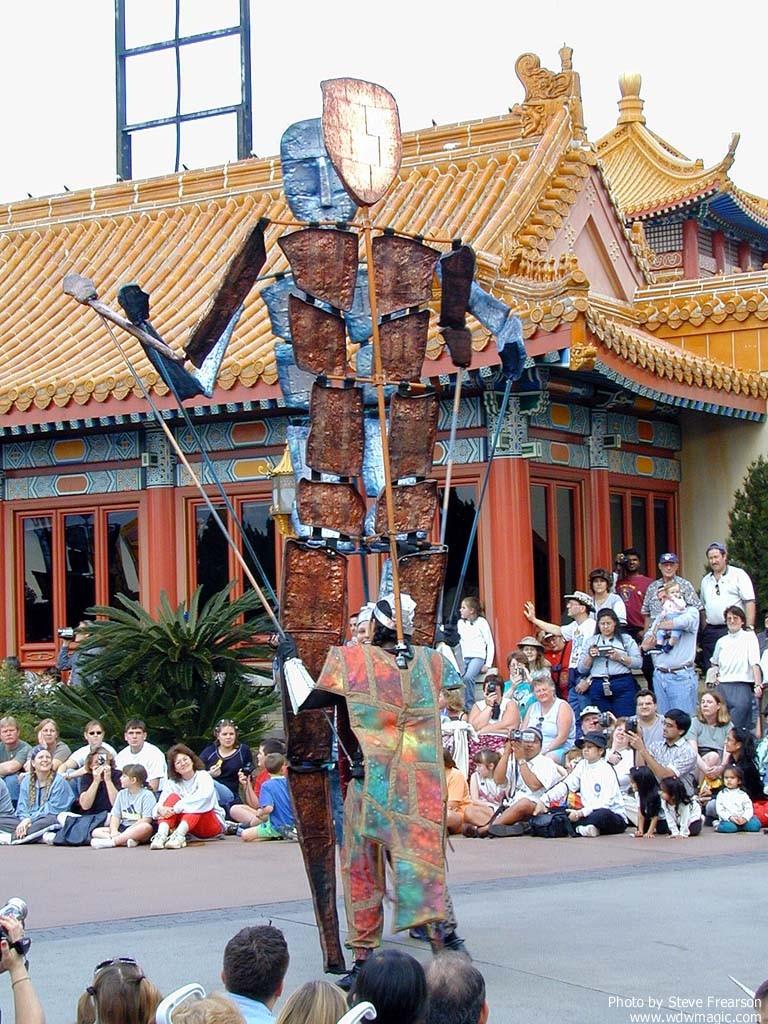 (Bonus: feature about Curry's work on the parade, though only two pages)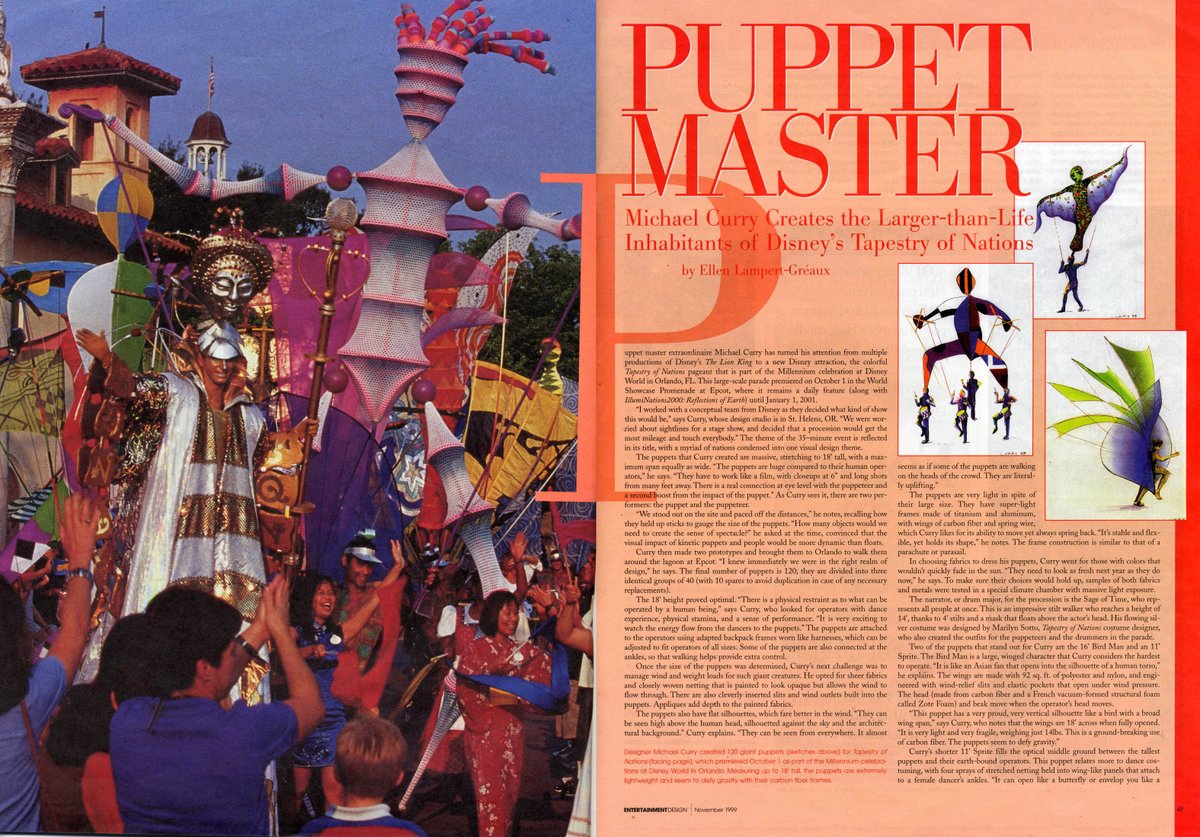 Also constructed was the Millennium Village, an extension of the World Showcase designed to show children glimpses of a globally united future. Scotland, Brazil, Saudi Arabia, Eritrea, Israel, and Chile were represented.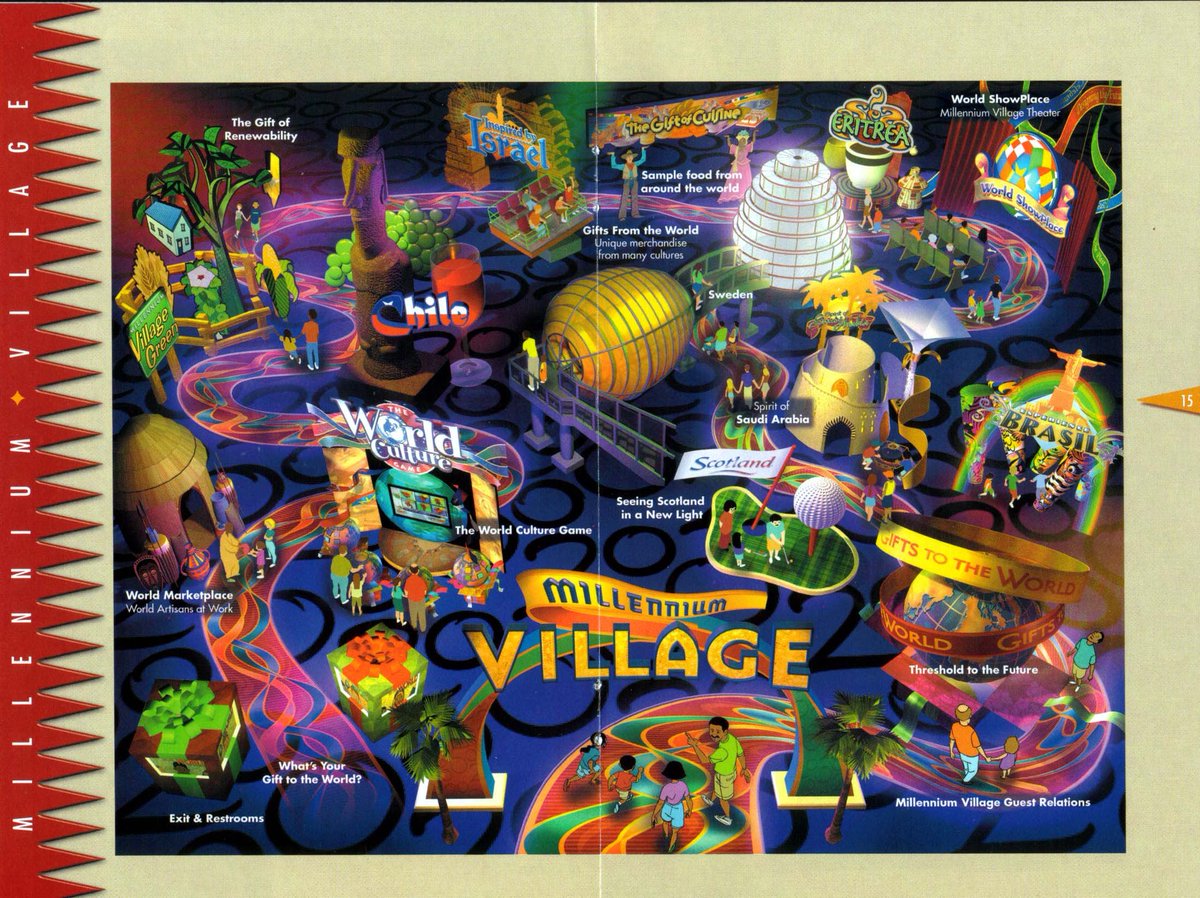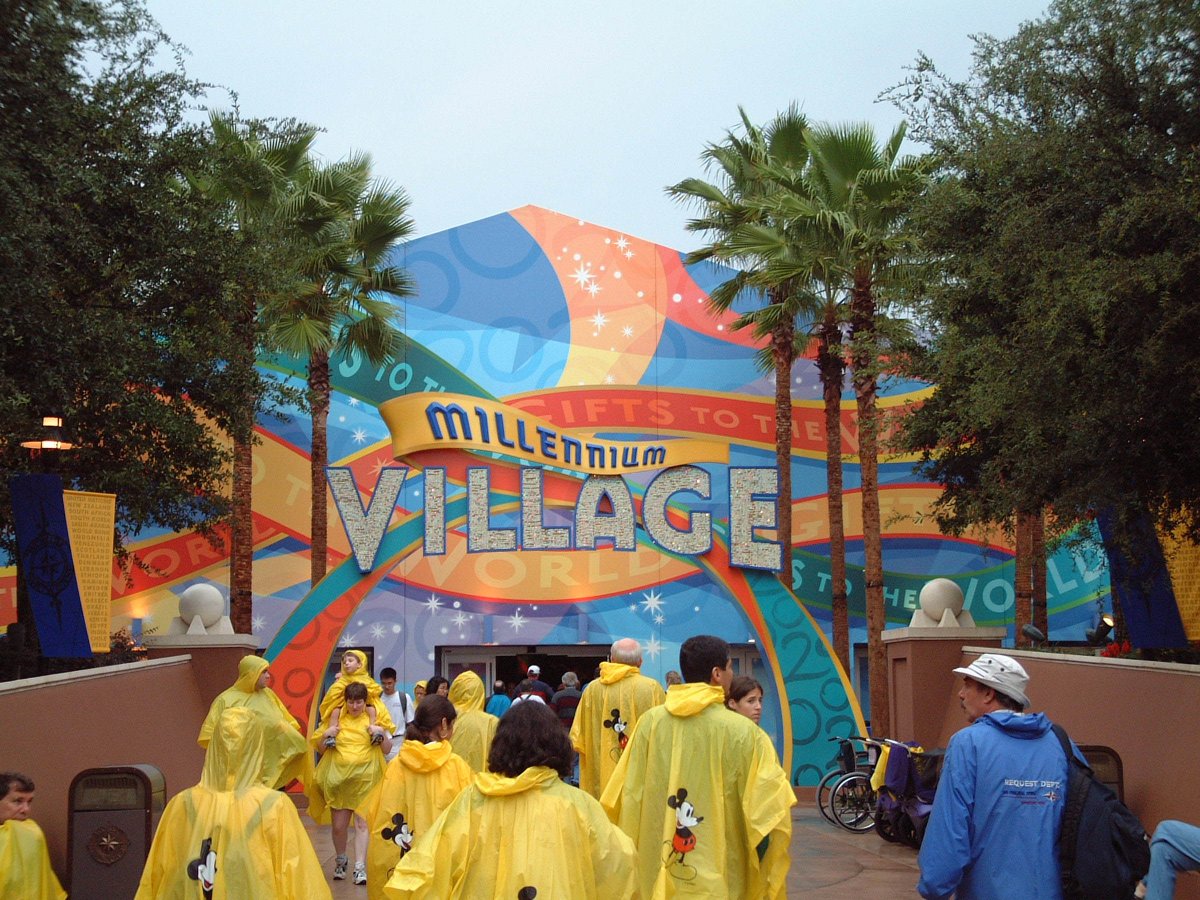 A whopping 90-minute TV special aired in 2000 that shows off these two parts of the celebration in much greater detail.


Finally, there was the crown jewel - IllumiNations: Reflections of Earth, a nighttime spectacular set on the World Showcase Lagoon. Utilizing a custom-built "globe screen" covered in computer-controlled LEDs, this was Disney's most advanced night show yet.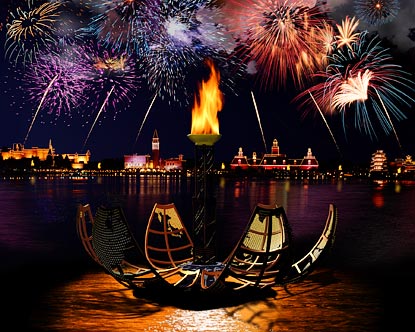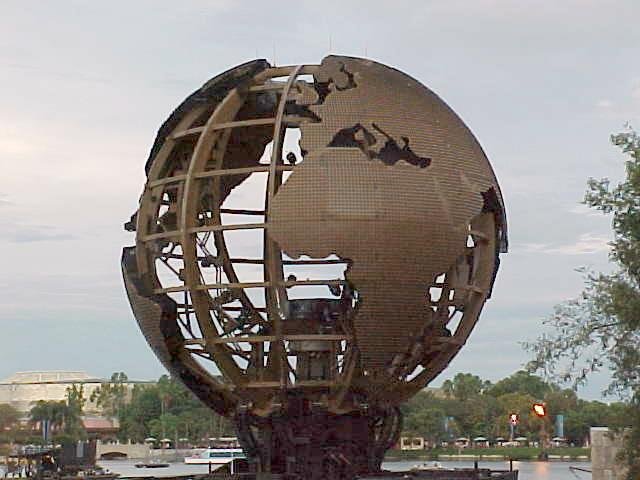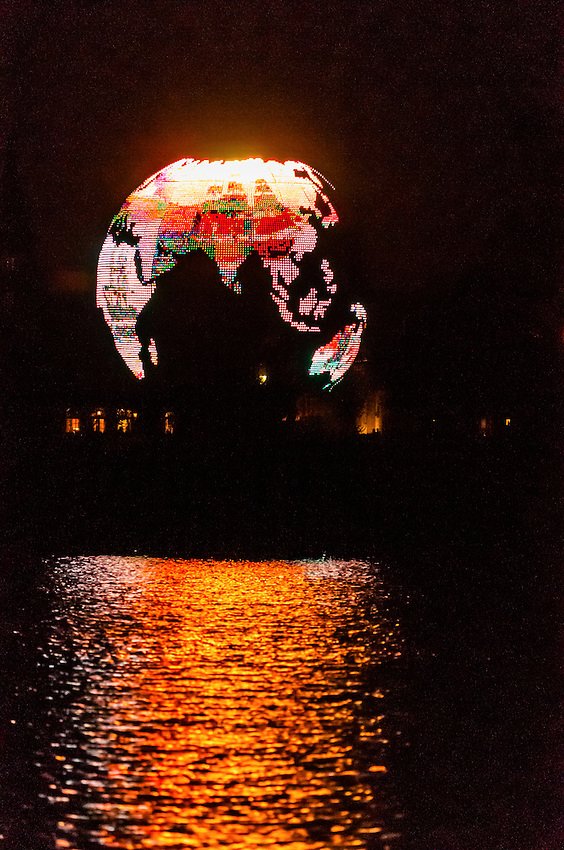 IllumiNations, with a couple of minor show changes, was the only part of the Millennium Celebration to survive past 2001, and still serves as EPCOT's night show today.
disneyworld.disney.go.com/entertainment/…
All of these elements combined to form a vision of the future that promoted peace, hope - following the principles of unified philosophy, unity in design, consistency in detail, and sentimental humanism.

Then, in 2000, Disney took it to the Super Bowl.


A mere two years after this spectacle, the future had changed.

It was neither that of Future World or the Millennium Celebration. It was uncertain, full of the chaos that we hoped, or were at least told, would be left behind in the 20th century.

I was too young to know it then.
Future World and the Millennium Celebration both believed in human beings putting aside the boundaries of nation and the past to come together in a new century, with globalized neoliberalism raising quality of life worldwide.

2001 and 2008 put those dreams to rest.
In 2018, our shared visions of the future are gone. The reason I study the design of futures so intently is precisely because they are now missing.

With the world slipping further into chaos, many of my friends wonder if we have a future at all.
Most modern images of what the future my hold seem to be extensions of the present, lacking the conviction or philosophy of previous visions.
EPCOT, sadly, is no exception. The park is due for an overhaul that will see many of its educational aspects likely undone.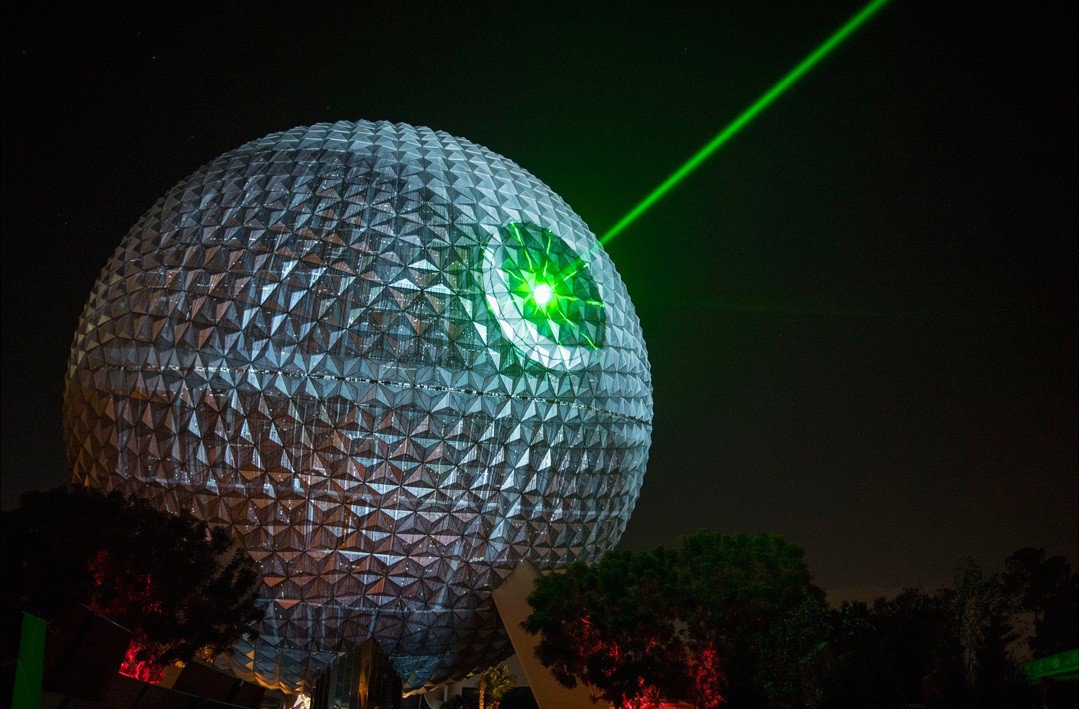 The first tastes of the futures we were promised have instead grown into a turbulent present

Global communications: polarizing instead of democratizing
Networked technology: paranoia instead of transcendence
Neoliberal globalization: stratifying instead of unifying
Perhaps we are still culturally reeling from what may feel like a betrayal, resulting in a lack of a vision of the future for our generation.

Or, perhaps, crafting a unified vision of the future is no longer advantageous to those who have the means to do so.
So, how do we get our futures back?

We design them. Futures are designed.

EPCOT was built during the tension of the Cold War. It wasn't a time of peace. EPCOT was built by thinkers crying for change. If it can be built then, we can build a new vision of our own. And we OUGHT to
Things are kinda shitty right now. They're gonna get worse.

The desire for hope and change is there. We, as designers, have a duty to build it a form, a face, a voice.

The aesthetics of a future vision are rallying points for hearts and minds.
Were the tenets of futures from our childhoods propagated by those who served to financially benefit from them, sweetened with a utopian angle? Perhaps.

That doesn't belittle the inspiration that they gave, and doesn't mean that we cannot reclaim those aspirations for ourselves
At the end of my Kickstarter video, I say "The future is still here."

That's been my creative motto for years, and I'm excited to do things like write this thread and (hopefully) make this game to put it into action.
Thanks for reading - please, support this KS if you can. All of the emotions and research I poured into this thread are the same energies driving me to make this project. Thank you all. <3
kickstarter.com/projects/11131…