These are not unrelated, no matter how many dumb people tell you they are.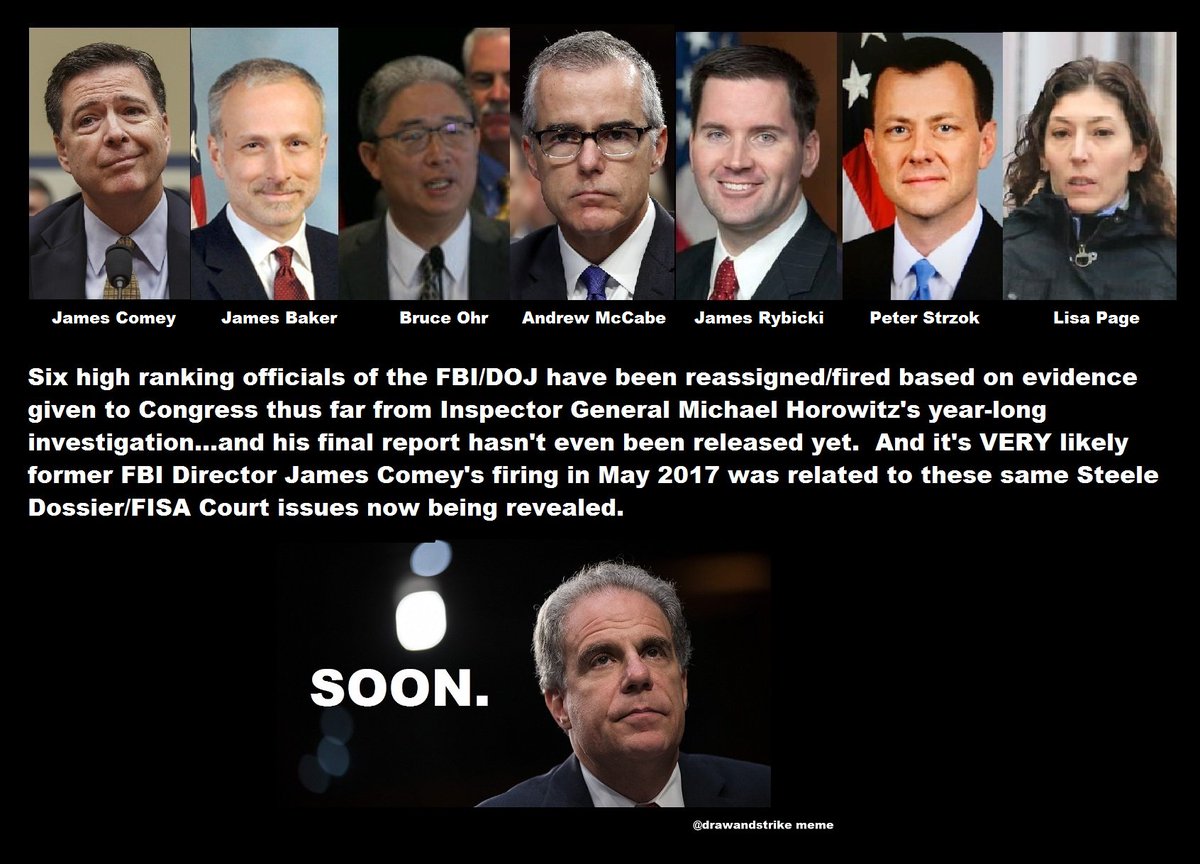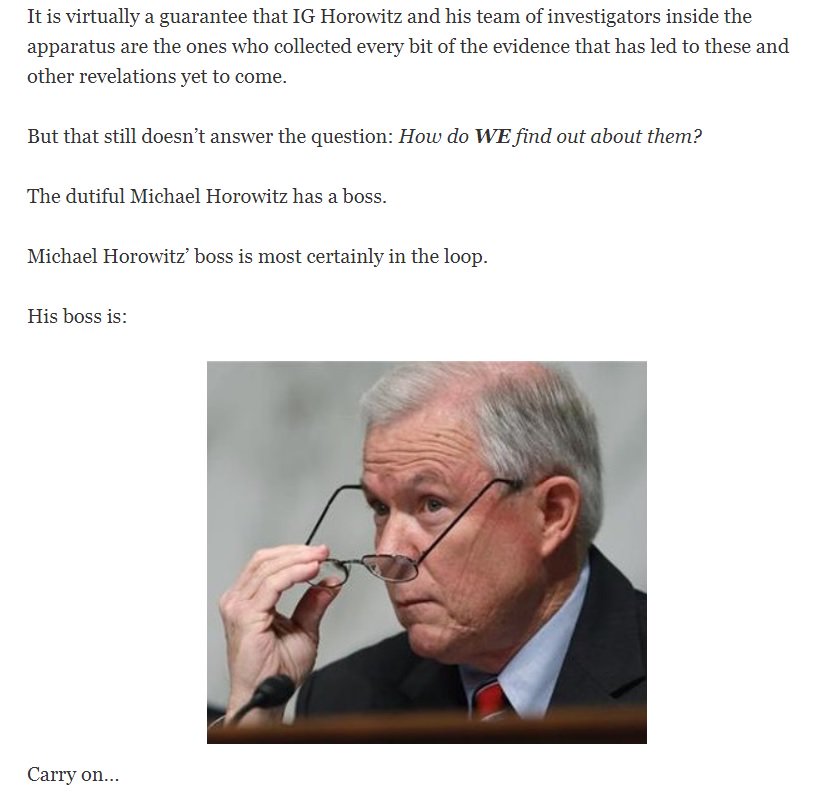 When both Congress and Horowitz's investigations are complete, they will make referrals to Session for prosecution. THE CASE has to be made *publicly* first. It has to all be exposed FIRST. We're in the process of that.

It took a year to get here.
Imagine if they'd just indicted all these people LAST MARCH instead of letting Horowitz build his case first & then hand the evidence to Congress.

Can you imagine how THAT would have gone?

You have to EXPOSE it all first BEFORE you start indicting people.
If you don't expose it all FIRST, you just indict everybody right out of the gate last March, a mere 2 months into the new Trump administration, you end up warning all the targets and you get complete chaos.
I keep having to explain: *why* do you think Horowitz engineered his investigation for SILENT RUNNING from January to December 2017 and he didn't surface for TWELVE MONTHS until he had the evidence to hand over to the Congress & the AG?
Indict all these people a year ago?

Are you INSANE?
People watch too much TV and have lost all sense of how the real world works.

You don't rock a federal agency of such importance as the DOJ down to it's very foundations until you have a COMPELLING CASE based on real evidence you can show THE PUBLIC.
Can people just, I don't know, try to imagine how this would have gone if Trump & Sessions jumped the shark back in March of last year and rolled out dozens of indictments BEFORE making the case to the public?

For like 5 minutes?

Furrow your brow & concentrate REAL HARD.
Yeah, right after assuming office, geniuses on Twitter tell me Trump & Sessions & Horowitz should've rolled out a couple dozen indictments of 1/2 the DOJ/FBI's top management & people from the previous administration.

No need to show the public anything, just roll'em up.
Right in the middle of all the antifa marching & protests, let's suddenly roll out dozens of indictments and then belatedly after the fact try to explain to the public "We don't have a case we can show you yet against these people. Hey, just trust us!"
Stop bitching to me about this taking a year. It was the only way to do it where it would have WORKED.

And it is WORKING.

It's all being exposed, and there's a lot more coming. By the time the referrals for prosecutions are made to Sessions, it'll be AIRTIGHT.
Nunes knew just about everything in that memo last March. HE'S KNOWN FOR ALMOST A YEAR.

Did he leak anything? No. He knows the stakes here. He kept his mouth shut and took the ridicule & being investigated while Horowitz collected the evidence.
It's not a coincidence that once the DOJ IG handed over 1.2 million documents to Congress beginning on Jan. 12th, the Nunes and Grassley memos followed shortly thereafter.

Horowitz handed over the remaining source documents they needed.
You do not do this, you do not even HINT you are going after these kinds of people unless you have the goods first. You just don't.
And you need to lay out your case piece by piece, line by line & let the public digest it before you act.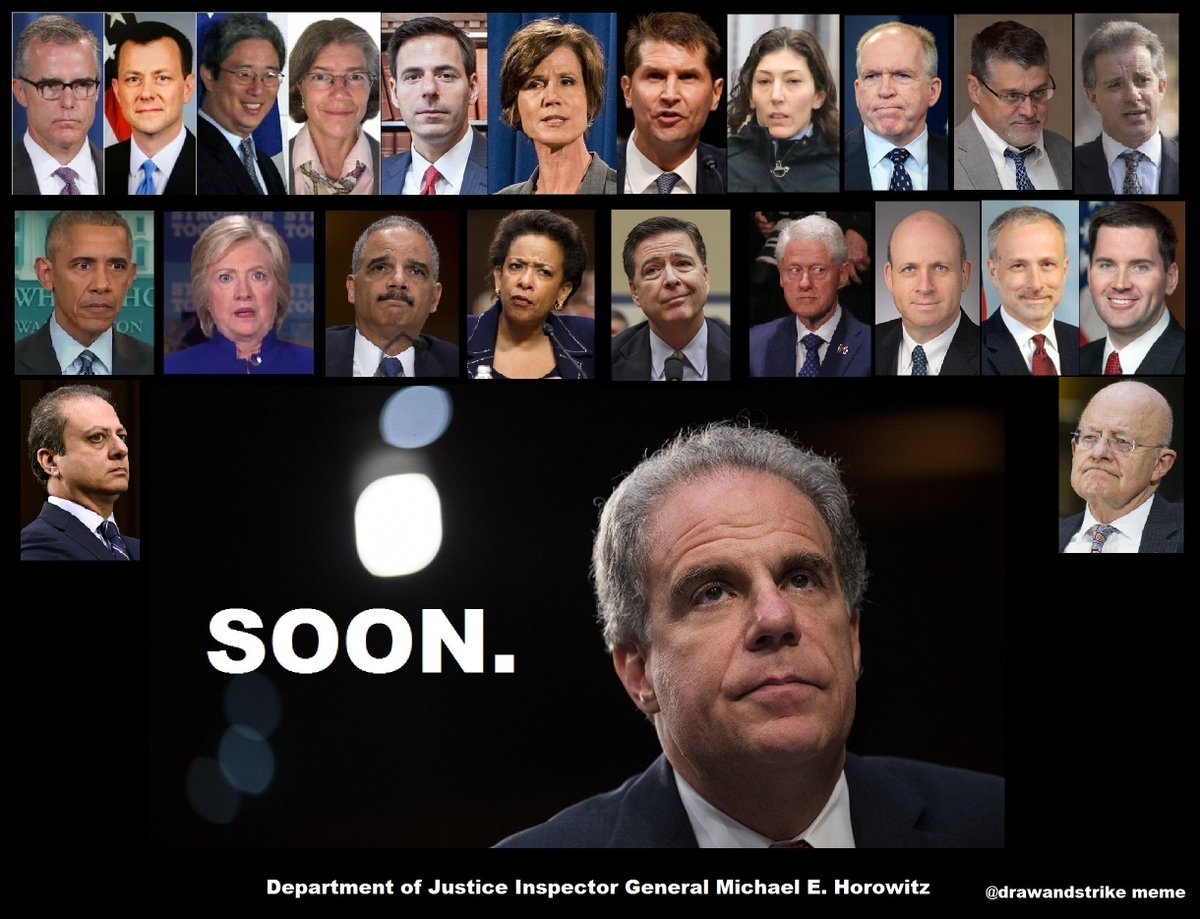 Because if you go too early, if you tip your hand too soon, all these people have very powerful friends, many in the news media, and they are going megaphone into the public all kinds of shrieks about draconian tyranny & Trump weaponizing the gov't to go after his enemies.
More than HALF the public has to be on board before the final act, the indictments are made. If not, these people pictured here are going to unleash Hell on our country.
Yes, they'll try that ANYWAY. But with most of the public on board after seeing the evidence?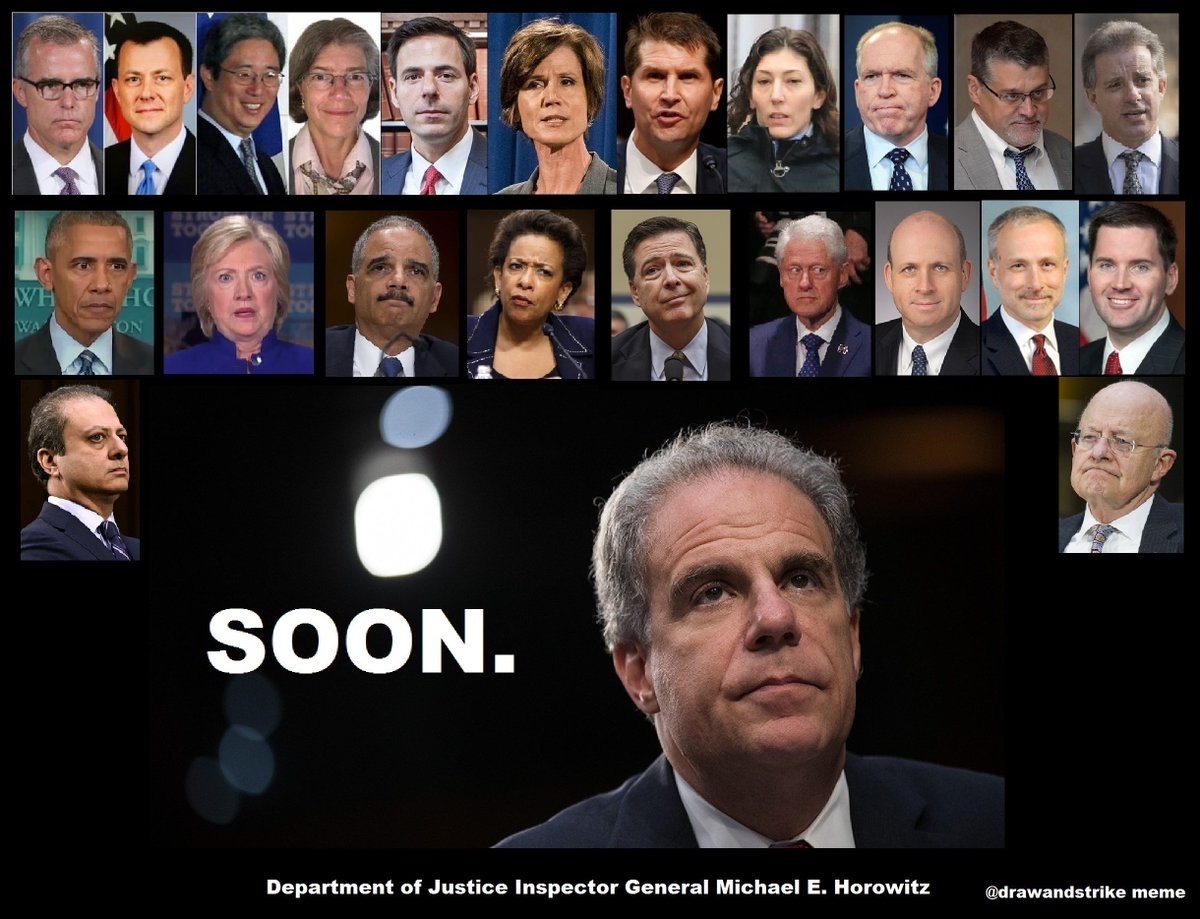 THAT is why it's being done the way it is being done. The slow, inevitable rollout exposing the crimes, releasing the evidence.

Whine about how slow it is all you want. It won't change anything.
The Democrats can't stop it. The DNC Media Complex can't stop it.

The public is going to see MOST of the evidence before the indictments are made.

It *had* to be this way.

If you *can't* grasp that, I can't help you.

If you *refuse* to grasp that, I don't give a shit.
So please. Quit filling my mentions with endless whining about how long this taking. It was done this way for a reason by very serious, dedicated and brave people who are saving our country.

Quit attacking them.

It's making you look stupid and it's pissing me off.

/end