*THIS* is a DISASTER to USA
& MSM is NOT covering it
ultra-conservatives & Kochs, Mercers wanna REWRITE US Constitution
need 34 states to ok that
Iowa is becoming 28th
u think Trump is a DISASTER?
wait til RWNJ change Constitution
can make *anything* law
desmoinesregister.com/story/news/pol…
we're so used to saying "They can't do THAT"
cuz "it" whatever it is at the moment
wud be UNCONSTITUTIONAL
*not* if u re-write it!
we can b police state/a theocracy/we can bring back slavery, we can have a Handmaid's Tale society where women r not allowed 2 own property nor vote
ur saying "that can't happen"
there r ZERO limits 2 rewriting the Constitution
did u think
#Charlottesville
couldn't happen?
*who* do u think is pushing 4
#ConstitutionalConvention
?
same types of ppl
& they r NOT bound to represent the ppl of US nor to have our interests in mind
oops, last entry should be
* Special Interests can take over what gets put into new USA Constitution

& don't forget, ALL our laws need 2b in accordance with the Constitution
so if *now* we say "they can't do THAT, it's UNCONSTITUTIONAL"
well, not if they change the Constitution!
#ConCon
website lists many of our great Left groups who are publicly against
#ConstitutionalConvention
conventionofstates.com/news/the-numbe…

state map & what point in calling for
#ConstitutionalConvention
& note error in 1st tweet=Iowa wud make 29th state once it clears state Sen.-of 34 needed 2 invoke
#ConCon
CALL ur state level Reps & tell them 2 RESCIND
or 2 NOT PASS BBA
BBA=Bal Budget Amendmend=asking 4
#ConCOn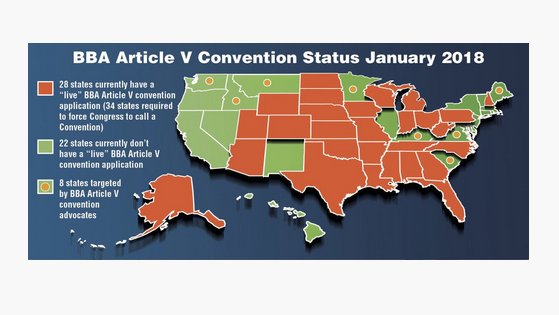 contact Dem candidates for state office & demand they address
#ConCon
issue!
we can raise awareness of this issue by demanding elected state MoC & candidates for state Congress take a public stance on
#ConstitutionalConvention