1/
Myth buster: EU citizens registration
The press, politicians and depending on context even we talk about the registration of the 3m EU citizens in the UK. This is factually wrong though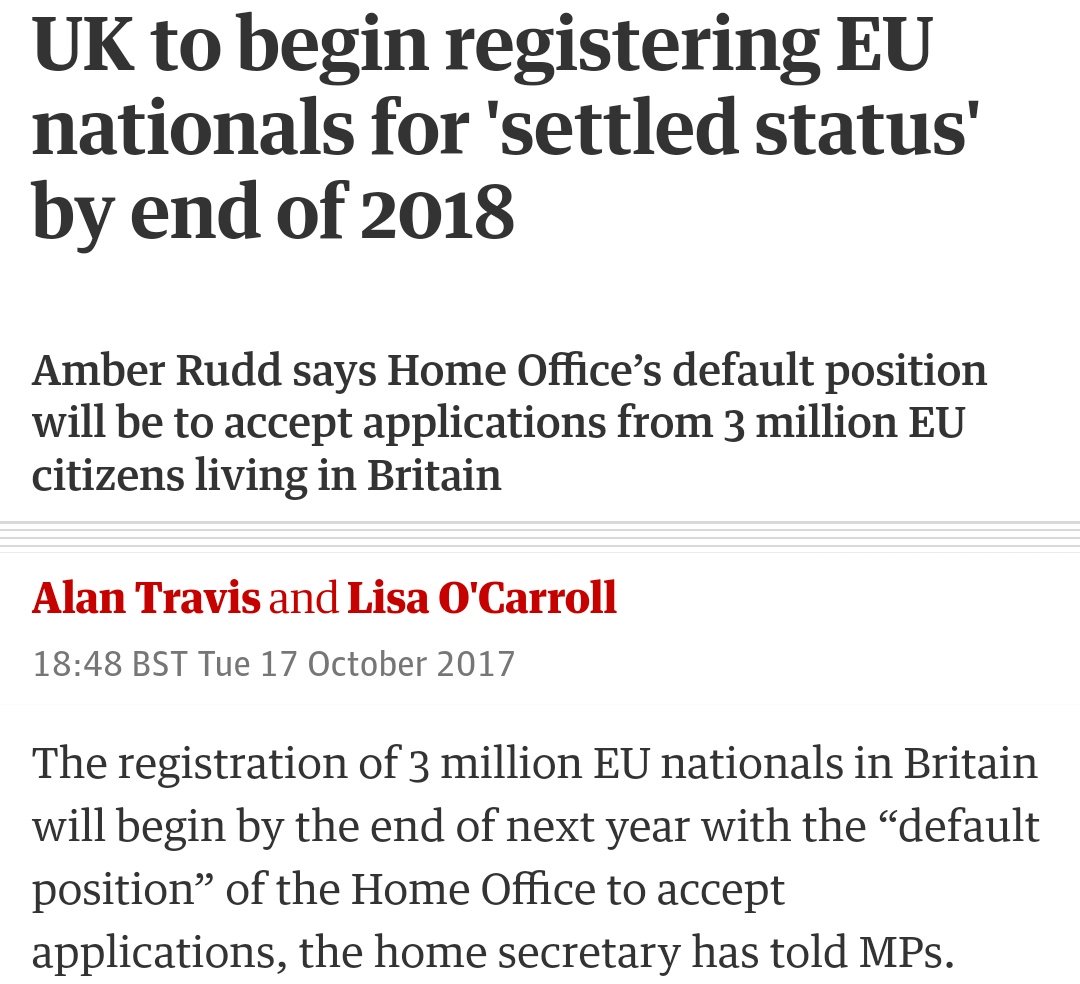 2/
The process proposed by the UK Gov through Settled Status and agreed by the EU in principle via the UK/EU agreement in December is everything but a registration. Neither is it a guarantee of our rights
3/
the UK/EU agreement on
#citizensrights
effectively completely strips EU citizens of their rights acquired through EU law. Settled Status replaces and reduces these rights. Most importantly though it requires EU citizens to apply.
4/
this application is bound to conditions. Some are clear such as blanket criminal checks, which we oppose - guilty until proven innocent? Others are less clear, such as minimum earning thresholds.
5/
Either way, the proposed process is not a simple registration, it is an application. Failing to apply or a failed application will make EU citizens undocumented, illegal, at the end of the transition period when protection from EU freedom of movement rights will stop.
6/
being undocumented has grave consequences in the UK with EU citizens falling into the hostile environment. Unable to work, rent a property or even to access their ban accounts
the3million.org.uk/hostile-enviro…
7/
We have been fighting hard against the proposed application process over the last year and for a simple registration process. We have set out an alternative where our rights simply carry on and registration would be as simple as providing ID and proof of residence
8/
unfortunately, the dogmatic insistence of Amber Rudd & Theresa May to force EU citizens under the existing immigration status of Indefinite Leave to Remain has meant a sensible conversation with Gov departments has been impossible.
9/
in light of the Home Affairs Committee report which raised major concerns over the Home Office's ability to process 3m applications we are urging the UK Gov to reassess the desire to strip people of their rights & forcing them to apply for new status
mirror.co.uk/news/politics/…
10/
it is not too late to reconsider. Our alternative proposal is easy to implement and would deliver on what the UK Gov is permanently promising, guaranteeing the
#citizensrights
of ALL 3m EU citizens in the UK. Read more here:
bit.ly/t3m_Alternativ…
/end