1.
Flashback: Devin Nunes on Russia: Washington Times August 2014.
Pretty darn close to figuring it out back then. Quite remarkable if you read his thoughts.
nunes.house.gov/news/documents…
2.
Obama received multiple warnings from national security officials between 2014 and 2016 that Kremlin was ramping up its intelligence operations and building disinformation networks it could use to disrupt the U.S. political system. Quite remarkable that he has no thoughts.
3.
As early as 2014, the administration received a report that quoted a well-connected Russian source as saying that the Kremlin was building a disinformation arm that could be used to interfere in Western democracies. 
politico.com/story/2017/08/…
4.
In true Trump manner he tweeted about Obama's ineptitude in August 2017. Not many people took him seriously, much their own detriment.
5.
Turns out he had in June 2017, offered a Prelude to the Future. Specifically calling out Obama's ineptitude as being directly causally related to Hillary being the next queen.
6.
You can have different points of view on exactly what is behind the slow drip news about Russia and it's interference in the election cycle. Whether Mueller is a black hat, white hat or a mad hatter. Bottom line is that they're talking about it and talking a lot about it.
7.
Of course there was the amazing Twitter storm of this weekend. 3 tweets, First Trump called out Obama on his handling of Iran, then asked everyone to have a great but very reflective President's Day. Then asking why Obama did nothing if he knew about the Russian interference.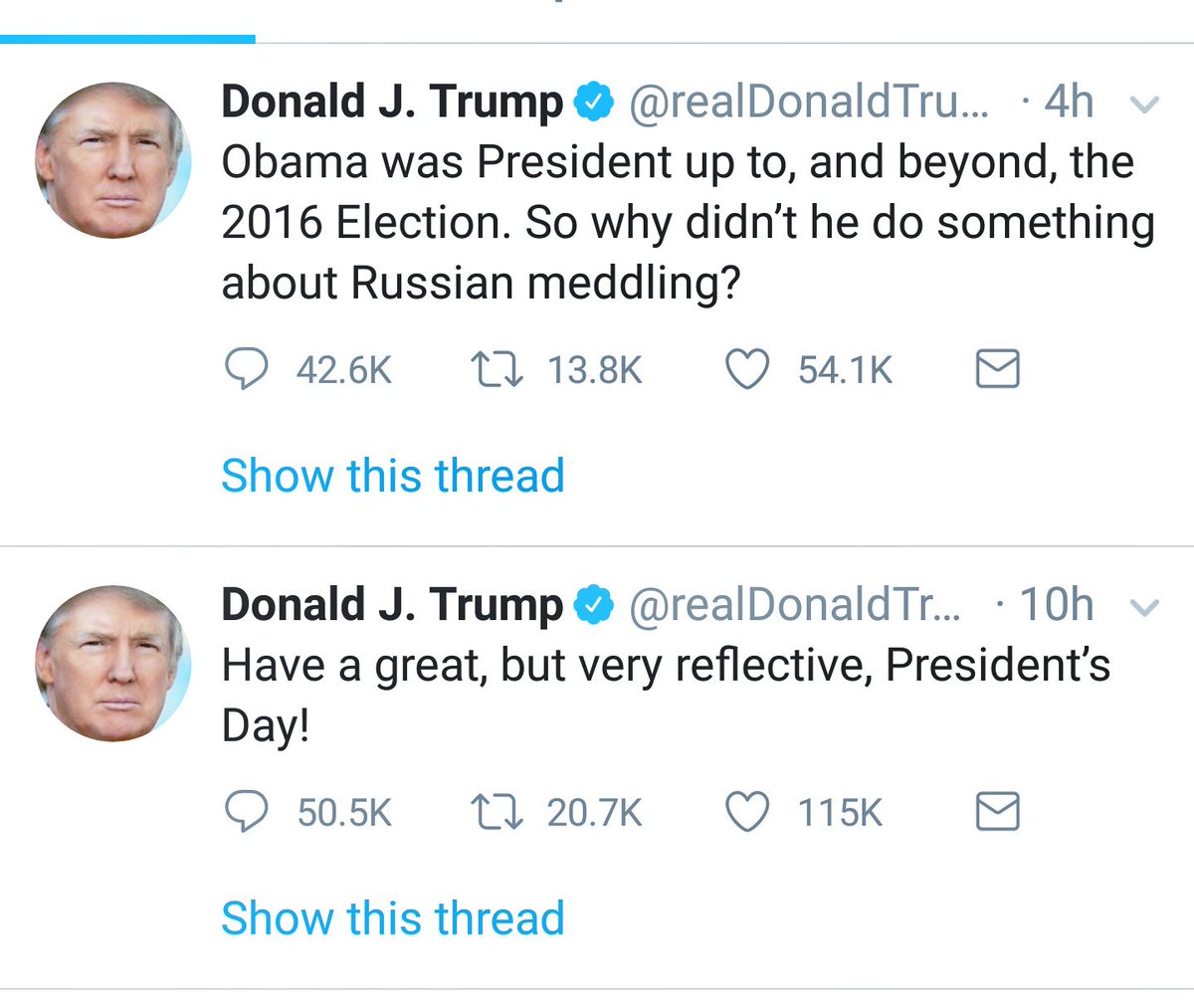 8.
Of course he also went ballistic on Oprah, I don't think it is related to Obama, but it might be, and I will probably write a thread on it when that happens. Never Say Never.
9.
Bob Miller's indictment of 13 Russians, the slow but inevitable turning of the screw implicates the previous president and his government's collusion with Hillary's campaign. Hillary's campaign basically owned all of DNC operation as documented by Donna brazile.
10.
Mix in the Trump Russia dossier, BuzzFeed (now attacking DNC), Cody Shearer, the second dossier and Hillary's man Friday, Sidney Blumenthal, all make for a Motley Crue charged with ensuring Hillary's victory at any cost.
11.
The more I think about it, the more it appears that the circle of field has been allowed to persist because it's radius needs to widen. It appears to be doing exactly that. Could be confirmation bias, but Trump told us last year this was happening.
12.
What is more astonishing is that Devin Nunes has been working on the Russian interference since 2014. Did Trump know that this would come to pass even back then? There is some suggestion that he knew about the exact progenitors of the dossier.
13.
I grow more convinced that Trump has known for a long time about the depth and extent of the depravity that has transpired for decades in Washington. To have known about it, he had to have people on the inside that he could trust implicitly.
@GenFlynn
will be acquitted
14.
As
@_VachelLindsay_
has pointed out, the question "what evidence is there that Putin colluded with Trump" is important. The inexorable March of time makes the entire collusion story become more a Schiff tale and less of a real thing.
15.
It's March also slowly reveals that the real collusion was between a sitting US president, a US presidential candidate, elements in justice and law enforcement, the media and a lot of shadowy figures.
But also remember that there are good guys who toil ceaselessly.
- Fin