1/
Lawful residence in the context of Settled Status and why government claim that EU
#citizensrights
of ALL 3.4m EU citizens are sorted is incorrect - a thread
2/
in today's
#PMQs
the Prime Minister said the following:
"I'm absolutely clear that EU citizens living lawfully in the UK today will be able to stay"
See those little words there: "living lawfully"
3/
to the British public this may sound reasonable - those not deeply involved in the matter will hear 'lawfully' as being EU citizens who are not criminals. An assumption easily made.
4/
lawfully in the context of the Phase 1 agreement between the UK & the EU on
#citizensrights
has a completely different meaning though. It sets the conditions that must be met to qualify for Settled Status.
5/
in short lawful in this context are only those who are meeting the exact same conditions set out in the Freedom of Movement Directive under EU law to obtain
#citizensrights
under Settled Status

6/
these conditions are very narrow. Namely workers/self employed, students, people wealthy enough to be self sufficient and the dependants of those groups.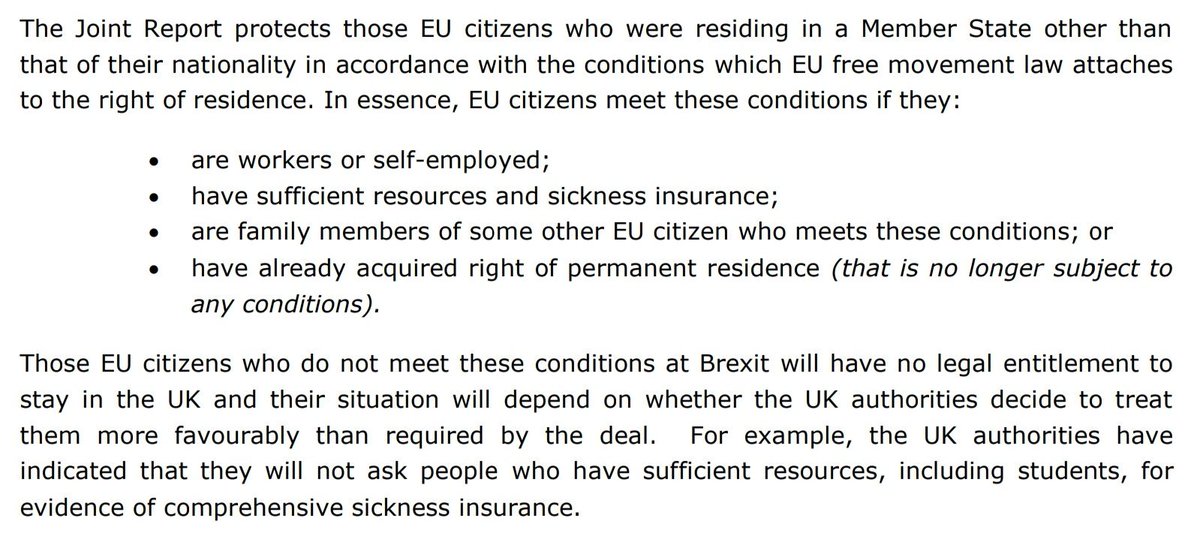 7/
lawfully does not cover the long term unemployed, disabled, carers, stay at home parents, pensioners and many others unless they met the lawful conditions for a full five years before they became economically inactive.
8/
Next time when you hear senior politicians stating that
#citizensrights
of the 3.4m EU citizens have been secured in the same breath as referring to lawful residence then think of the thousands of EU citizens excluded from the agreement.
9/
thousands of fully integrated EU citizens, many of whom have lived in the UK for many years, sometimes decades, are at risk of being forced out of the UK. Friends, neighbours, family. This cannot be in the spirit of either the UK Gov or the EU. /end