In 1998, Disney set out to change the indoor entertainment industry.
Their concept: DisneyQuest, one of the most unique and expensive arcades ever constructed.
The result? A 1990s edutainment game made manifest, a strange utopian idea run wild.
DisneyQuest - A Design Thread.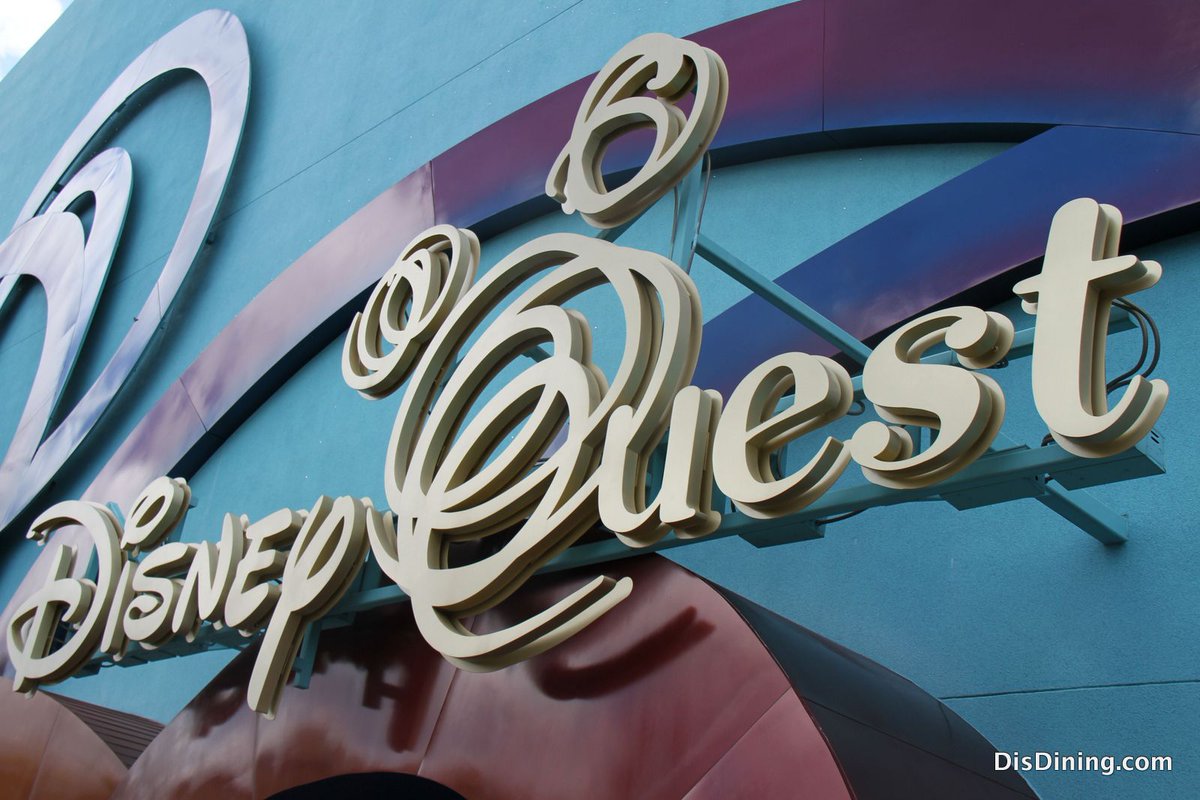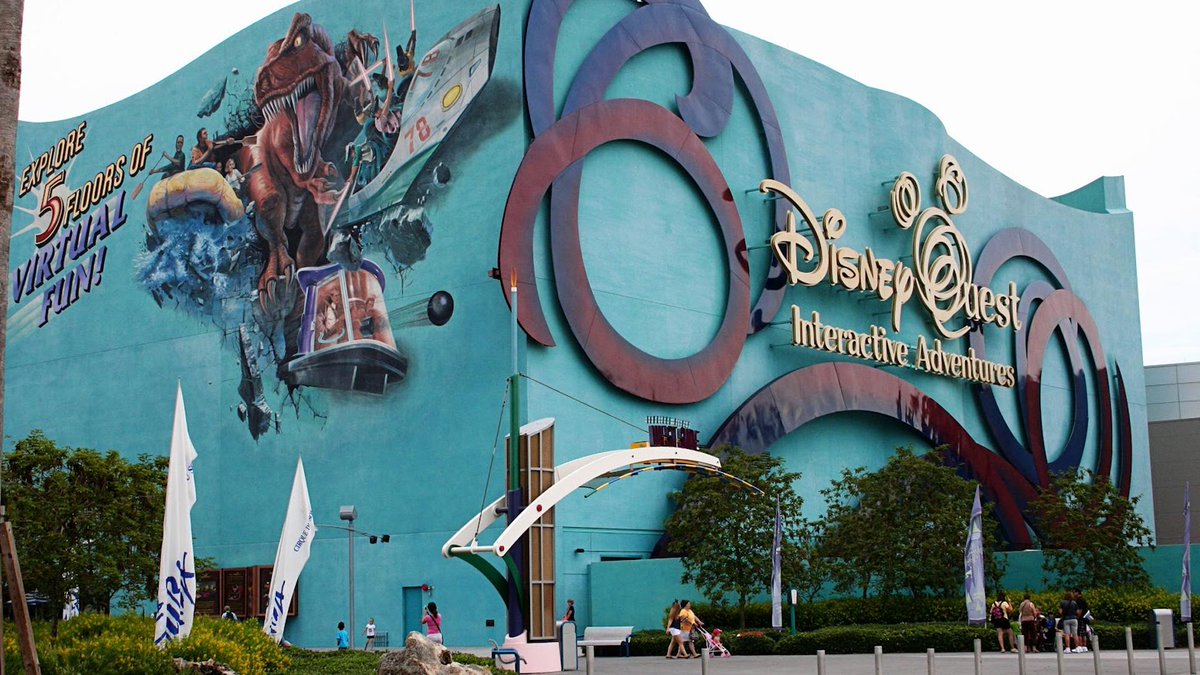 Pre-thread preface: this thread and a lot of the other design content I've been putting out lately has been an effort to promote CROSSNIQ+, a puzzle game Kickstarter I'm running.
It, too, pays homage to 90's design, and any support would be appreciated.
kickstarter.com/projects/11131…
Brief history (this isn't a history thread):
In the mid-90's, Disney saw ventures like Dave & Buster's and then-Sega Gameworks as an opportunity to bring the Disney park experience cross-country.
Disney Regional Entertainment was formed. DisneyQuest was their pilot project.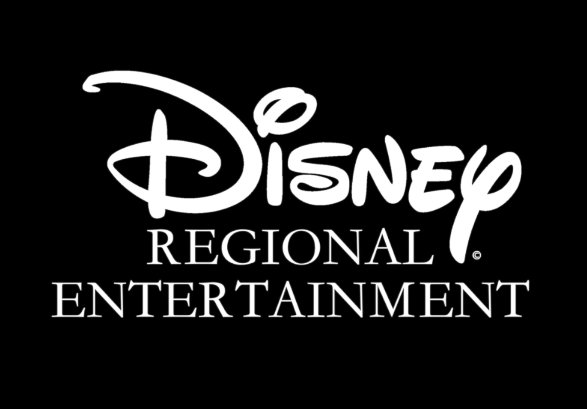 Two DisneyQuest locations were opened - one in Downtown Disney (Walt Disney World), and one in Chicago (at Ohio and Rush). The Chicago location only lasted until 2001 - here's a before and after.
Obviously, we'll be focusing on the Orlando location, which closed last year.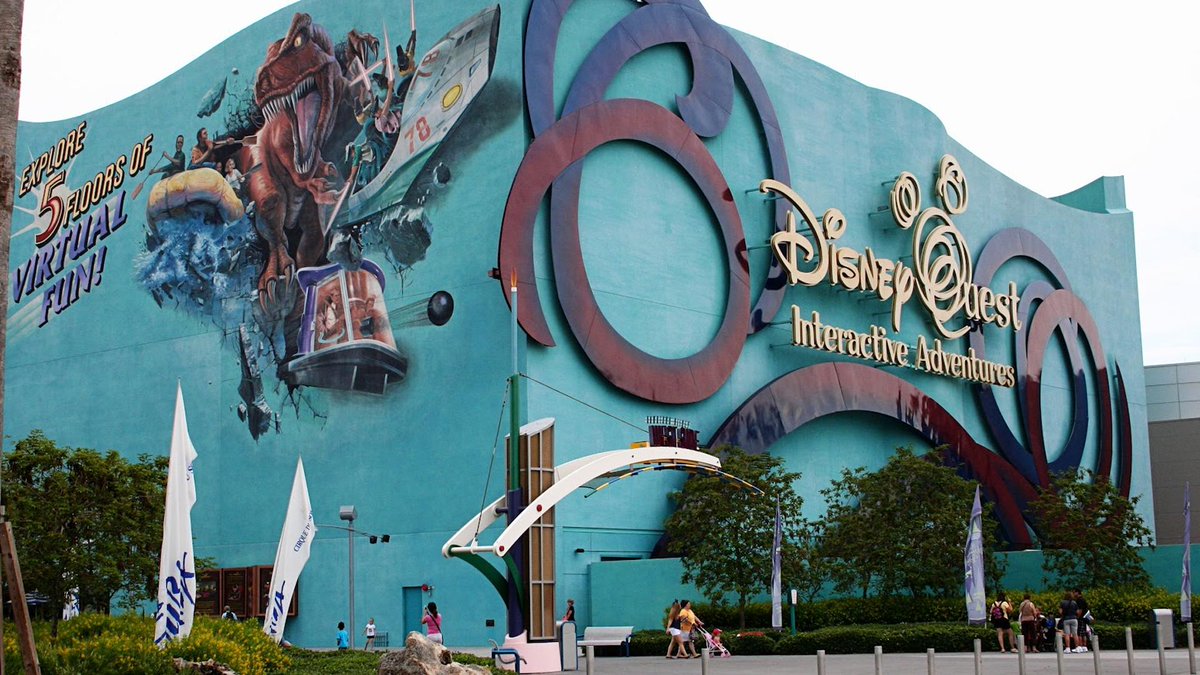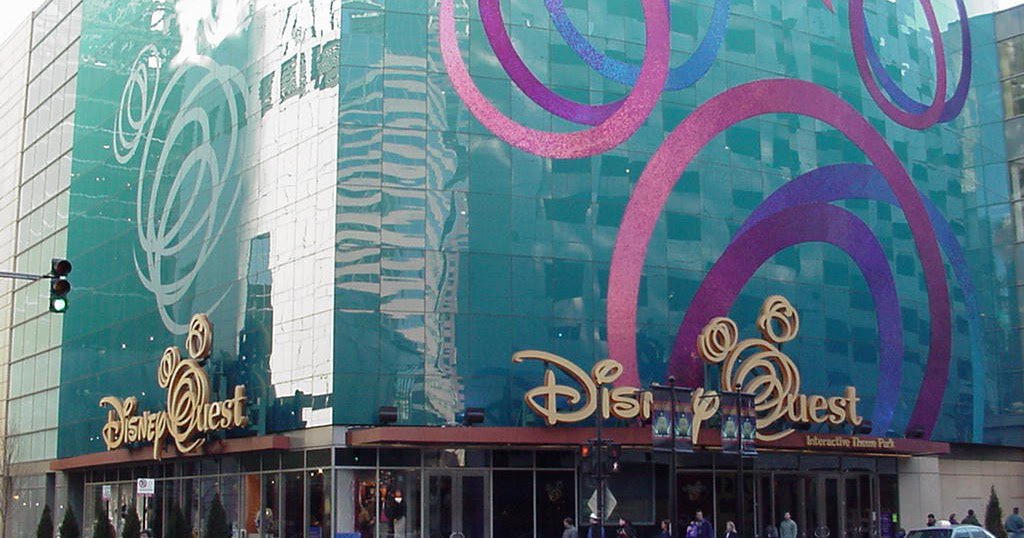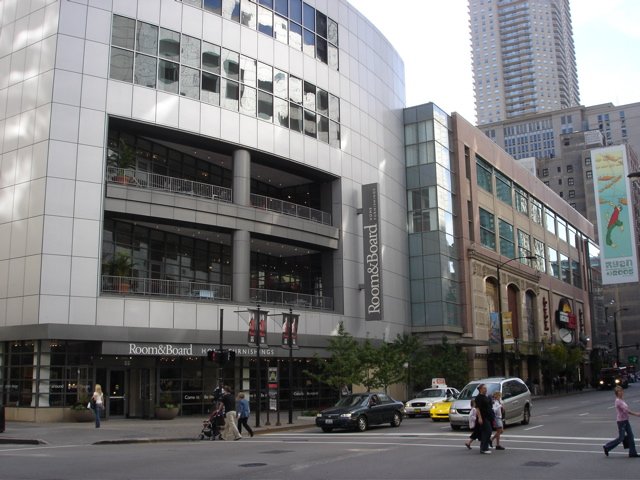 The HUGE DisneyQuest building displayed a powerful aesthetic - cool "oxidized" colors invoked a late 90's vision of computers opening a "digital world" for learning and exploration.
At night, it was brilliantly illuminated w/ LED lines representing the "information superhighway"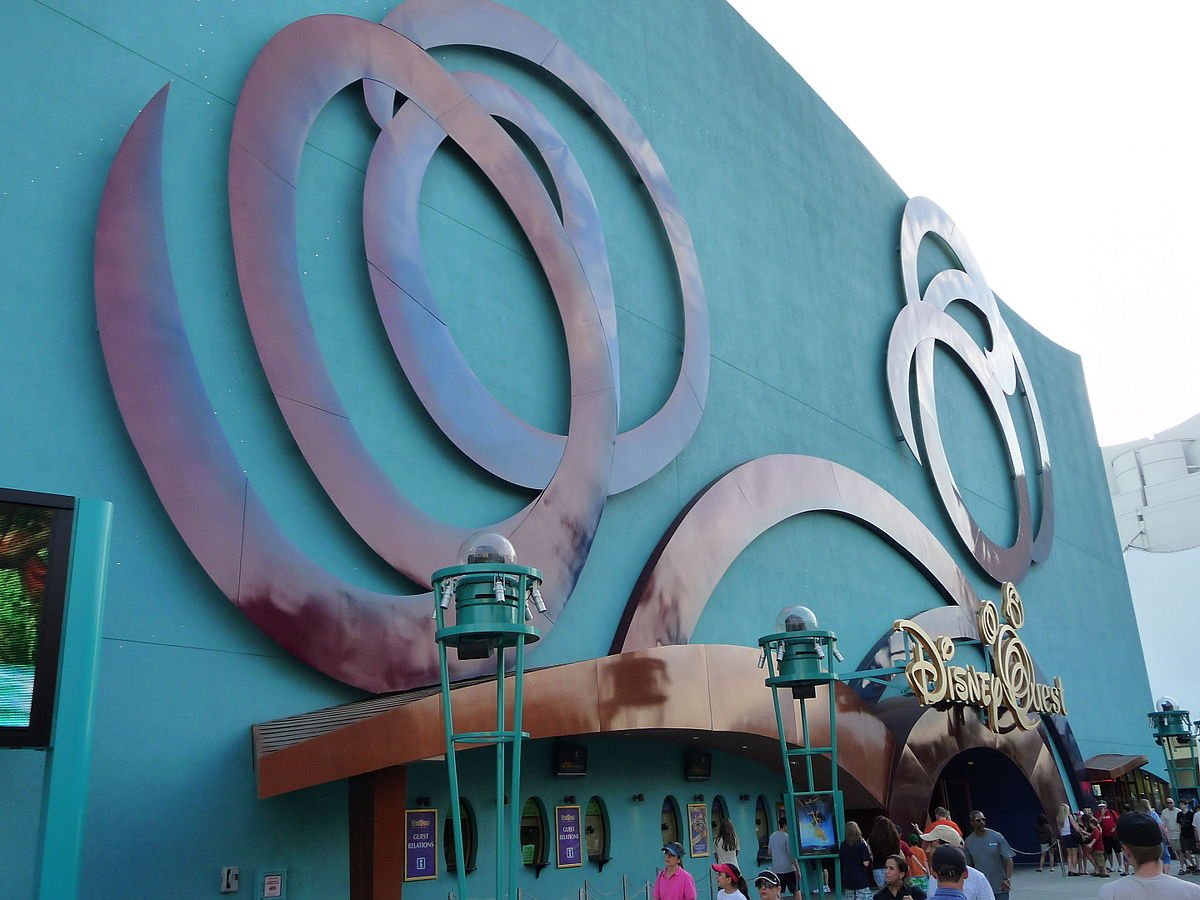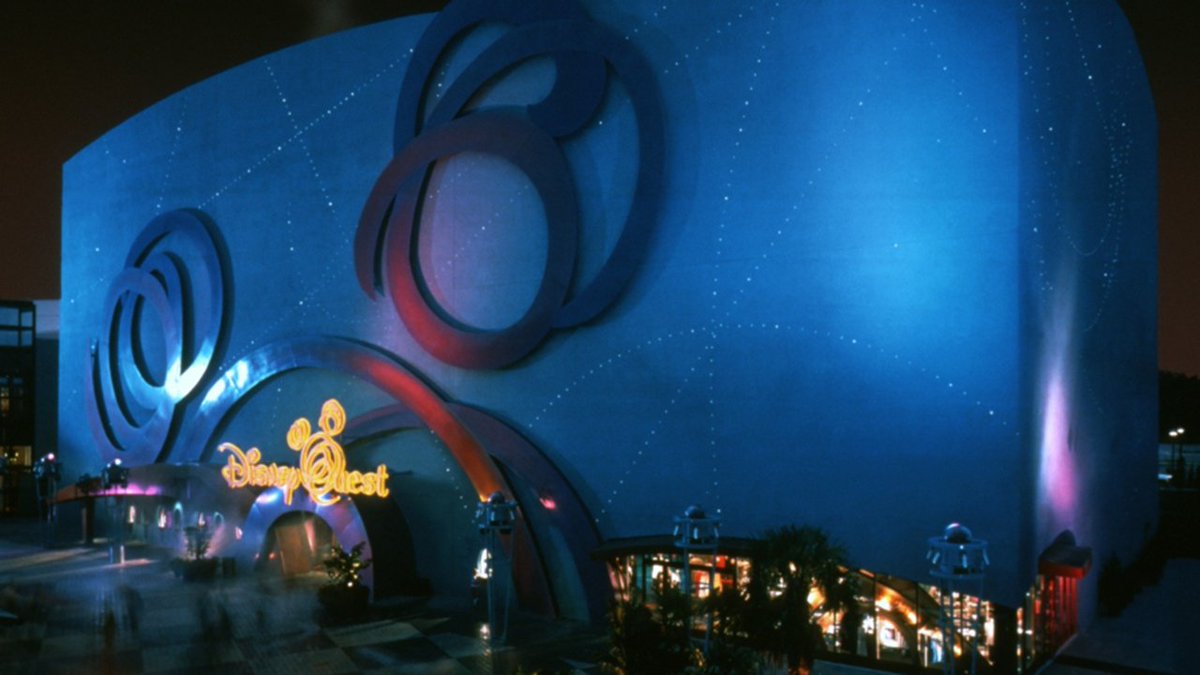 Guests would enter through a lobby featuring a surreal, lovingly Memphis-influenced neoclassical motif - a design flavor seen throughout the "infotainment" boom of the late 90's, from science centers to CD-ROM encyclopedias.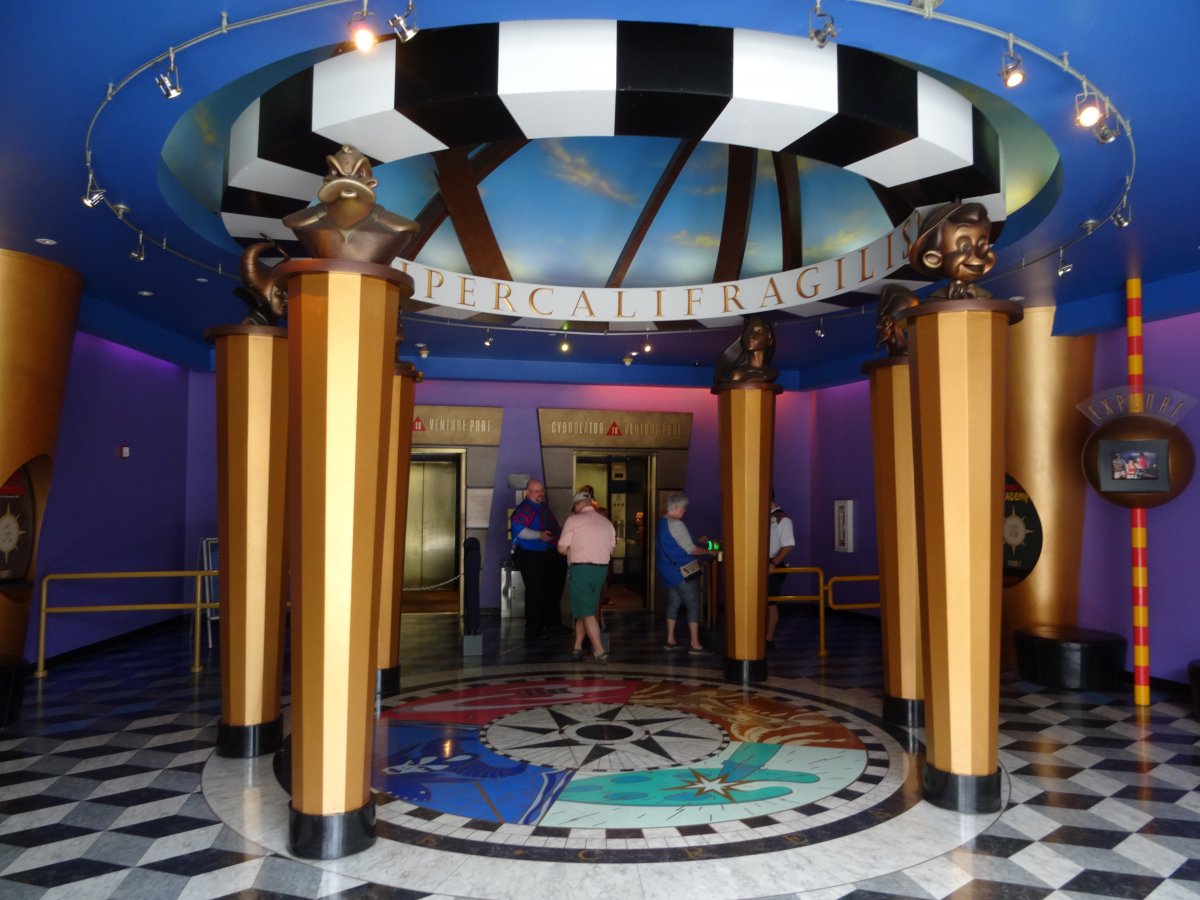 Bronze busts of Disney characters gaze down, almost like historical figures, over a detailed mosaic floor detailing the four "lands" of DisneyQuest, all topped with an orrery-like sky dome.
This is DRIPPING with a educational utopianism distinctly from a pre 9/11 world.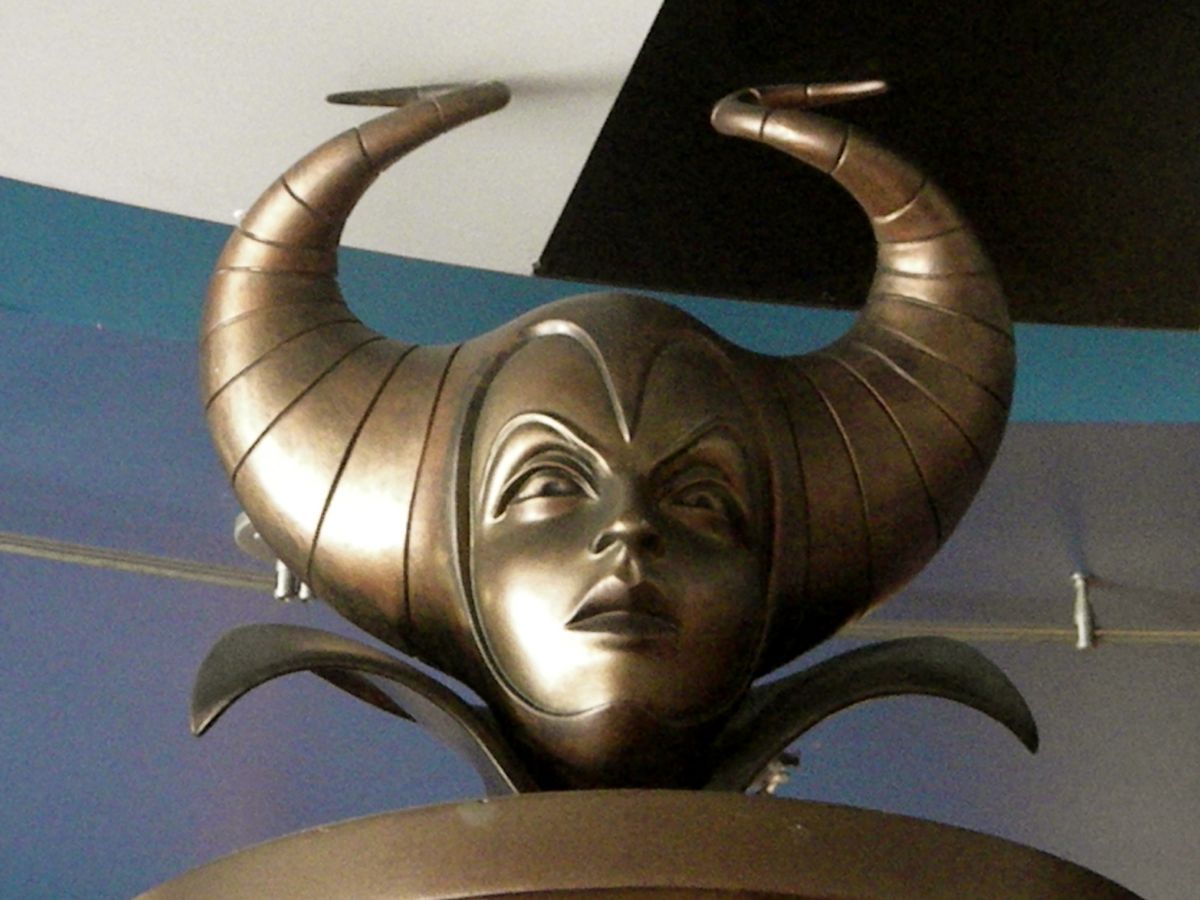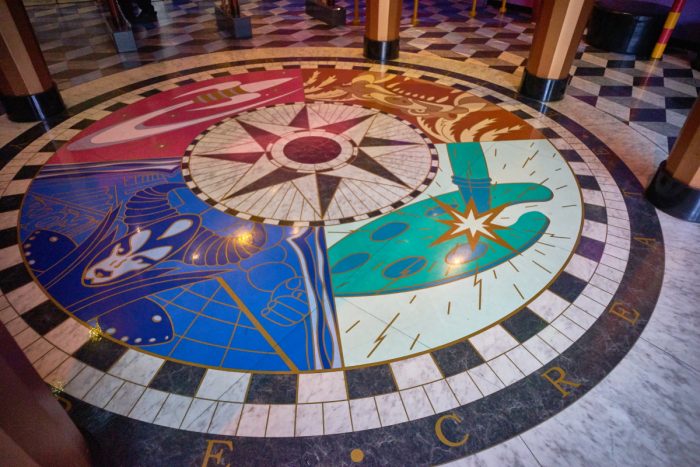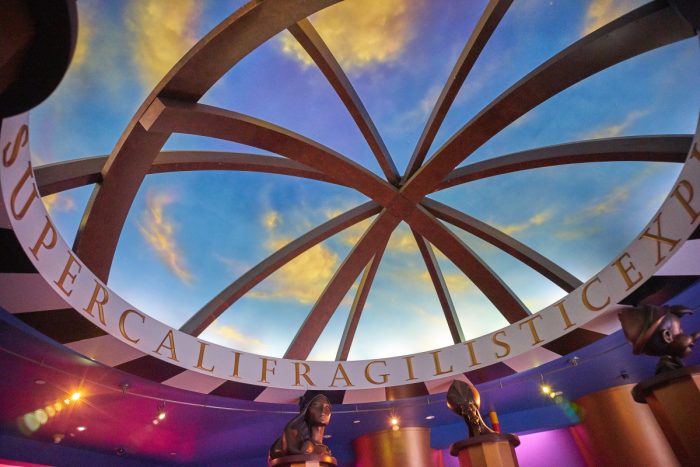 Guests would then board a "Cybrolator" - a successor to the beloved Hydrolators of EPCOT's Seas pavillion.
The design here is a "cyberspace"-flavored evolution of the "factory pomo" look featured in Tomorrowland '94, with fonts and forms distinctly more inspired by scifi media.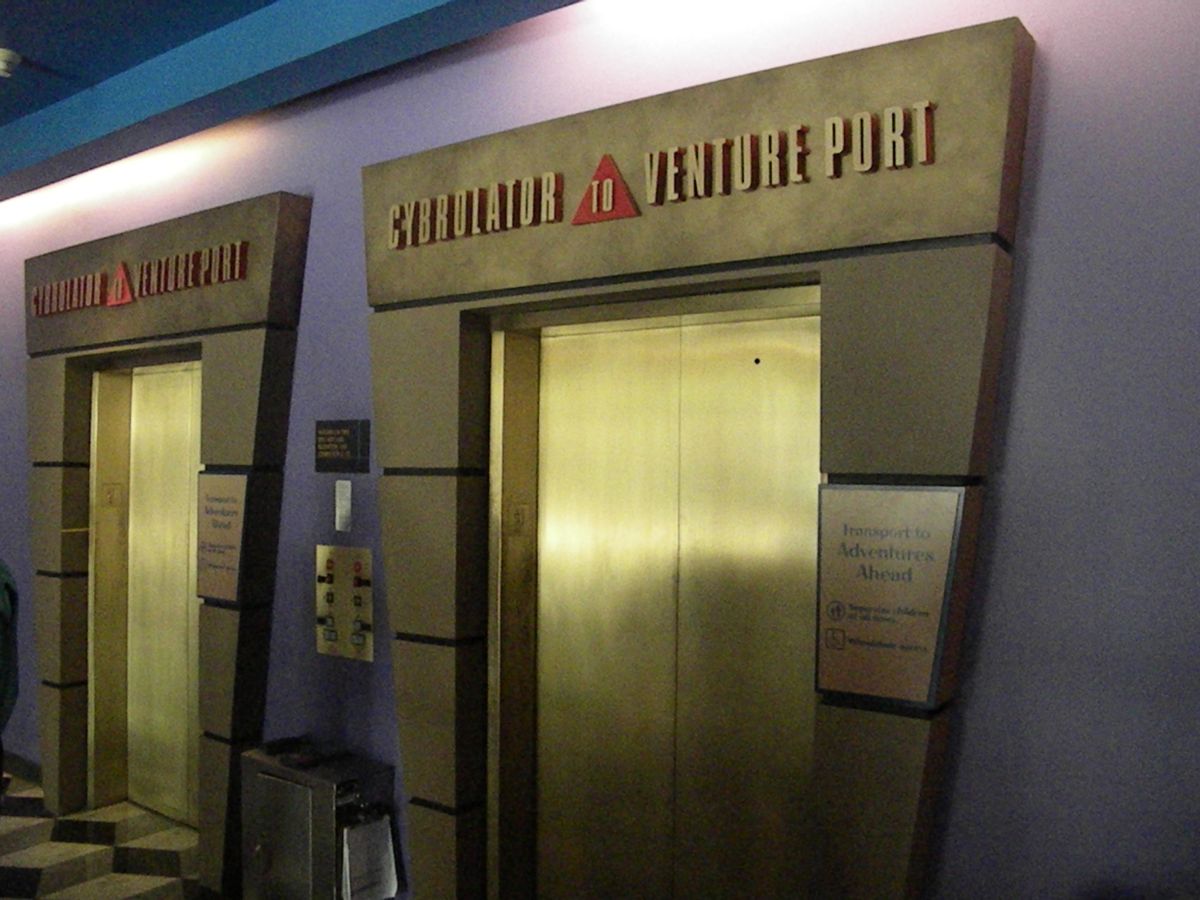 The elevators had a mirrored wall, which would project a short animation (ft. Robin Williams as Genie) "blasting off" guests into a digital world of exploration.

Disney took extra effort to make guests feel as if they were being TRANSPORTED somewhere.


Guests would disembark at the heart of this massive 5-floor complex - Venture Port.
It was BREATHTAKING, and full of design flourishes often overlooked.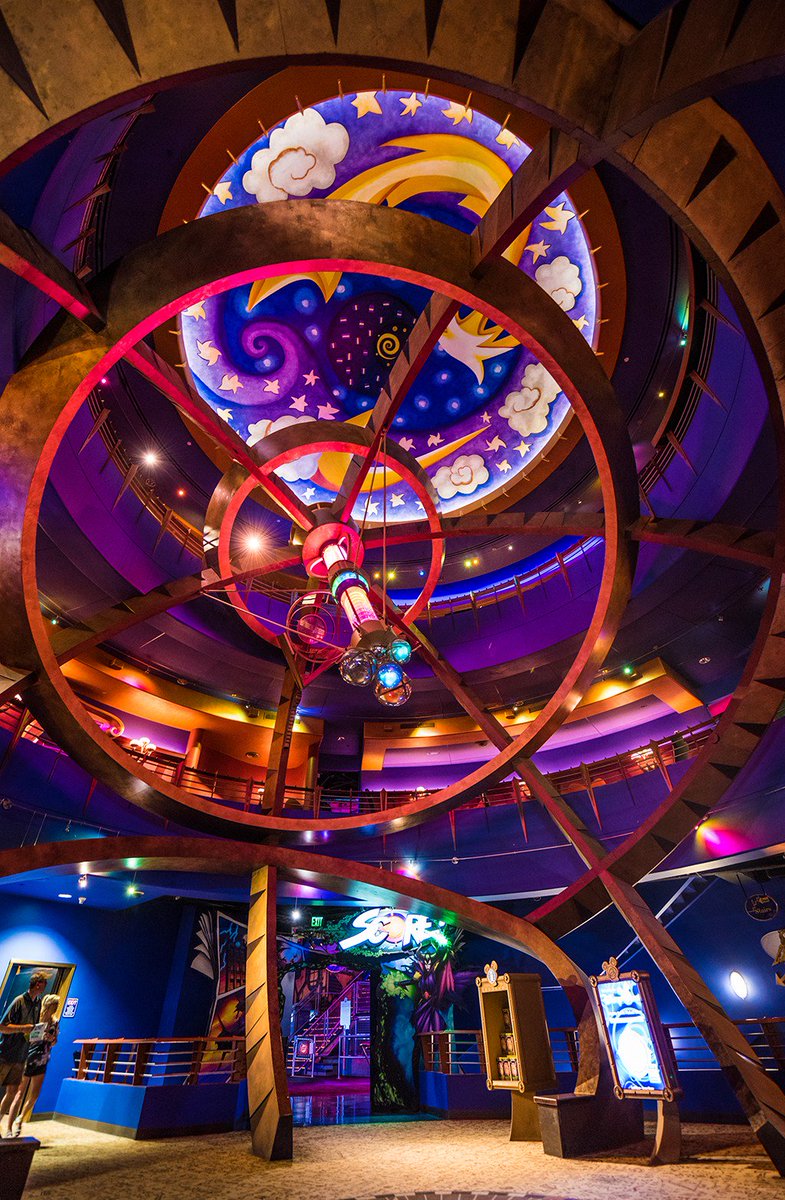 A giant sphere, inspired by elegant brass astronomical tools, featured a flashing, bulbous "telescope" aiming up at another sky dome (painted in a decidedly 90's coffee shop flavor).
The telescope from the Chicago location was later moved to Hong Kong Disneyland's Space Mountain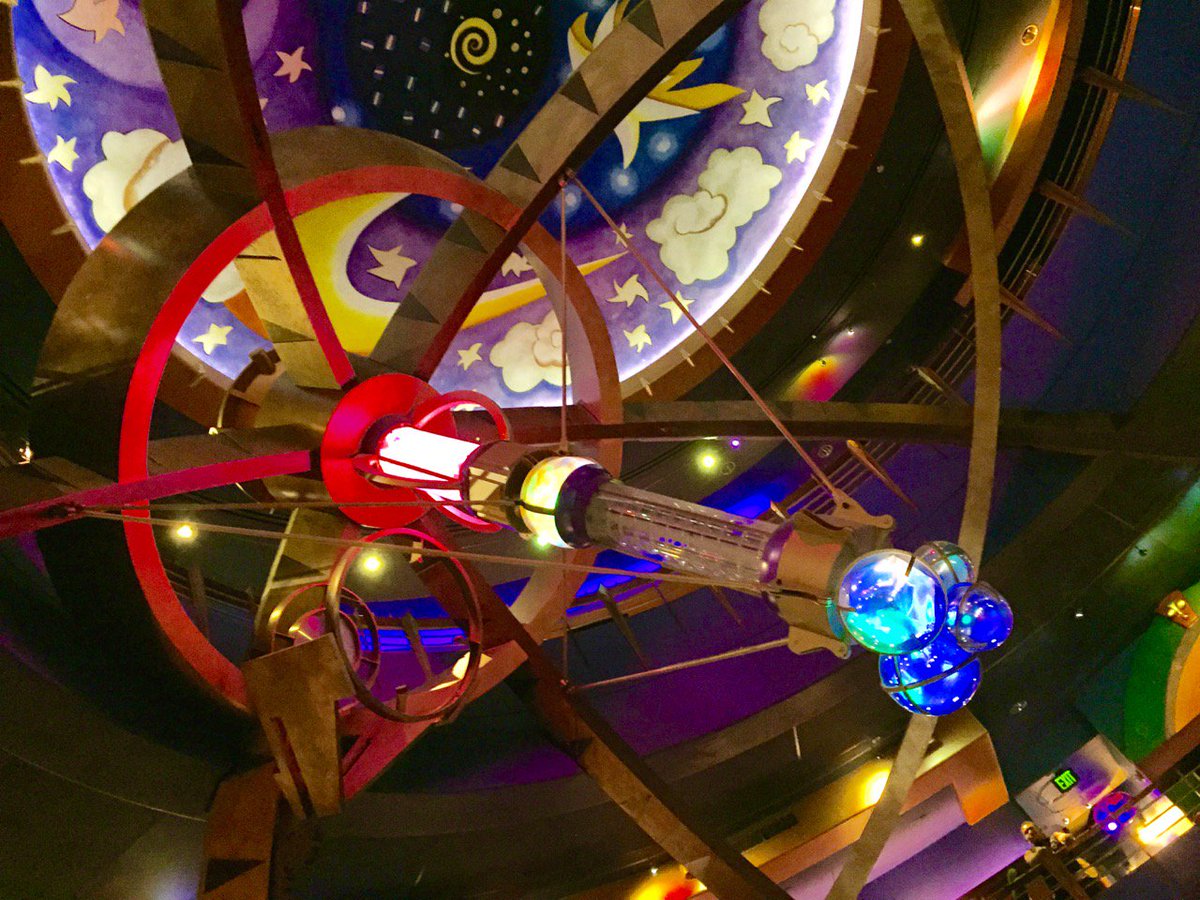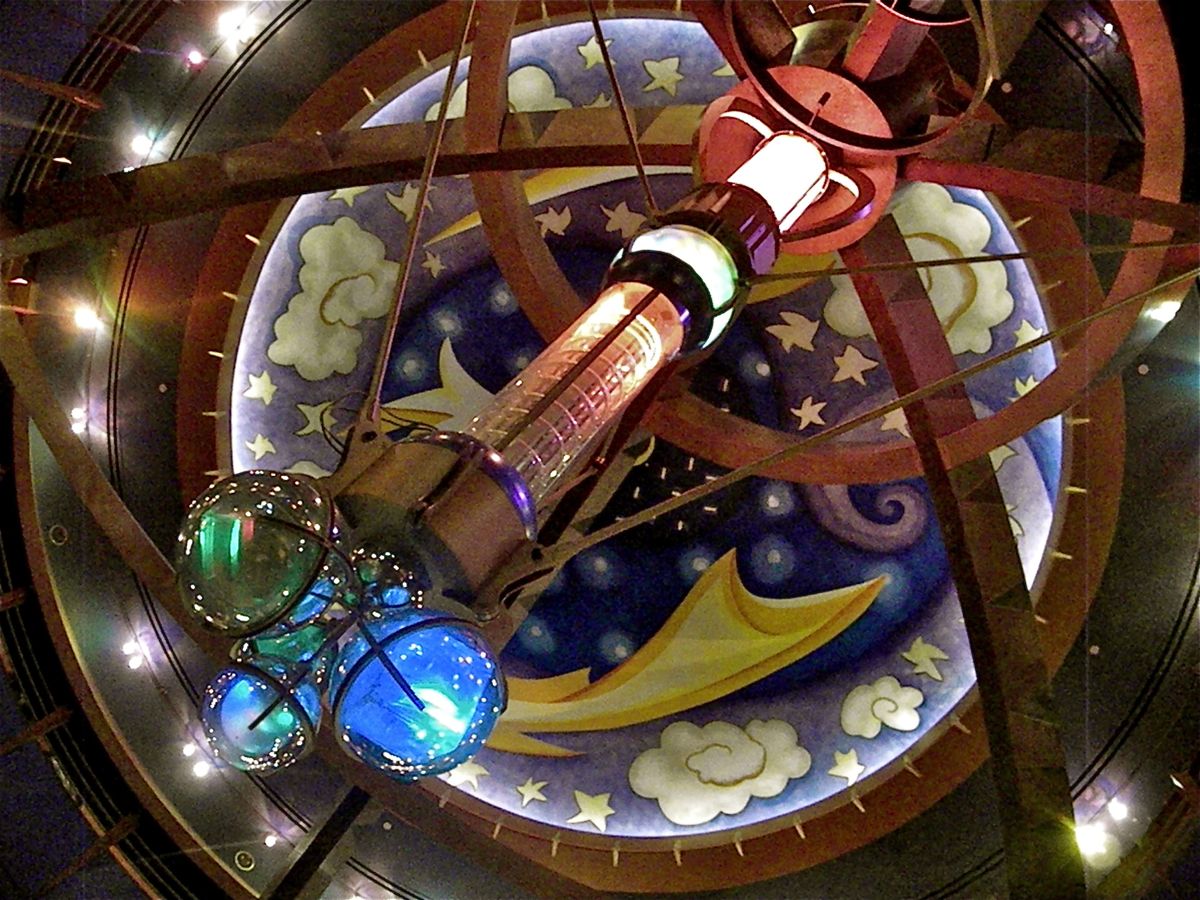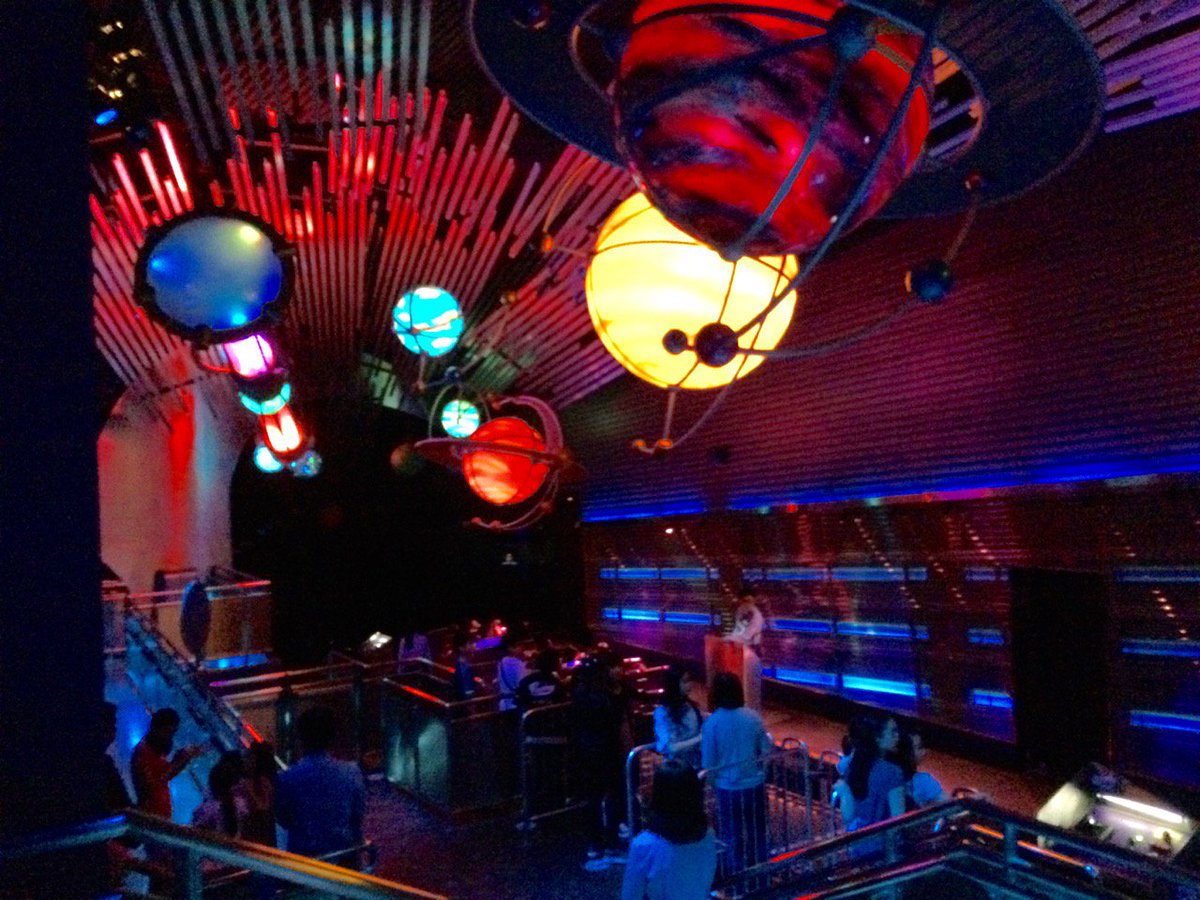 To further reinforce the concept of digital discovery that DisneyQuest represented, the carpet in Venture Port was covered in what appeared to be a mix between Wingdings and hieroglyphics.
But these were more than symbols - a full English translation was created by Imagineering.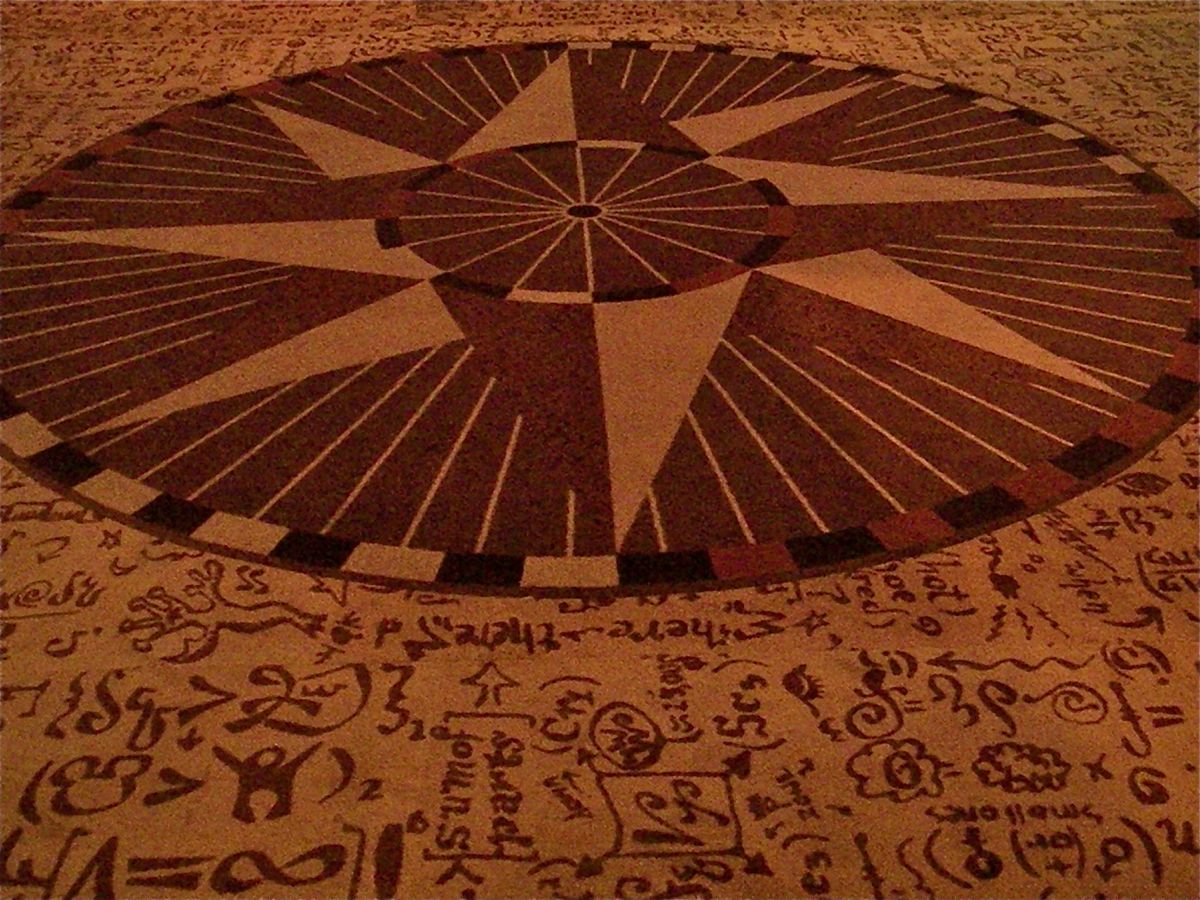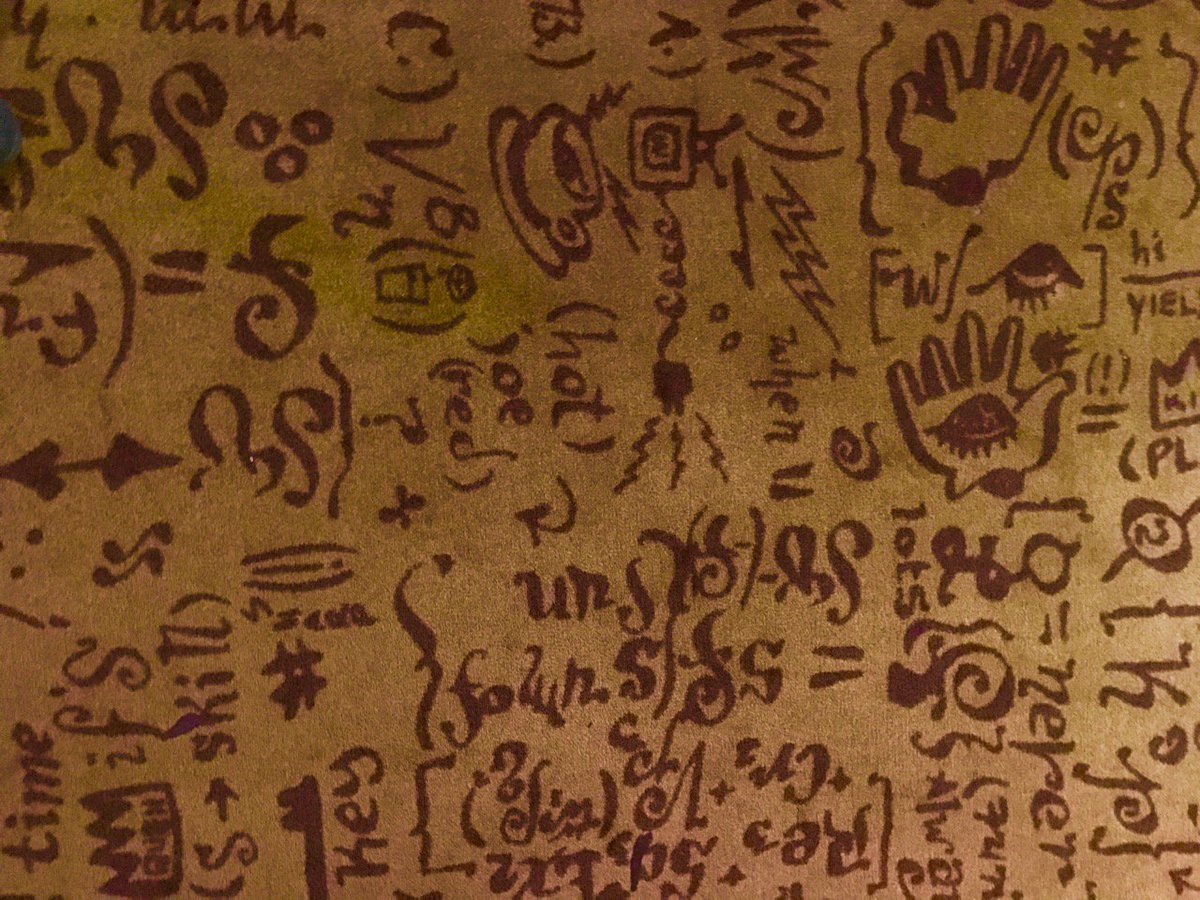 From Venture Port, guests could travel to one of four "zone" lands, in true Disney park fashion:
Replay, Score, Create, and Explore.
Each of these zones had their own gate, hinting at the theme and attractions of the area. Let's go zone by zone.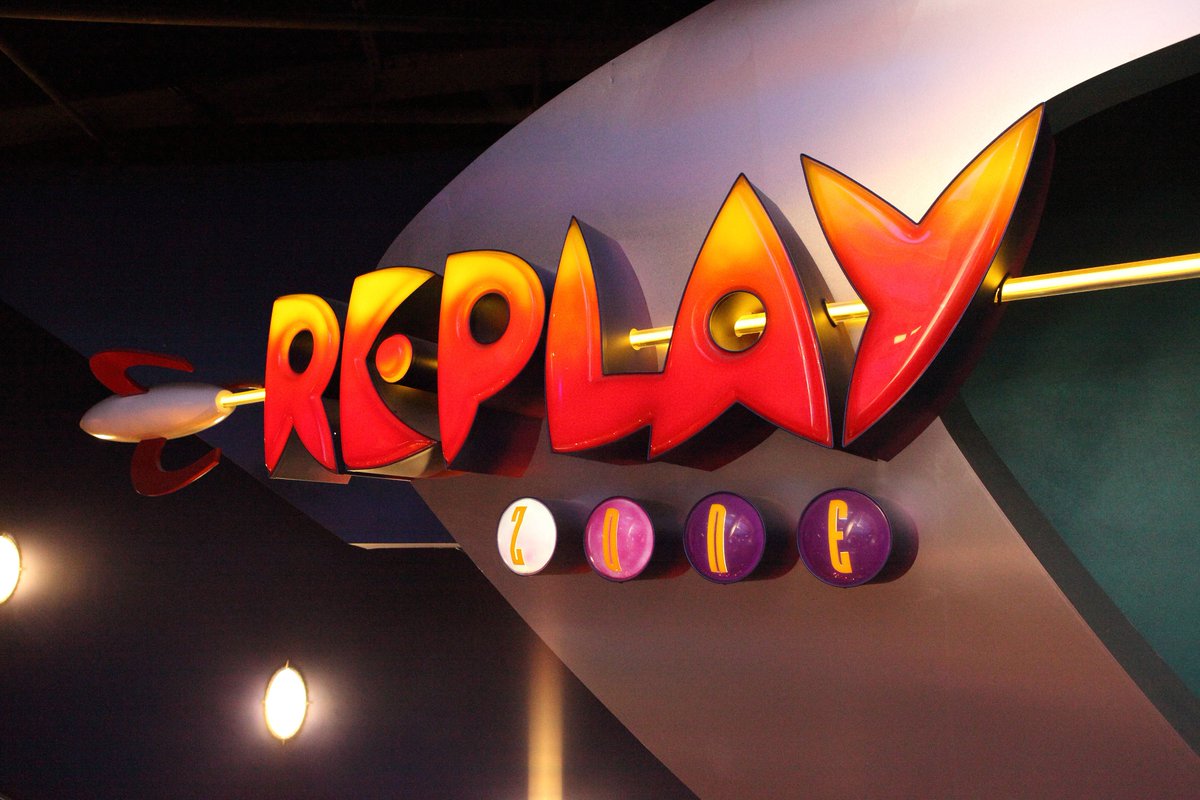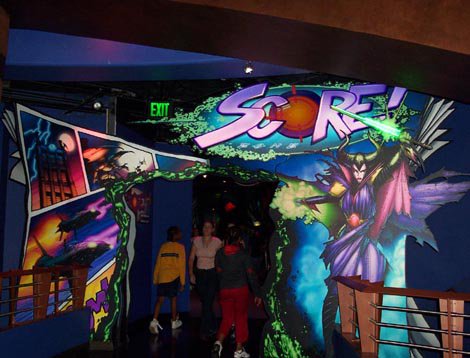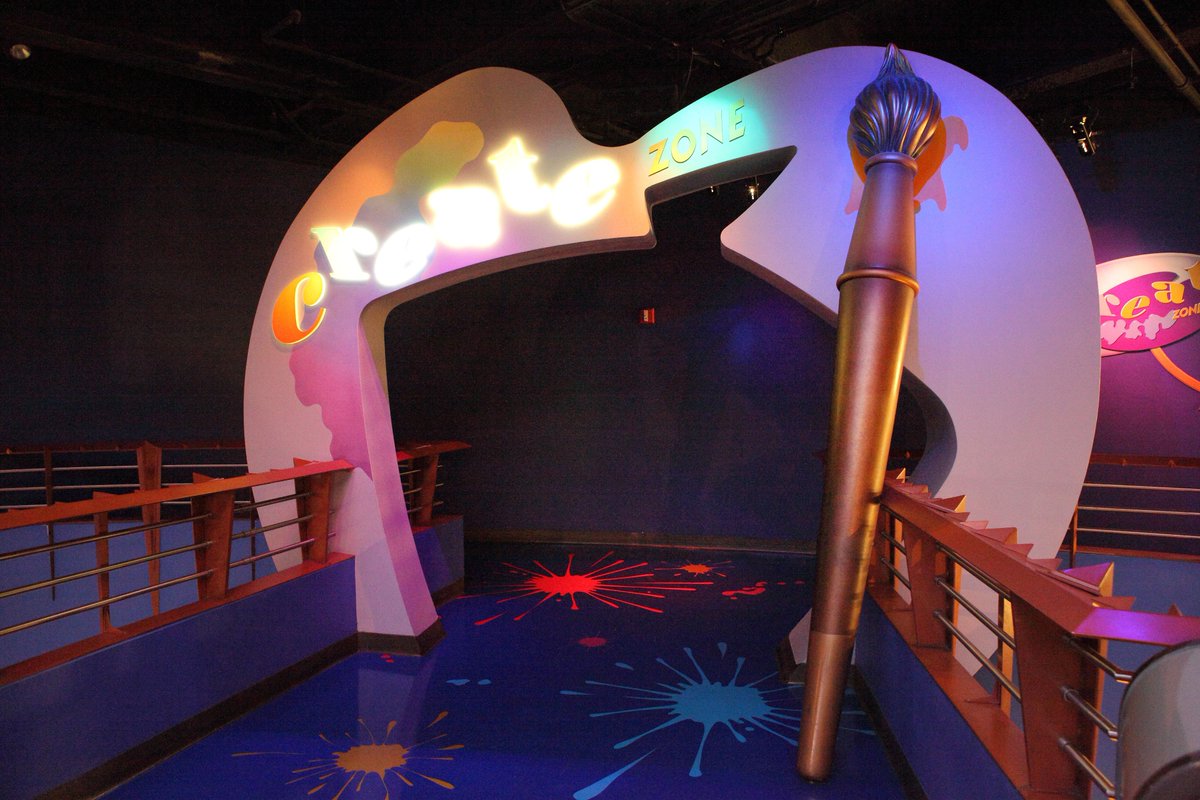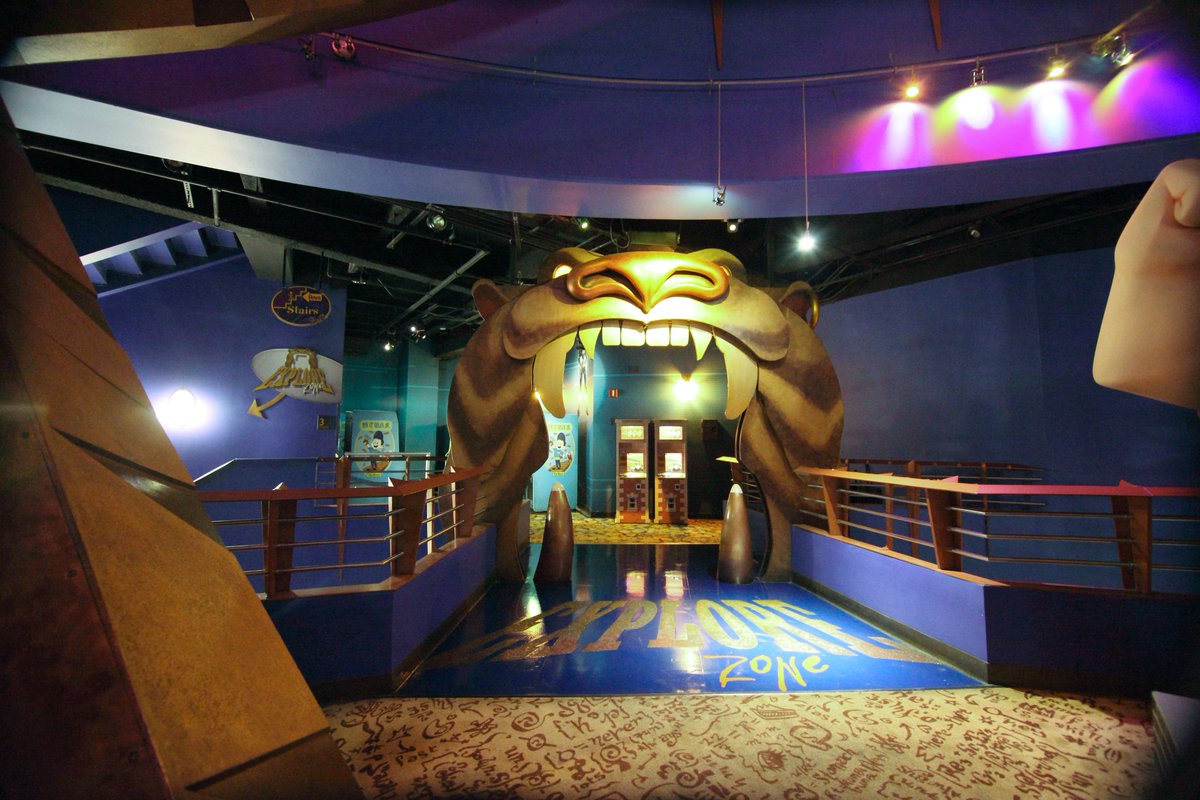 Replay Zone, the most visually nondescript, housed a collection of retro arcade games, as well as unique Disney ticket games which were later removed. It also featured a unique bumper car attraction - Buzz Lightyear's Astro Blaster, a good fit for Replay's "retro sci-fi" flavor.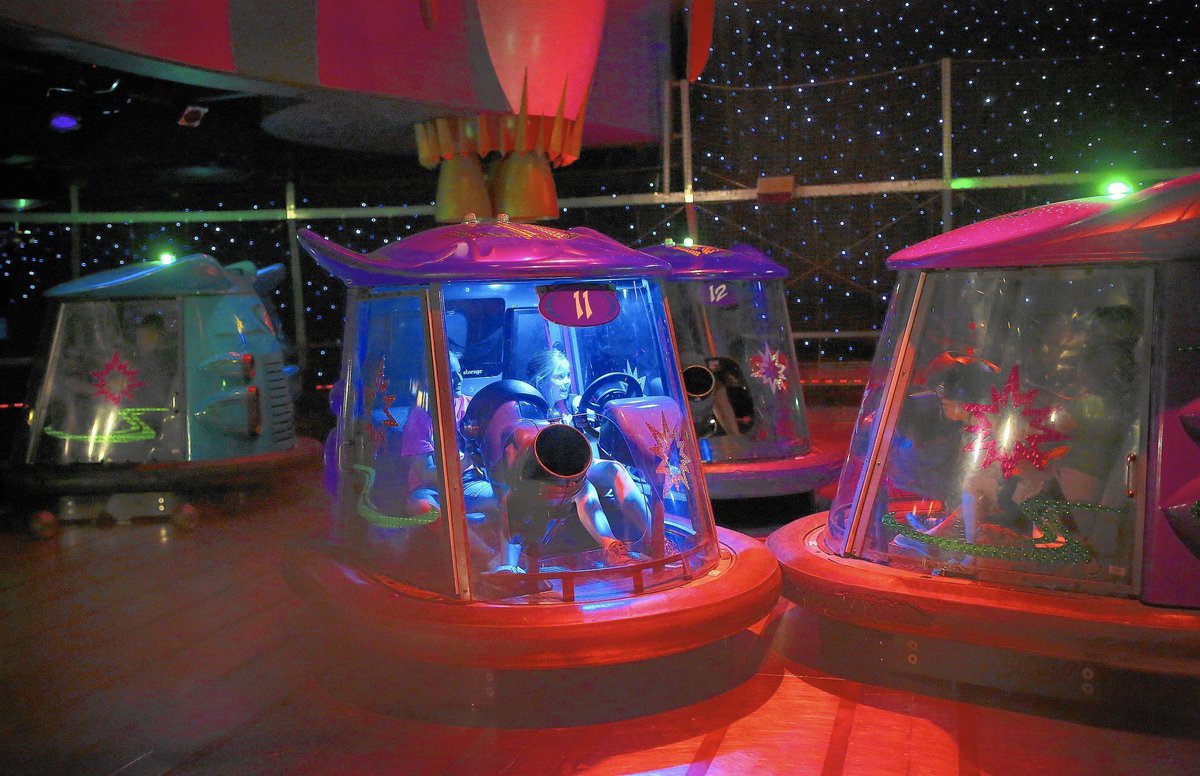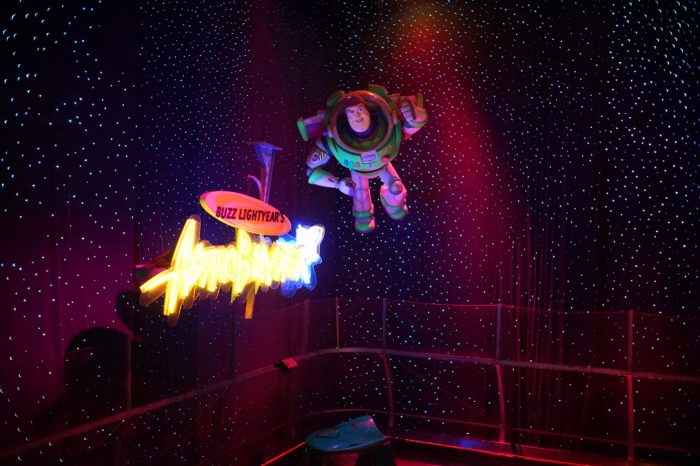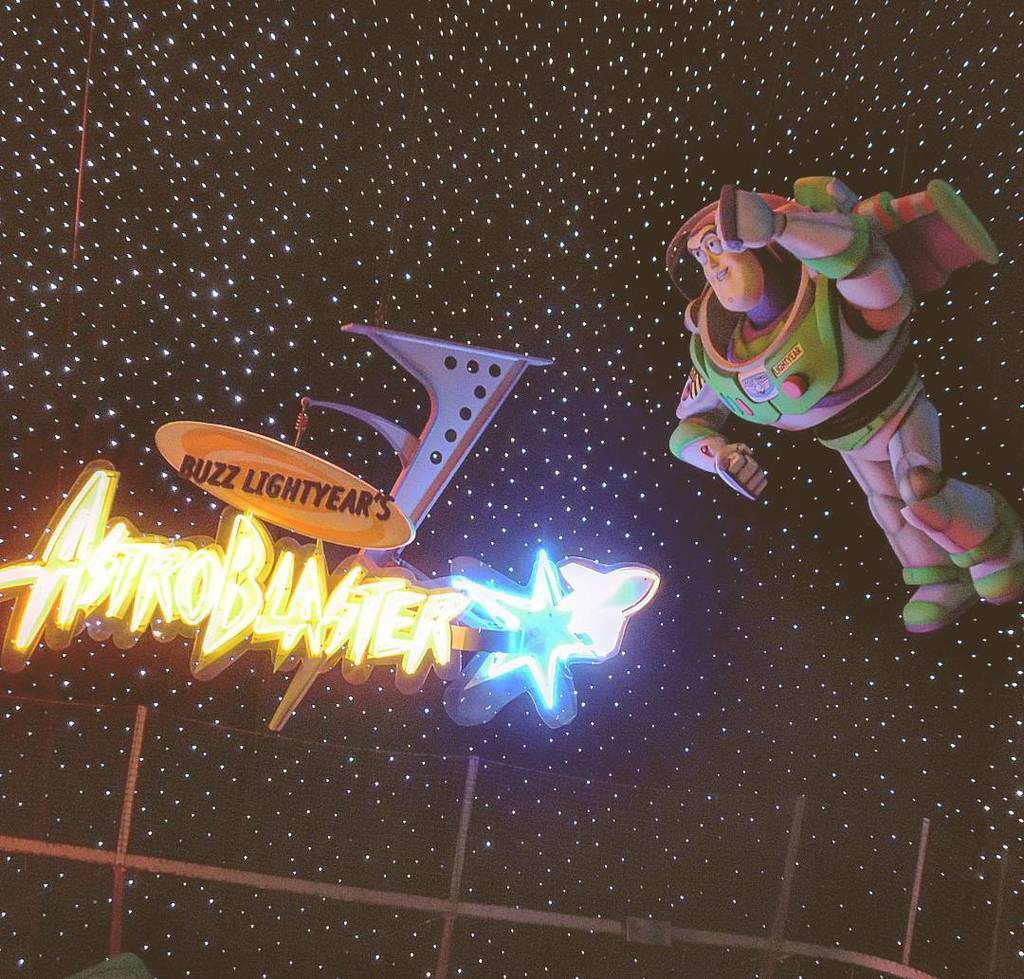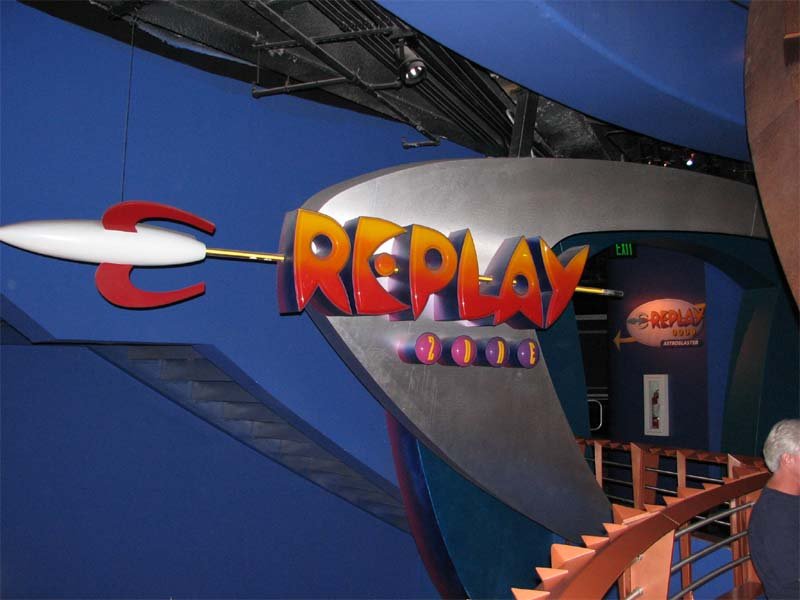 Guests drove bumper cars equipped with dodgeball cannons, and hitting other cars in target spots would send them spinning. It was GREAT fun and it's a shame no version of the ride has survived.


The visual design of Score zone, by contrast, tried to capture an edgy and competitive feel CHOCK FULL of 90s "urban grunge" and Rob Liefeld-like comic book art. It featured "The Underground" - featuring fighting games and other newer cabs, as well as several unique rides.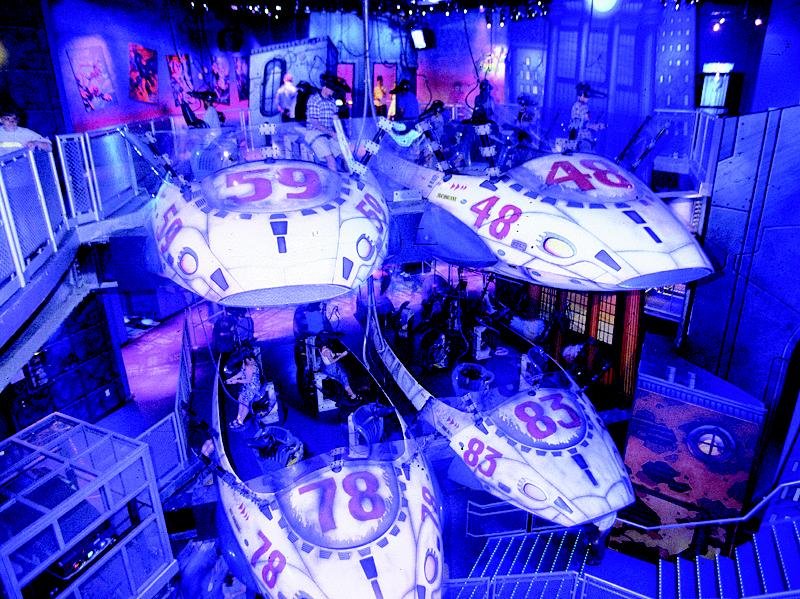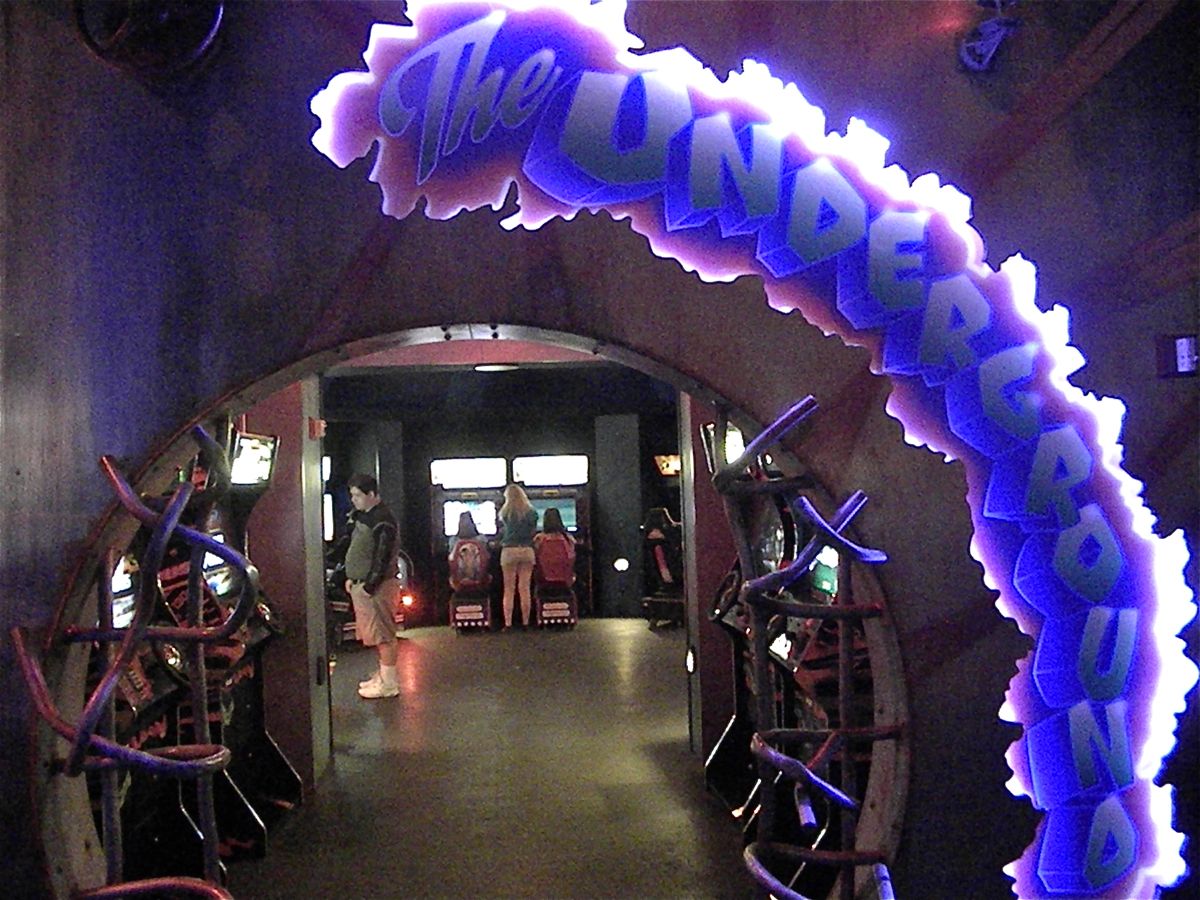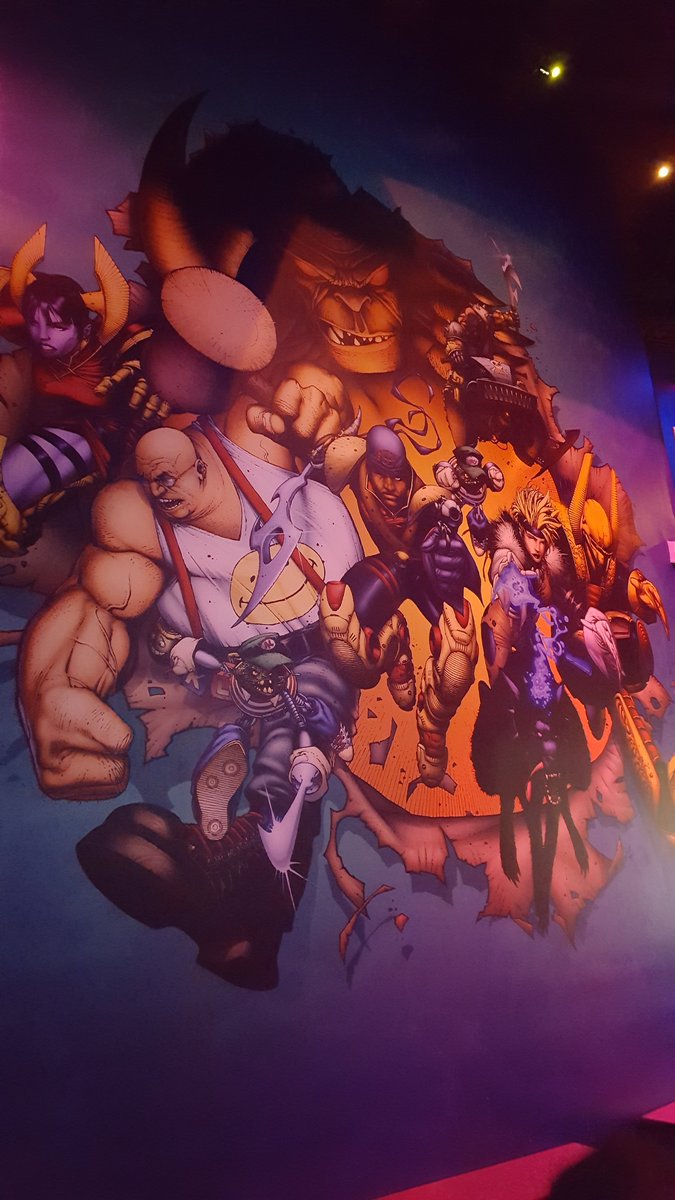 One of my favorite rides featured in this zone was Invasion! An ExtraTERRORestrial Encounter, tying into the infamous Disney World attraction of the same name. This four-player lightgun game was set inside a modified aircraft simulator, and had a TON of details.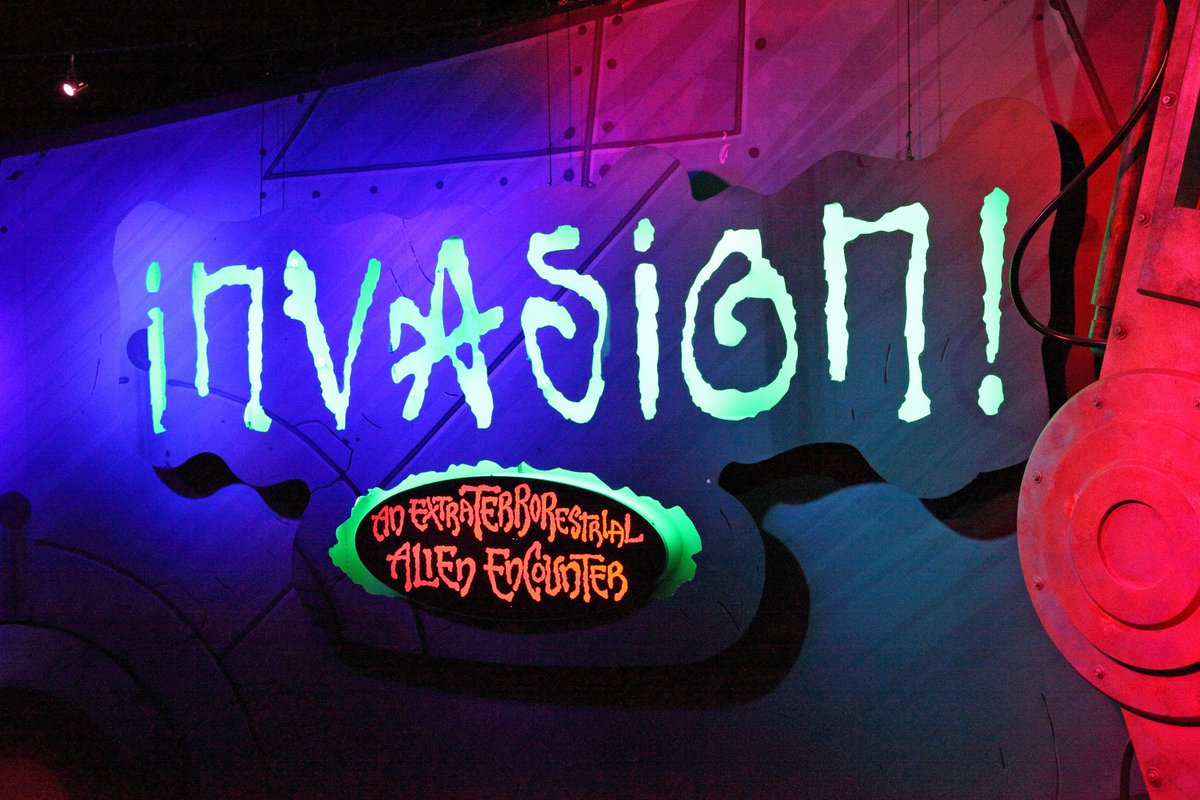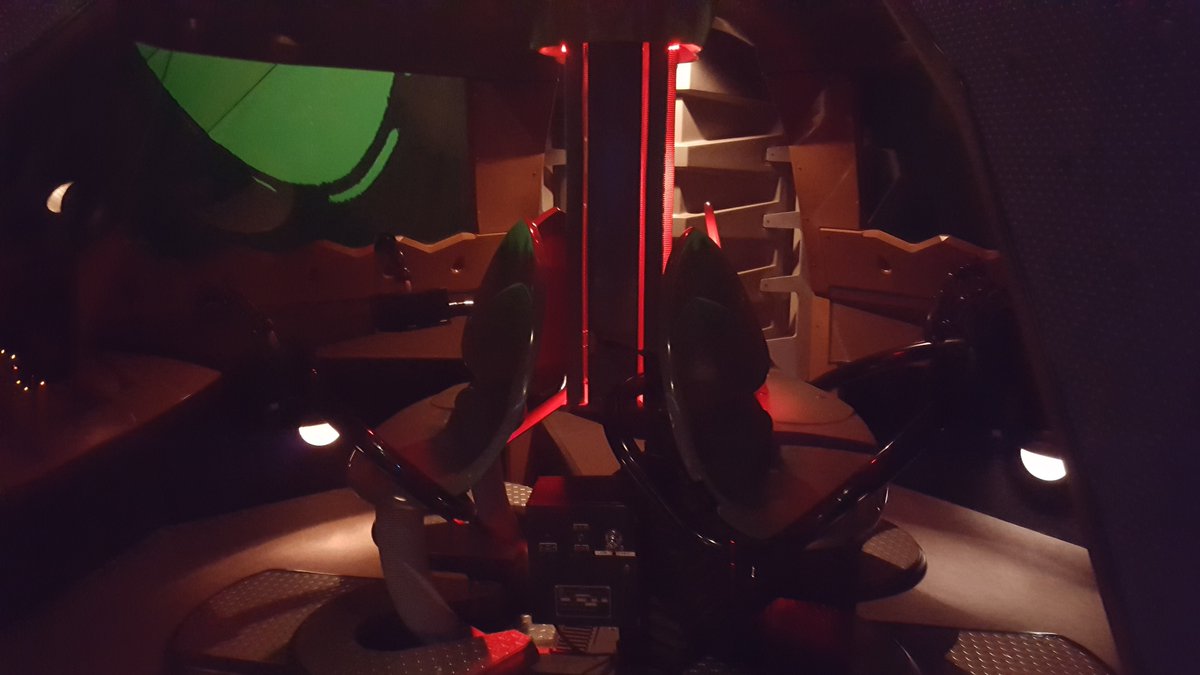 For one, the attraction had a video pre-show (the only one of its kind in DisneyQuest), featuring characters from the Disney World attraction and some more worldbuilding. As attendance declined in later years (more later), this preshow was removed.


In addition, Imagineering actually created gorgeous models of the game's machines and enemies - I REALLY hope these got rescued from the demolition and returned to their designers.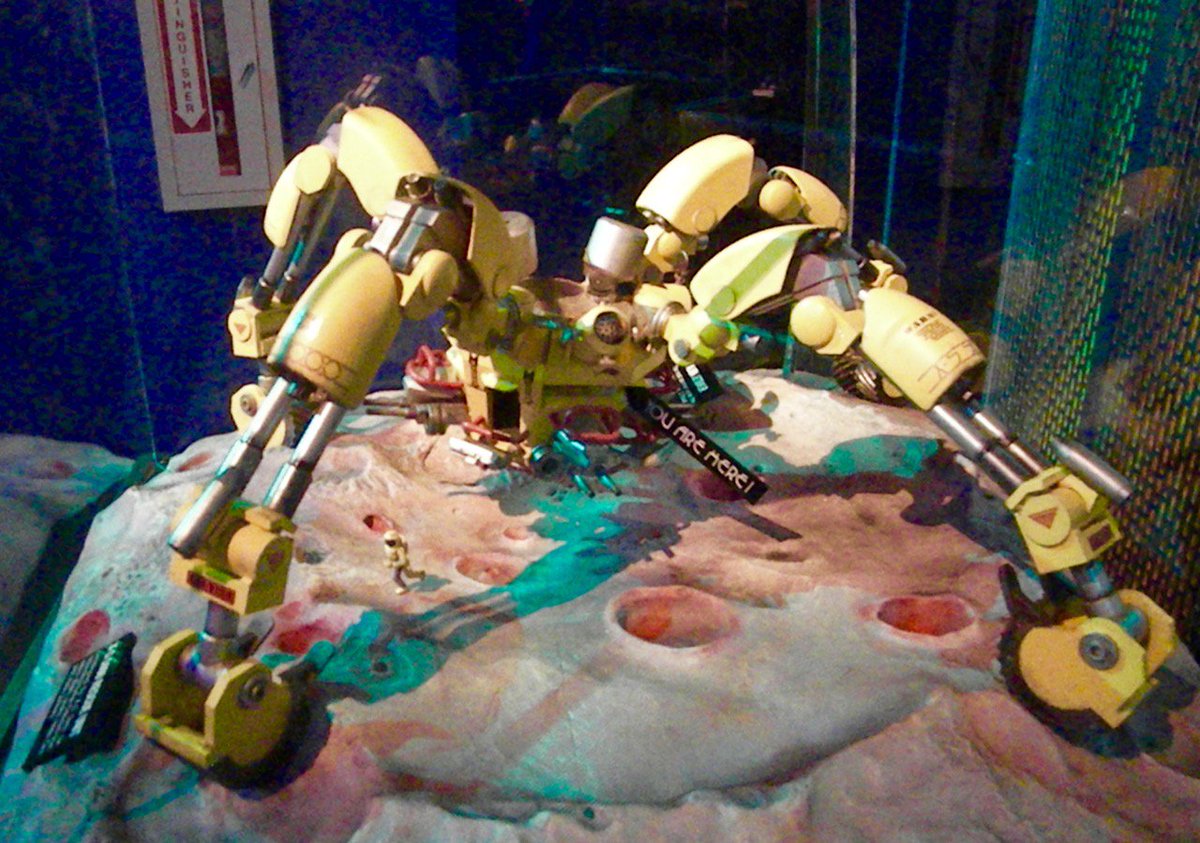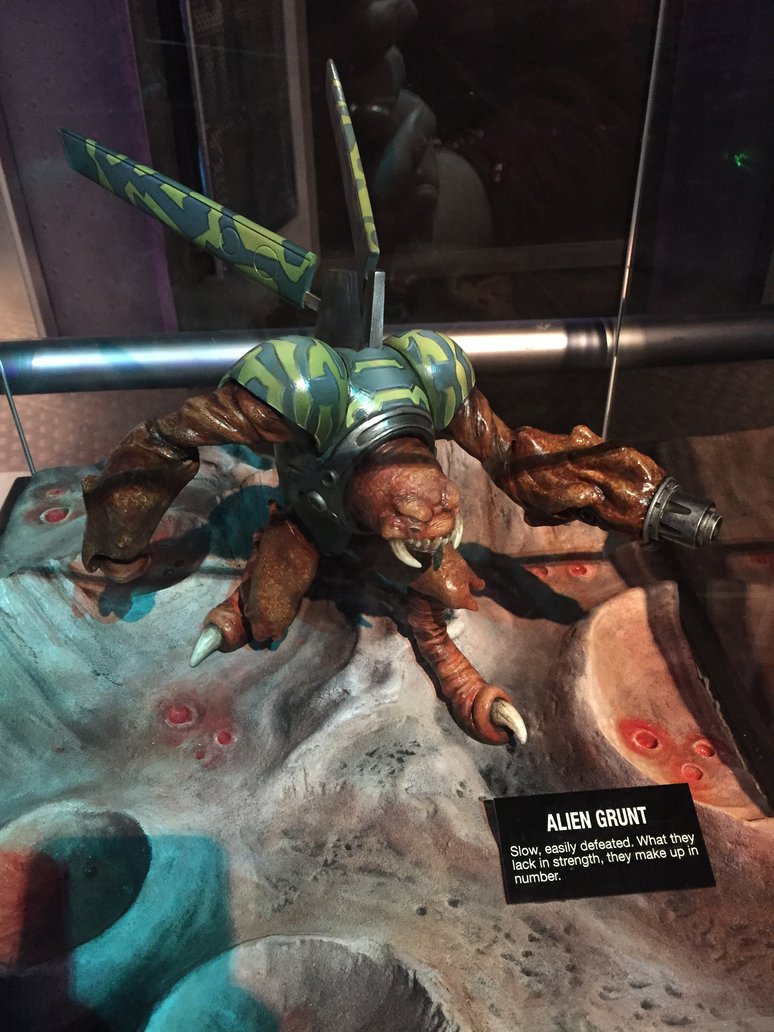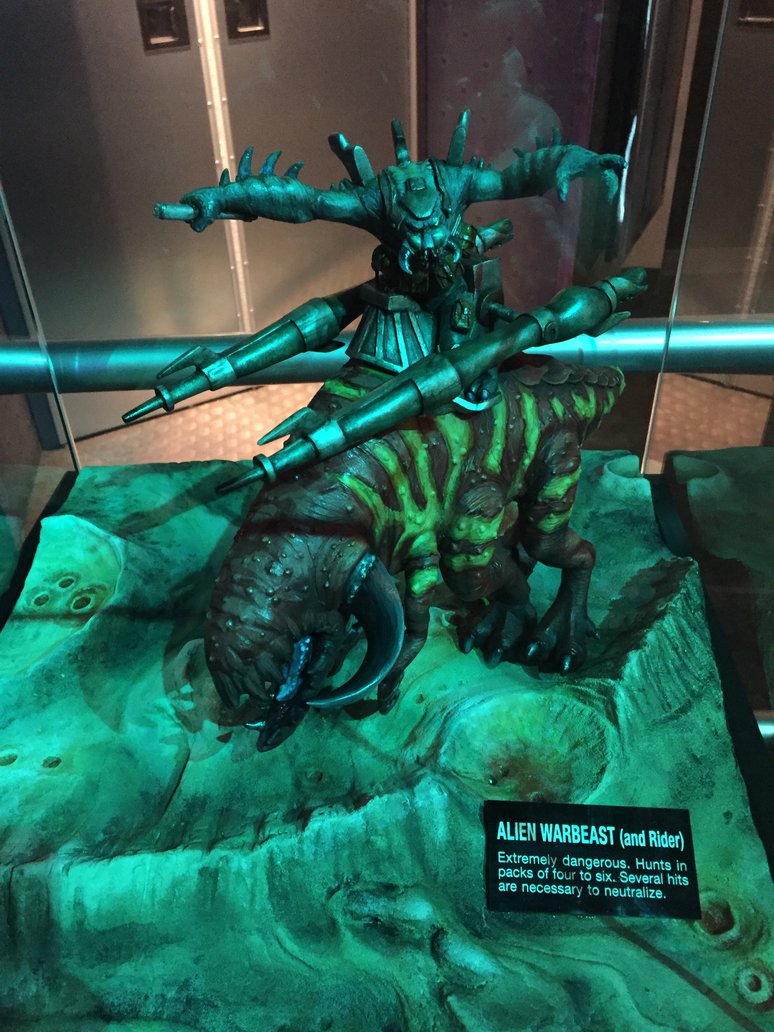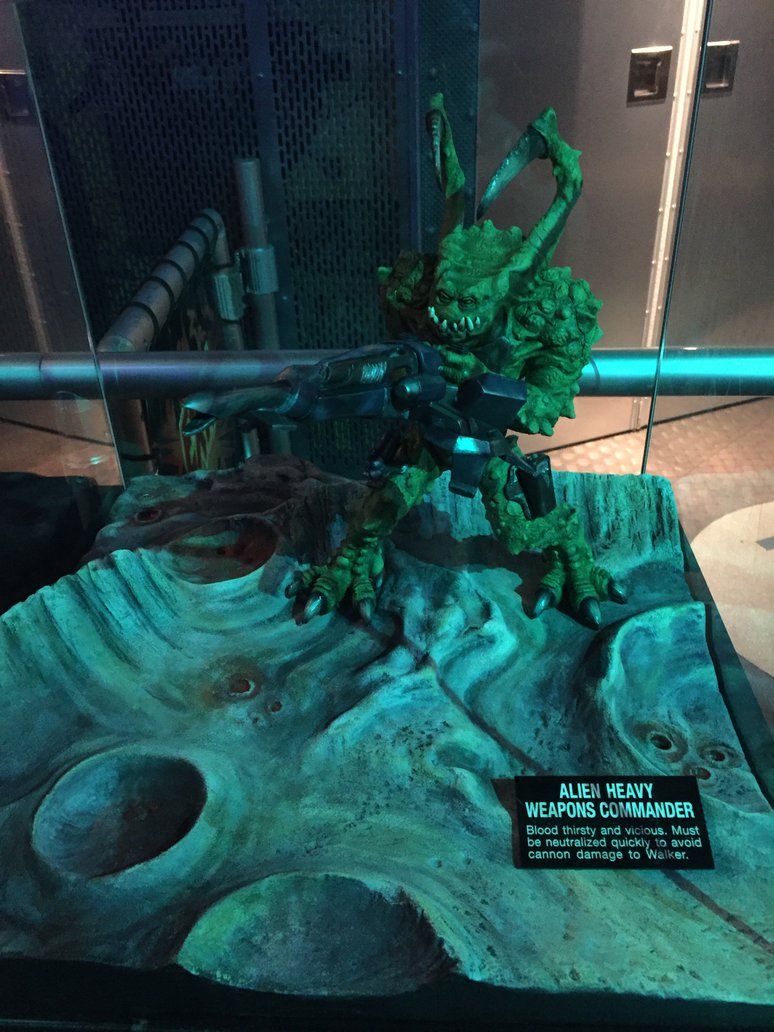 These are the sorts of details you'd expect in a proper park ride queue, and that attention was paid at DisneyQuest.

Here's footage of the actual game. It ruled. That's me playing it.


The attraction that visually dominated the Score zone's visual theming was Ride The Comix, a 4-player virtual reality attraction that was an absolute technical marvel at the time of its construction.
Huge ride pods literally hung out over the area's balcony.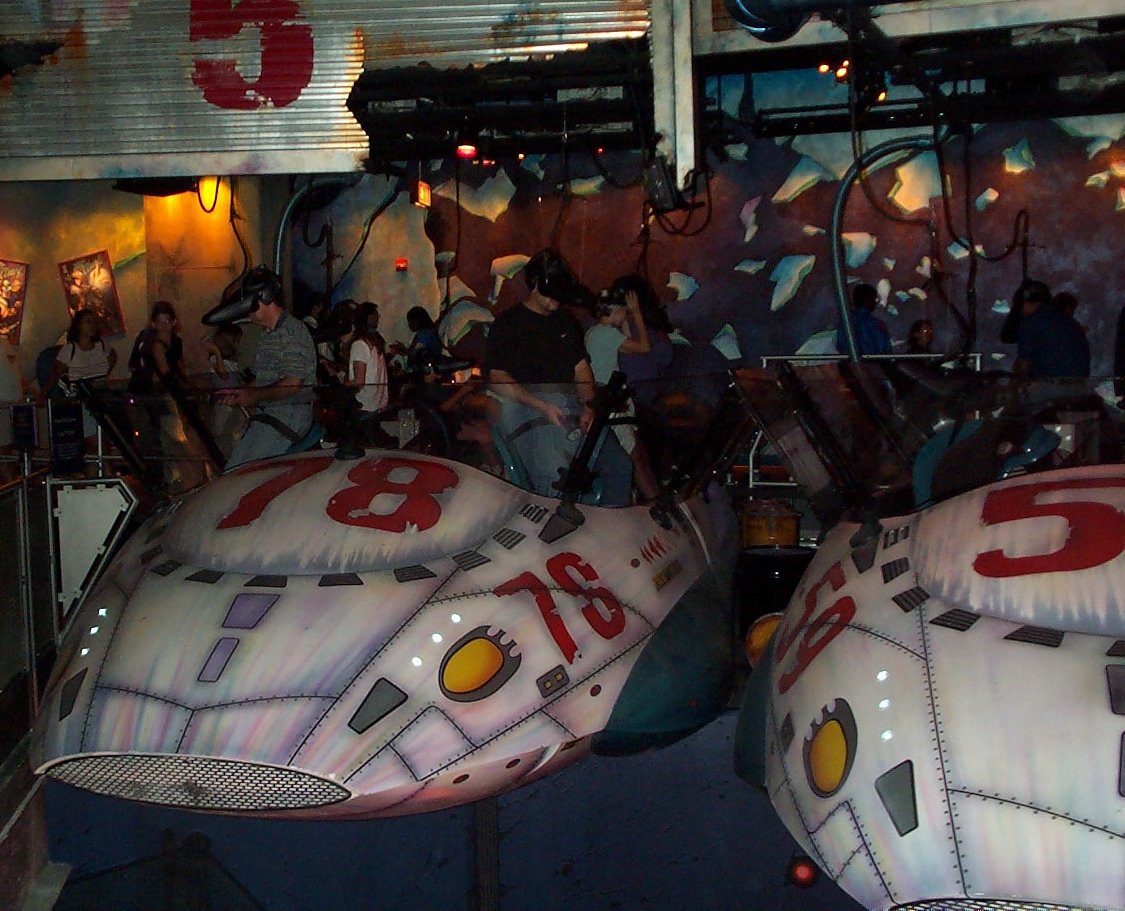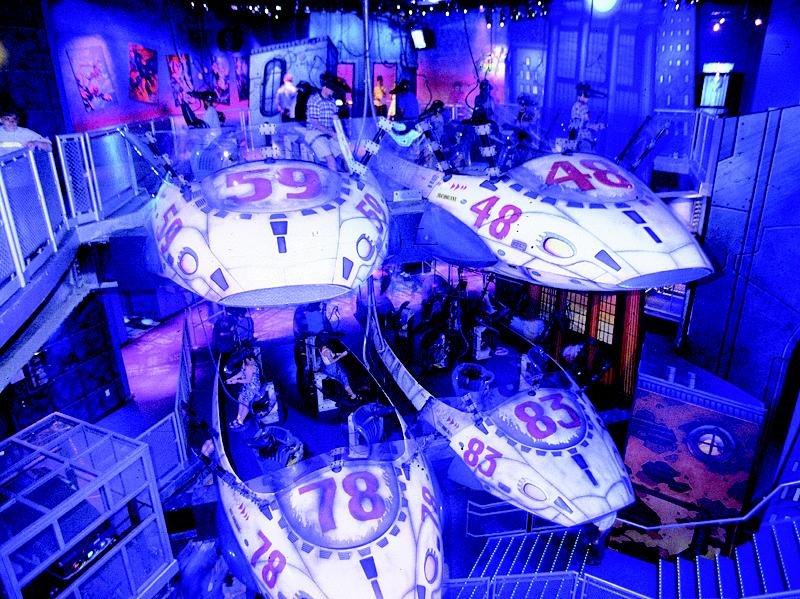 A tiny breakdown on the guts of Ride The Comix - it used early gyro-based motion controllers, a hulking CRT-based vr headset called "Gatorvision", and was powered by a mighty Silicon Graphics Onyx2 workstation.
In fact, ALL of DisneyQuest's 3D attractions ran on Onyx2 units.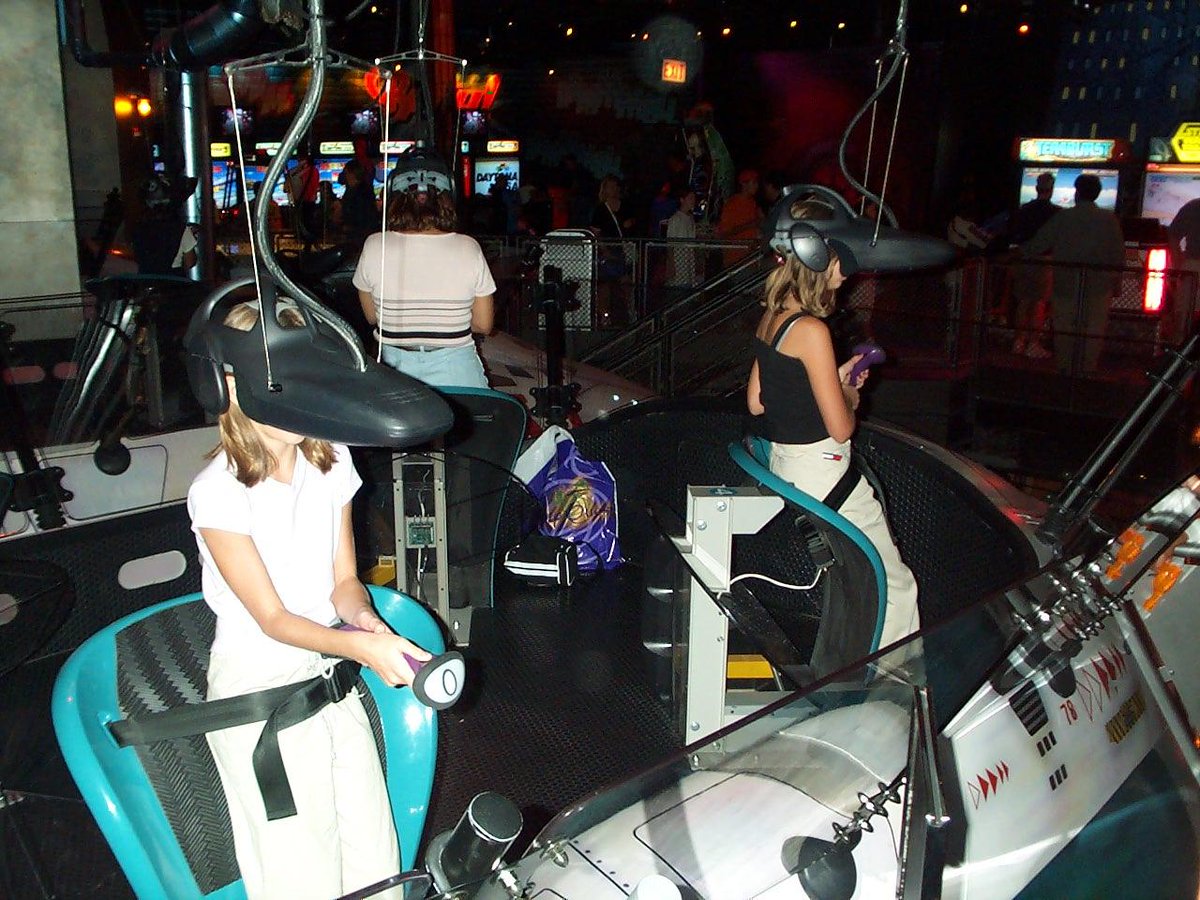 Ride the Comix immersed players in a gritty cyberpunk world - very un-Disney like - and pit them against a set of original comic book villains created for the attraction. Fictional comic issues lined the walls of the Score zone.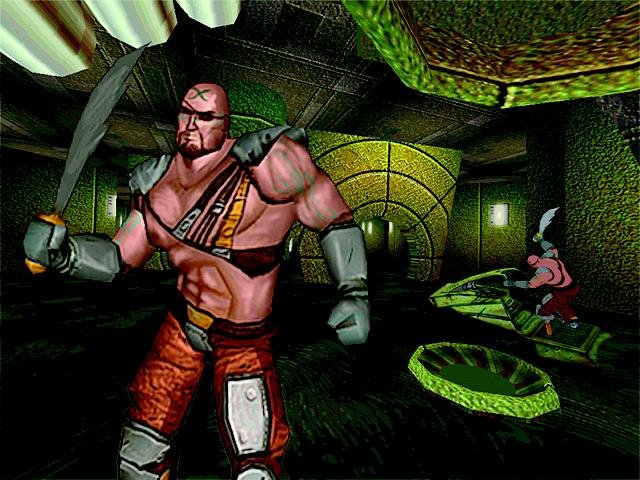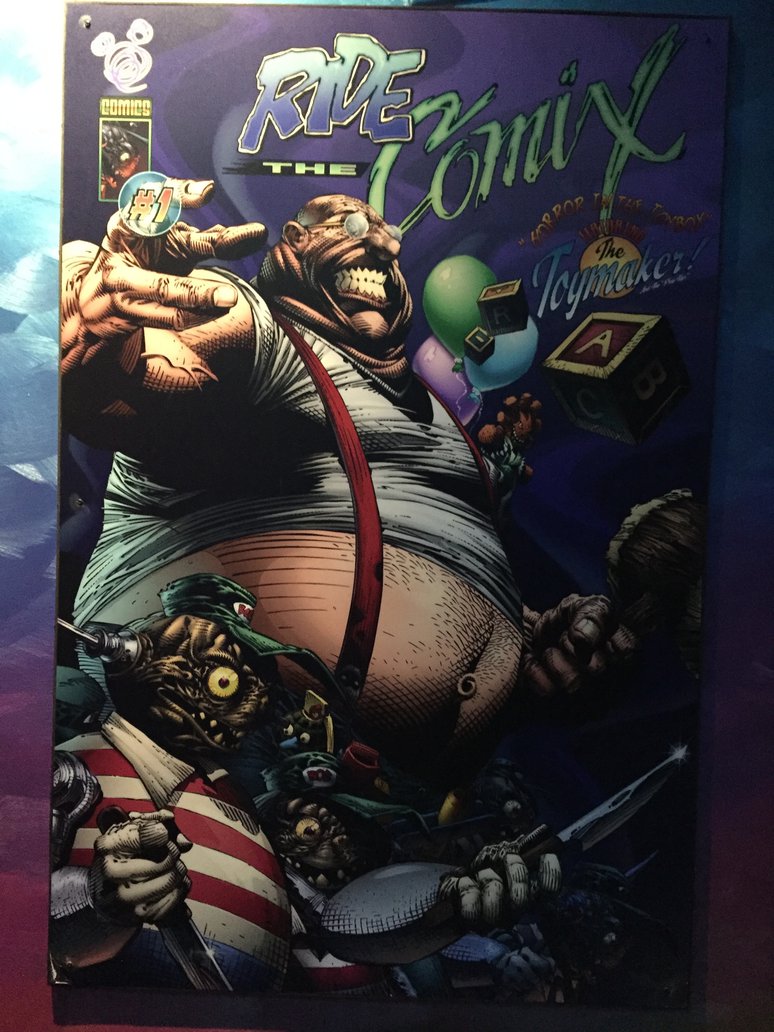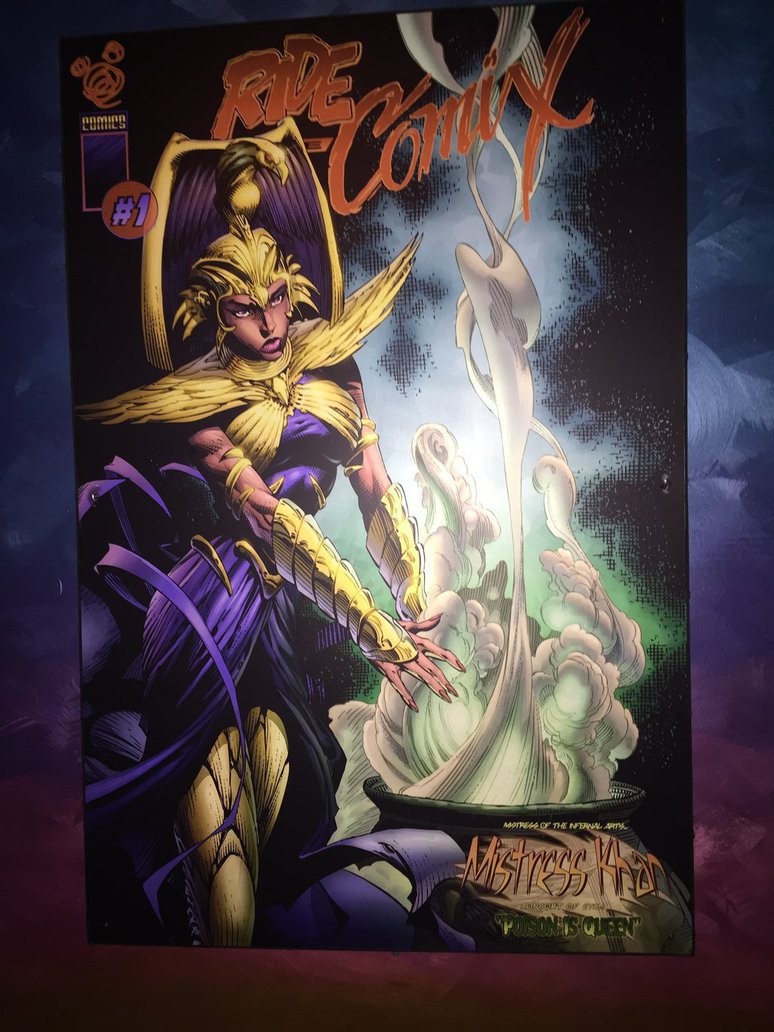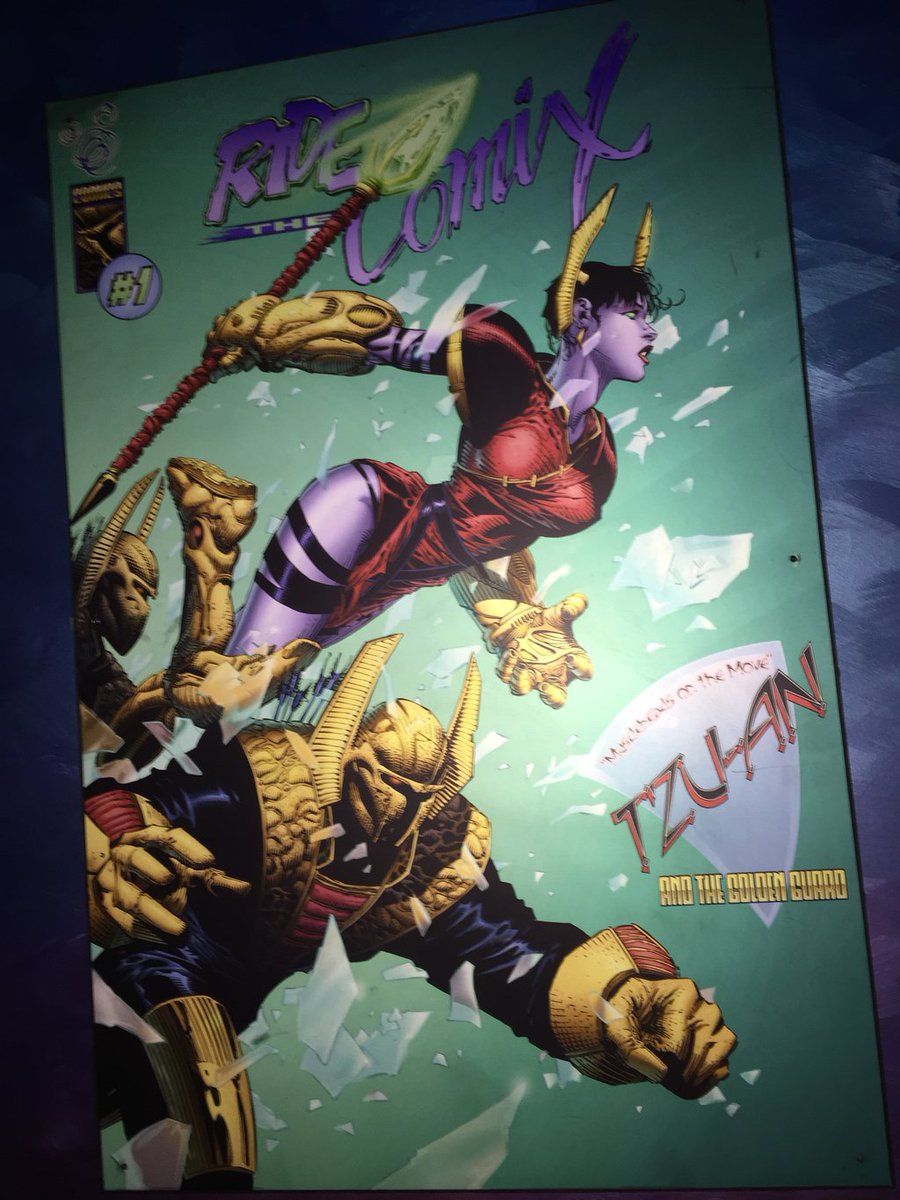 The attraction was originally supposed to feature Disney villains in a similar setting, but Roy Disney himself objected to their gritty portrayal mid-development, resulting in their OC replacements - but not before Maleficent herself made her way into some of Score's theming.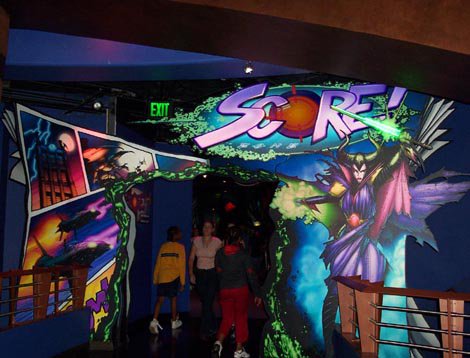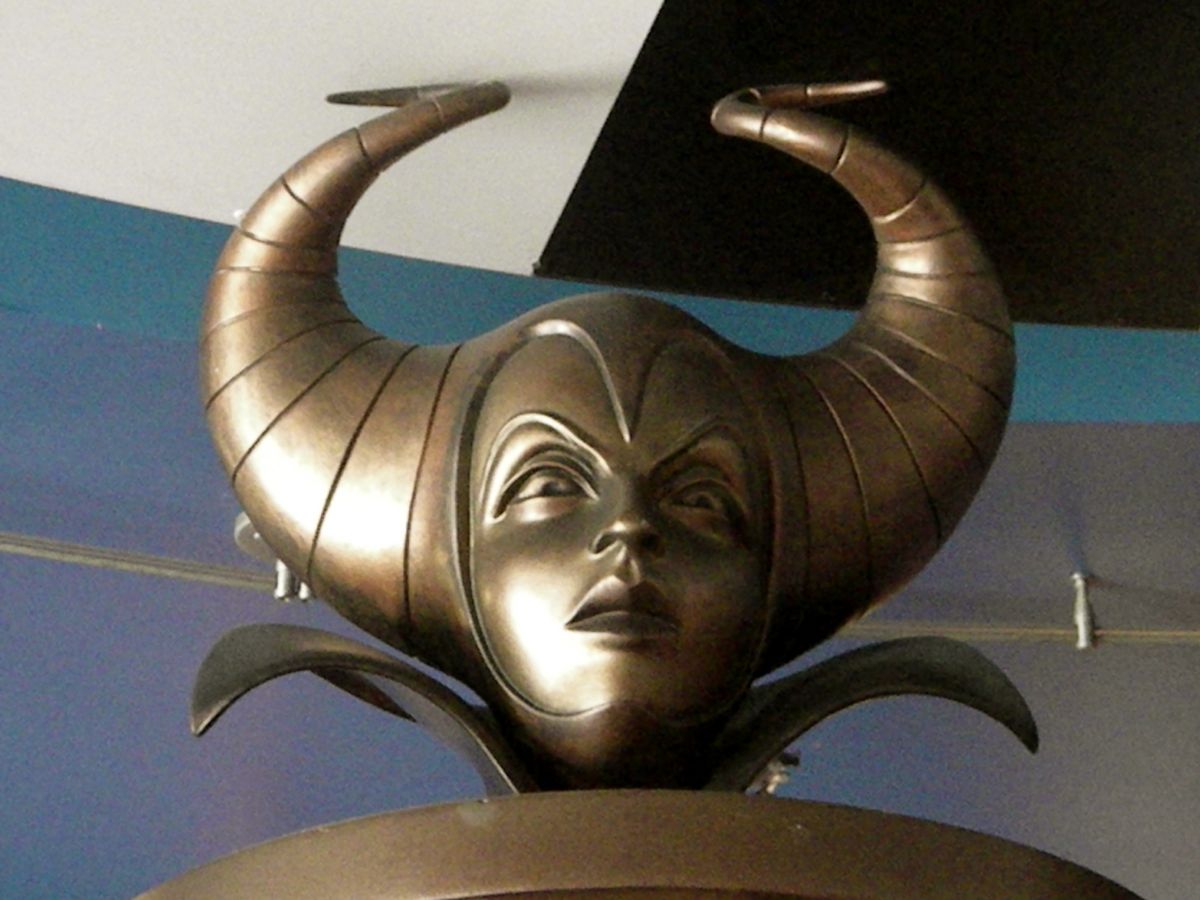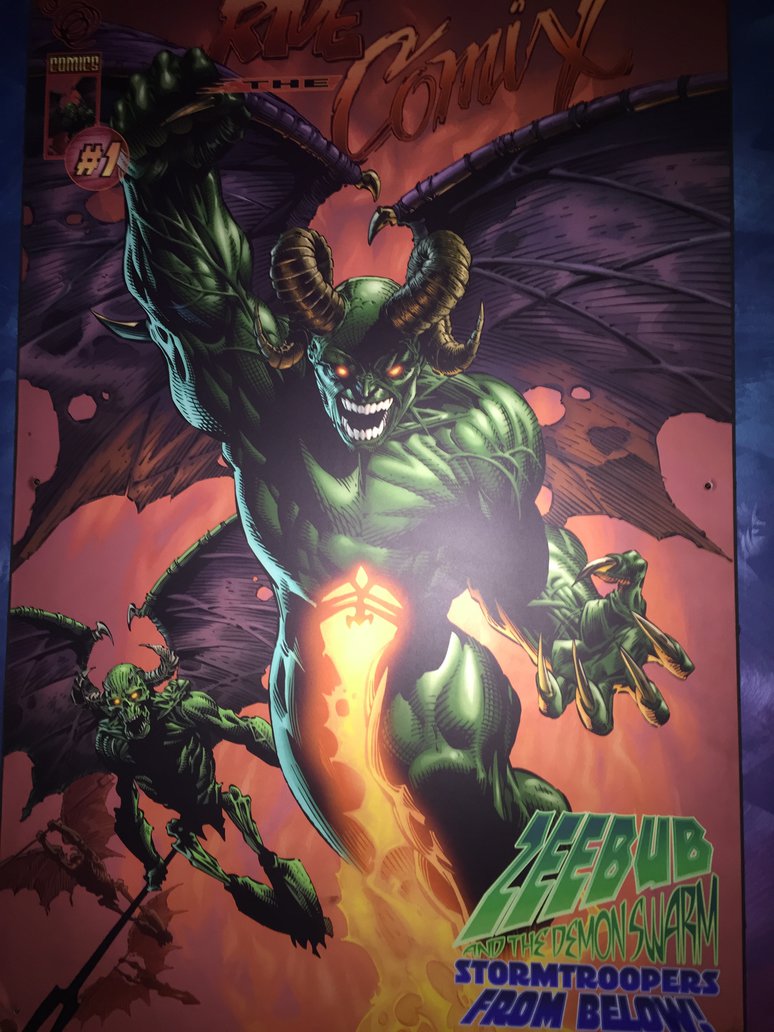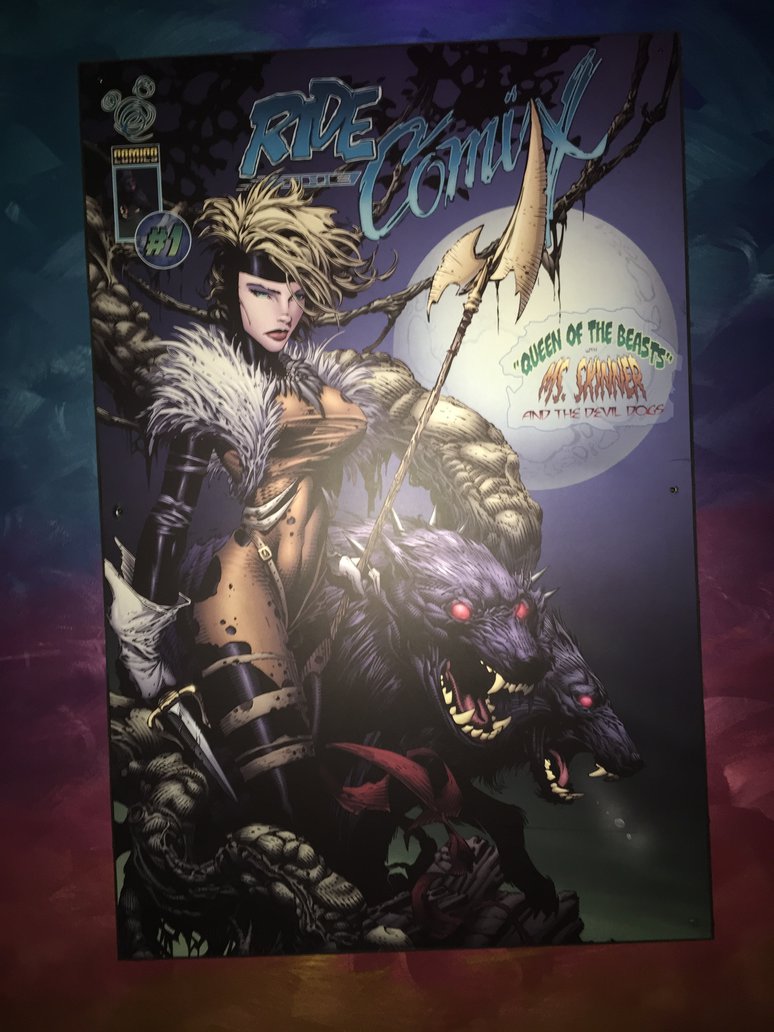 Onwards to Create Zone, perhaps my personal favorite - this zone was entirely filled with original attractions that emphasized user design and creativity.
It featured a circular design with columns, almost like an art gallery, and housed five (later four) attractions.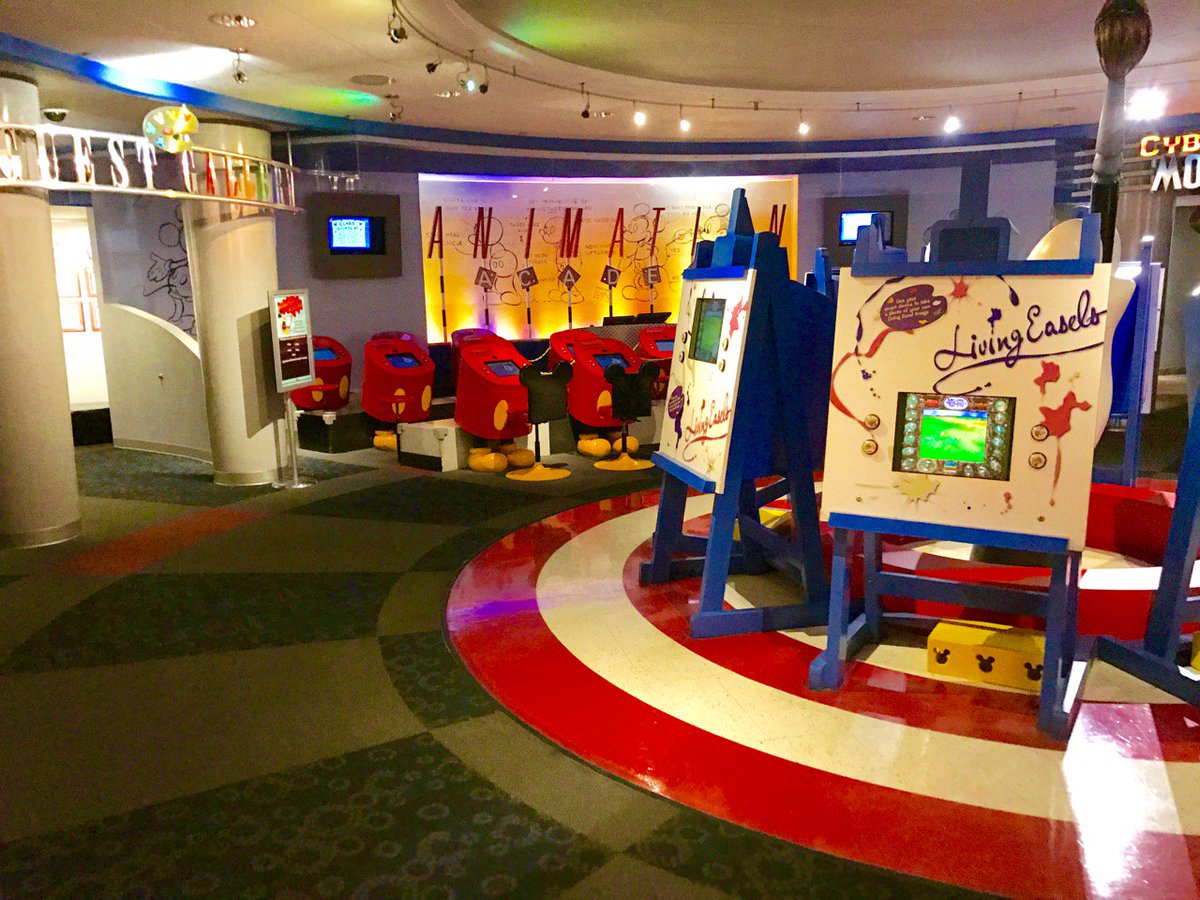 Living Easels, a strange Disney paint program, used a CRT touch screen. Similarly, the Magic Mirrors allowed guests to photomanip their face, kinda like a reskinned Kai's Supergoo. Magic Mirrors, for some reason, was remove, leaving a hilariously out-of-place Pinocchio head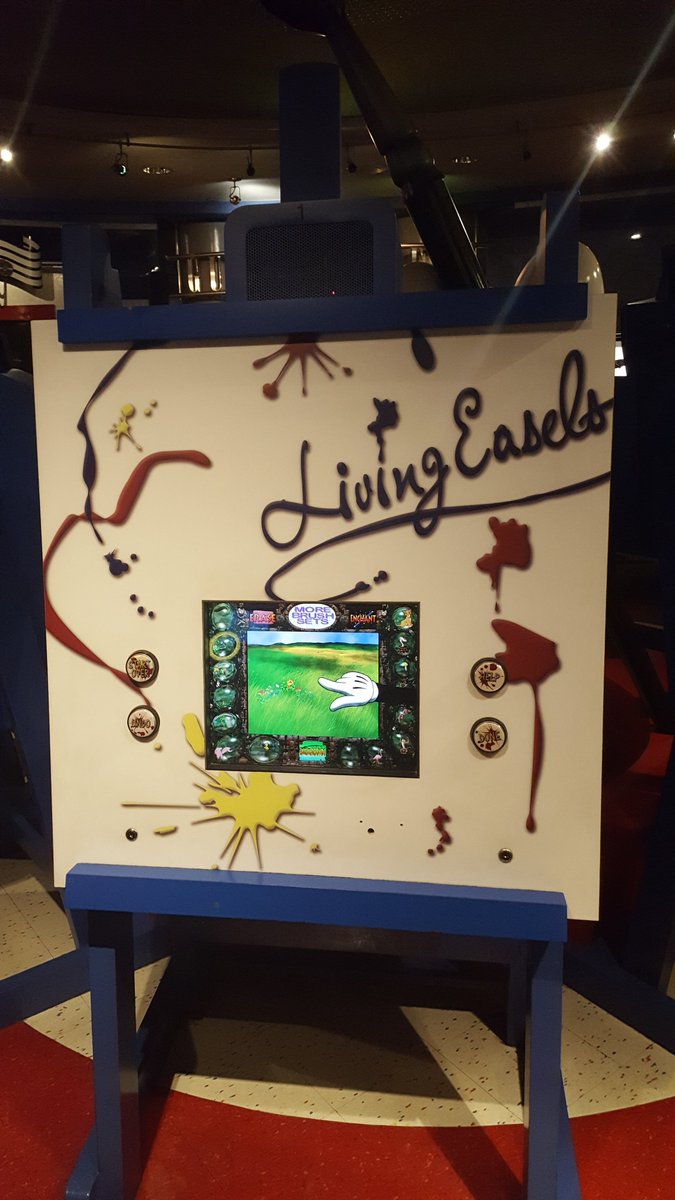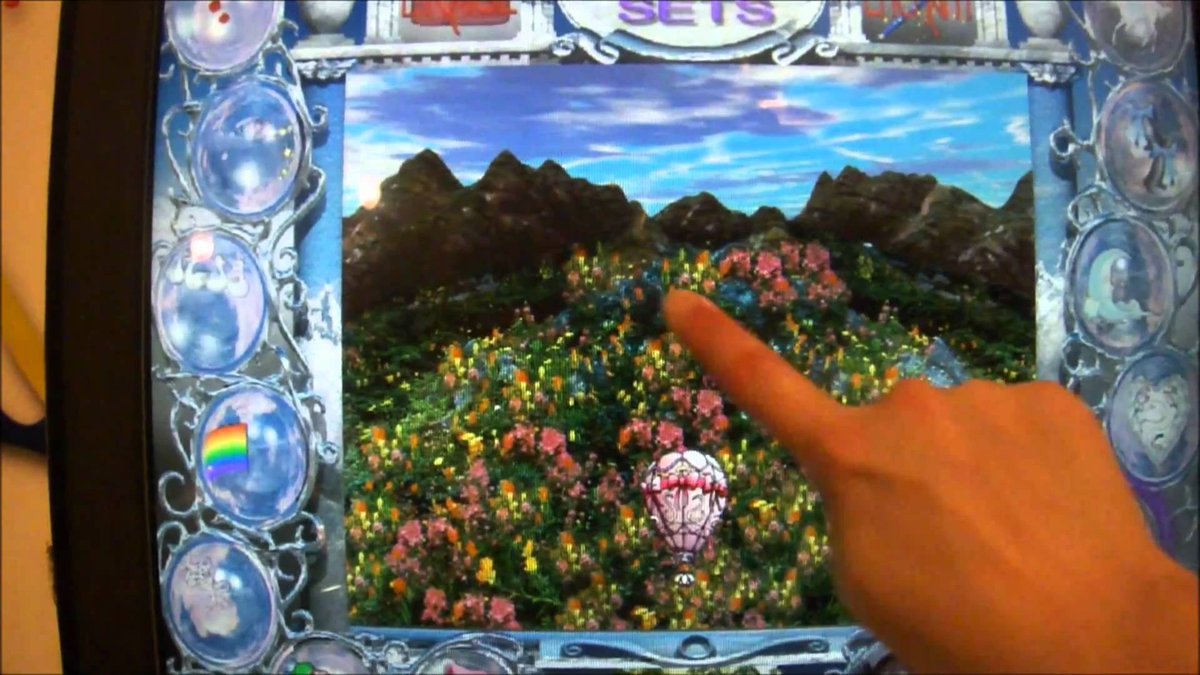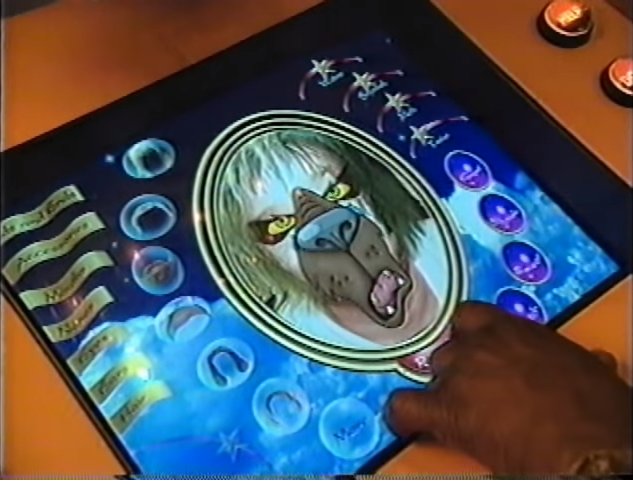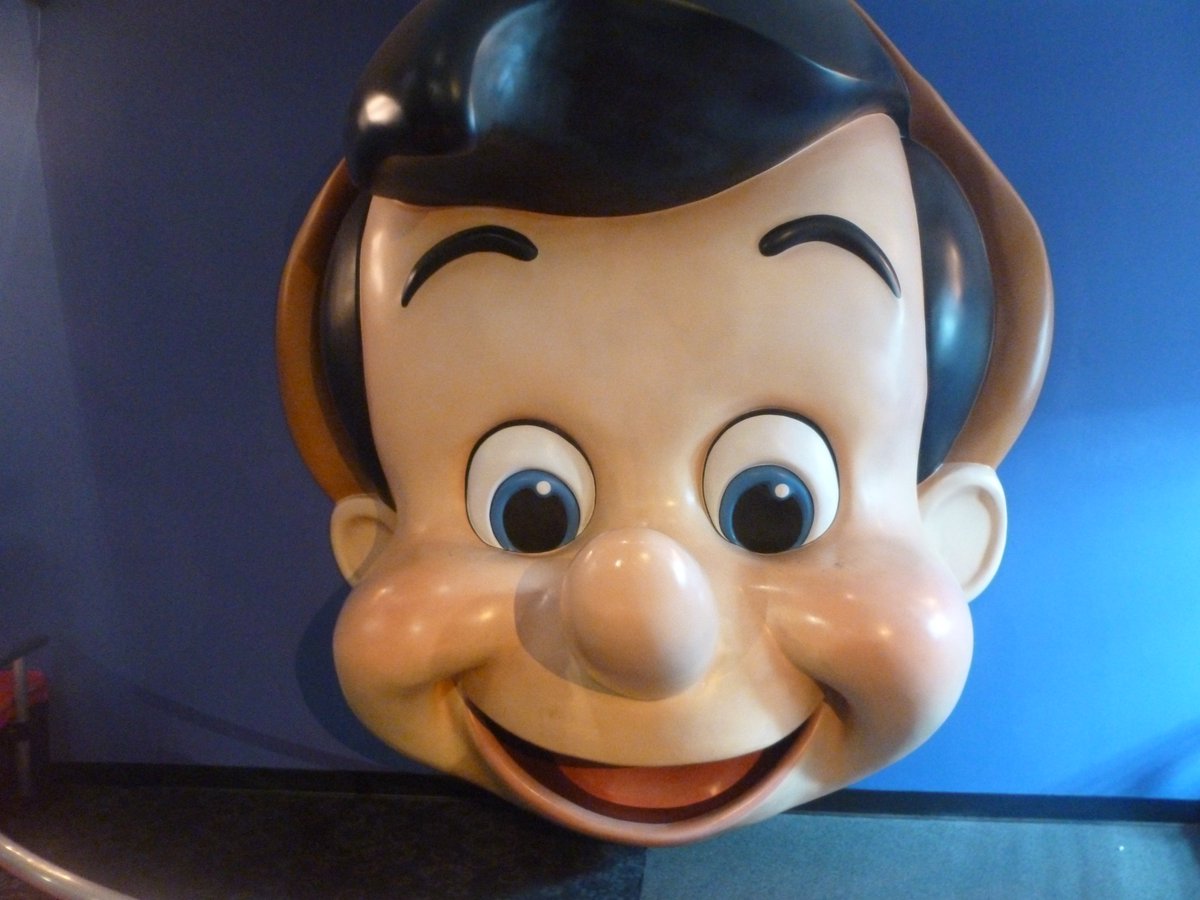 There was also Sid's Create-A-Toy, which had a cool premise - you'd create a virtual Frankentoy, and could buy an exact copy of it from the gift shop!
Create-A-Toy, Living Easels and Magic Mirror OOZE the sort of Kai Krause crunchy shiny messiness I love about 90s "multimedia"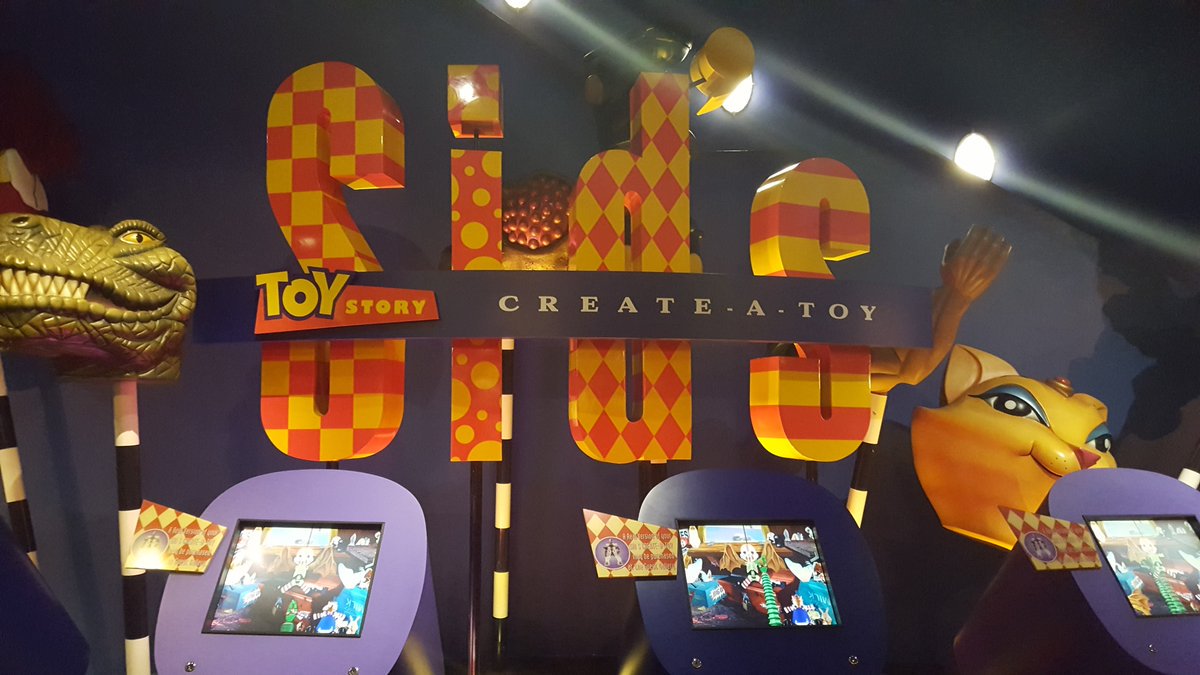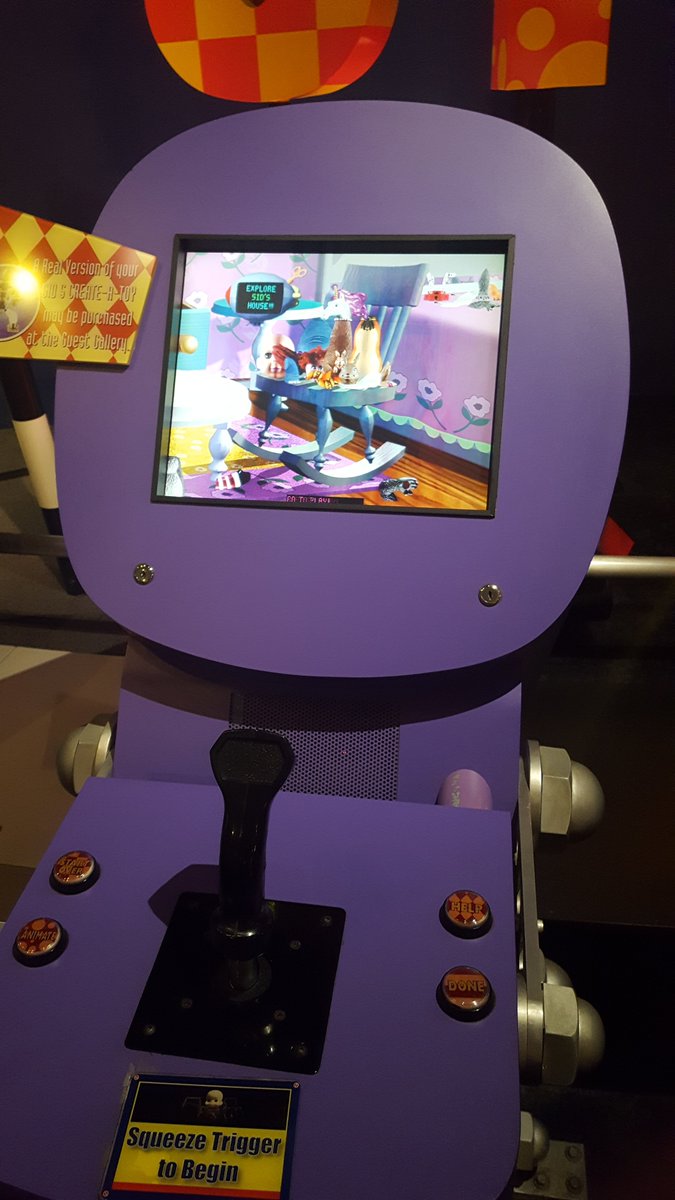 The Animation Academy attraction was unique in that it actually had a live cast member guide guests through art tutorials, which they would follow along with at digital stylus screen stations. Great art might even be hung in the Guest Gallery. This ACTUALLY ran until DQ's closure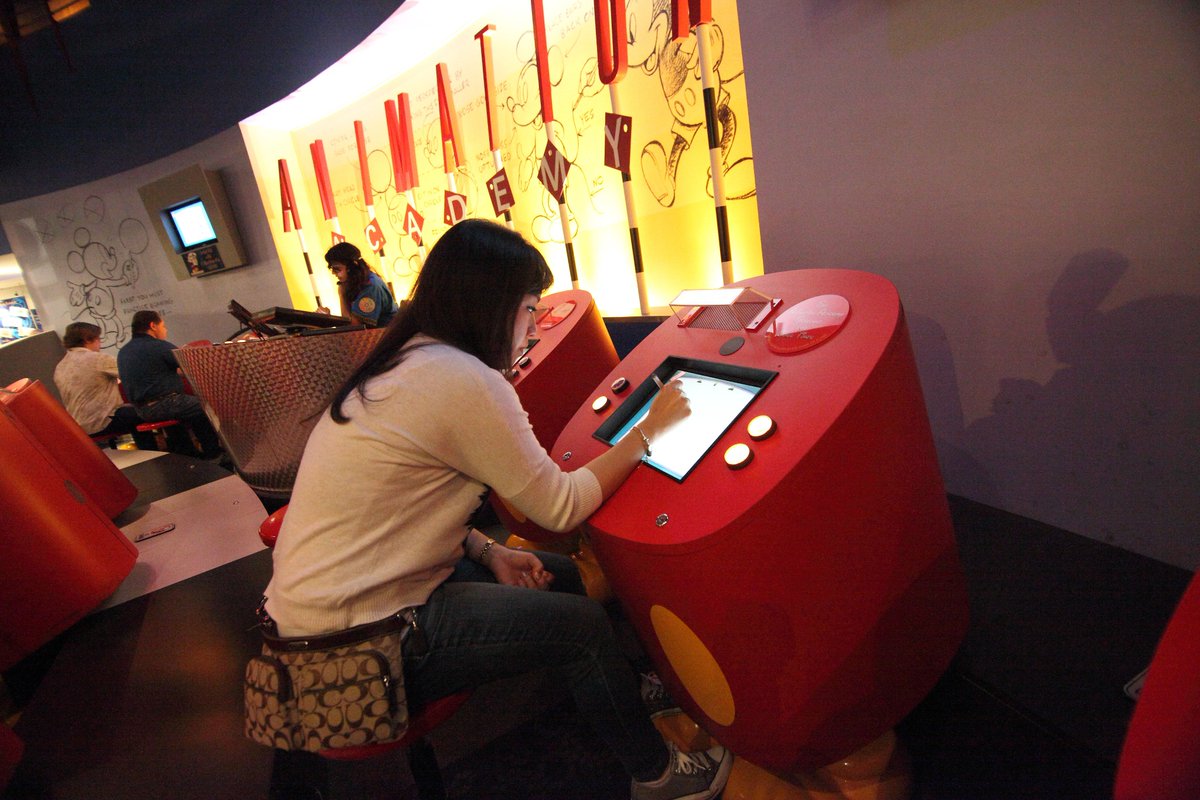 there's SO MUCH to talk about regarding the design of this place

The gallery feel is also sort of educational-utopian, like the entrance and Venture Port, and there's TONS of good Memphis-influenced stuff, like the Create-a-Toy sign and the Mickey-shaped Animation Academy kiosks
EVEN THE CARPET WAS ON THEME, matching the shapes of DisneyQuest's weird "whispy circle mickey head" logo. Like damn.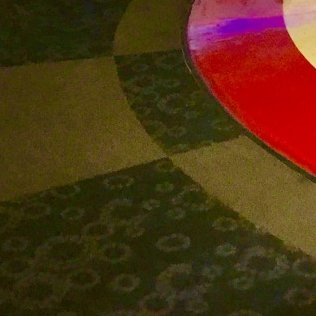 The star attraction of Create zone was Cyberspace Mountain, a build-your-own-rollercoaster simulator that could actually flip upside-down (big deal for the time).
Also very Kai Krause-like design in the kiosks, with Roller Coaster Tycoon vibes. Oh hey, Bill Nye is there.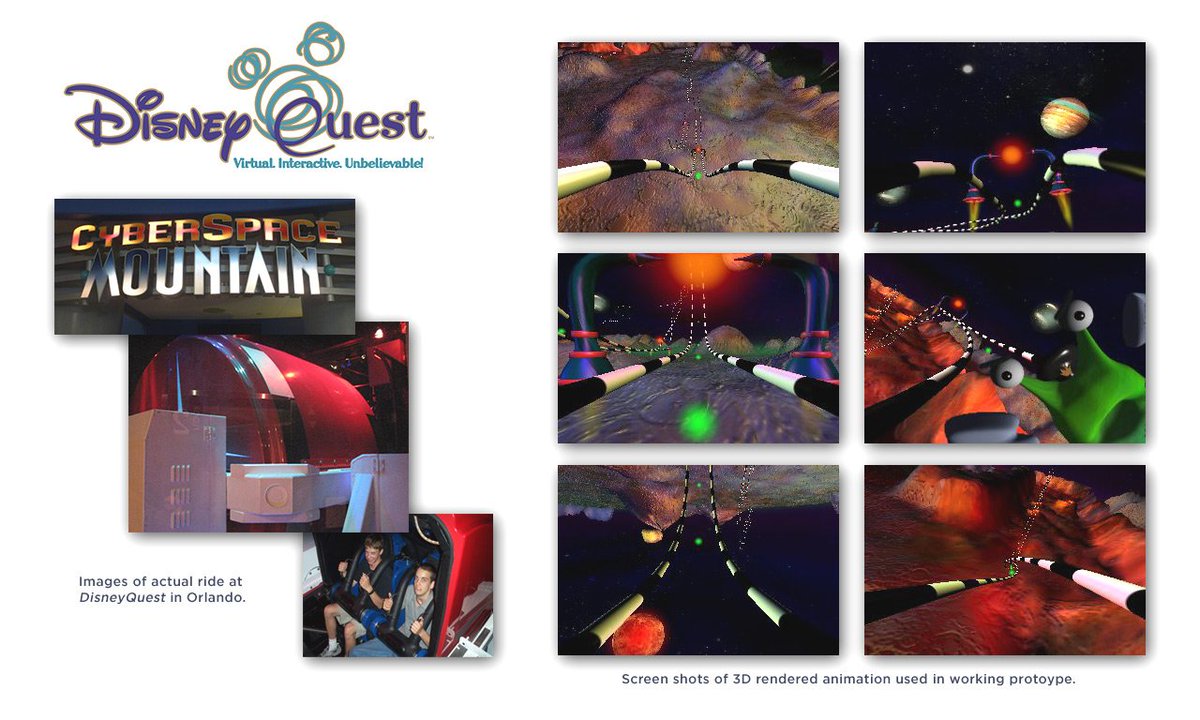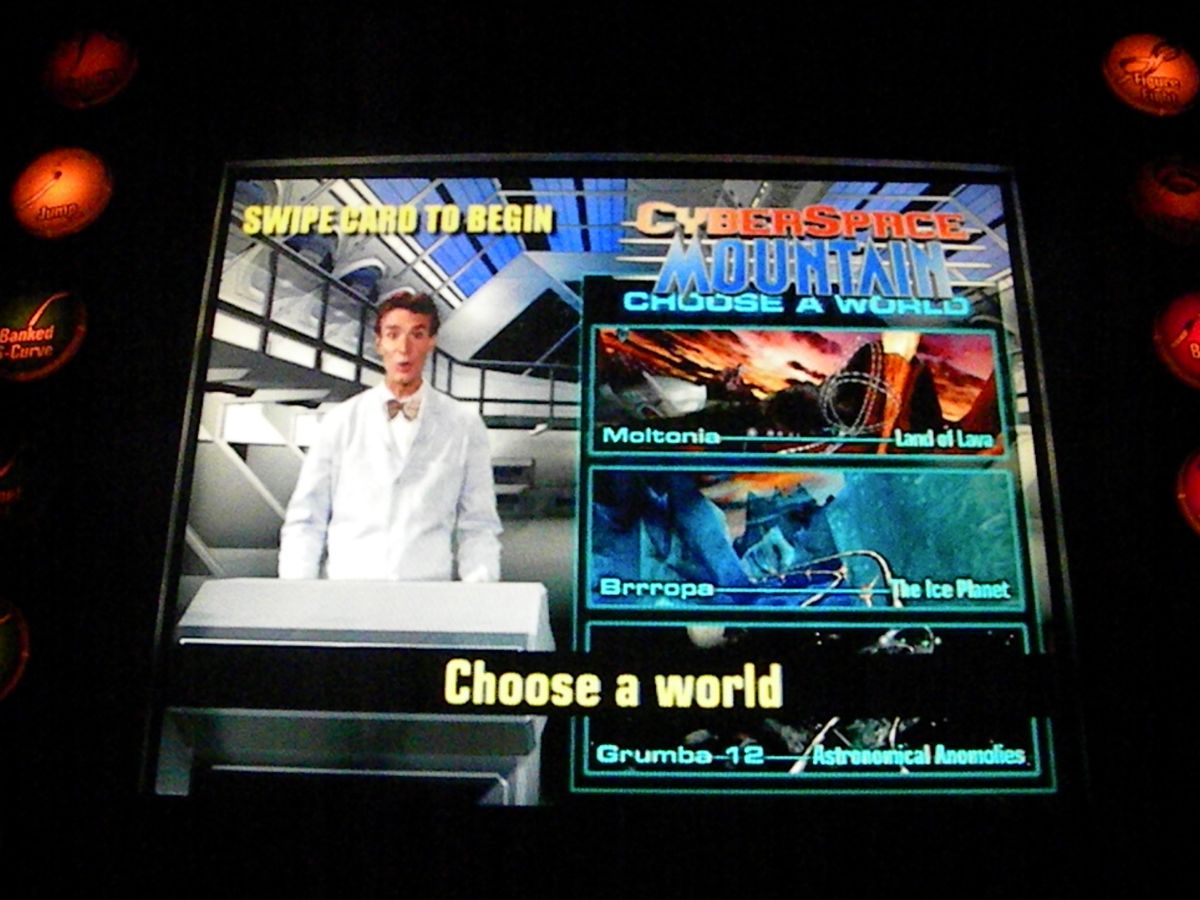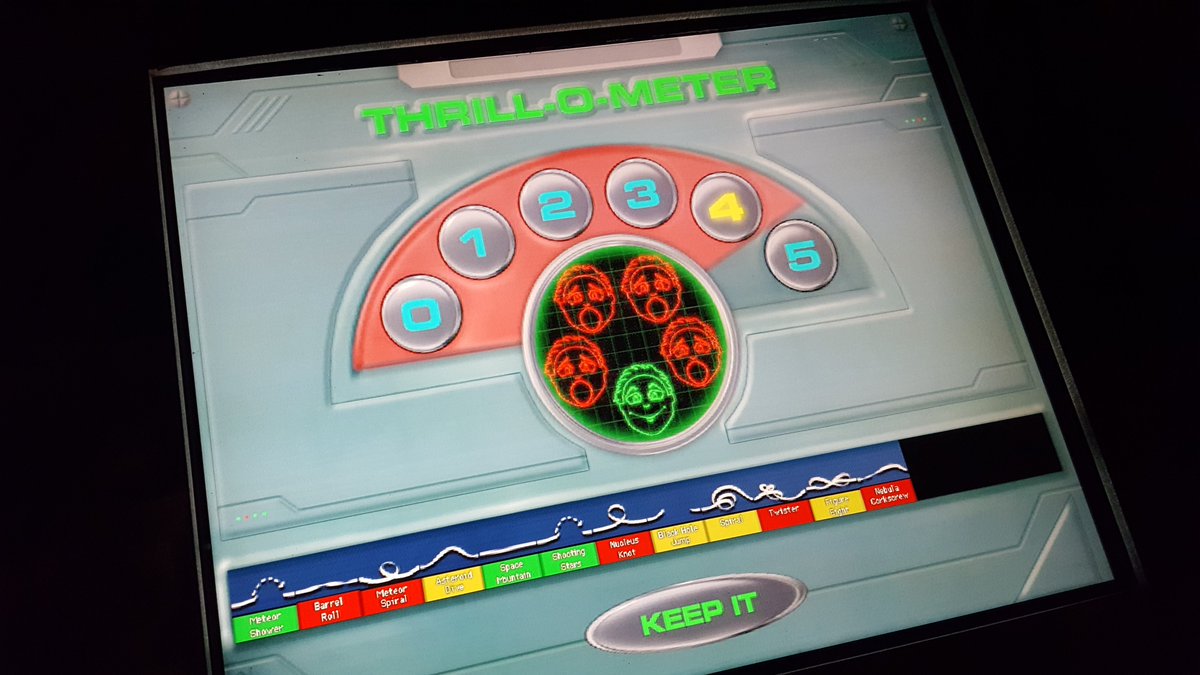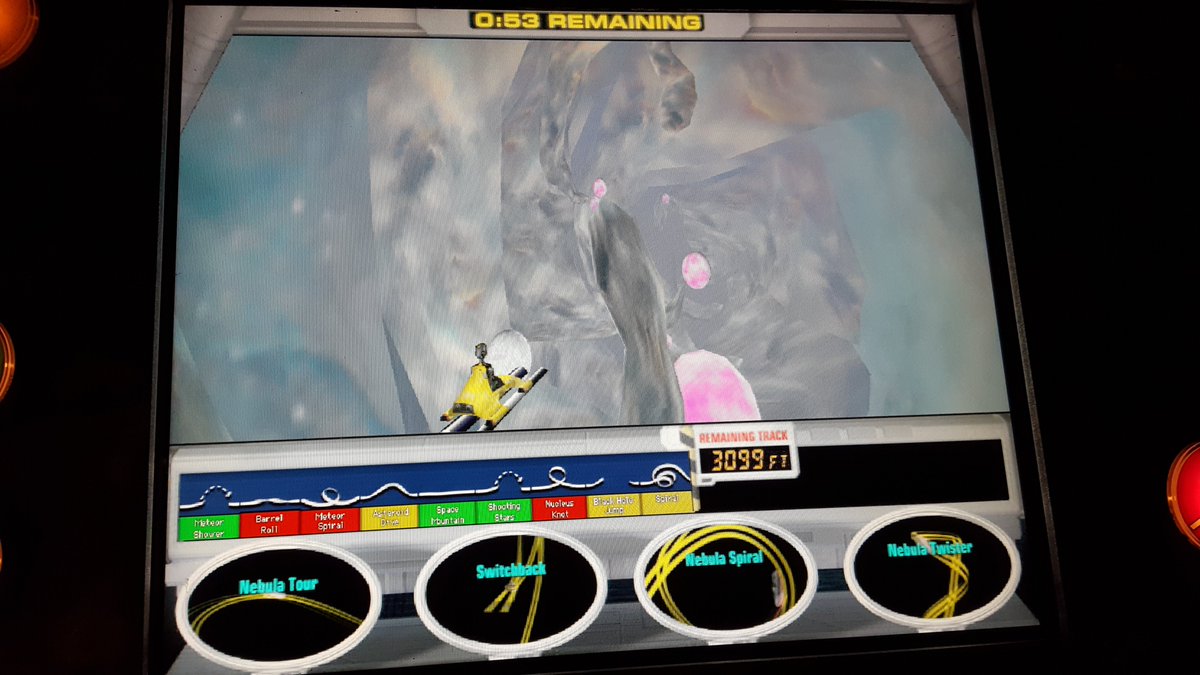 You could even get a recording of yourself on the ride, with your custom creation playing in a tiny box, on VHS (later converted over to DVD, which remained the only format until DQ's closure in /2016/)

For accuracy, here's one of them, in its NTSC glory


The simulator vehicles featured a large projection screen, and could rock a bit and spin on their axis. Here's a more comprehensive video of the ride, complete with the design portion.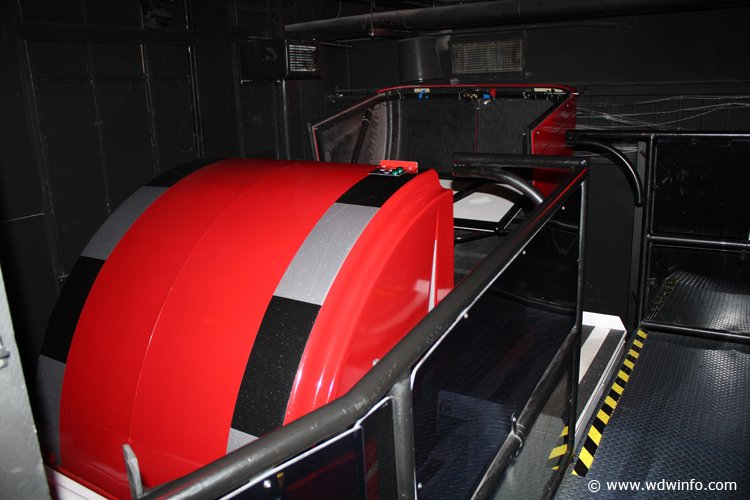 Finally, there was the Explore zone - this zone focused on immersive simulators, virtual reality, etc.
This area has kind of an interesting story, and it dates back to DisneyVision Labs at EPCOT in 1994
Also LOOK AT THIS LOGO IT'S HERMES WEARING A VR HELMET I CAN'T HANDLE THIS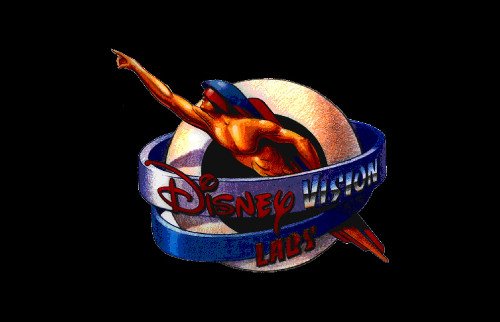 DisneyVision Labs was featured at EPCOT's Innoventions in 1994 - a collab between Imagineering and Silicon Graphics.

This exhibit featured Aladdin's Magic Carpet, a VR journey through Agrabah utilizing- you guessed it - Gatorvision helmets and SGI Onyx.


This SGI demo - which likely was the genesis point for ALL of DisneyQuest - later was turned into a DisneyQuest attraction, Aladdin's Magic Carpet!
It utilized Gatorvision (look how HUGE THOSE ARE, they have COUNTERWEIGHTS on them), and a unique 6DoF controller.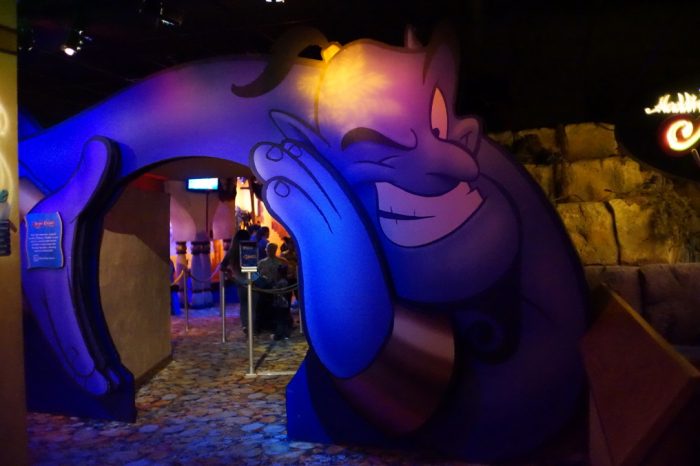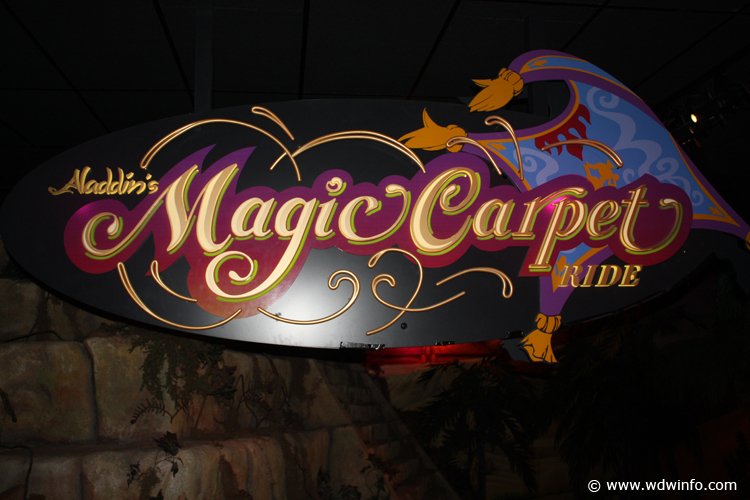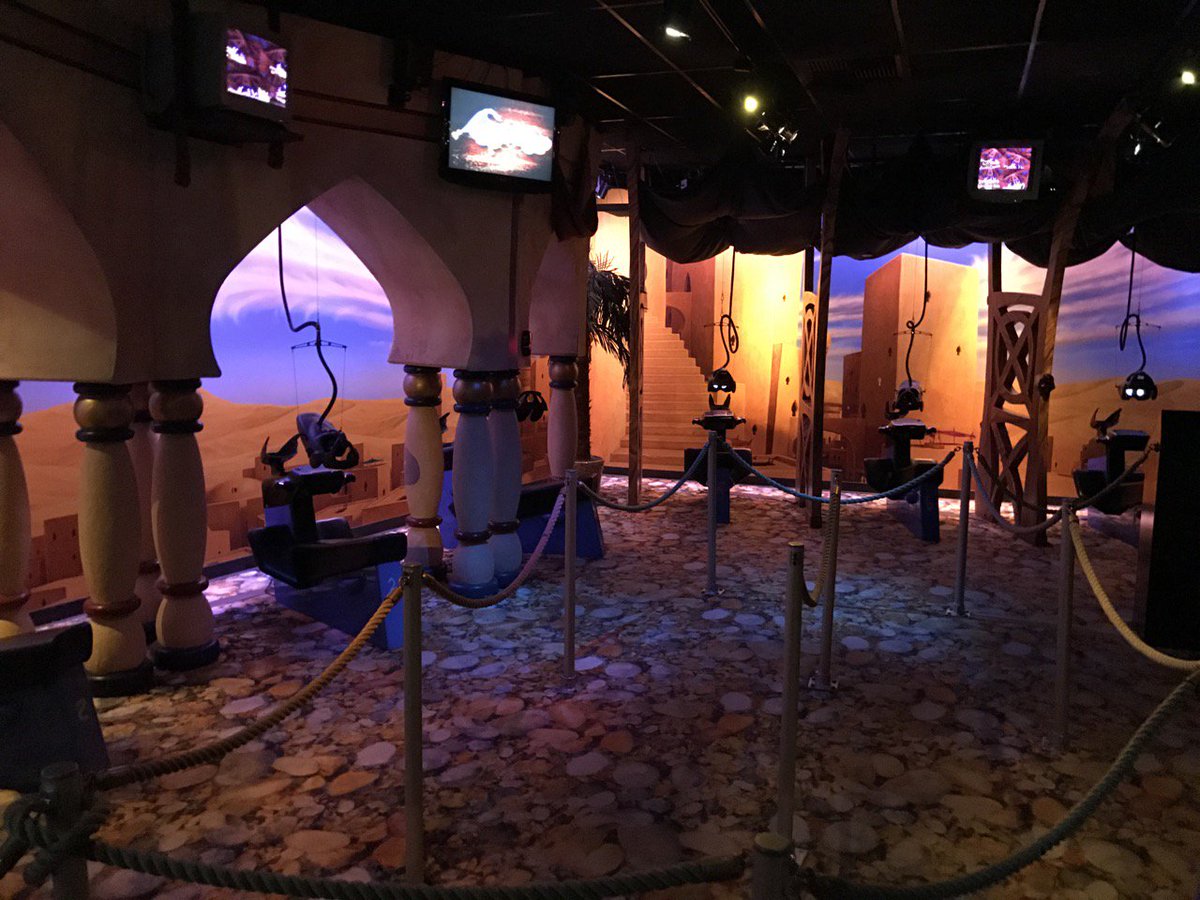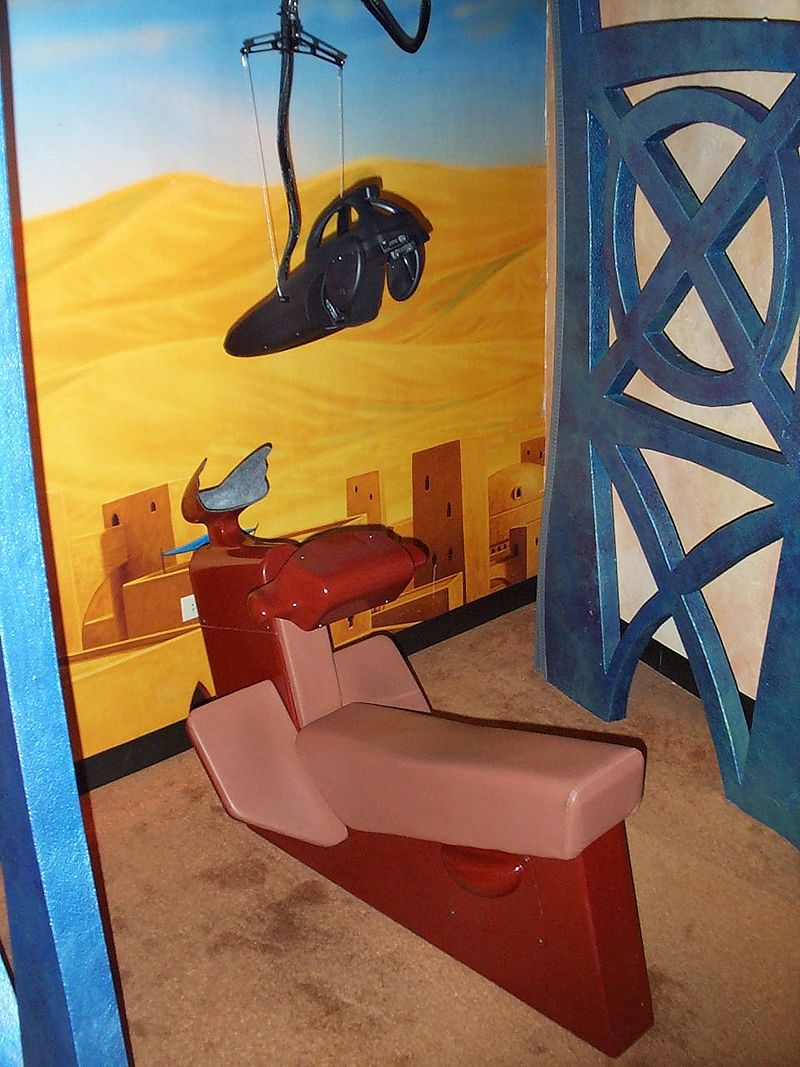 Players would race against one another, gathering scarab pieces and racing to the sultan.
Apparently, this version was massively scaled down from the DisneyVision version, using only one Onyx2 for all 4 players.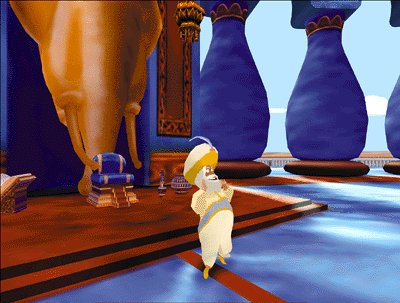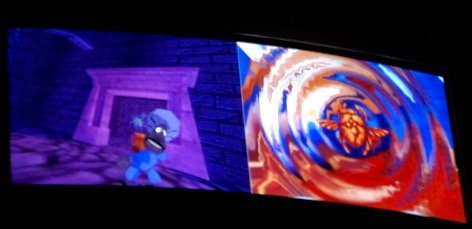 Also in Explore zone was a large jungle themed area, housing three attractions - one of which was later removed, and one converted.
The only remaining original was Virtual Jungle Cruise, a rather clumsy boat sim that used hilarious inflatable rafts and didn't work very well.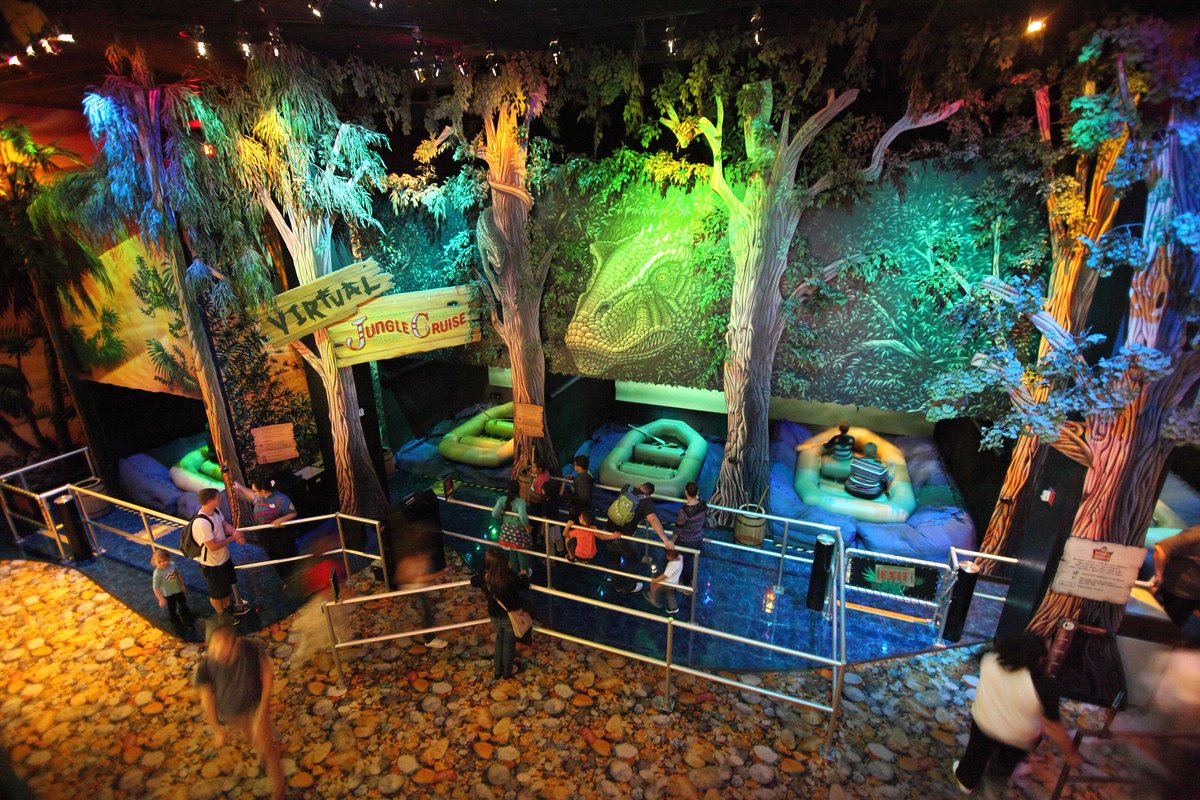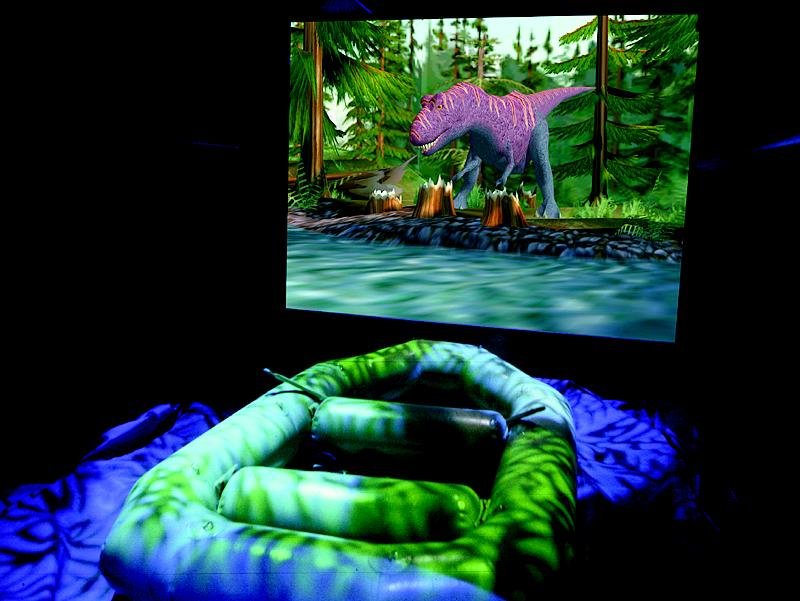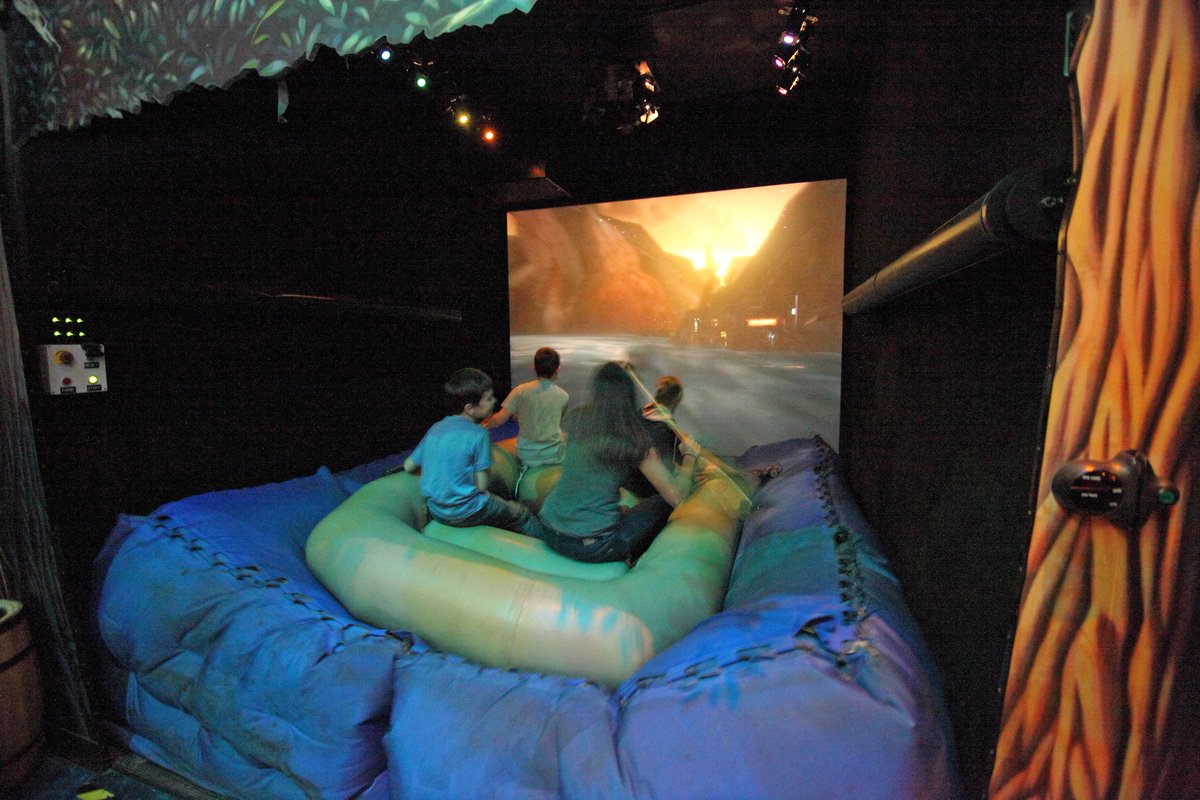 Treasure of the Incas was an interesting attraction where players drove RC cars w/ cameras through a maze in search of treasure.
This attraction was designed before the cell phone boom, and (allegedly) crosstalk from wireless devices made it too unreliable. It was later removed.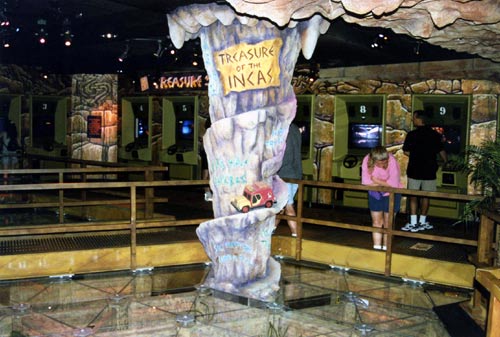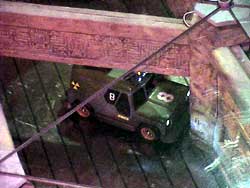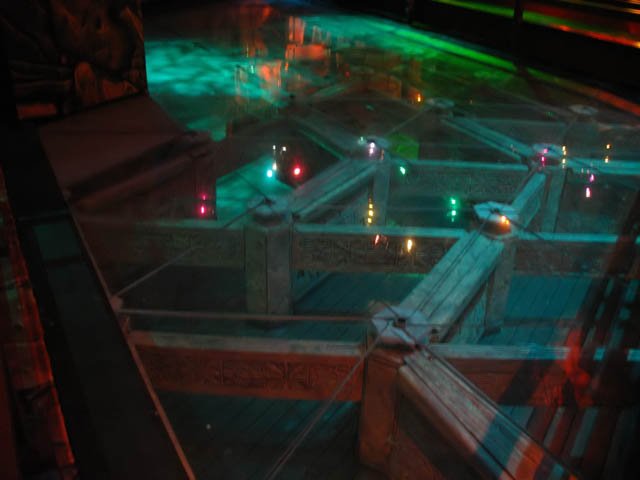 The third attraction in Explore zone was Hercules in the Underworld, a game which used the CAVE system - 3 wall-sized enclosed screens with active shutter 3D glasses.
Interestingly enough, Hercules was removed not because of any technical malady, but due to bad reviews.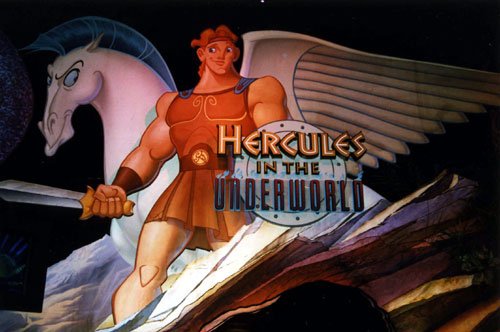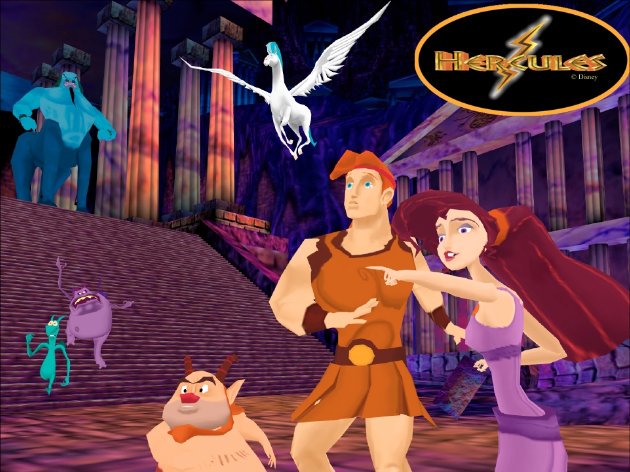 It was replaced with the much more well-recieved Pirates of the Caribbean game (pre-movie!), which made better use of the CAVE system.
One player steered their ship through an open world "Caribbean" collecting treasure - the other players manned the light gun cannons!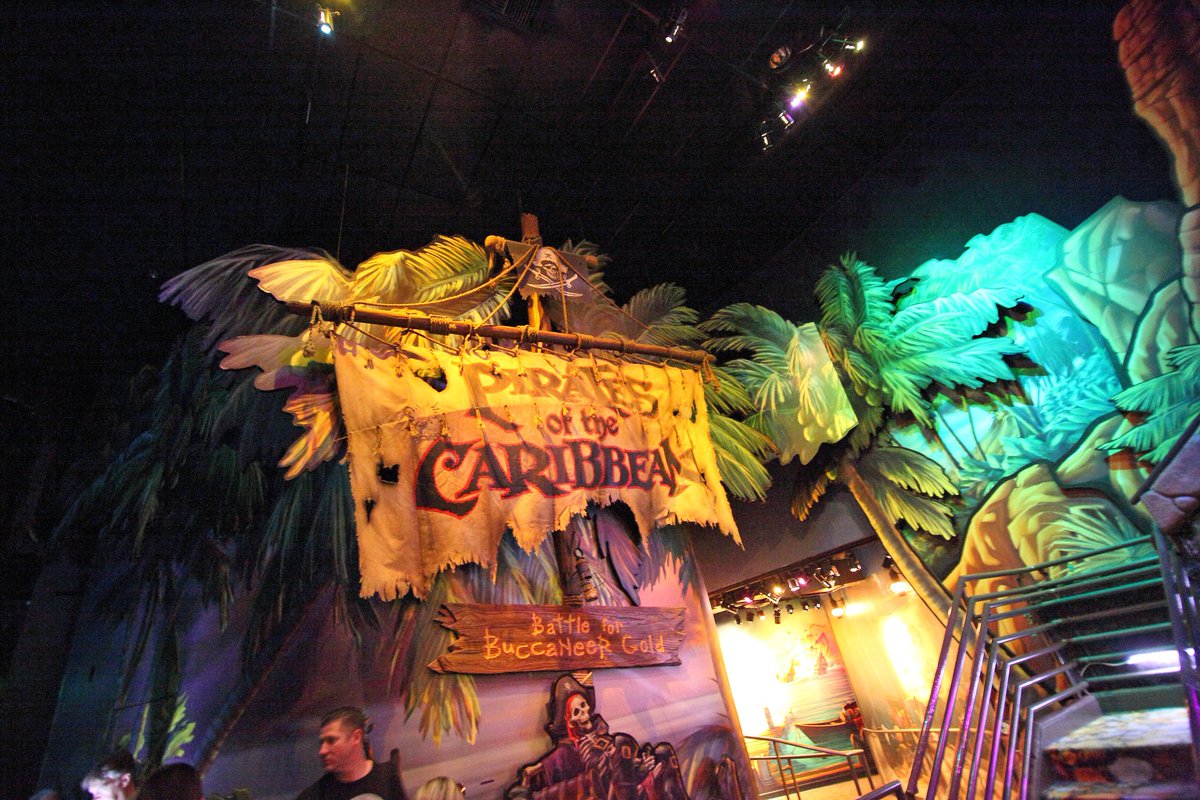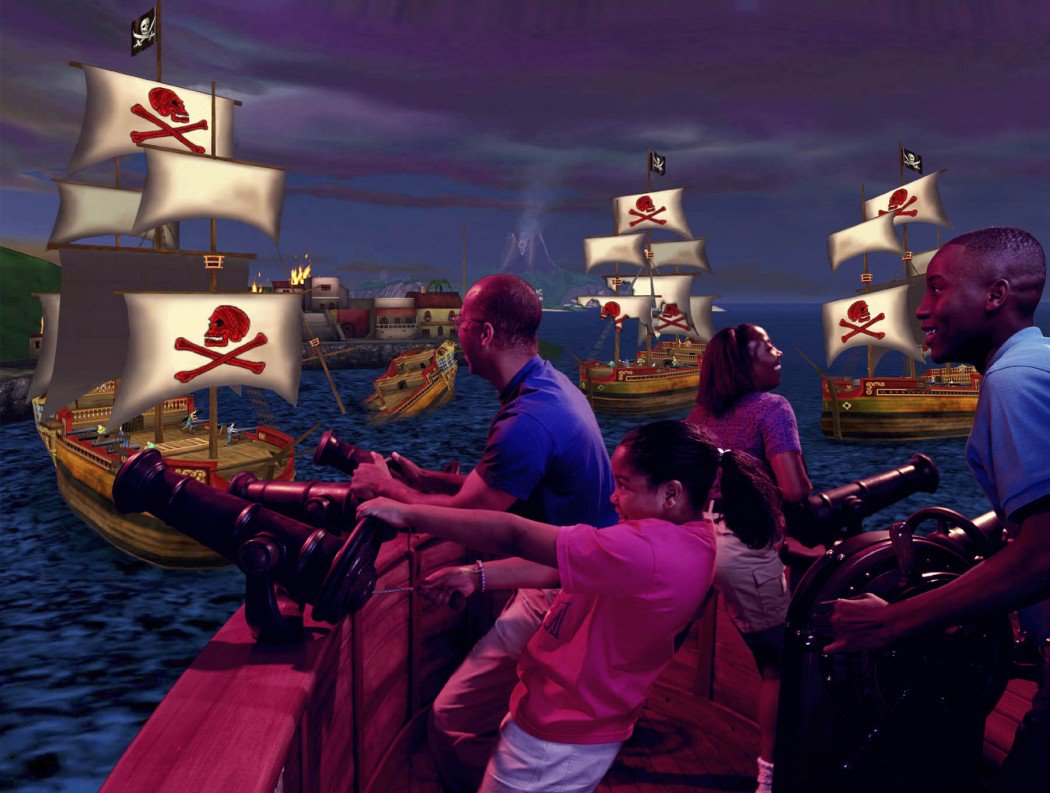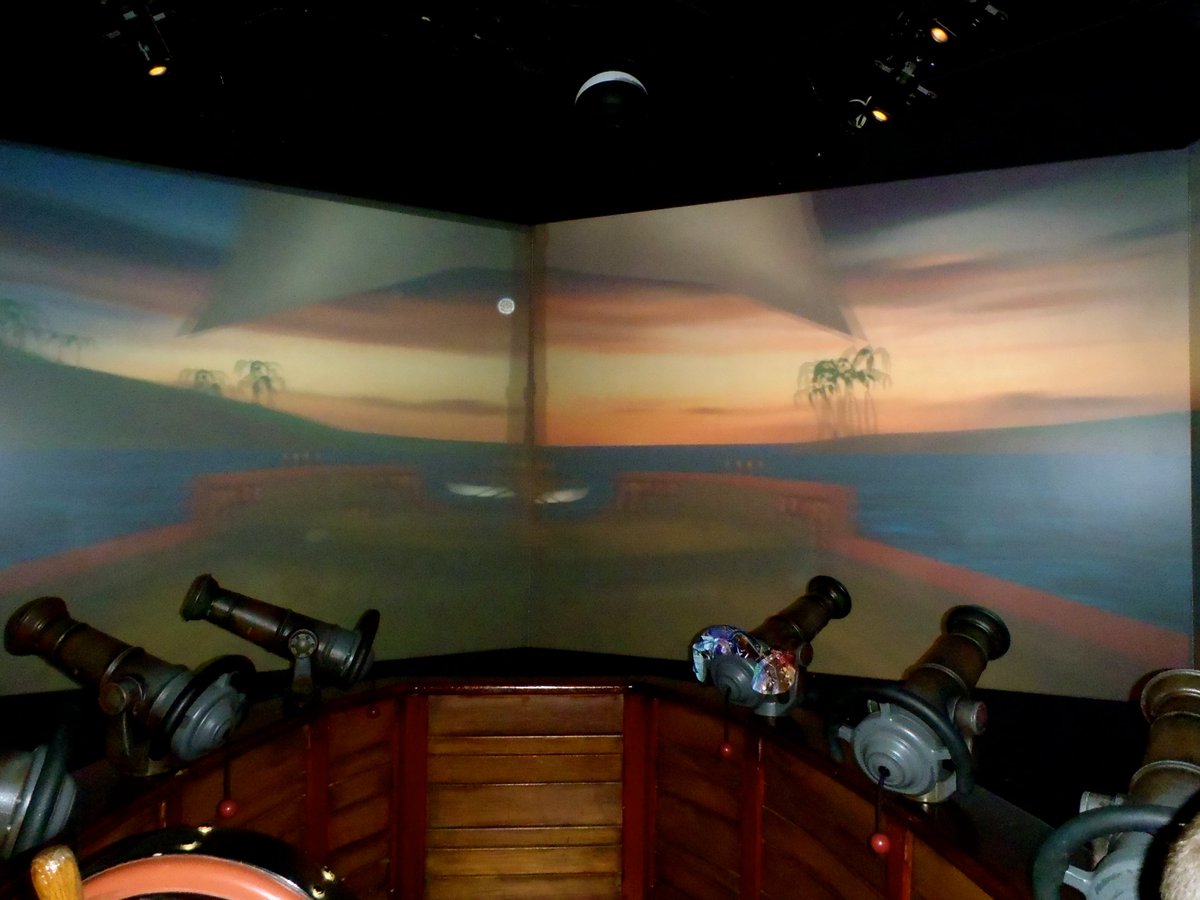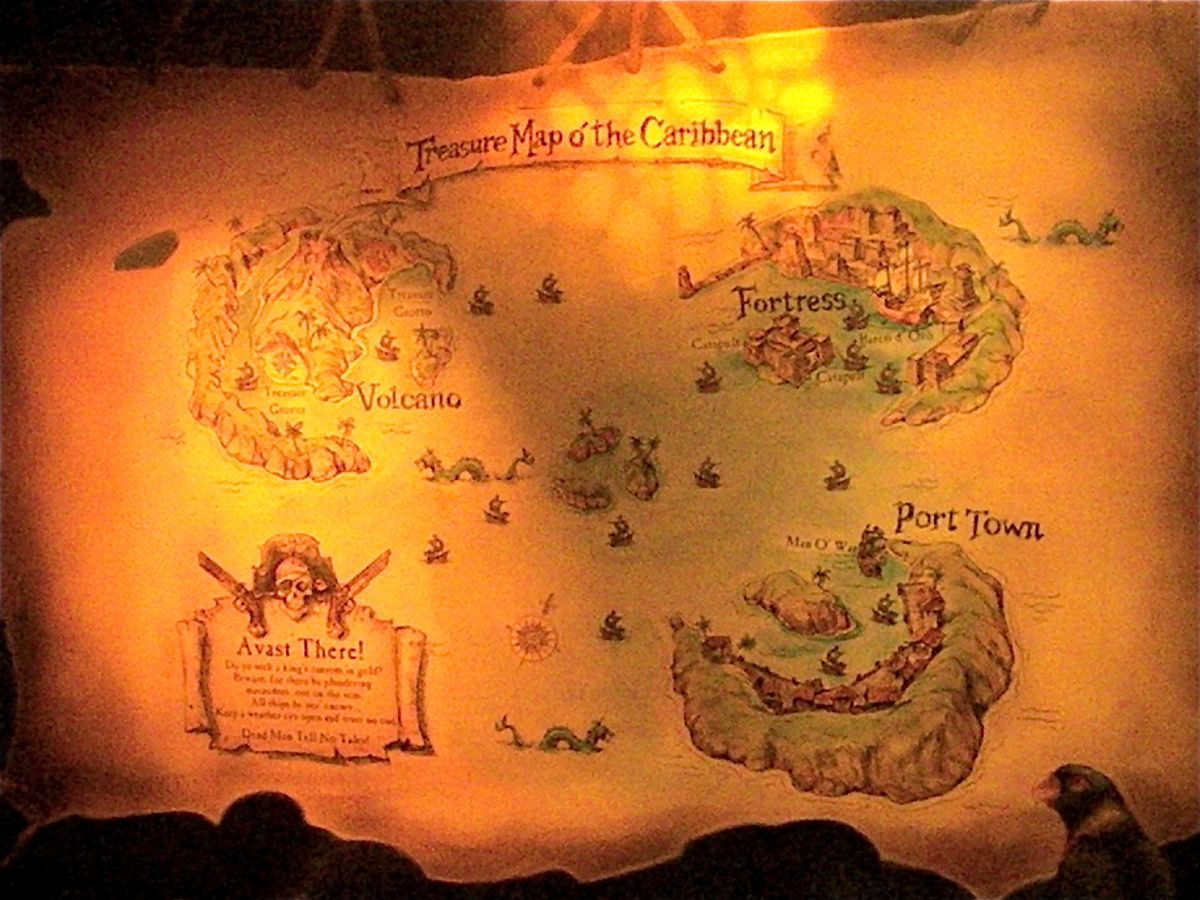 This covers the four zones - but there was one attraction I saved for last.
Mighty Ducks Pinball Slam, the only arcade game I've ever played with a HUMAN SIZED joystick.
This thing was a BEHEMOTH.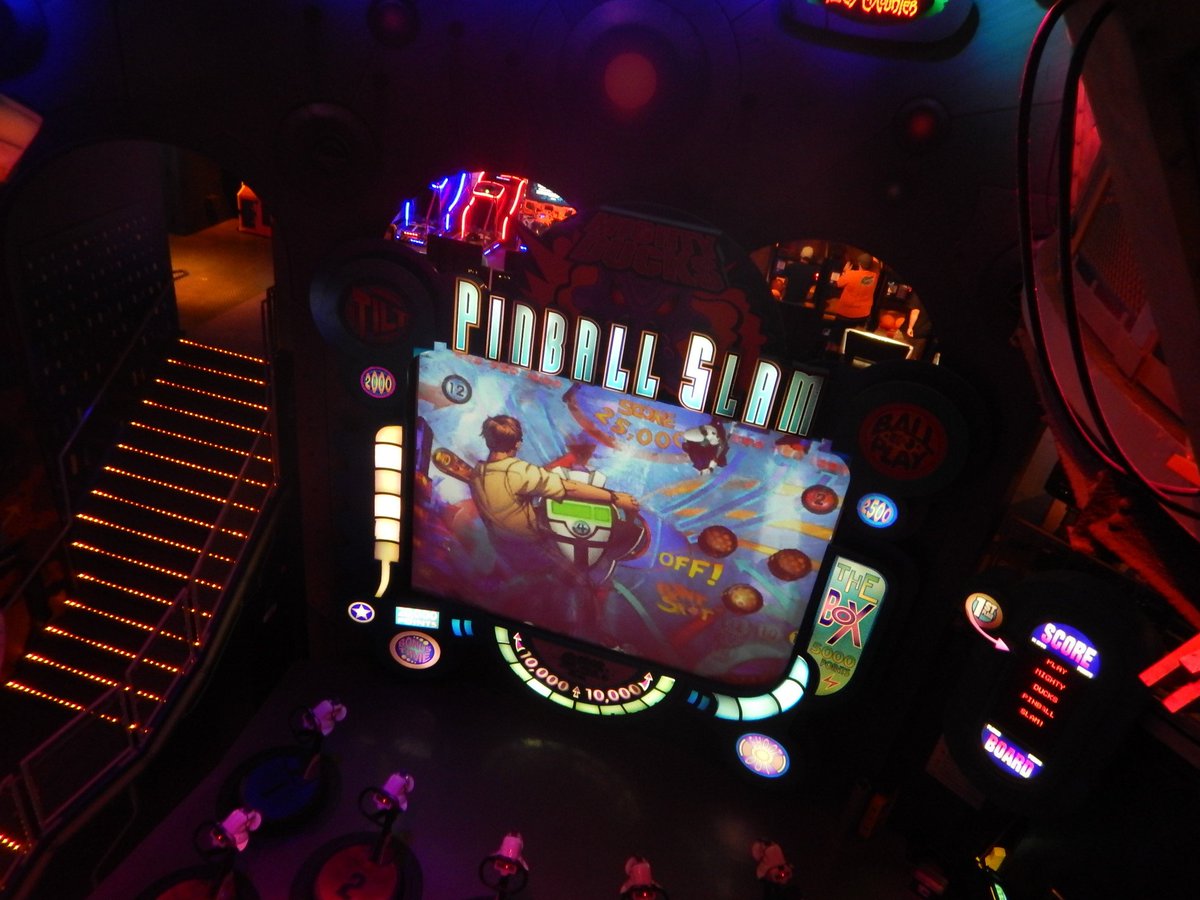 The game was essentially a really bad Flash pinball game, located in Score zone, but the scale of this machine was beyond compare.
12 players would play at once, each controlling their "puck" by leaning on a GIANT HUMAN JOYSTICK.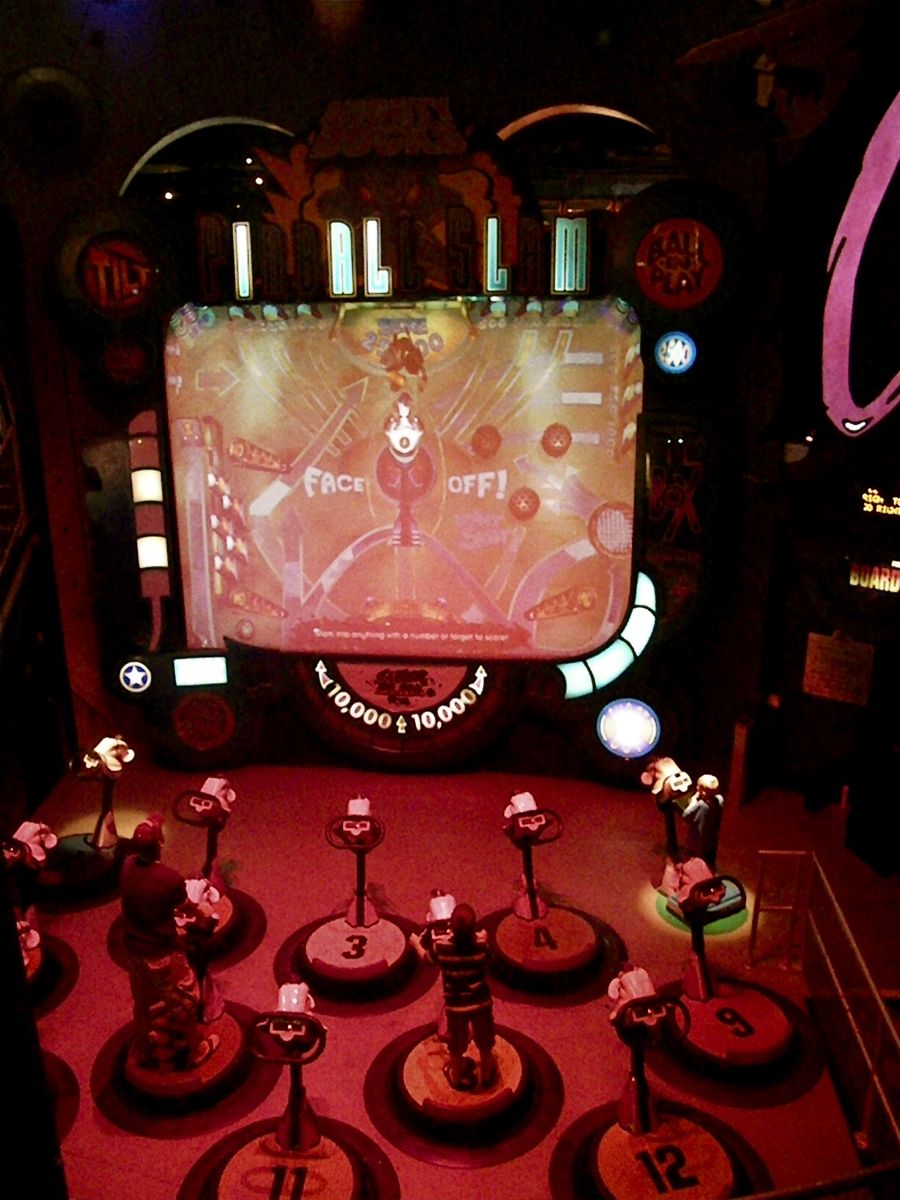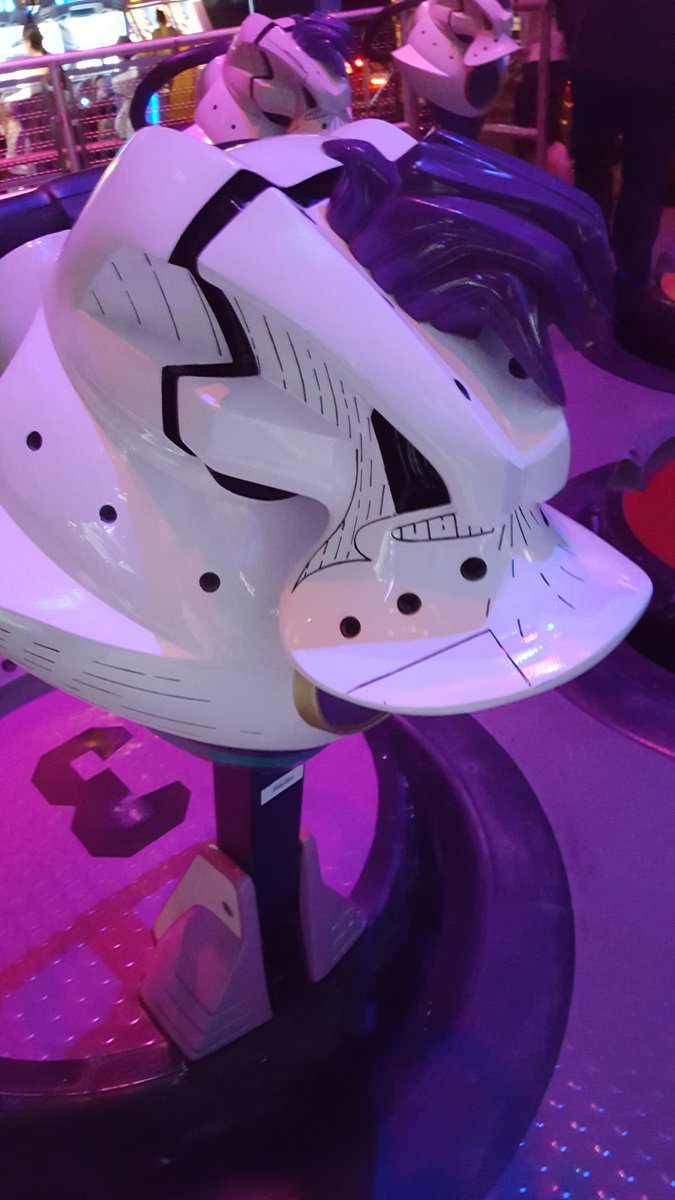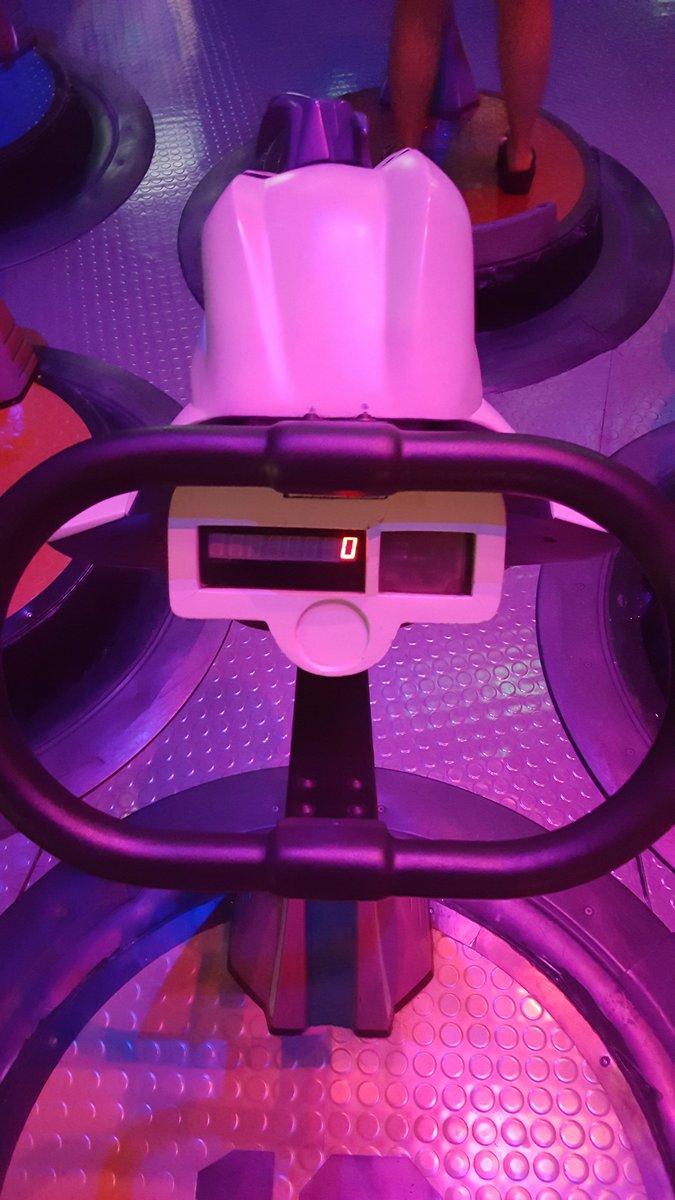 Here's footage. It really was remarkably awful compared to the other games in DisneyQuest, and the poor shape of the sticks didn't help matters.


(oh also there was this dumb Radio Disney karaoke booth in Create zone that was boring and done before, much like Radio Disney. I forgot it. Whoops.)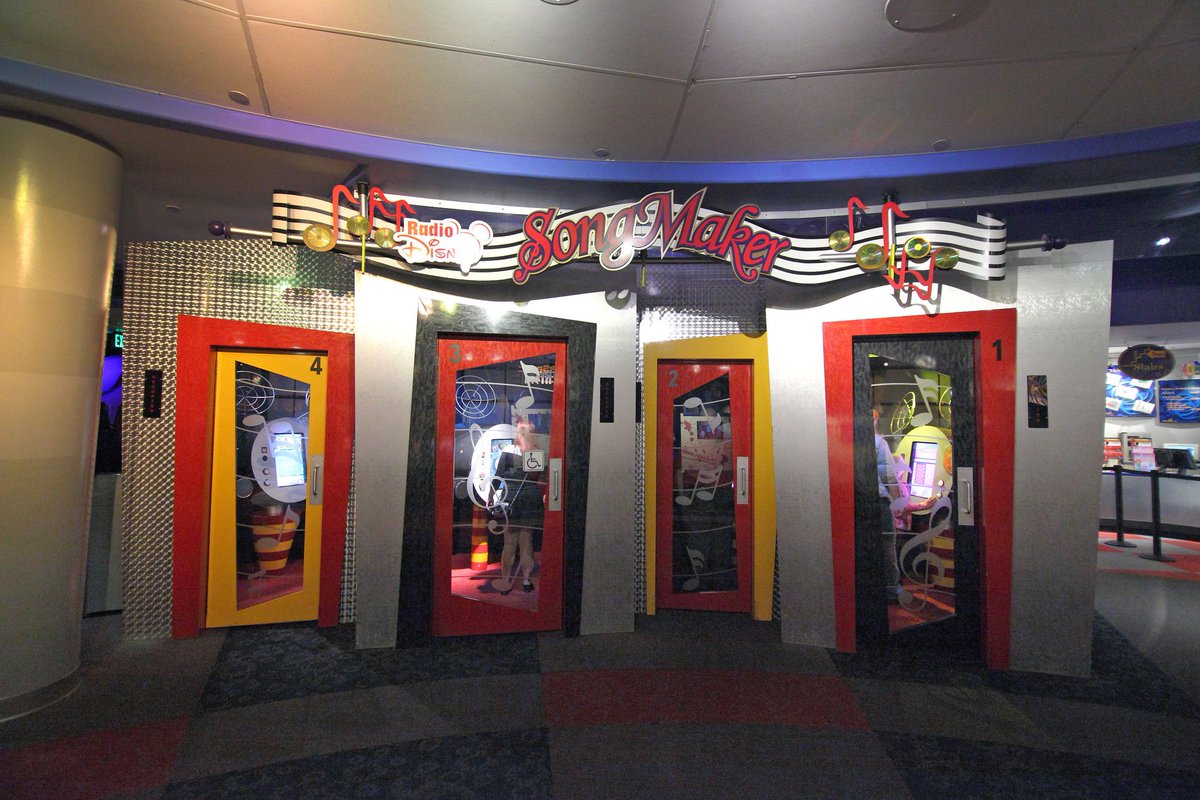 Breaking away from just listing attractions, DisneyQuest also had a neat dining area called the Cheshire Cafe.
I like the design here - the otherworldly exaggerated designs of Wonderland factor into the furniture and feel almost ominous with the dim lighting and purple colors.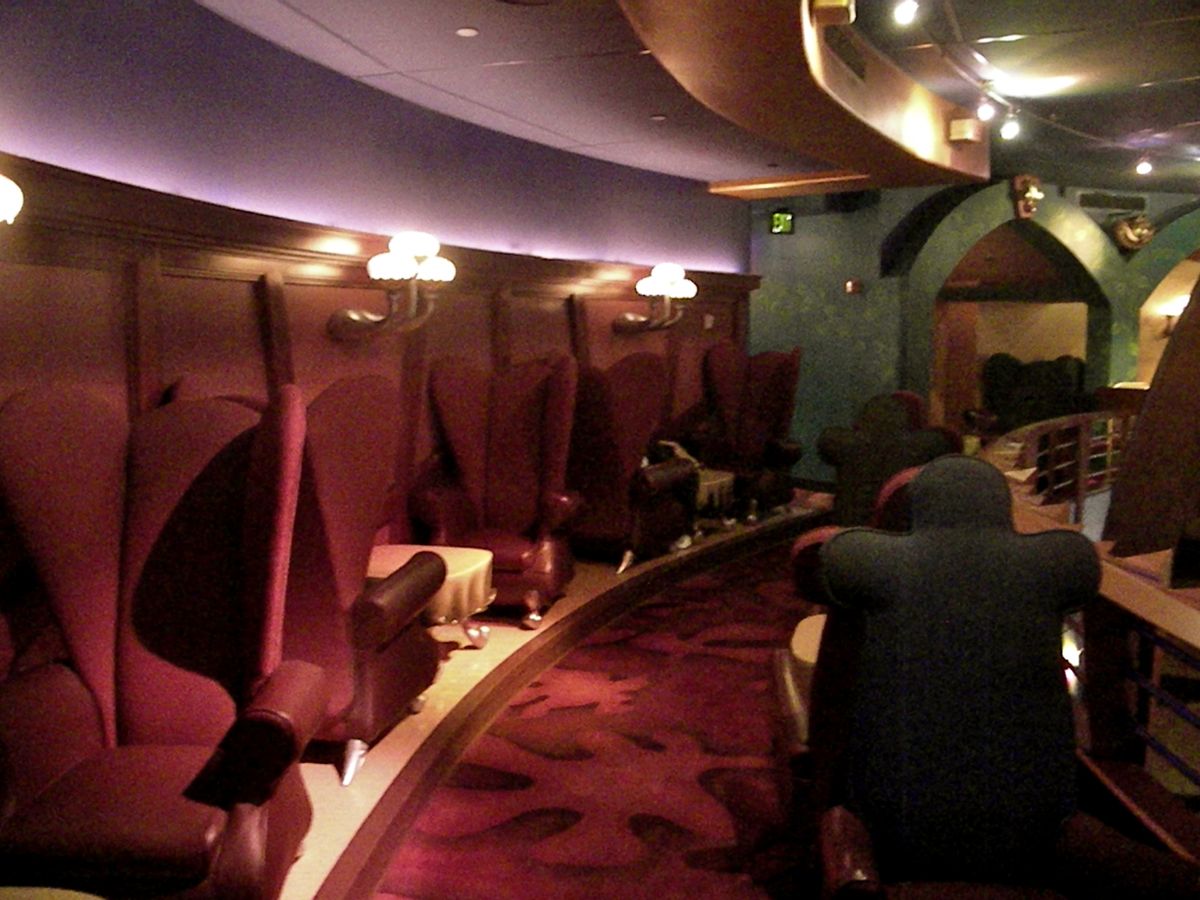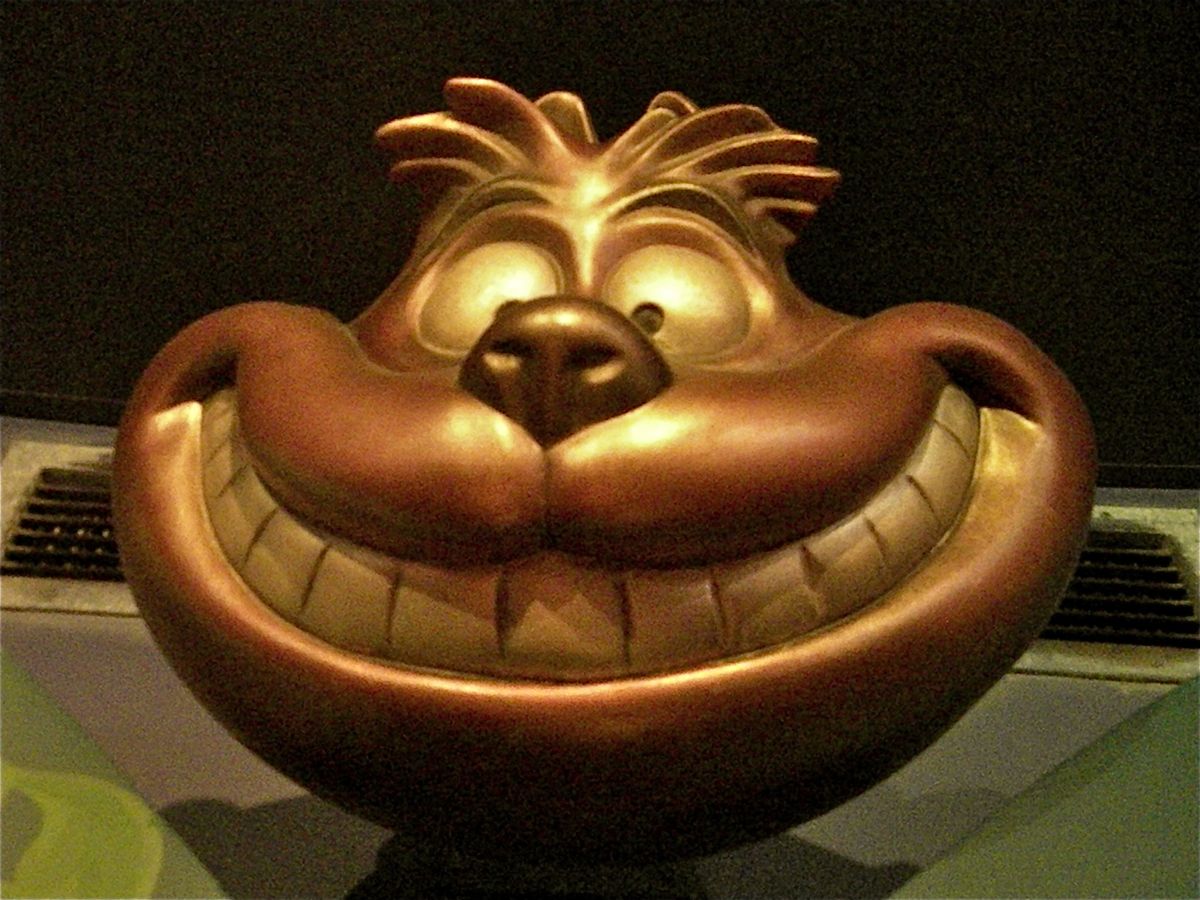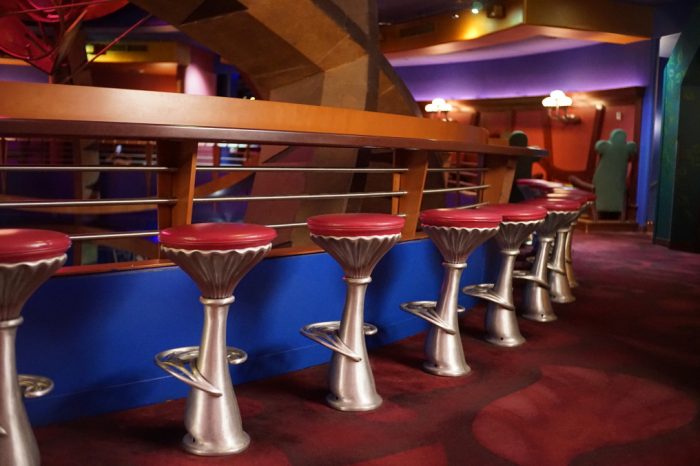 It was home to an "internet-based attraction" called the Wonderland Web Adventure (you could send things like souvenir epostcards).
This likely got dated super quickly, and the kiosk tables now sit bare.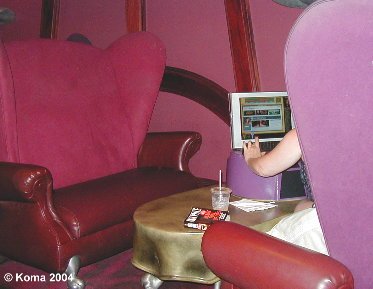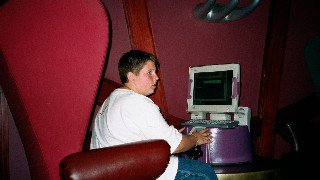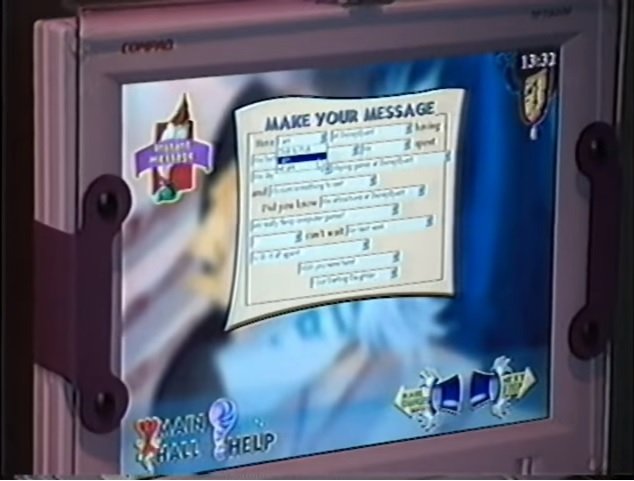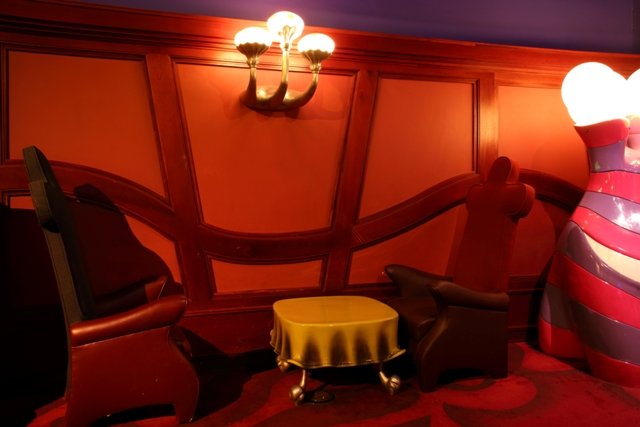 Another dining area, Food Quest (what a name), was kinda tucked away, and had strange bronze portholes and interior almost reminiscent of Paris Discoveryland.
DQ really was a culmination of all the theme park design Disney had done in the 90s up to that point.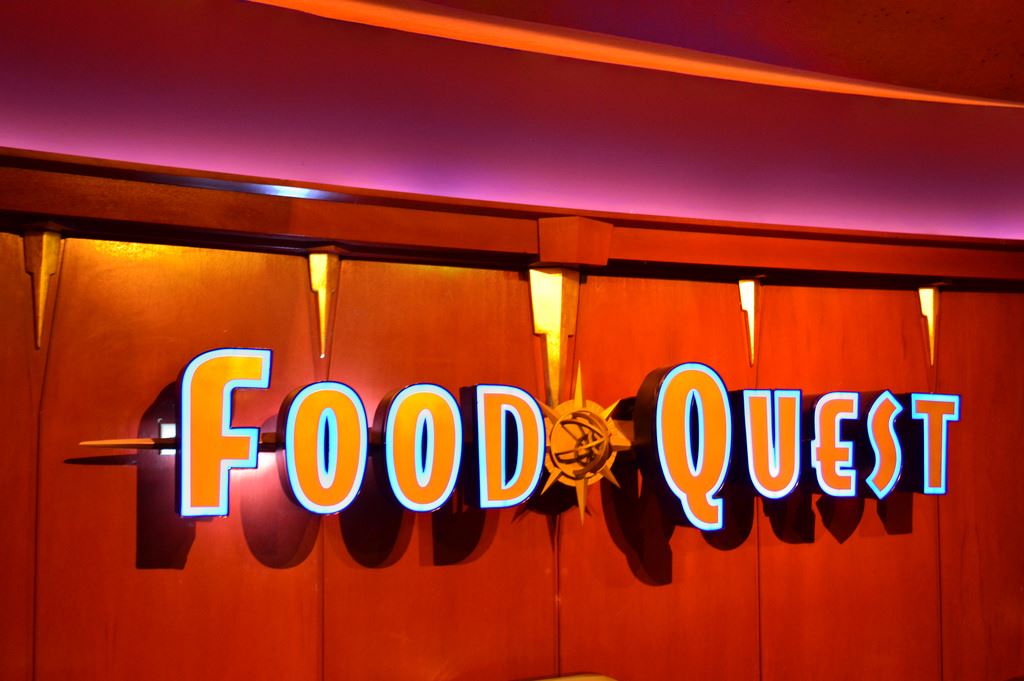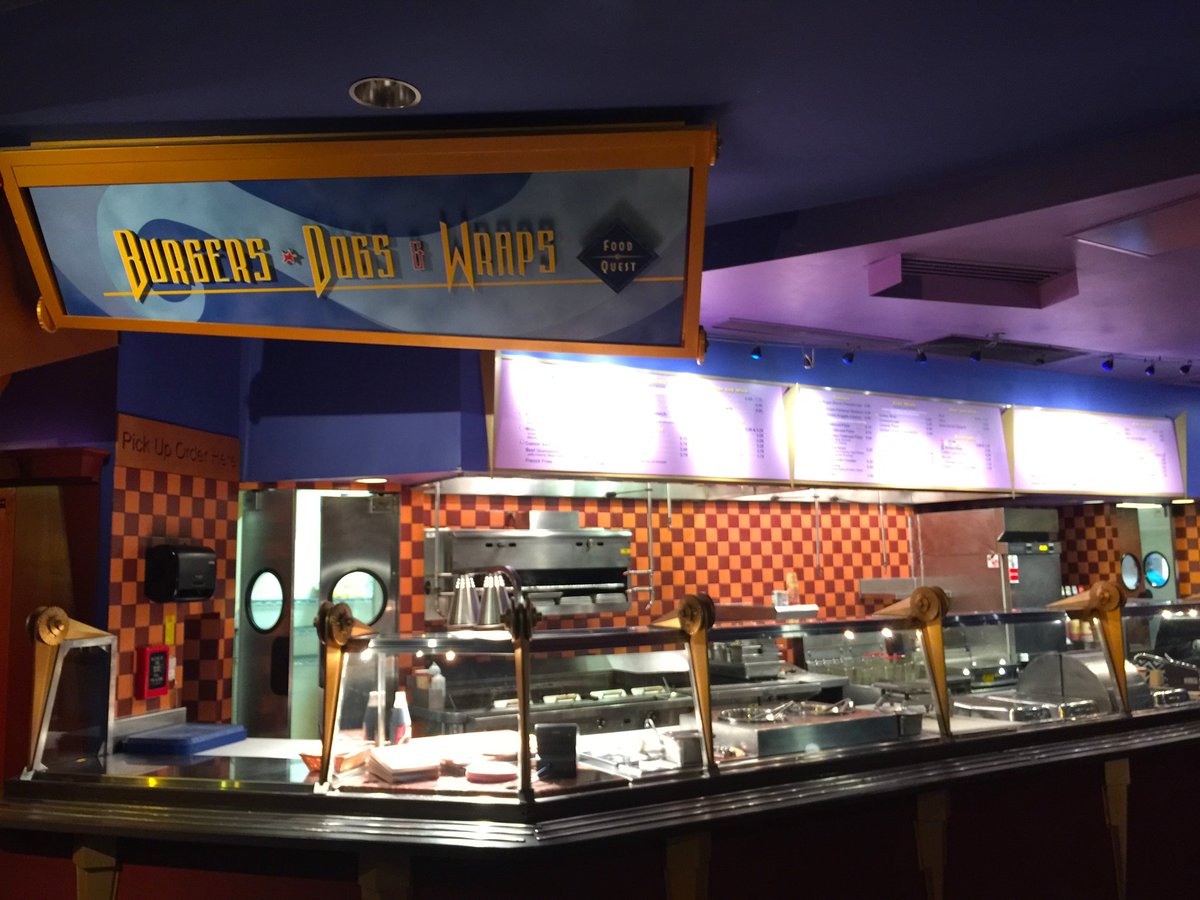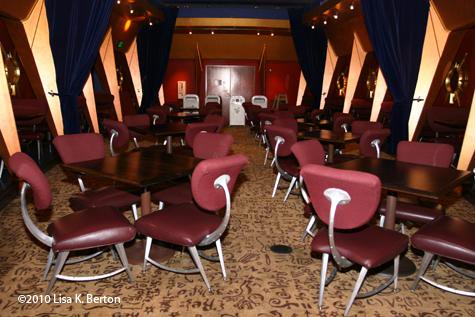 The food was provid-
...
are you fucking kidding me
EVERYWHERE I go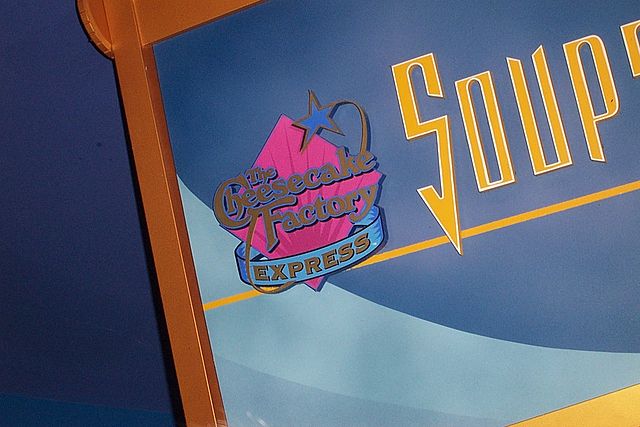 DisneyQuest was the ultimate monument to the optimism that computers and the internet would democratize education and better the world by letting us explore the impossible with others.
What did Disney do with it?
They let it sit. Get dirty. Break. Become vacant.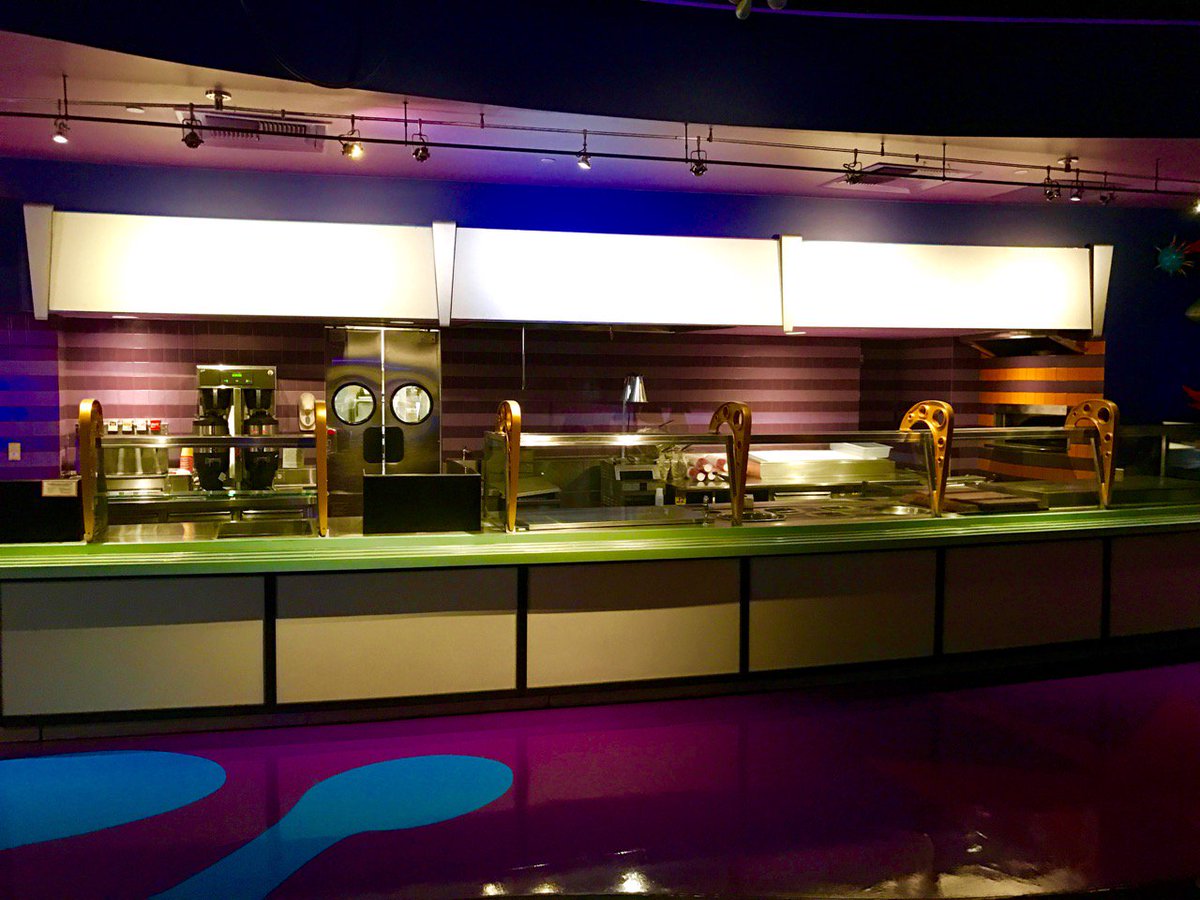 After Chicago closed (poetically, days before 9/11 changed the world), and it became clear that DQ wasn't going to expand, Disney barely kept the lights on.
Ride the Comix closed in the mid aughts and was never replaced. Its pods sat vacant, the area decoration unchanged.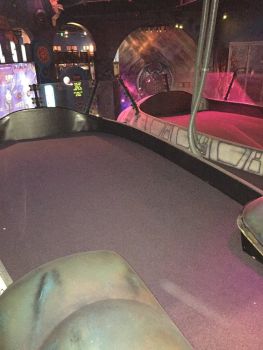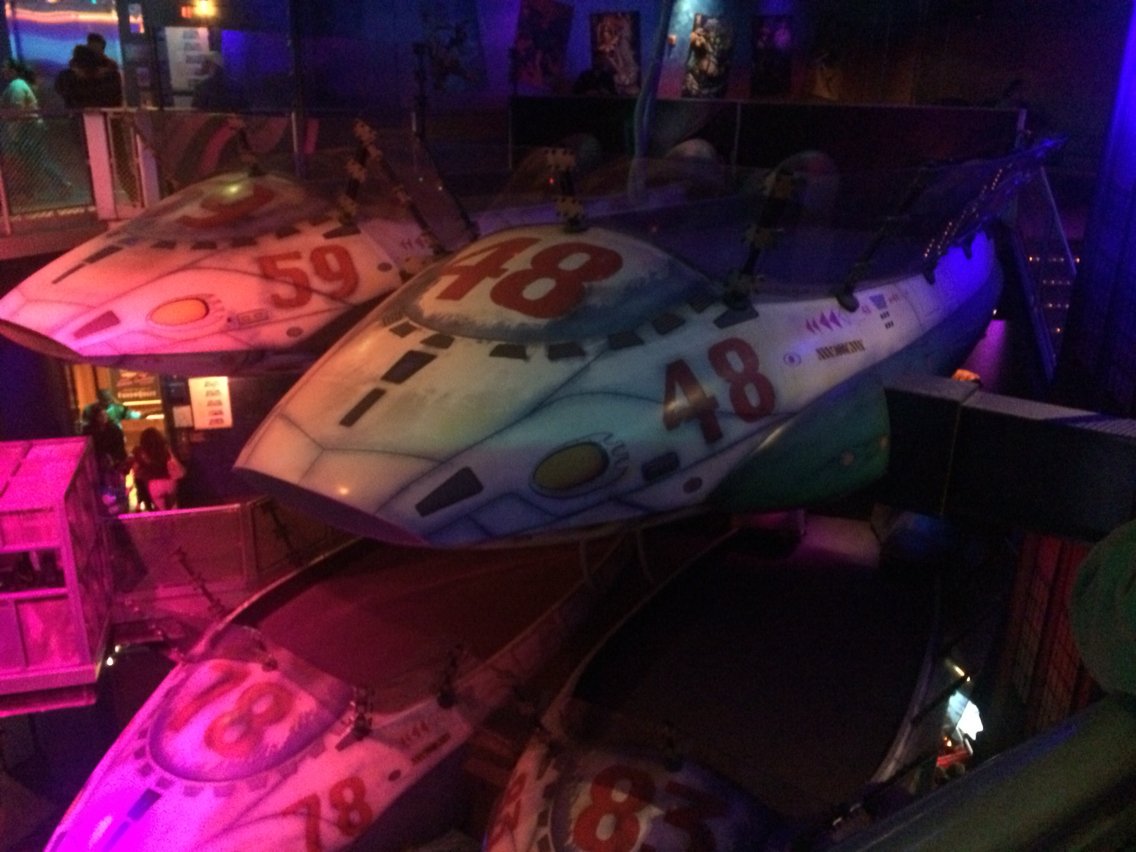 Cheesecake Factory didn't have its lease renewed by Disney, and Food Quest started serving mediocre burgers and grill items.
They painted over the bold colors on the exterior to a muted blue, in a sort of death whimper.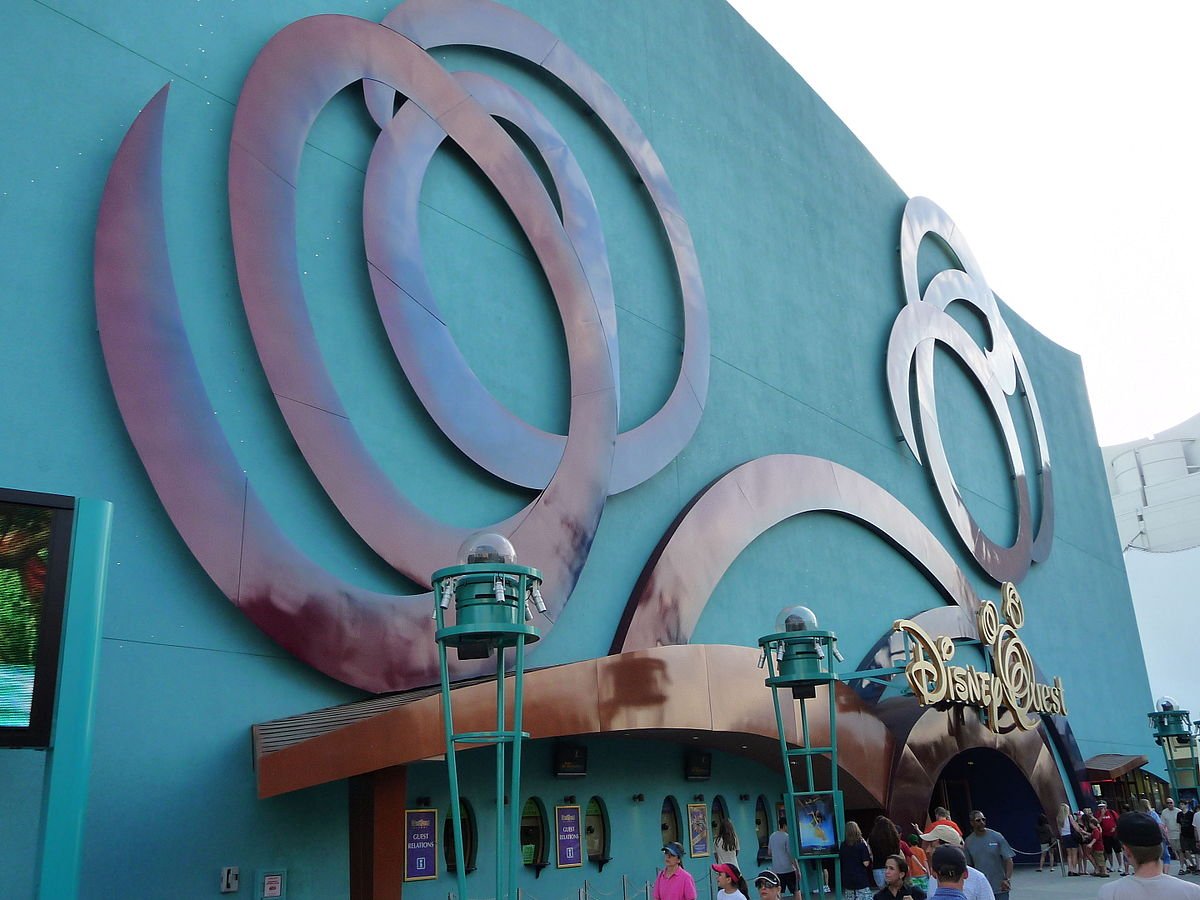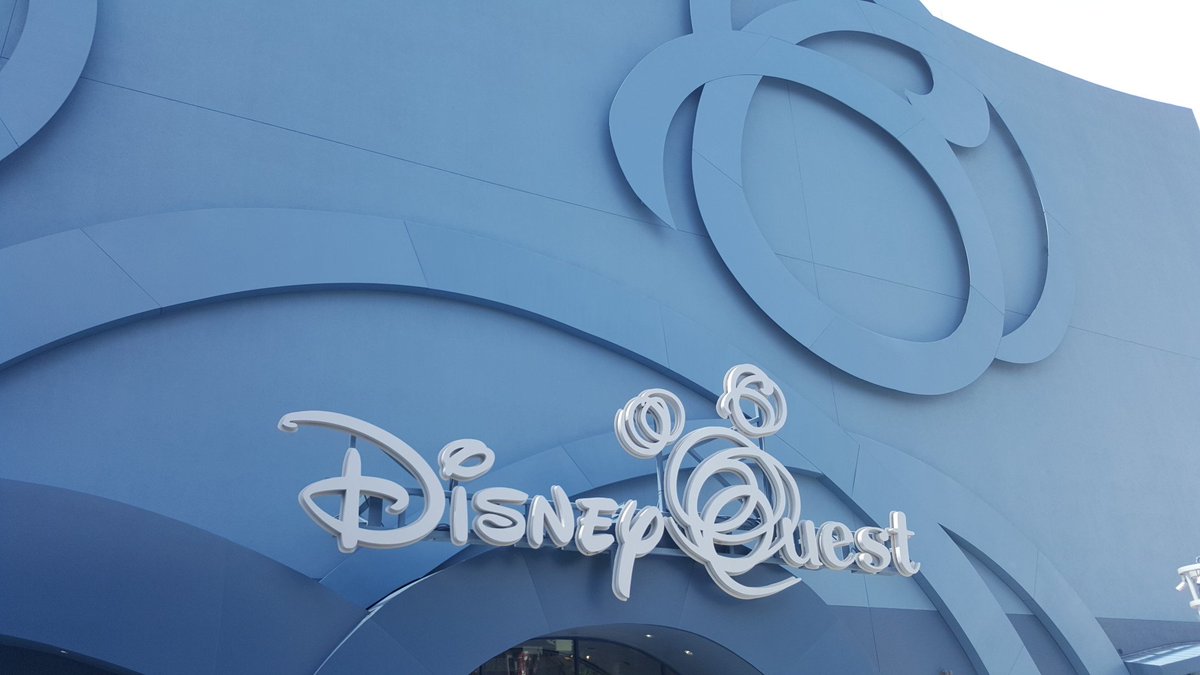 Much like the dream it represented, DQ was left to die on bare minimum life support, seemingly forgotten.
Then, in 2017, they closed up shop. The building was demolished to make room for an "NBA experience" restaurant. A predictably soulless replacement.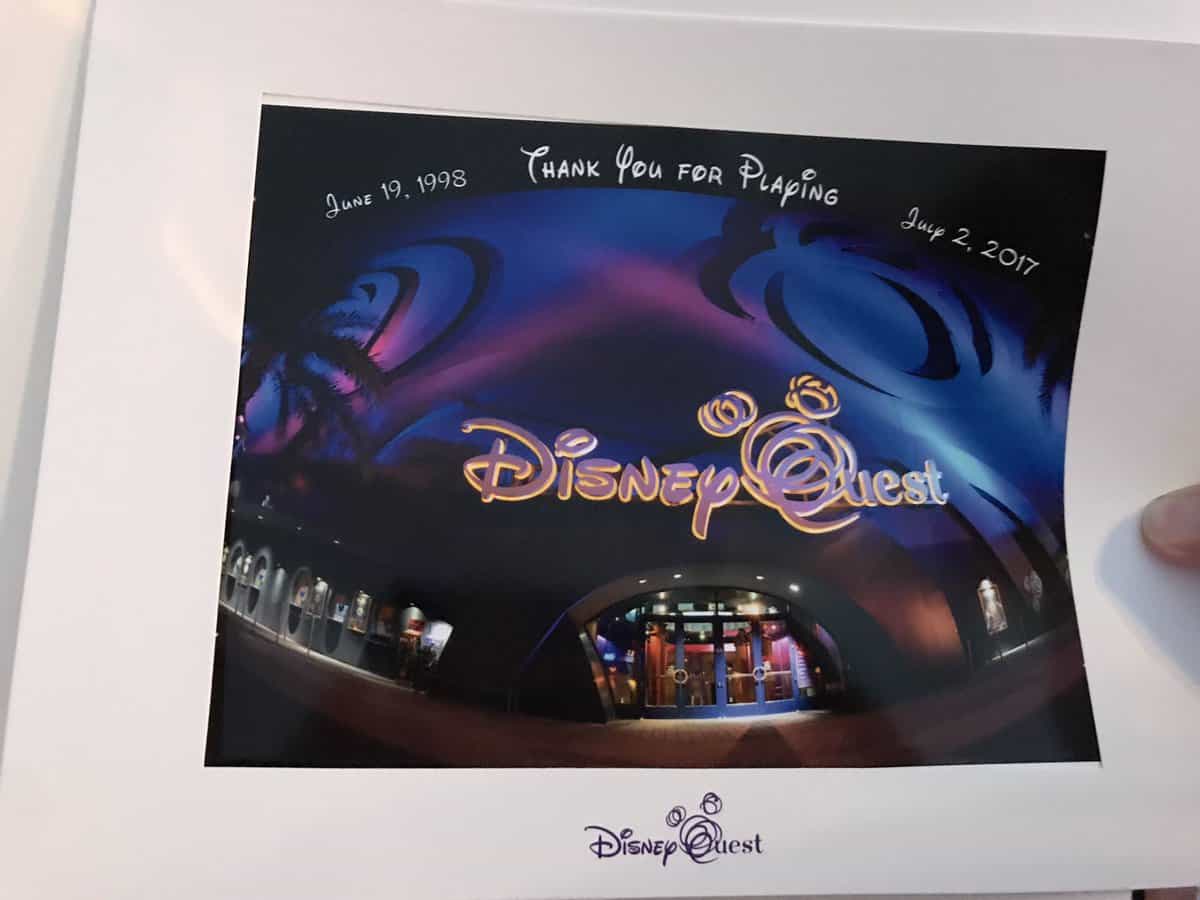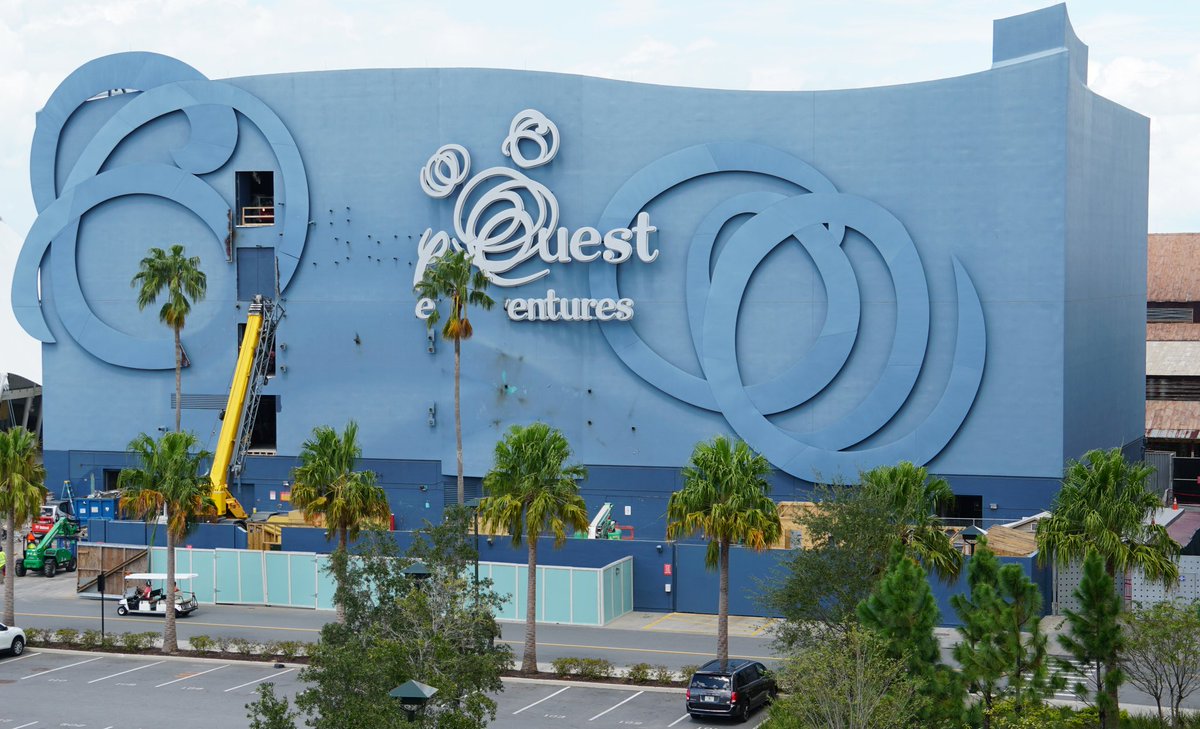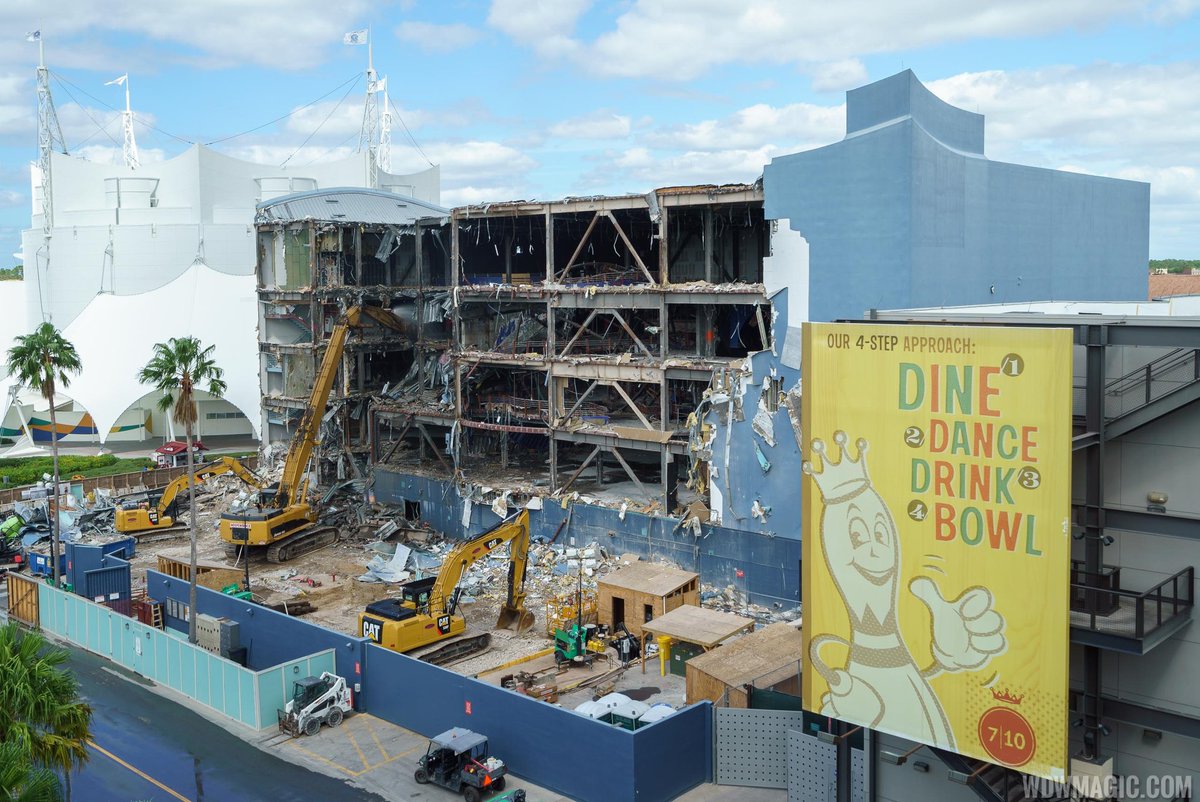 Another vision of the future, born from the last era of designed futures, demolished. I'm just glad this one hung on for a while so I was able to see it.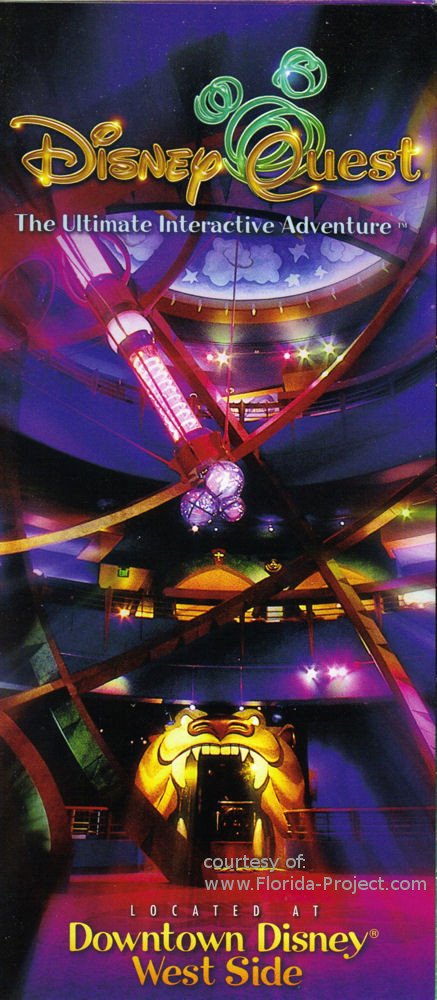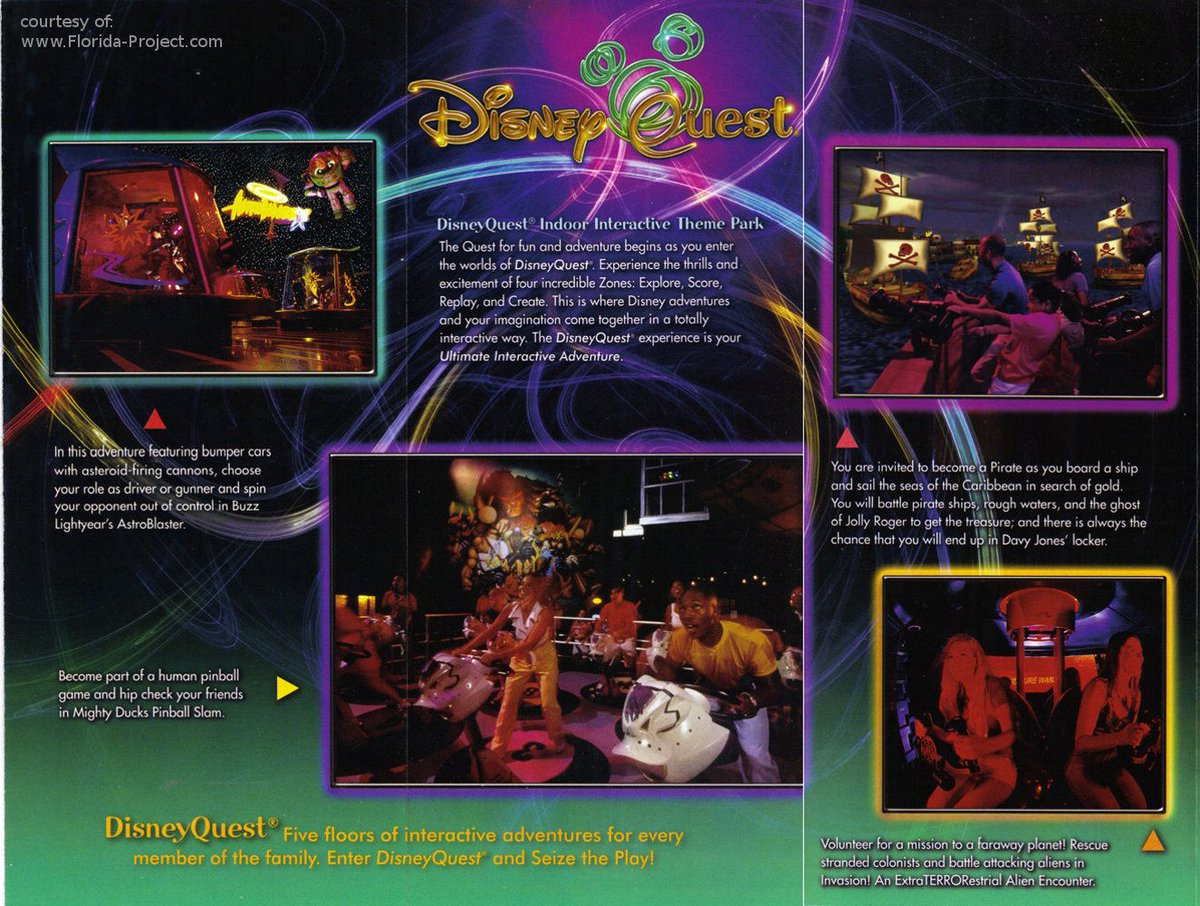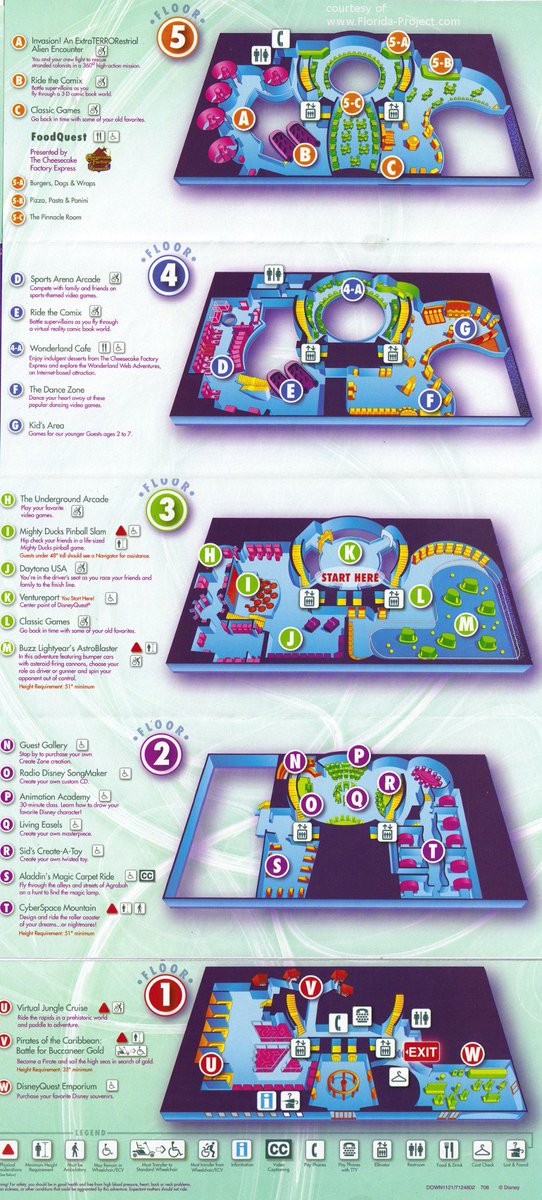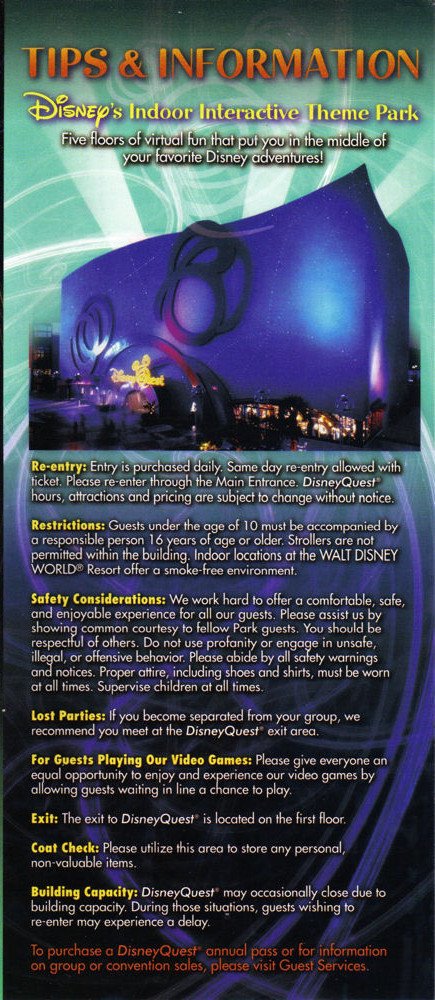 To close out the thread, here's a wonderful piece of history - you can see the park as it was conceived with this b roll footage. Enjoy!


As a last note, if you really like this deep dive design content I write, please consider supporting my Kickstarter.
I'm a game dev myself, and am trying to get a late 90s flavored arcade puzzle game called CROSSNIQ+ off the ground and onto the Switch!
kickstarter.com/projects/11131…