You wanna know how Jeff Sessions & others in the Trump administration are defeating the shadow coup plotters for the last year? j

Ponder this for a second, if you will. It contains plenty of evidence how it's being done:


Jeff Sessions appointed a SECRET PROSECUTOR to *investigate* these FISA abuses/political corruption inside the DOJ/FBI and he likely did the appointing of this special prosecutor MONTHS ago, last May or August.
Note the PAST TENSE language Sessions uses here.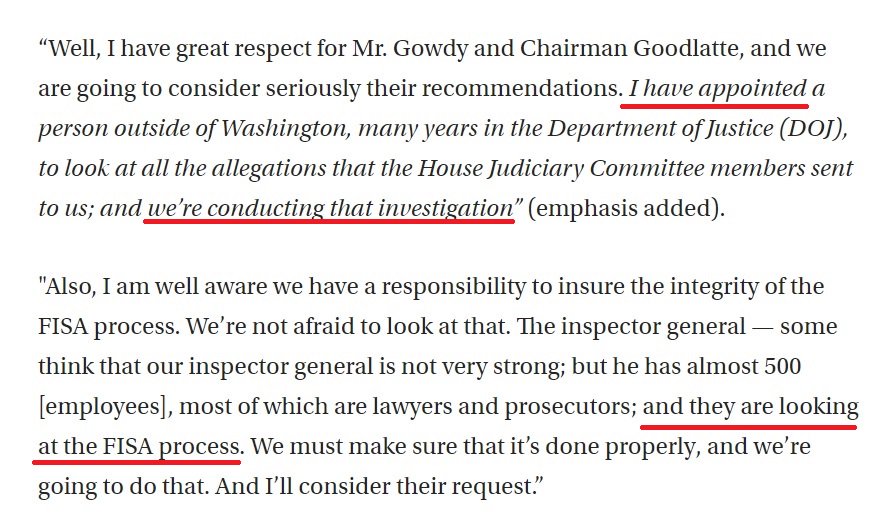 In this interview Sessions also CONFIRMS publicly for the first time that DOJ Inspector General Michael Horowitz & his 500 investigators are directly investigating the FISA COURT ABUSE that's been uncovered & revealed to the public only recently in the Grassley/Nunes memos.
Sessions hints Horowitz & his 500 investigators investigating FISA abuse is NOT A RECENT DEVELOPMENT. In fact, as I've been saying for some time, Horowitz & his investigators are the ones who are handing off the evidence they found to Nunes & Grassley's Congressional committees
It was NOT a coincidence that days after Horowitz & his 500 investigators handed over 1.2 million documents collected during their year long investigation, we saw Nunes & Grassley write & release their memos detailing the DOJ/FBI political corruption of the FISA court.
Horowitz's investigation was fitted for silent running from January 2017 all the way to December 2017 when it suddenly surfaced and the public became aware of it with the release of a batch of evidence to Congress that included the Peter Strzok/Lisa Page text messages.
NOTHING FROM HOROWITZ'S INVESTIGATION LEAKED FOR A YEAR.

While you had the Mueller investigation serving as a huge SQUIRREL for the Democrats and the DNC Media, Horowitz & his 500 investigators were quietly compiling their evidence.
While Mueller's team was playing the age old FBI/DOJ corrupt game of strategic leaking to key media allies to drive political narratives, you didn't have one goddamn leak from Horowitz's investigation of the investigators.
AND NOW THIS.

Sessions just *casually* lets it drop during an interview with Shannon Bream "Oh hey I appointed a special prosecutor to look into this months ago. The investigation's already underway."

AND NOTHING ABOUT THIS LEAKED FOR MONTHS.
Sessions and the people investigating/cleaning up the DOJ/FBI, these people DON'T LEAK TO THE MEDIA. They don't tell people ANYTHING until they are ready to move.
THIS is how Sessions & Co. are beating/exposing and soon will be prosecuting the people who corrupted our federal institutions.

They aren't talking until they are ready to drop the hammer.
In fact, they just spent a year letting false narratives about Sessions run amok mostly unopposed.

"Sessions isn't doing anything. He hates his job. He's overwhelmed. He's part of the problem. He needs to be fired for doing nothing!"
SESSIONS DON'T CARE.

He's been doing his job. All that DNC Media noise/Right wing blog hysteria for the last year changed NOTHING he was actually doing.

In fact, I suspect some Trump people actually HELPED by spreading deliberate disinformation about Sessions to give him cover
The corrupt people inside the DOJ/FBI, the Democrats in Congress like Schiff, the DNC Media, they all leak strategically to drive narratives to try to hide the truth, thwart investigations, turn it all into a public relations popularity contest.

SESSIONS DON'T CARE.
Sessions & his people aren't out to win a MEDIA RELATIONS BATTLE. They couldn't care less about a popularity contest run by the media, they've been too busy collecting evidence and building a case so they can prosecute those who violated their oaths & corrupted their agencies.
THIS IS WHY SESSIONS AND COMPANY DON'T LEAK THEMSELVES.

Instead, they've been collecting evidence to prosecute these politically corrupt oath breakers who've been leaking for years to help their political friends and hurt their political opponents.
For over a year the coup plotters have desperately leaked to media allies to drive narratives about Russiagate. AND THEY'VE FAILED.

Sessions didn't leak a thing.
Horowitz didn't leak a thing.

And they are going NOT going to fail.

/end
ADDENDUM: I see from the responses I'm getting to this tweet thread some of my followers DO think this is some kind of popularity contest and Sessions needs to get in the game and start playing ball with the media or something.
This is 100% wrong.

Right now, on the immigration thing, Gov. Jerry Brown & the Oakland mayor think they are in a POPULARITY CONTEST with Jeff Sessions.

Watch how long this mistaken perception lasts.
Oh sure, Brown & other top CA Dems will rush to the nearest cameras and SCREAM LOUDLY and WAIL AND GNASH THEIR TEETH and talk about how horrible it is what's happening.

Yeah?

So what?

It won't change a thing.
"Gee Mr. Sessions, you should probably back off now, Jerry Brown is on TV again saying mean things about you! The public is turning on you!"
Here's what Jeff Sessions reaction will be to that:
They'll take polls and do man on the street interviews! 'Jeff Sessions is more unpopular than ever!' they'll cry. "This crackdown is counterproductive, Sessions needs to stop!"

Irrelevant. It will change nothing.
The public is actually WITH Trump & Sessions on immigration. This is all PLAY ACTING by Democrats and DNC Media. It's been play acting in the past and it'll be play acting in the coming months as they wring their hands and cry for the cameras.
Sessions knows what he's doing.
Horowitz knows what he's doing.
That special prosecutor Sessions appointed months ago to look into FISA abuses, he knows what he's doing.

All the Dems leaking & media antics won't change what's coming.
So yes, the MEDIA will *pretend* this is a popularity contest, and that Trump & Sessions are losing it badly, all their polls say so, yadda yadda yadda blah blah blah argle bargle barf barf barf!

Sessions & Co. will just keep slow rolling out the evidence.
It'll be the latest hot new media poll showing Trump/Sessions popularity tanking

vs.

yet MORE evidence corrupt people inside the DOJ/FBI violated oaths, abused LEO/intel powers for partisan political purposes.

Hot air vs. concrete proof.
You build the case FIRST quietly and out of sight, you make it airtight, and only THEN do you roll out the evidence to the public.

Those who think media generated hot air is going to save these people from Jeff Sessions are going to be disappointed.

/end