1)
After hearing today's news re:
@realDonaldTrump
and North Korea, I am reminded of how thankful I am that Trump was elected president. I remember during one of the debates when Hillary was asked a question about her strategy concerning ISIS.
2)
She prattled on about how she would build a coalition with the Iraqis to fight them (as if that hadn't been our "strategy" for the last decade), then she name dropped a bunch of Iraqi cities. To a lot of people on the left...
3)
It made her sound like she knew what she was talking about, but it was just empty fluff that she used strategically to fool her sycophantic followers. She then went on to suggest that we enforce a no-fly zone in Syria...
4)
A strategy that even our generals acknowledge would put us in direct conflict with Russia. Watch the video below. Watch how aggravated McStain becomes when General Dunford suggests as much. Clearly, it didn't fit McStain's preferred narrative.
5)
These people, had Clinton been elected, would have lead us into conflict with Russia, and the Middle East would largely still be in shambles. And, while the we still have a long way to go, it is difficult to ignore the fact that a sea change has occurred.
6)
Saudi Arabia, under the leadership of Mohammad bin Salman, has begun a great reformation while almost the entirety of the western media has been asleep or preoccupied with their Russian obsession. As
@ThomasWictor
points out, this picture is monumentally significant.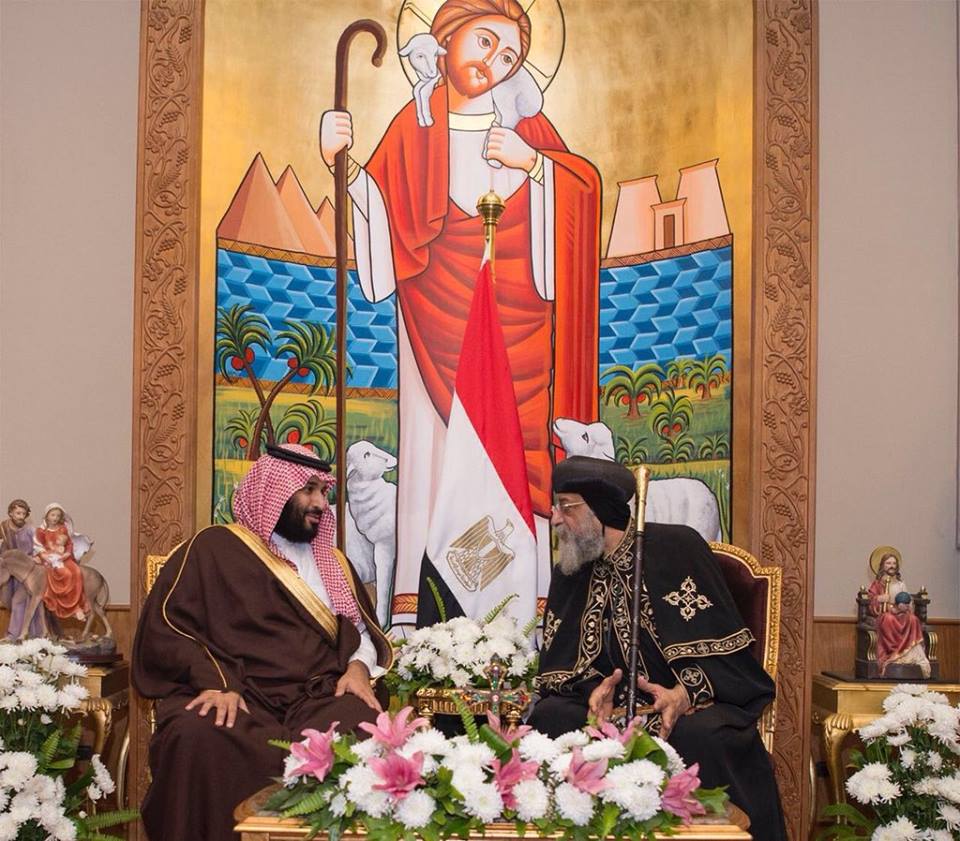 7)
MBS is breaking all tradition being photographed in front of a depiction of Christ. This is after a major house cleaning internally, and a disbanding of their religious police. Additionally, the Gulf Cooperation Council is rewriting all of the rules in the ME...
8)
as we can see with the alliance between Saudi Arabia and Israel. These are monumental changes. Now today we learn that Kim Jeong Eun has extended an offer to meet with
@realDonaldTrump
, and perhaps we sit on the precipice of a real and lasting world peace.
9)
There will undoubtedly be a "mopping up" phase, but major changes are underway that will shape the next century in a very positive direction. Meanwhile, the US economy is soaring. Joblessness is down, the stock market is hitting record highs and has created over 8 billion...
10)
in value, individual and business taxes have been slashed, and Americans are starting to see it in their pockets. It's hard not to believe that we're entering a golden age. But look, in contrast, at the hateful rhetoric on the left.
11)
They're still utterly obsessed with a narrative that was spoon fed to them by the Dems and their media lapdogs to undermine the Trump administration. They continue their myopic preoccupation with a story that is falling apart in front of their eyes...
12)
simply because of their hate for
@realDonaldTrump
. They're emotionally committed to a lie, and, at this point, they can't let it go because it would undermine the entire foundation of their understanding of the world. It's a ultimately a tragedy.
13)In light of recent news concerning AG Sessions and his appointment of a special counsel to investigate FISA abuse, as well as the impending release of the forthcoming OIG report, it's hard to doubt that a lot of people's perceptions of reality are going to be challenged.
14)What's incredible to me is that
@realDonaldTrump
has had extraordinary success in spite of almost universal opposition. The most invasive domestic spying apparatus in the history of the world was used against him, the intelligence community lined up in defiance,...
15)The full media establishment launched a coordinated and unrelenting attack, and yet here we are. I am sincerely in awe. I shudder to think of the calamity that would have awaited had
@HillaryClinton
won. It is hard to overstate how truly lucky we are...
16)despite the fact that many Americans have yet to wake up to that reality. Trump is fighting for them too, and to some extent, many of us are as well. I hold some sliver of hope that Americans, at large, will one day realize that the person they hate...
17)
is only a grotesque caricature created by a corrupt political and media establishment to subvert and cripple a man intent on actually making the world great again.
#MAGA
#Trump2020