There was never anything real for Mueller to find on Trump/Russia collusion. Plus since last August when Peter Strzok was stripped off his investigative team by Michael Horowitz, Mueller has known Horowitz is standing behind him, looking over his shoulder, watching him
#Squirrel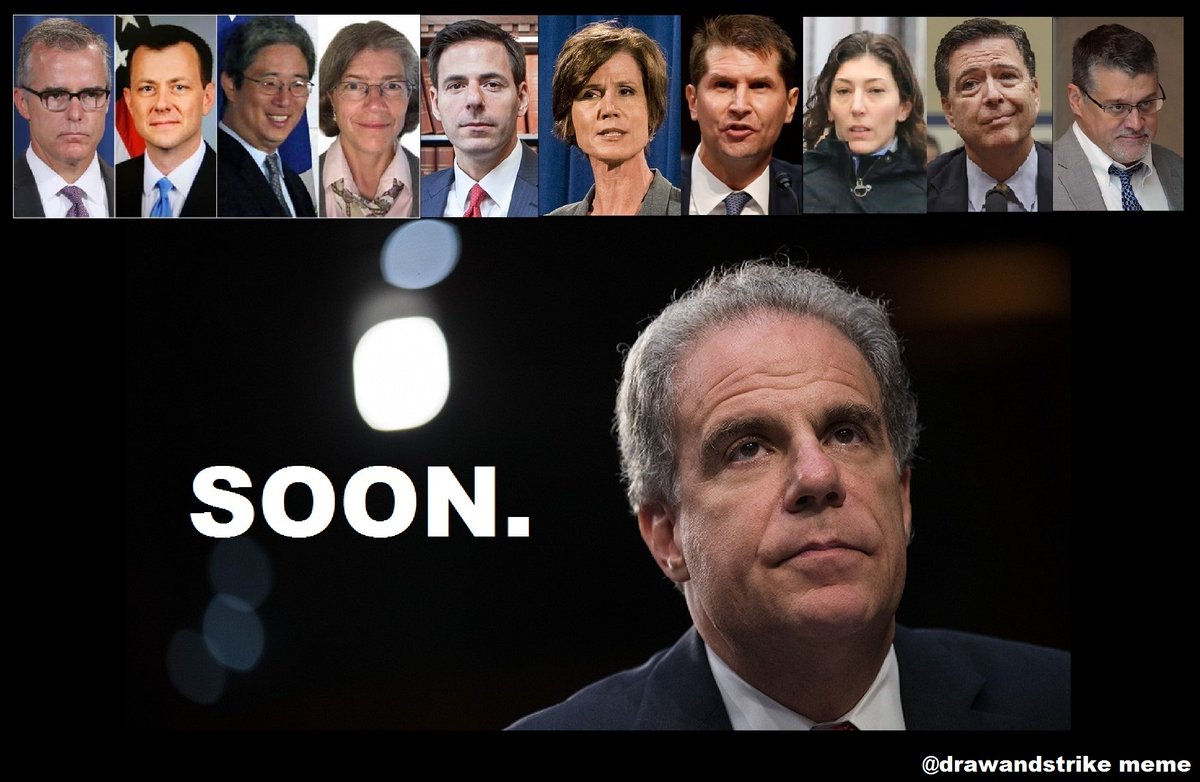 Horowitz's investigation has also led directly to the FBI #2 guy being put on leave, and he's now about to be fired.

Those of you worrying Mueller is going to try to FRAME Trump in this atmosphere can relax.

Mueller is not stupid. That's why he's spinning his wheels.
How absurd has the Mueller investigation gotten? He's now 'investigating' a POST-election meeting in the Seychelles involving Erik Prince, who wasn't on the Trump campaign team, to set up a Russian backchannel for a guy the Russians supposedly already controlled.
What was the main contention of the Steele Dossier?

Was it not that Putin & the Russian gov't had already cultivated Trump for around 5 years as their own personal stooge?

What the hell would you need a backchannel for to communicate with Trump AFTER the election?
Absurd doesn't BEGIN to describe where the Mueller investigation has ended up.

So what are the theories about it?

I have three. Two involve Mueller being used as a distraction to throw Dems & DNC Media off of Horowitz's trail so he could work in peace & quiet for a year.
Theory #1: Mueller the White Hat Who Is Aware His Investigation Is Being Used As a Squirrel To Distract Dems & DNC Media From The Year-Long OIG Investigaton

People on his TEAM don't know, but MUELLER does. He plays along, will actually help reverse Flynn deal & others.
Theory #2: Mueller The Black Hat Who ISN'T Aware His Investigation Was Designed To Be A Squirrel To Distract Dems & DNC Media From Horowitz's Year Long Investigation Into the DOJ/FBI Abuses

Mueller AND people on his team both had no idea they were being used.
Mueller gets people on minor FARA violations, process perjury charges, but finds no Trump/Russia collusion and the longer his investigation goes on the more absurd it gets. But he'll only be allowed to go until Sessions & Horowitz are ready to close the trap.
The good news, under theory #2, it's almost time to shut Mueller down because Sessions and Horowitz are putting the final touches on the report, which is coming soon.
Theory #3: Mueller the Black Hat who is just incredibly unlucky because there was no plan to use his investigation to distract from the Horowitz OIG investigation BUT there STILL was nothing for Mueller to find.

We're all just incredibly lucky things worked out this way.
Whichever of the 3 theories you buy into, and I emotionally commit myself to...NONE of them...we STILL end up at the very same place:

Mueller has...nothing.

He will NEVER find anything real.

And Horowitz still releases his report.
So whether Mueller was very cleverly used [with or without his being in on it] to hide the ball on the Horowitz OIG investigation or not, we're still where we're at today.
Horowitz spent an entire year gathering the evidence of the DOJ/FBI corruption & abuse, he exposed the entire FISA Court shenanigans to get the Carter Page warrant. Also the plot to frame Gen. Flynn.

It's ALL going to come out.
A whole lot of people in the DOJ/FBI are in a whole lot of trouble. Flynn is going to be cleared. He will be taken care of by Trump & others.
Trump is in no danger whatsoever.
I've been telling you this for months.
/end