Why was Cambridge Analytica testing Trump slogans in 2014? Because they are actually Steve Bannon "economic nationalism" slogans.
Thread follows. 1/10
crooksandliars.com/2018/03/why-wa…
March 2017, the New York Times magazine reported that Steve Bannon had first wanted Alabama Senator Jeff Sessions to run for president in 2016 on their shared "populist" vision, i.e. white nationalism. 2/ 10
nytimes.com/2017/03/26/mag…
But then Bannon saw Trump's appearance at CPAC in 2013. Bannon was so impressed that he lobbied Sessions and his Senate staffer, a guy named Stephen Miller, to support Trump's candidacy. From the NYT magazine article:
3/10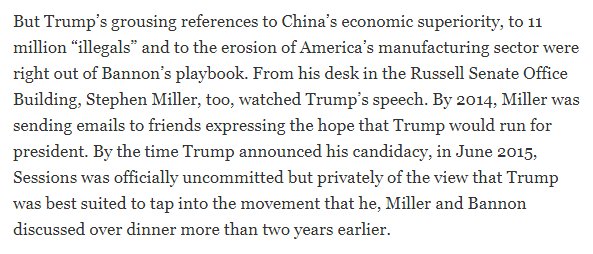 Bannon oversaw the Mercers' investment in Cambridge Analytica *at the same time* all of this was happening.
By then, CA's parent company SCL had been engineering elections and undermining democracies around the world for decades. 4/10
slate.com/articles/news_…
So Christopher Wylie was testing out slogans in 2014 that Steve Bannon wanted to put in the mouth of a Republican nominee in 2016.
By 2015, Bannon was focused on two candidates: Ted Cruz and Donald Trump. By 2016, it was plain as day on his website. 5/10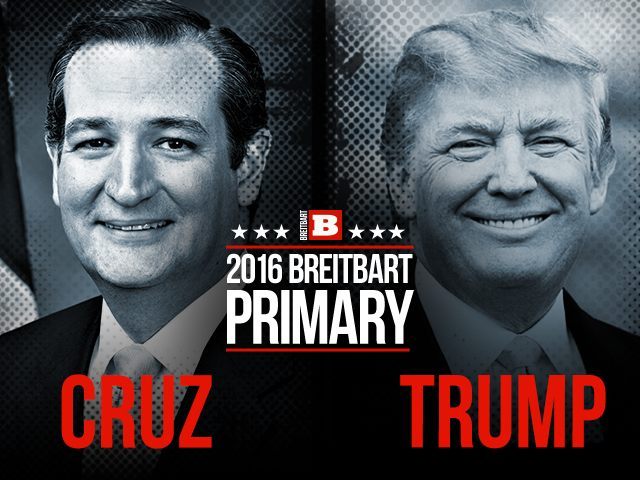 This was most visible at Breitbart, which clearly favored Cruz and Trump. Remember, Cruz had the support of the Mercers, the website's biggest investors, while Trump appears to have developed a payola relationship with the site. 6/10
buzzfeed.com/mckaycoppins/b…
Meanwhile, Bannon was using CA technology to expand Breitbart's footprint on Facebook. Mercer money bought YUGE traffic and targeted users amenable to right wing authoritarian messages -- building "the platform for the alt-right" 7/10
motherjones.com/politics/2016/…
From the beginning of the 2016 GOP primary race, Breitbart framed the contest as Trump vs Cruz.
The Mercers favored Cruz. Bannon favored Trump, and his CA-tested talking points were coming out of Trump's mouth, not Cruz's. 8/10
breitbart.com/2016-president…
When Wylie left CA, the company had already developed Ted Cruz as a client and Alexander Nix (of "Ukrainian girls" infamy) had started talking to Corey Lewandowski.

Trump had not declared his candidacy yet, but CA board chair Bannon knew he was running. 9/10
As I said in December -- BEFORE he started talking to Robert Mueller -- Steve Bannon was a Trump campaign insider long before he was "campaign CEO." He understands the narrative background of these events better than almost anyone. /End
deepstatenation.com/steve-bannon-i…