Robert and I spent 6 months 'inside' IS FB communities documenting their culture and strategies. We also mapped the connections between 1000 FB accounts from every inhabited continent. Full (lengthy) report to be published by
@FightExtremism
in early May.
We saw 1st-hand IS use FB to recruit westerners and how FB's recommended friends algorithm rapidly connects you to active IS networks. Once one IS supporter is friended, dozens from around the globe are recommended. Read this thread for just some examples:

Blatant lies by
#Zuckerberg
.
@RobertPostings
& I found dozens of public profiles of American IS supporters explicitly calling for terror attacks & using FB Live to discus how to carry out attacks. FB has done nothing to combat extremism on its platform.
Quite literally almost every profile found had a cover or profile pic from official IS media. We even found multiple "Flames of War II" pages, complete with cover pic and links to IS's second biggest media release. One of these pages is still up.

"Spiders of the Caliphate: Mapping the Islamic State's Global Support Network on Facebook" – the report
@RobertPostings
& I have been working on since October 2017 is out. It's quite long so let's break it down. Full report found here:
goo.gl/xiLfFX
2/
We spent 6 months collecting data on 1000 Islamic State supporters on Facebook: their friends, online activities, posting trends etc. We archived their friend lists & mapped the global network. The attached map shows these connections, colored by current location.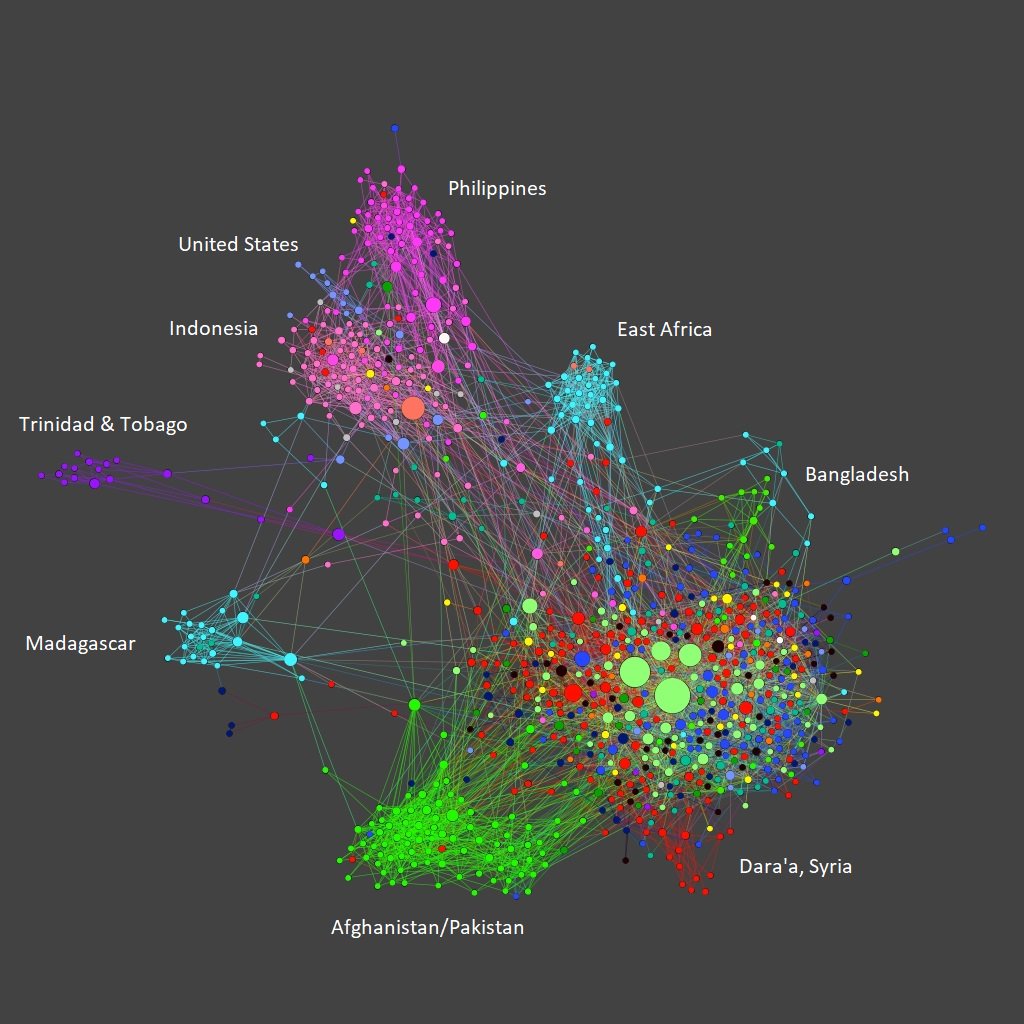 3/
Each profile is represented by a circle (node). Bigger nodes serve more prominent roles bridging disconnected communities. Lines (edges) connect nodes that are friends with each other on FB. 96 countries are represented in this map.
4/
Several things are immediately clear: there's a tight core with dozens of different nationalities, non-MENA regions are only weakly tied to this core, & there are strong Madagascar and Trinidad and Tobago networks. For more on these, read the "Regional Analysis" section.
5/
We can group the global network into communities based on network measurements. One such breakdown can be seen below. Interestingly, the Afghan/Pakistan network splits cleanly into 2 communities. We believe the pink network is an older Afghan/foreign fighter group.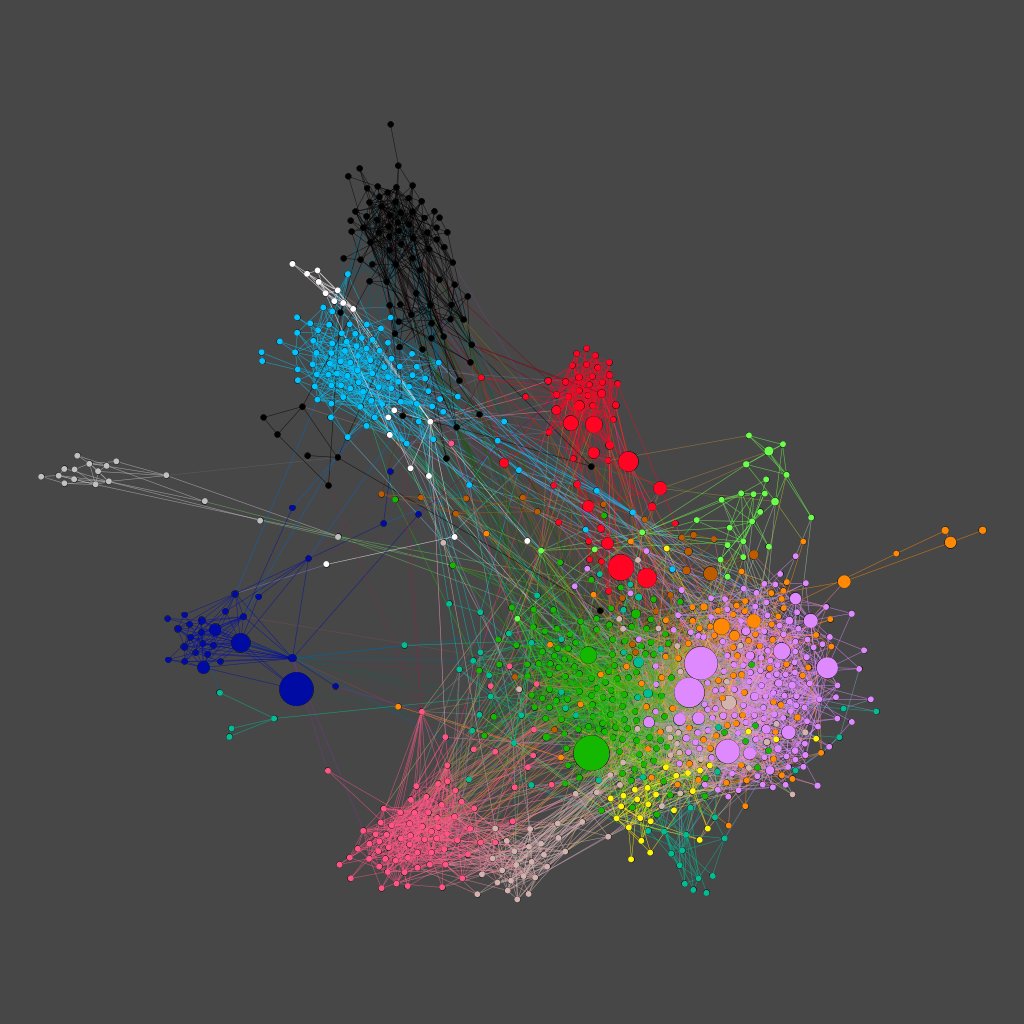 6/
For an analysis on these communities, read the "Identified Communities in the Global Network" section.
Theres a lot of insights to be gained from network analysis as to the future of IS in all of these regions. Again check out the "Regional Analysis" section for more on this.
7/
Now the part that most are interested in, how IS uses Facebook.
We observed IS users spread propaganda on a massive scale, 'hack' other accounts, discuss online security & support for terror attacks, spam/terrorize non-IS users, & recruit individuals (the case of ID 548).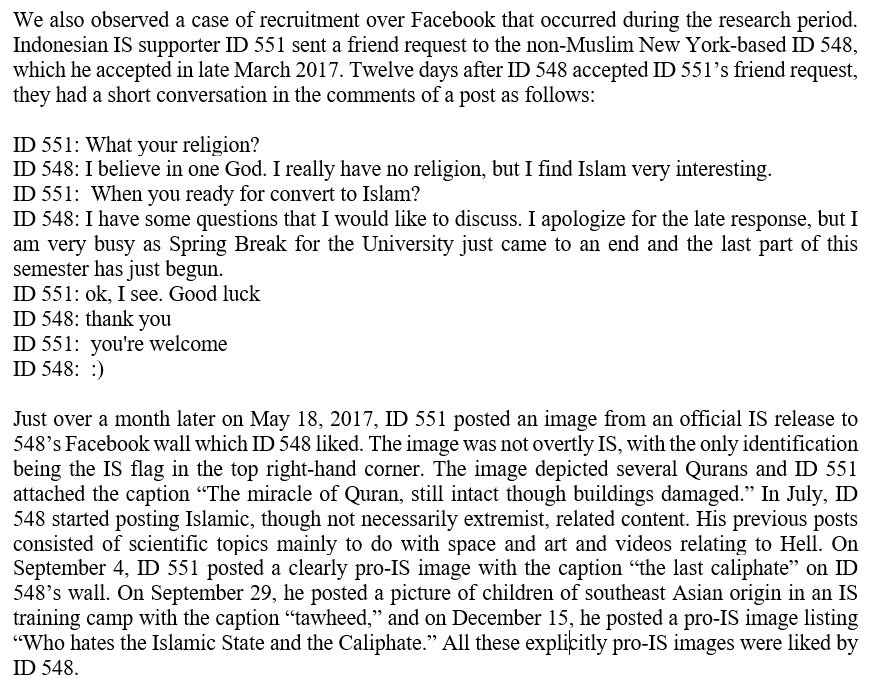 8/
Nearly every user shares propaganda but we identified 28 accounts dedicated to spreading official & unofficial IS media. These accounts always had backups so that if/when 1 account was removed followers would know how to find the next one. Here's 6 of this user's 15 accounts.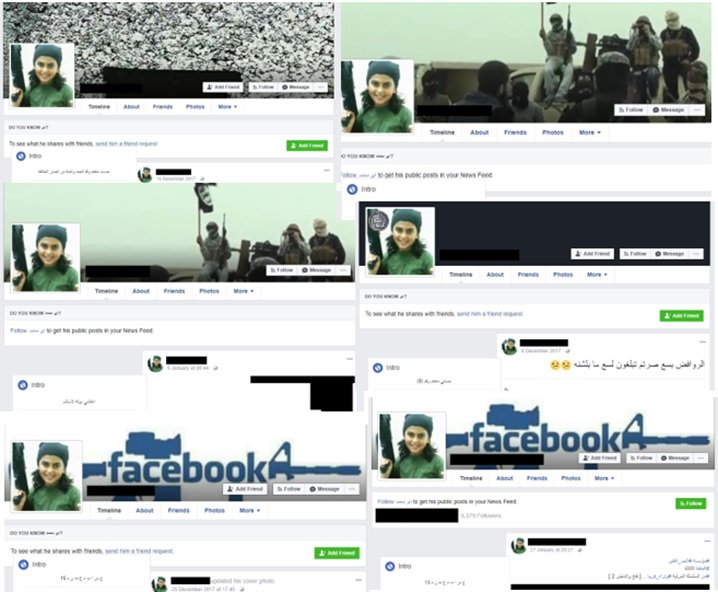 9/
Some of these accounts also regularly posted links to other pro-IS users to help their friends build out their networks. However, major propagandists rarely did this, likely to help avoid their accounts being removed. Here an Austrian posts links to other Austrian IS accounts.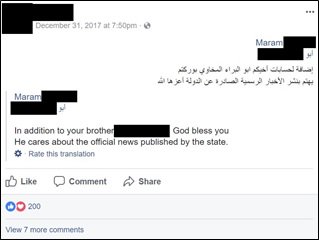 10/
IS users also love 'hacking' accounts, taking them over to spread propaganda, share links to other IS accounts, or simply terrorize the friends of the original user w/ phrases like "we promise to slay him soon." Robert has previously covered this here:
goo.gl/h5Kvo6
11/
Major propagandists are some of the most key profiles in the network, but several non-propagandists are also important nodes. This includes a young Namibian who serves as a crucial bridge between SE Asian nodes.
12/
Read "Propagandists, Hackers, and Other Key Figures" for more details on the above plus additional examples. This is probably the most important section of the report for understanding how ISIS pursues & compartmentalizes actions on FB and how strong these networks are.
13/
Regarding Facebook's claims that they "take action" (not necessarily remove) 99% of IS & AQ content before it is reported: these numbers mean little when you realize that much of this content is not reported. FB cannot rely on users reporting content.
14/
Here's a full 45-minute IS video on the battle for Mosul uploaded in May 2017, still up in April 2017 & with 1.6k views. Next to it, an Amaq video that has been up since Sept 2016.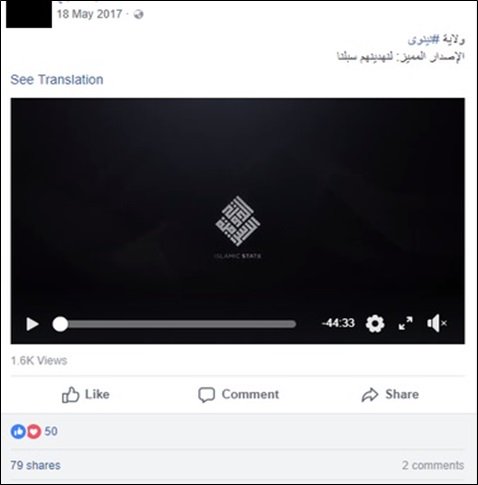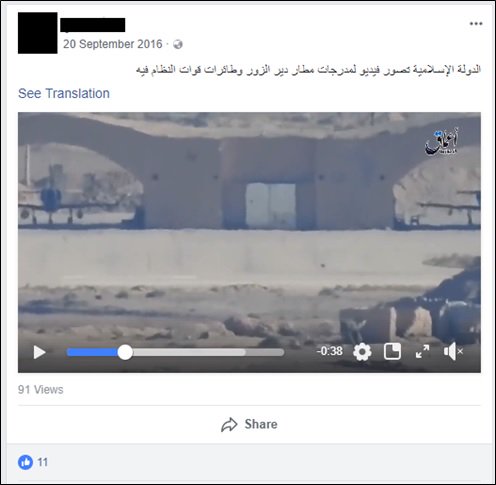 15/
Even when removed (relatively) quickly videos can be widely viewed. W/in 4 days this Inside the Khilafah video received 15k views & 400 shares. FB claims "in Q1 2018, the median time on platform for newly uploaded content…was >1 minute." So was this video an exception, or…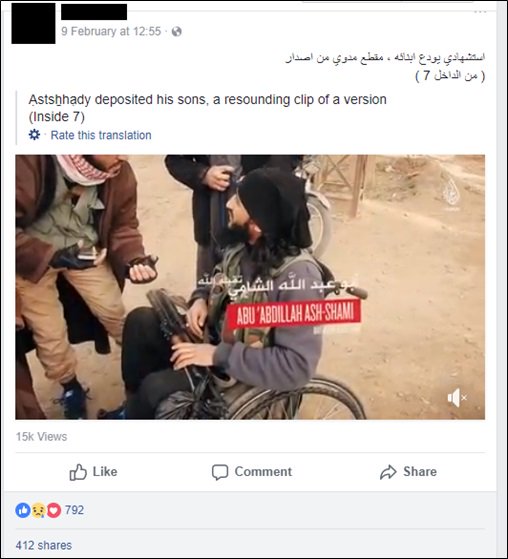 16/
Users also regularly list "Islamic State" or the Arabic equivalent as their place of work (directly linking to the official Facebook page for IS, automatically generated based on the Wikipedia entry). This makes it extremely easy for IS supporters to identify each other.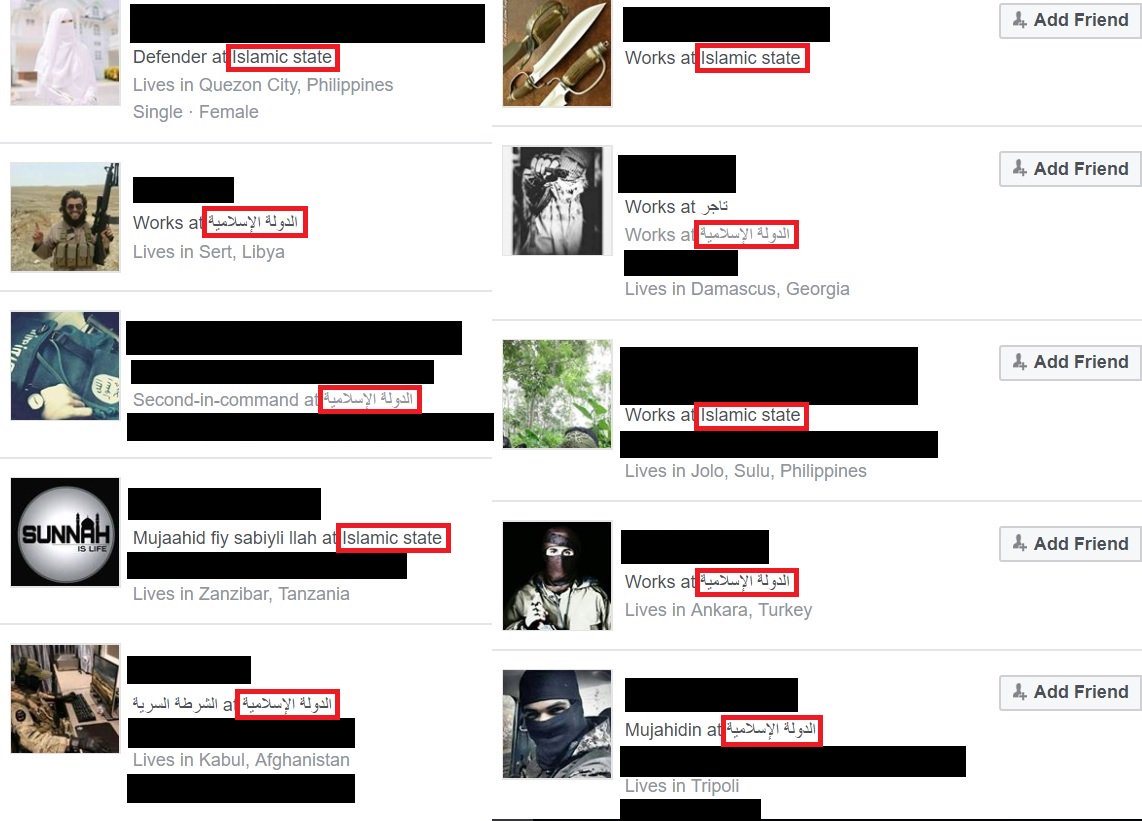 17/
We also found a very public and active group of American IS supporters who regularly post links to IS Telegram channels and media releases, hold weekly Facebook Live meetings to discuss IS, and publicly voice support for terror attacks.
18/
Lastly, FB's recommended friend algorithm not only connects active pro-IS accounts, but also connects IS supporters with users who do not yet support the group but are at risk of radicalization. We documented one such case as well as experiencing this first hand.
19/
In fact, it was this "feature" of FB which spurred the project. After Robert liked several non-IS Philippines and Marawi-based news pages using a blank profile he was inundated w/ recommendations of active Filipino IS fighters, likely bc they had also liked the pages.
20/
Read "Facebook's Failure to Police Extremism" for more details on these cases and more examples of Facebook's failure to effectively inhibit IS activity on its site.
21/
The ease with which we found these profiles and the impunity with which IS supporters discuss propaganda and support for attacks shows that FB still has much to improve when it comes to dismantling these networks. The importance of this cannot be understated.
22/
There are many documented cases of IS using Facebook to recruit, coordinate, and direct terror attacks around the world. Dismantling and preventing the spread of the networks identified here is a crucial step in preventing future attacks.