The 1,134 deaths at the Rana Plaza factory collapse shunted global supply chains into the media spotlight.
We saw the horrors of precarity, lax safety standards, & weak representation of labour.
What's happened since?
#thread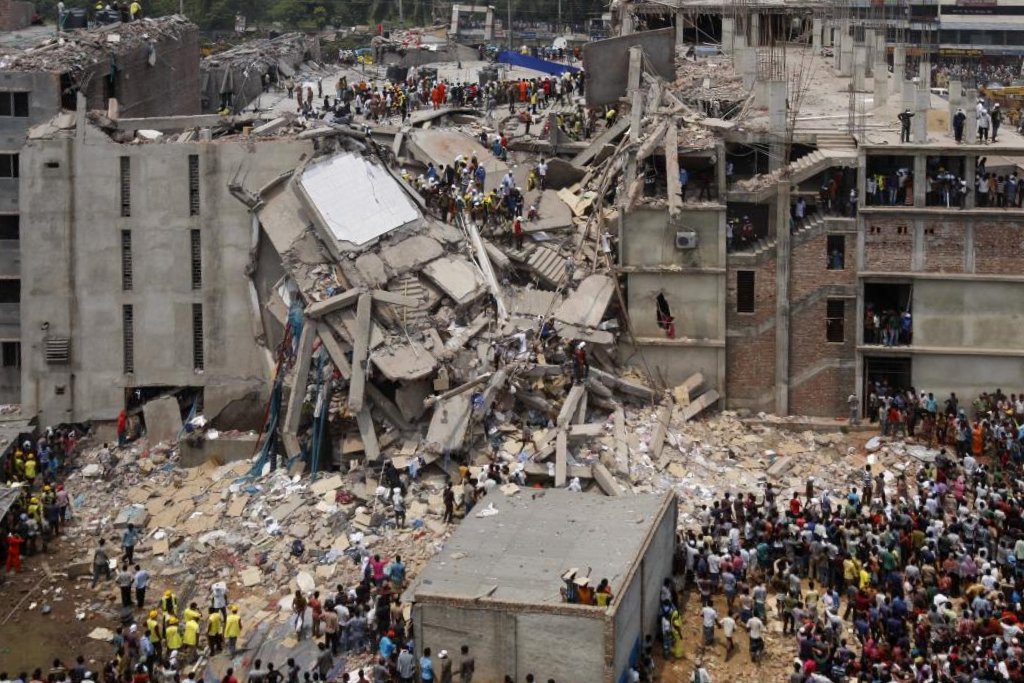 Poor working conditions are partly caused by buyers' procurement practices:

Minimising production costs: seeking low prices then cutting loose, & renegotiating prices (rather than making long-term commitments to suppliers).

How has this changed in Bangladesh, since Rana Plaza?
In Bangladesh:
The price paid by lead firms to garment manufacturers has DECLINED by 13%.
Manufacturers' profit margins decreased by 13% (2011-16).
This obvs limits scope to raise wages & invest in better buildings
sacw.net/article13694.h…
- Professor Mark Anner
@LERatPSU
Our brands have also pushed suppliers to make our clothes more quickly.

Lead times fell by 8.14% (2011-15).

This rush incentivises manufacturers to 'sweat' existing workers: forced overtime.

[They could recruit more workers, but this is risky, given short-term contracts]
How has this impacted young, female Bangladeshi garment workers?
Since 2013, their real wages have fallen by 6.47%.
Violations of their rights to form unions, bargain, & strike increased by 12%.
sacw.net/article13694.h…
But... there is some good news.
After Rana Plaza, some (mostly European, not US) buyers committed to the
@banglaccord
.
Supporting rigorous building inspections,
Strengthening workers' representation & voice,
Committing to binding arbitration.
--> major improvements in safety
.
@banglaccord
's goal is to ensure that all 1,600 factories of its signatory brands are safe for their 2.5+ million employees.
Having identified fire, structural & electrical safety risks,
@banglaccord
has terminated 96 factories for failing to implement required safety renovations.
So these factories can no longer supply to any Accord signatory brand.
This helps prevent another Rana Plaza.
4 key points about
@banglaccord
:
- Strengthening industrial democracy: worker representation
- Rigorous inspections
- Well-resourced: $11m per yr, to pay its 94 specialized engineers & other staff
- Binding arbitration, enabling worker compensation, eg:
dw.com/en/unions-hail…
So it is excellent that many brands have signed up to
@banglaccord
But many have not.
Really disappointing that Sainburys & M&S are not committing to workers' safety in Bangladesh. US firms are also absent.
Risking another Rana Plaza.
fashionunited.uk/news/business/…
While
@banglaccord
is improving safety, wages are still falling
This is partly caused by procurement practices:
- Racing to the bottom, then cutting loose
- Sourcing from authoritarian countries, quashing the autonomous worker orgs mobilising for better pay, conditions & rights
BUT

Despite price squeezes, some Asian governments have managed to raise minimum wages & improve compliance in garment factories.

Garment workers in Vietnam earn more than counterparts in Bangladesh.

Why?

**CLIFF HANGER**

[gotta go on a run but that's our forthcoming paper]