2/
By advocating for liberalization of zoning using historical racism as a reason, you are essentially trying to position it as a form of reconciliation. But is it actually reconciliation?
3/
1st Q on whether this is reconciliation: Who's going to benefit most from this & how? Is it folks who're historically discriminated against? Will the result be more equitable? Is there fair redress/actions involved that affected ppl recognize or has agreed on? No in this case.
4/
2nd Q: Have the groups said to be historically discriminated against been properly consulted by advocates & govts on whether zoning liberalization is an appropriate reconciliation action? By consultation, it doesn't mean talking to a few token PoCs.
5/
Again, the answer to the 2nd Q is No. Just because you have tokenized PoCs supposedly licensed by their race to speak to the media with your narrative, it doesn't mean it's reconciliation.
6/
3rd Q: Who is asking for this "reconciliation action"? The groups that were negatively affected or mostly white folks & some token PoCs who're supposedly licensed by their race? If it's the latter, then this is white saviourism, not reconciliation.
7/
4th Q: What are ppl you claim to help asking for? Are you an ally or undermining their efforts? Many folks purporting to be "anti-racists" worked against Chinese Cdn cmty on
#105Keefer
or are now falsely linking
#ChinatownYVR
dev issues to their zoning liberalization narrative
8/
This gross behaviour of using PoCs when they're useful & dropping them or working against them when they're not, only serves white saviours, not the groups they claim to help. We aren't your pawns to be used to further your agendas. We're not here to serve at your convenience.
9/
The
#vanre
industry, politicians & many so-called "anti-racism" folks advocating for zoning liberalization like to use "racism" in their narratives as they please to suppress voices & advance their personal agendas. This is just form of racism itself.
11/
There's been some confusion about the term "white saviourism". The "white" refers to Western folks, not necessarily just white people. A definition below. The textbook example is when Western folks go voluntourism in Africa. Good article here:
medium.com/@anniewindholz…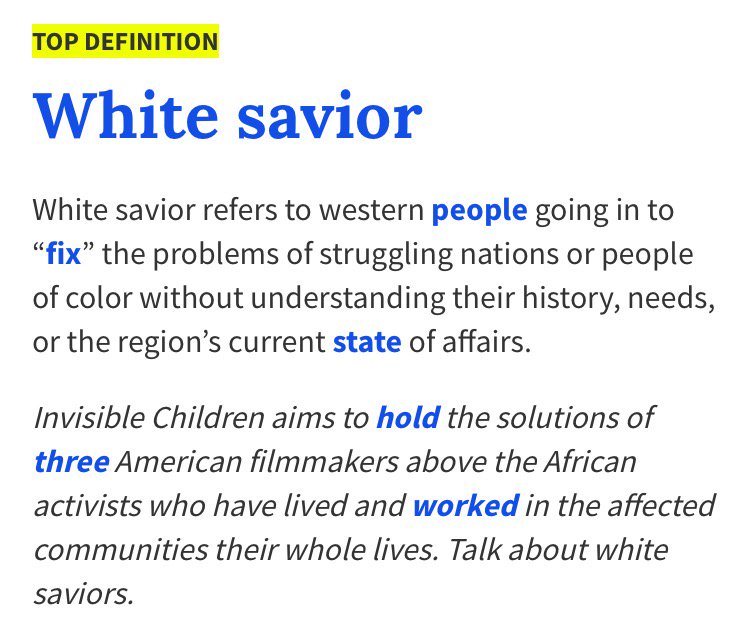 12/
I'll also expand on clarifying "white saviourism" to say that if you're a PoC, it doesn't automatically mean that you're in the "PoC used as a pawn" category. A PoC with Western beliefs, values, culture, etc can also be a "white saviour" using theirs or others' races as pawns
13/
To clarify "tokenism": One can be tokenized by others or practice self-tokenism. Self-tokenism is when you're part of a systemically underrepped grp - Black, Asian, Indigenous, young, marginalized, etc - & claim to speak for entire grp when you don't.
marieclaire.co.uk/entertainment/…