Thread by @stephenablack: "This is my grandfather, Murray Goldfinger. The tattoo, 161108, was given to him at Birkenau. He's 91 and his health is failing. He told his […]" #NeverAgain #HolocaustRemembranceDay #OurStory
This is my grandfather, Murray Goldfinger. The tattoo, 161108, was given to him at Birkenau.
He's 91 and his health is failing. He told his tale of survival for 65 years. Now, I've taken the responsibility.
One part of his story always gets a big reaction from students.

January 1945. Murray (born Monek) was on The Death March west from Birkenau as Russian soldiers advanced from the east.
He was tired, cold, and hungry. He saw something in the air, descending towards him.
It hit him in the chest, and he caught it.
A 2-lb piece of roast beef.

Monek was shocked. He looked around. Nobody had noticed, so he stuffed it under his shirt.

Over the next two days, he tore small pieces and ate them on the sly.

When I told the story to a group of eighth graders today, they all laughed.

"Was it a gift from Heaven?" I asked.
The reality is bleaker.

The Nazis rode in tanks and jeeps alongside the march. One probably thought it'd be funny to toss the food into the crowd and watch the Jews fight over it.

It wouldn't have been the first time Monek witnessed Nazis take pleasure in torturing the Jews.
It didn't work out that way. The marchers were too fatigued, many dying along the way.

Monek was lucky. The roast beef's trajectory led straight to him.

I can trace my own existence back to that piece of meat, which sustained Monek and gave him the energy to keep going.
His entire family including 8 siblings perished. Monek survived.
On April 11th, 1945, he was liberated from Buchenwald. We celebrate the date as a birthday, or Rebirth Day.
The path from ghettos to labor camps to concentration camps lasted 6 years, but it began before that.

It began with leaders who had an insidious agenda. They understood the people needed a scapegoat, a group of "others," an outlet for fear and hatred.
They chipped away at the Jews' humanity piece by piece until they became numbers then ashes. Much of the world stood idly by.

I will not stand by as people in our nation are targeted for their "otherness."
I am inspired by the younger generation's activism as they say
#NeverAgain
to needless death.
Monek was compelled to tell his story to show the darkness we're capable of when hatred goes unchecked.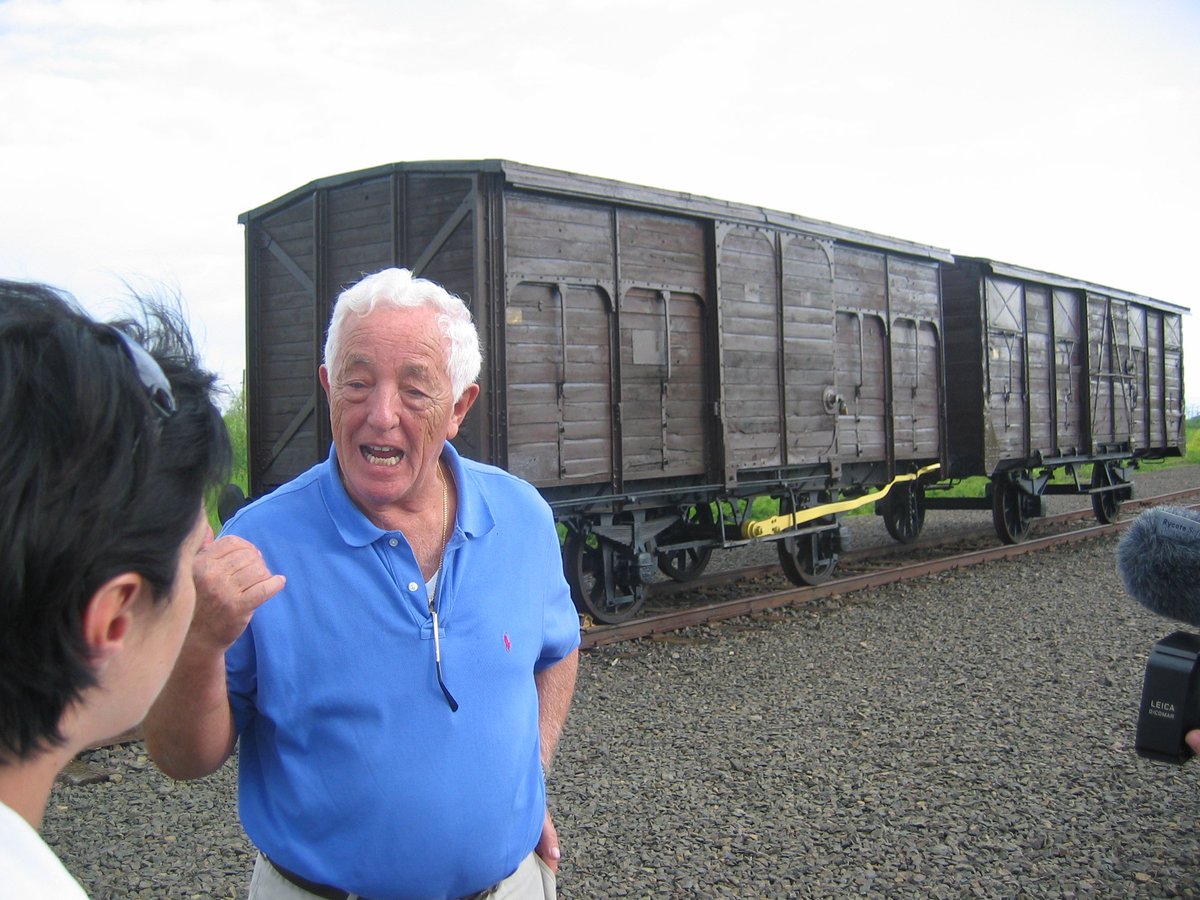 His path to the U.S. wasn't easy. He was only allowed to immigrate after a distant relative won a small fortune in the lottery and sponsored him.
He rebuilt his life and has lived to see the birth of two great-grandchildren.

I will continue to tell his story because I know the fight is ongoing.
It's a fight to prevent history from repeating but also to ensure that all human life is valued equally, regardless of race, gender, religion, sexuality, or ability.
#HolocaustRemembranceDay
#NeverAgain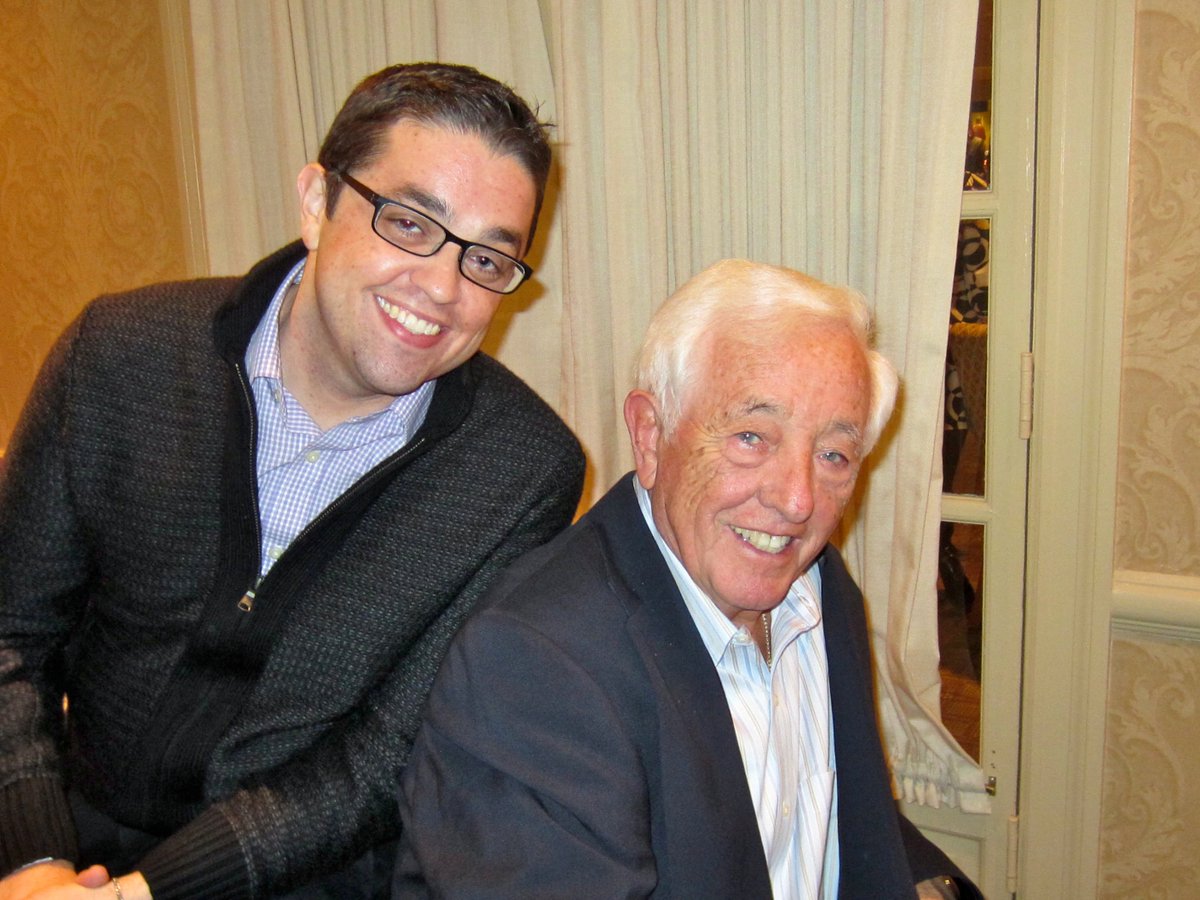 *UPDATE*

I'm incredibly moved by the response to this thread, as well as the amount of people sharing it. I just got off the phone with my grandfather, or "Poppy" as we call him, and he was in tears when I told him how many positive responses his story is receiving.
I'm grateful for the stories people are sharing with me of their parents, grandparents, and great-grandparents. I am going to respond to all of them in the coming days.

I've also been receiving a lot of DM requests for more material, and I will post the links here.
The first is a 7-minute film I made in college, a simple day-in-the-life portrait called "Thanksgiving."


This is his full testimony for the Shoah Foundation, recorded in 1994. It's nearly two hours, but it's worth watching if you'd like to learn more about his story.


Here's another film I made about my family's 10-day trip to Poland in 2006. It was the second time Poppy returned. The first was in 1992 with his wife Margaret (also a survivor who only spoke about her experiences twice in life), my mom, and my two aunts.


I wanted to share this message from Poppy with everyone. Thanks to my amazing mom Adele
@preppy1953
for filming it today. Apologies that it ends abruptly—they were in an appointment and the doctor arrived.
The good news is Poppy's health is stable!
*ANOTHER UPDATE*
I'm headed out to meet Poppy for dinner, where I'll read him many of your wonderful comments and DMs. I have tons to still answer, and I promise to get to them soon.
On a related note, please read this and contact me if interested!
medium.com/@stephenablack…
In the first installment of
#OurStory
,
@EdwardHBOh
shares the history of his family, beginning in North Korea with his grandfather, a Protestant pastor.
"My grandfather's name would appear on that log every day — until, one day, it didn't."
medium.com/@stephenablack…
This content can be removed from Twitter at anytime, get a PDF archive by mail!
This is a Premium feature, you will be asked to pay 30$/year for a one year Premium membership with unlimited archiving.
Don't miss anything from @stephenablack,
subscribe and get alerts when a new unroll is available! This is a Premium feature, you will be asked to pay 30$/year for a one year Premium membership with unlimited subscriptions/alert.