1/
#Windrush
scandal shows that
#citizensrights
granted 47 years ago to thousands of immigrants can't be taken for granted. The main victims are those who came here as children before 1971 & who've lived here undisturbed until the introduction of the hostile environment in 2012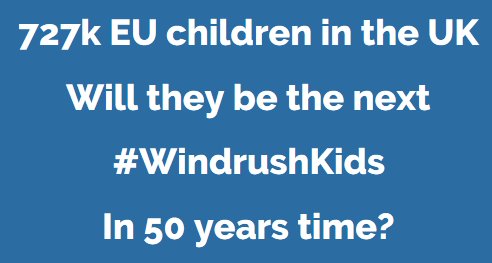 2/
there are strong parallels here with ca 727k EU children living in the UK. In a recent report
@MigObs
has identified children as one of the groups most likely to fall through the net when it comes to applying for and securing Settled Status
migrationobservatory.ox.ac.uk/resources/repo…
3/
We might not have to wait 47 years to see the effect of the hostile environment coming to bite those young EU citizens. What will happen to a 2 year old missed by the Settled Status system now when they want to enter the job market in 16 years when they turn 18?
4/
The
#Windrush
scandal also shows that future changes of immigration law can have impact on people's
#citizensrights
. While living in the UK without issues one day they might be faced with a wall of bureaucracy the next day when laws are implemented and applied retrospectively
5/
The Withdrawal Agreement protects EU citizens in the UK against unilateral changes of UK law in respect of
#citizensrights
by ensuring European Court of Justice oversight for a further 8 years after Brexit day. But...
6/
treatment of
#WindrushGeneration
is a stark warning. Protection must not have an expiry date. Exposing 3m EU citizens to the ever changing UK immigration law requires lifelong bilateral supervision. /end
P.s. Just to illustrate how quickly immigration rules change in the UK - since 1962 the UK has passed 16 immigration acts. That is a change in rules every 3.5 years