Thread - 1/x Joy Reid's homophobic blog posts were far worse than 1st reported.
They also had nothing to do with Republican hypocrisy on gay marriage. Joy also opposed gay marriage at the time. She gleefully accused people of being gay and posted a number of questionable things.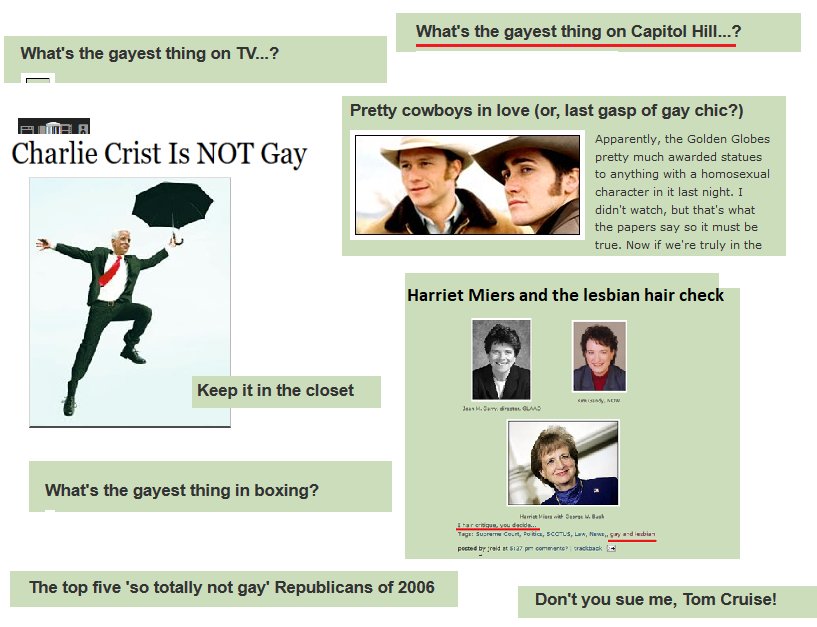 2/x
Top 5 "totally not gay celebrities of the year".
Using your media platform to out people you think is gay to get clicks has nothing to do with Republicans hypocrisy on gay marriage.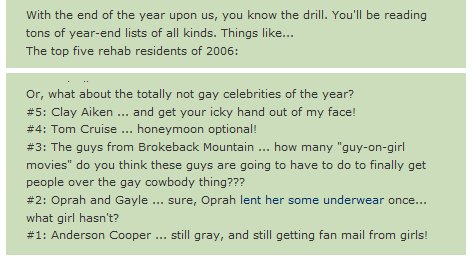 3/x
Joy writes that
@karlrove
is known as Miss Piggy in Washington DC's gay circles. Claims he is a leader of the gay Republican mafia.
Joy re-posted this "reidblog classics" at the end of the year for her readers' enjoyment.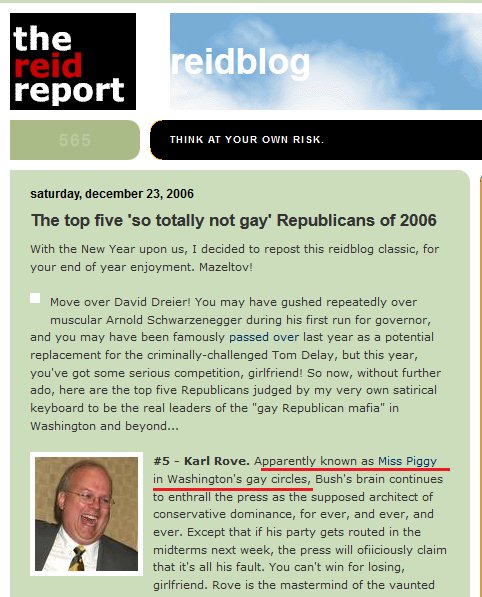 4/x
Joy writes a blog post about John Roberts's son, links to some articles, and makes joking comments about him.
Again a post that serves no purpose and has nothing to do with politics or Republicans' position on gay marriage.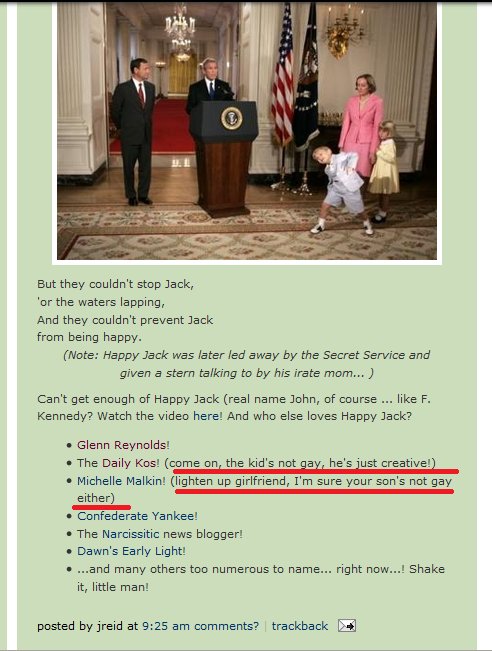 5/x
Joy said Tim Hardaway's comments about gay teammates were stupid for a public figure to make, but says there is a caveat –
She says part of the intrinsic nature of straightness is that gay sex is gross, that most straight people feel that way.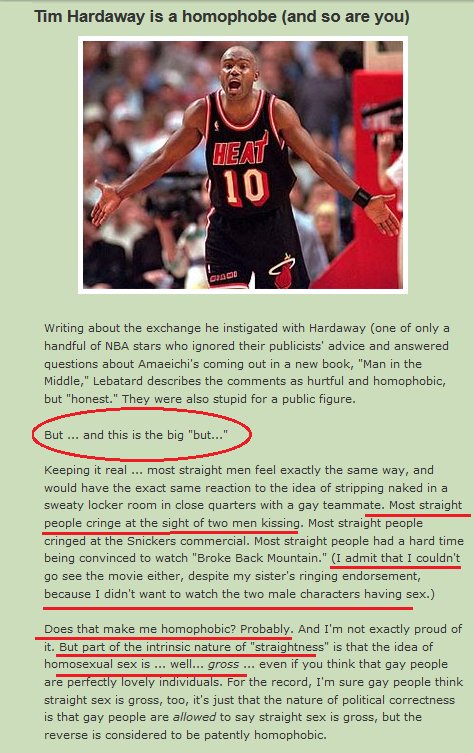 6/x
2 things before I continue. This thread is dedicated to Patrick Byrnes, who died due to complications related to AIDS in 2007.
He was an advocate for compassion, tolerance, and acceptance and a proponent of LGBTQ+ rights.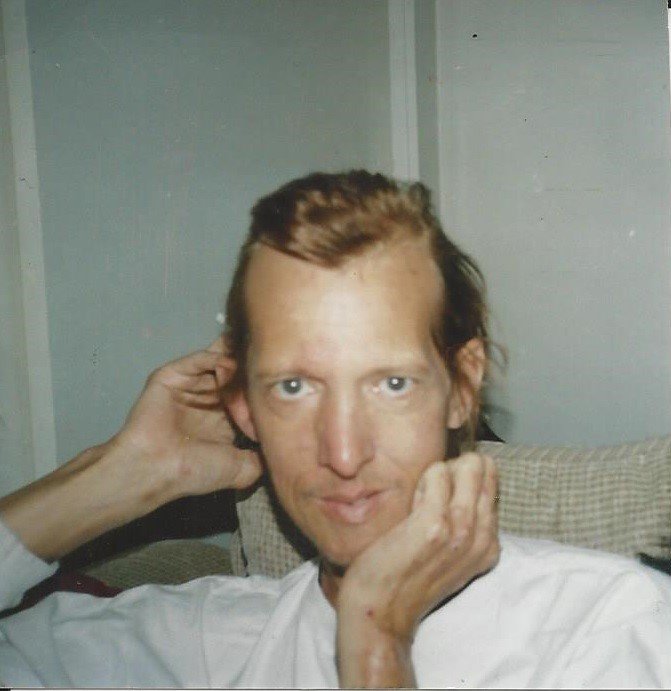 7/x
in the last few months the site was removed from the Wayback Machine on Internet Archive at the request of whoever controls the blog, from what I understand.
These screenshots were taken before it came down
web.archive.org/web/2/http://b…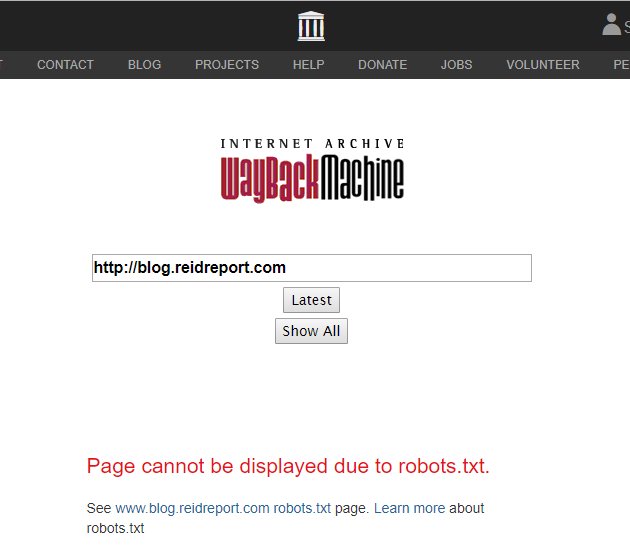 8/x
People yelling at me on twitter: Joy's posts aren't homophobic.
Joy's blog: "Does that make me homophobic? Probably."
She blames PC culture for straight people not being allowed to call gay sex gross but allowing gay people to say the opposite.


9/x
On the "tolerance" front - Joy seems upset at that the Danish make immigrants watch a film with 2 men kissing.
She says the West needs to come to grips with intolerance. Says you can't legislate acceptance of things people abhor.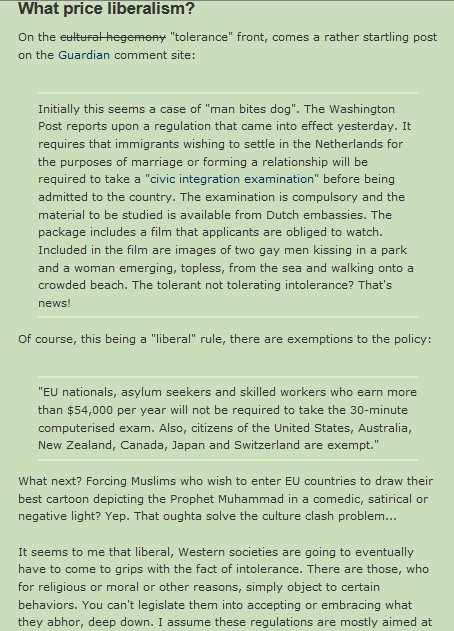 10/x
Of course there are even more posts about Charlie Crist.
For some strange reason Joy posts a link to an article that claims Crist was involved in gay sex parties with Mark Foley.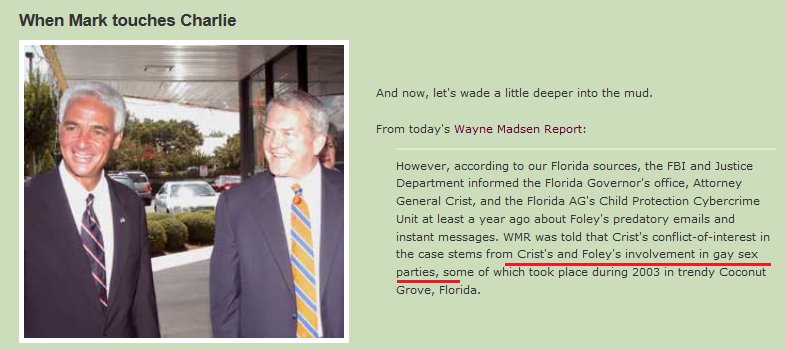 11/x
Joy doesn't care if the email she got about Tom Cruise and Rob Thomas being gay is true, she thinks it's great and worth sharing on her blog.


12/x
General Pace said homosexuality was immoral. A Chicago Tribune reporter wrote that it really wasn't a big deal, Joy writes there is a caveat. She says real concern is about gay people being attracted to young males & gay rights groups targeting impressionable teens.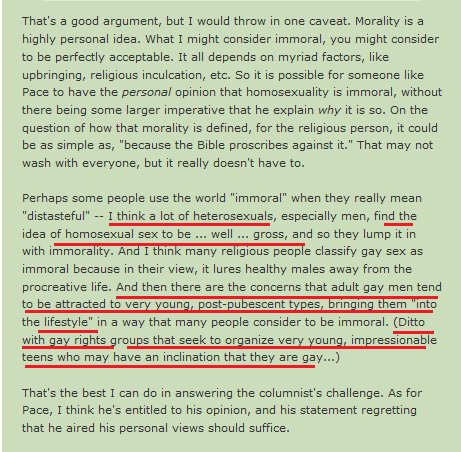 13/x
When Bush nominated Harriet Miers to the Supreme Court, Joy wrote that the real question people should be asking is whether or not Miers was a lesbian.
She then mocks the lesbian haircuts of the directors of NOW and GLAAD.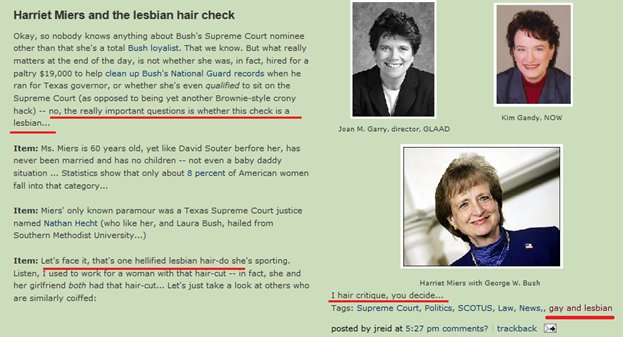 14/x
Instead of just writing about a Sean Hannity interview with Dick Cheney, Joy again goes for gay references and innuendo.


15/x
Joy writes that George Bush was channeling Clay Aiken by his gay behavior with Saudi Prince Abdullah.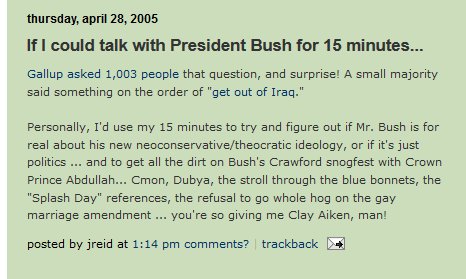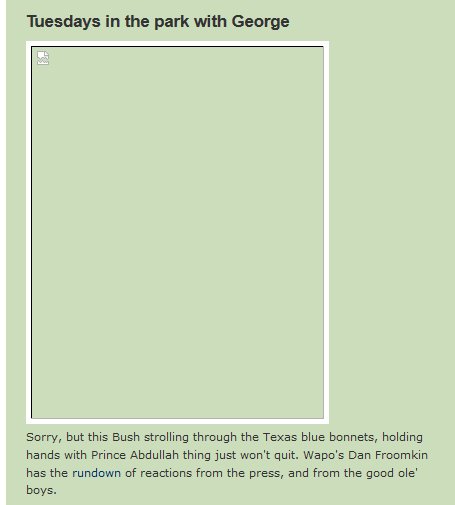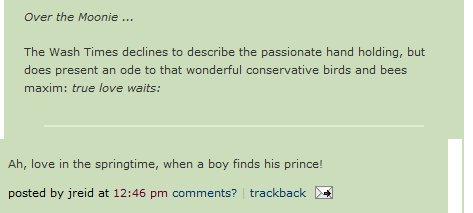 16/x
Joy then writes that Chris Matthews is being so soft on George Bush that she is going to have to start calling him Abdullah, because like the Saudi Prince she implies apparently Mathews is gay with Bush.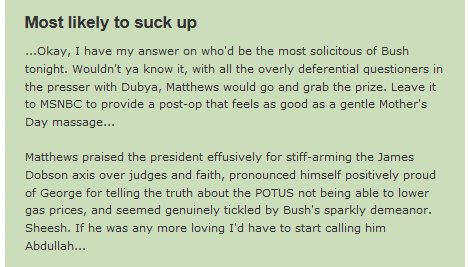 17/x
Joy writes that
@SenJohnMcCain
and Bush are so gay together it's a wonder they haven't eloped in Massachusetts.
Again, no reason to make gay references if you want to write about McCain and Bush.


18/x
Joy links to a blog that claims Layla Ali is gay and is dating Queen Latifah
(Not a post about Republican hypocrisy or opposition to gay marriage)


19/x
Joy - I am not a gay marriage supporter




20/x
Joy writes that whether you could manipulate your unborn child's genes to assure they were not gay is "an interesting moral question".


21/x
Joy says sorry LGBT community. Rick Warren is going to speak at Obama's inauguration. What liberals like
@maddow
&
@KeithOlbermann
don't get is Obama, like Joy, does not support gay marriage. Joy says Obama should reach out to evangelicals, not gay people who voted for him.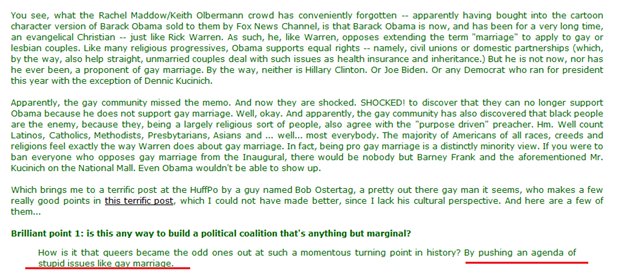 22/x
Joy argues you shouldn't support issues people who elected you care about like Iraq and the economy. Reaching across the aisle is more important than satisfying liberals. Gays are the odd ones out of Obama's victory because they are pushing stupid issues like gay marriage.

23/x
Joy wrote that those who say gay marriage will lead to polygamy are right. Religious people will lose and US will go the route of Europe where religion is depressed and morality is elasticized.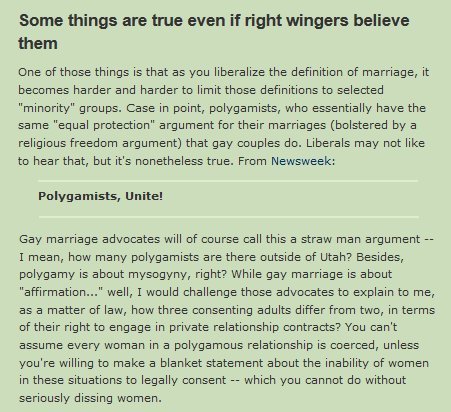 24/x
In reaction to a Snickers ad, Joy says people thinking two men kissing is gross is normal. Sorry LGBTQ people.
Joy says it is human nature to expect romantic pairings to be male female.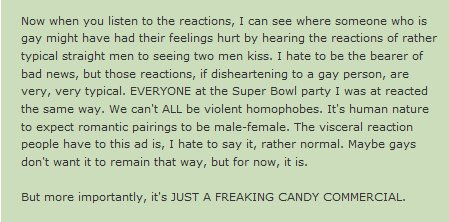 25/x
Interestingly the only time Joy really talks about gay marriage is to repeatedly criticize those on the left for supporting it.
She says Dems shouldn't push for a progressive agenda that includes gay rights, because it will turn off white working class Reagan Democrats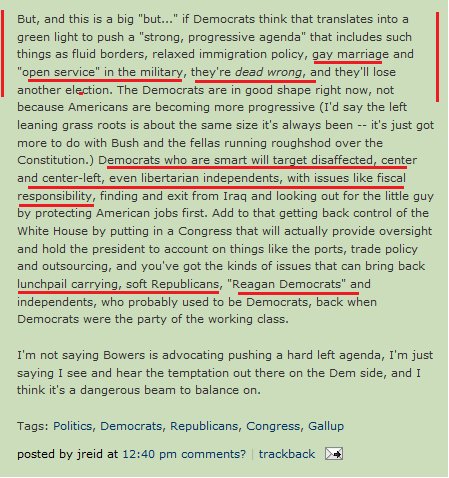 26/x
@GovHowardDean
fired DNC LGBTQ outreach adviser Donald Hitchcock after his domestic partner criticized Democrats for not supporting gay rights. Then Dean went on Pat Robertson's show & said Democrats opposed gay marriage & believed marriage was between 1 man and 1 woman.


27/x
Joy defended
@govhowardDean
over the firing of the LGBTQ Director and and told
@sullydish
& those who criticized Dean that Dean's eyes were open to November.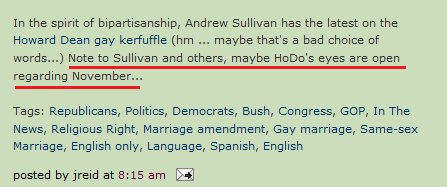 28/x
Again Joy defends
@GovHowardDean
for appealing to "white christians" meaning those who oppose gay marriage and abortion, issues she calls "sure losers" for Democrats. She also makes a strange comment about Neo-cons.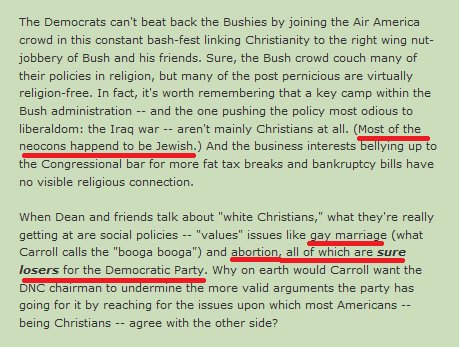 29/x
Gay people should accept that most people don't want gay marriage and stop complaining. Sorry
@maddow
and Barney Frank. LGBT people shouldn't be allowed to keep anti-gay marriage people out of Dem party with their litmus test.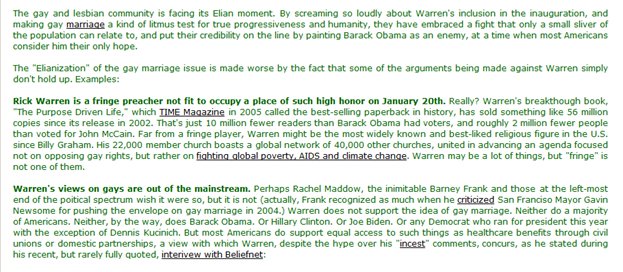 30/x
Joy seemed very interested in Brokeback Mountain, but wouldn't watch it bc it featured two men hooking up.
She can't understand who is going to see it since she imagines everyone would be turned off by it.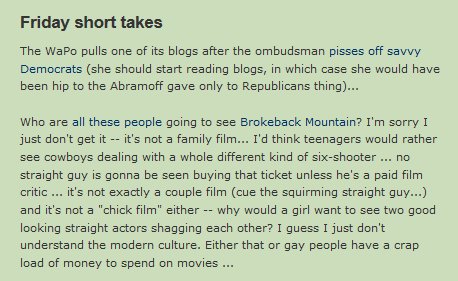 31/x
Even though she wouldn't see BrokeBack Mountain because two guys getting it on was "too out there for her" she posted links to gay cowboy jokes.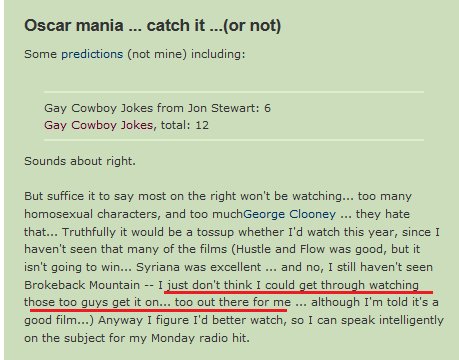 32/x
Joy didn't watch the Golden Globes but heard they gave awards to any film with a homosexual.
About the Oscars Joy wrote Hollywood was jonesing to affirm gay people that year.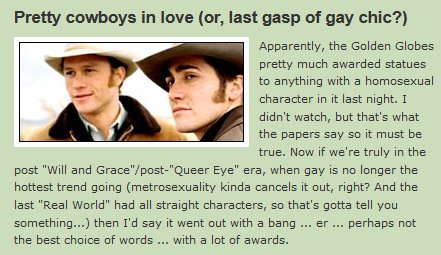 33/x
Joy wonders if there's anything to the rumors that John Roberts is gay.


34/x
Joy thinks Harriet Miers is probably even gayer than John Roberts.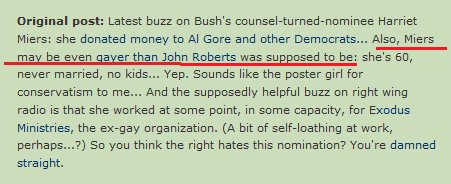 35/x
Speaking of Roberts, Joy said she'd vote for Roberts and sleep like a baby, that opposition to Roberts was dumb, and his nomination wasn't bad unless you were obsessed with gay marriage and abortion.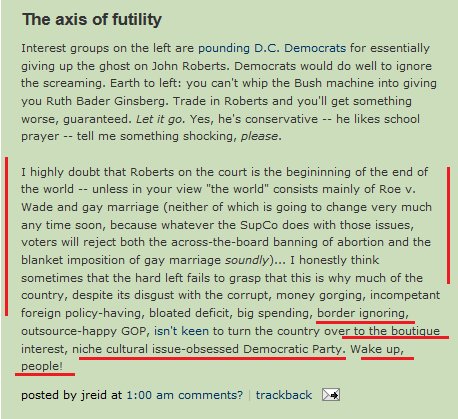 36/x
Joy posts that maybe Eddie Murphy is gay.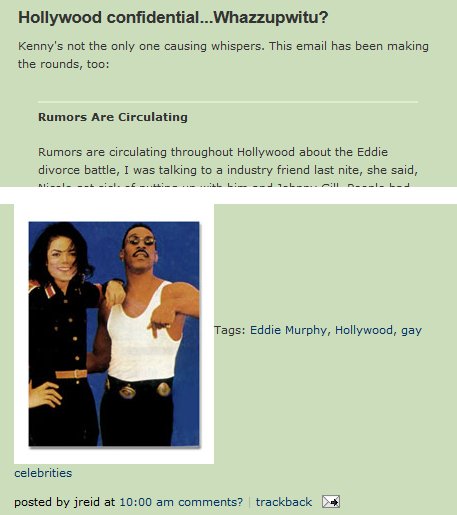 37/x
Joy shares a rumor that
@Danabrams
and
@KeithOlbermann
are gay. She says Keith needs to defend his honor against this charge.
Which is strange since so much of her blog is devoted to saying that other people are gay or sharing rumors that they are.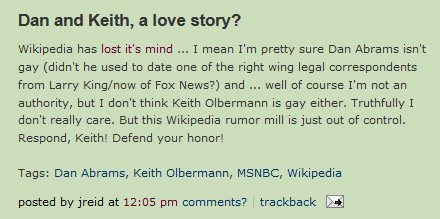 38/x
Joy writes that the "gayest thing on TV" is Anderson Cooper.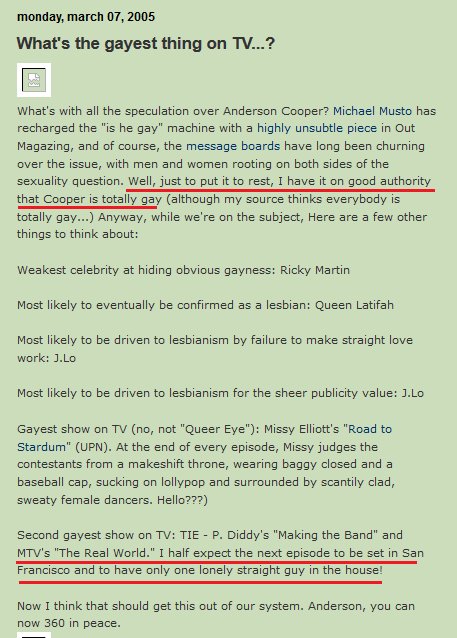 39/x
What's the gayest thing on Capitol Hill?
According to Joy it's
@RickSantorum
. She says he should run off to Vermont with Ken Mehlman.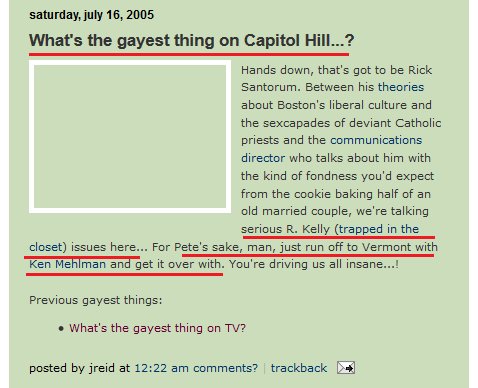 40/x
Another post about Charlie Crist being gay.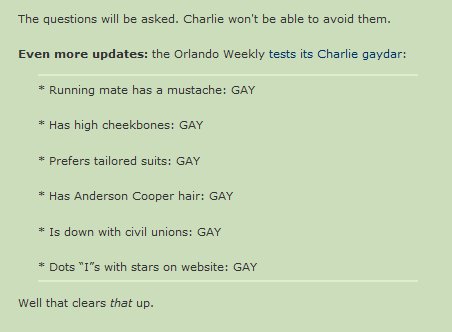 41/x
It wasn't just sharing rumors Crist was gay, Joy says her sources confirm Crist is gay.


42/x
She linked to things like this about Crist.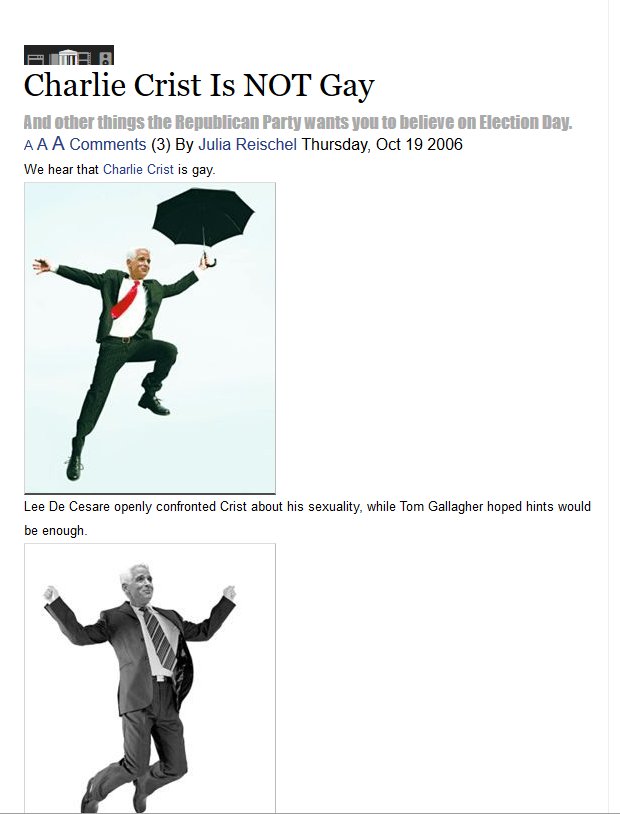 43/x
Another completely gratuitous reference to a gay stereotype.
Instead of just writing about Barney Frank and AIG, she says the story proves gay men can be tough guys.


44/x
Joy says there concerns about gay service in the military are real, like people showering together.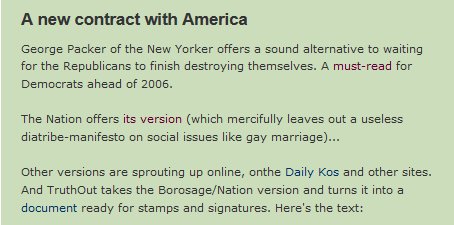 45/x
Joy is relieved a Nation article about what Democrats should do going forward leaves out a useless diatribe on things like gay marriage.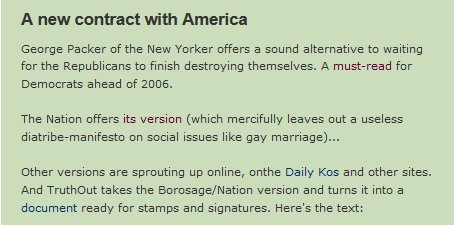 46/x
Joy says kids who want gay marriage, gay military service, to get out of Iraq and universal health care don't get it. They need centrist like Hillary.


47/x
Joy links to a list of celebrities who "are definitely not gay…"
The list includes Oprah, Arnold Schwarzenegger, Whoopi, Whitney Houston, Prince Andrew, Troy Aikmen, Orlando Bloom, and Richard Gere among others.
web.archive.org/web/2007022000…


48/x
Joy says the Supreme activists should focus on the Kelo decision over eminent domain and not abortion or gay marriage.