Hey
@TwitterSupport
@twitter
There's something very wrong.
i don't wanna make this all about me. really.
BUT..i just wanna show you, how your SERVICE is apparently being ABUSED by 'highly respected people' while I am using it to engage in discussions and to spread information.


Underneath my last tweet you saw my audit score from
twitteraudit.com
Soo..You saw, I have a 99% real following.
Only 8 bots or fraudulent users or non posters or porn babes aka eagle spreaders..
can't do anything about that..But have a look underneath THIS VERY Tweet.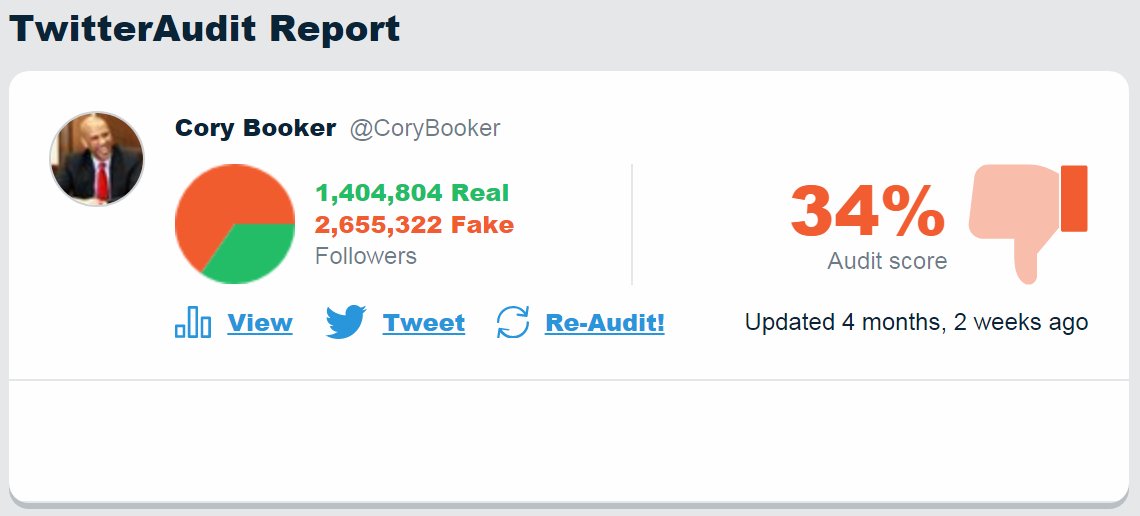 1,404,804 Real Followers while he has 2,655,322 Fake Followers.
I know, it's not his Senator's account but he hast still this BLUE VERIFICATION MARK..
That means to me that you have VERIFIED him. 34% REAL FOLLOWERS AND
HE IS VERIFIED?
Isn't that EMBARRASSING?


But wait..I have more..
HOW ABOUT
@KamalaHarris
?? The SENATOR FROM CALIFORNIA WHO WAS IN THE NEWS VERY OFTEN OVER THE LAST FEW WEEKS.
45% REAL FOLLOWERS. LESS THAN HALF. ALSO VERIFIED.
ABOUT 1,5MILLION FOLLOWERS. LESS THAN HALF OF THEM REAL??
HOW IS SHE VERIFIABLE?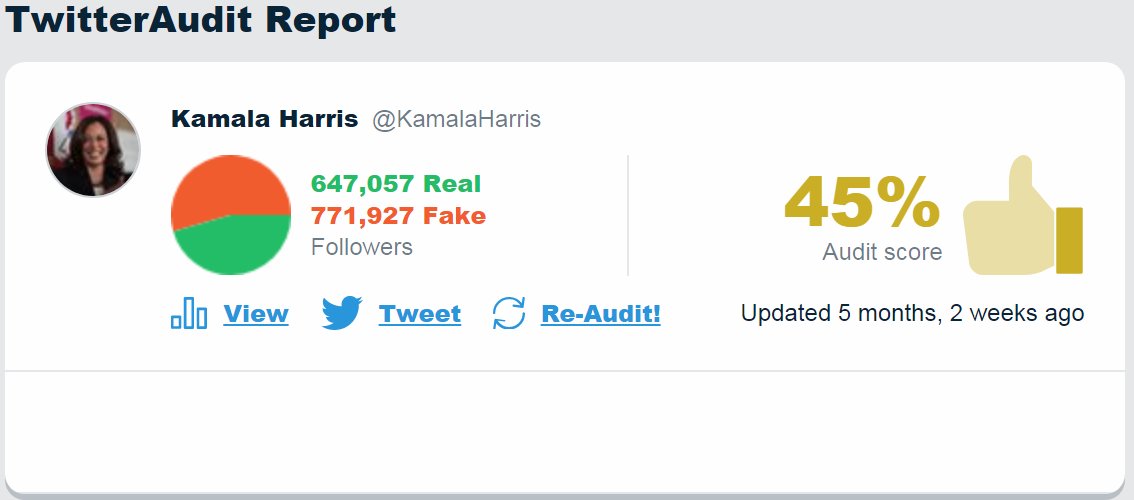 from California who joined
@SenFeinstein
in her efforts to prove that 'RUSSIAN BOTS' are somehow manipulating the
#ReleaseTheMemo
Campaign also indicates that something is very wrong about your 'Verification System'
545,026 Real
332,633 Fake
62% Real
WHUT????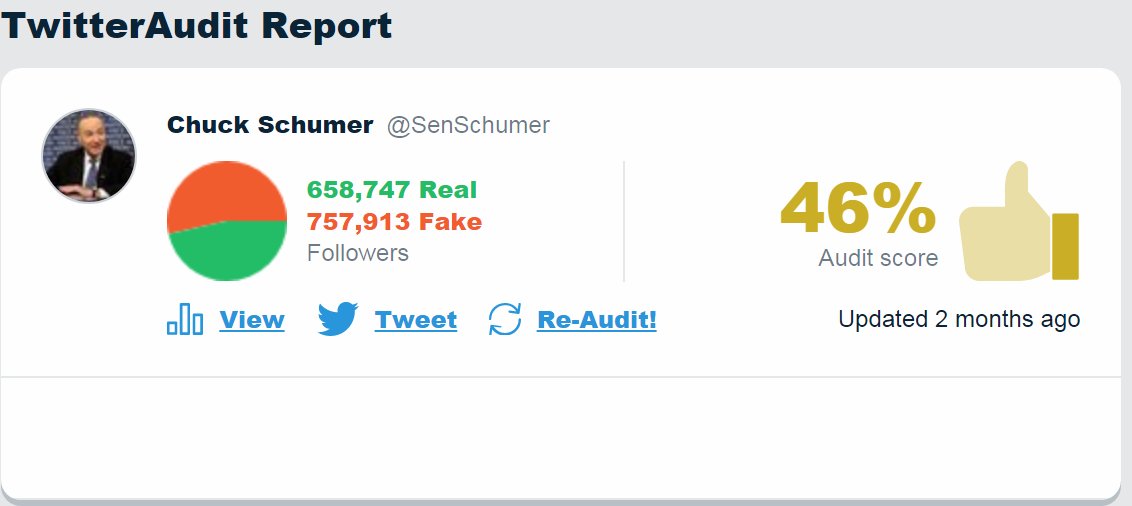 of Massachusetts is in no way inferior to her colleagues.
HOW IS ALL THAT EVEN LEGAL??
@TwitterSupport
what are you gonna do about ALL THAT?
1,944,217 Real
2,157,507 Fake
47% REAL FOLLOWING??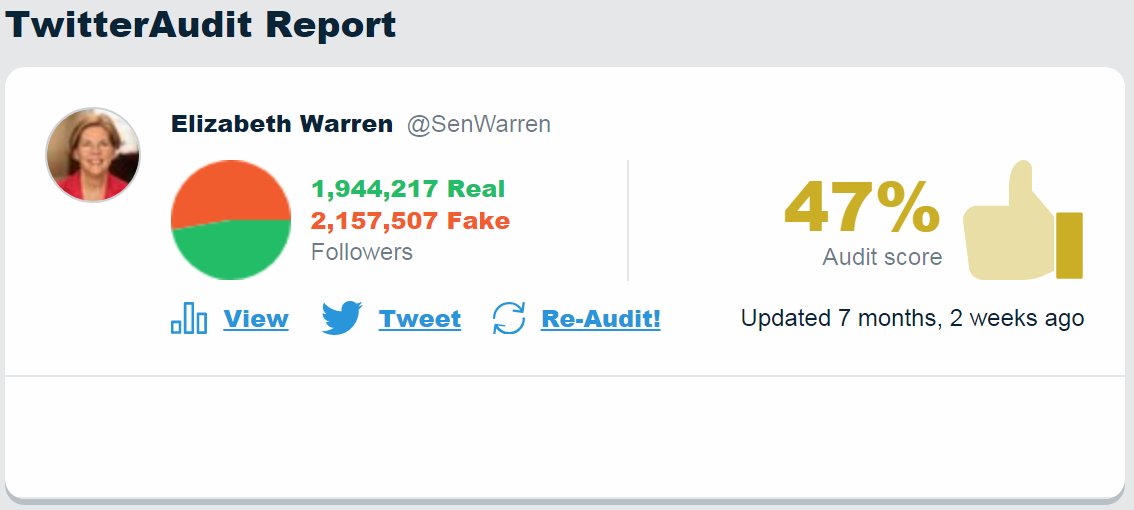 really, really shows..4.5 MILLION FAKE FOLLOWERS.
FOUR AND A HALF MILLION!
That really is SOMETHING.
4,798,802 Real
4,555,587 Fake
ONLY 51% REAL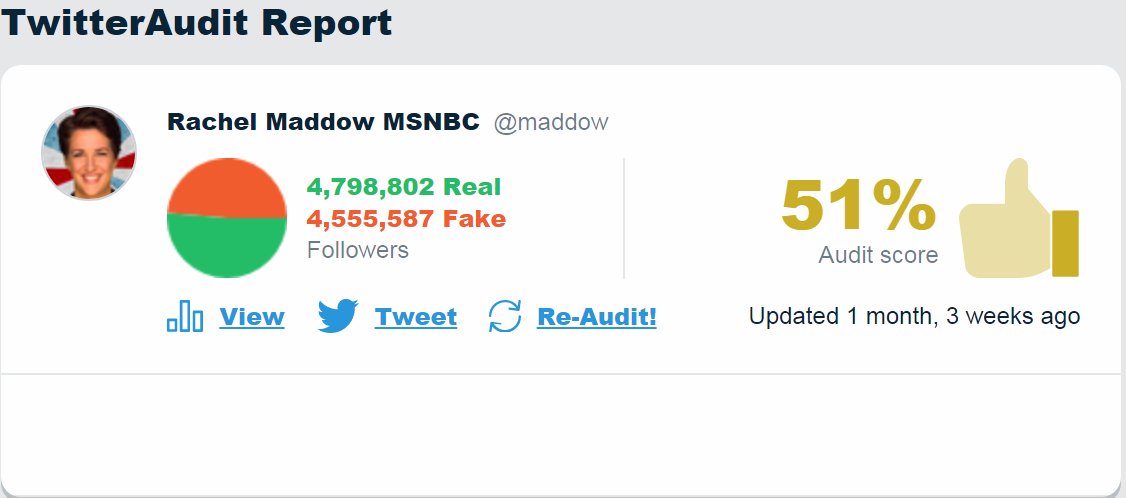 CNN MOCKINGBIRD
@andersoncooper
5,674,636 Real
4,368,968 Fake
ONLY 56%
Let's talk about relevance.
WHERE DO THEY GET THESE FAKE FOLLOWERS?
WHO ARE THEY?
ARE THESE BOTS?
DO THESE ACCOUNTS ENGAGE IN CONERSATIONS?
How do you guys
@twitter
make sure they don't?
QUESTIONS.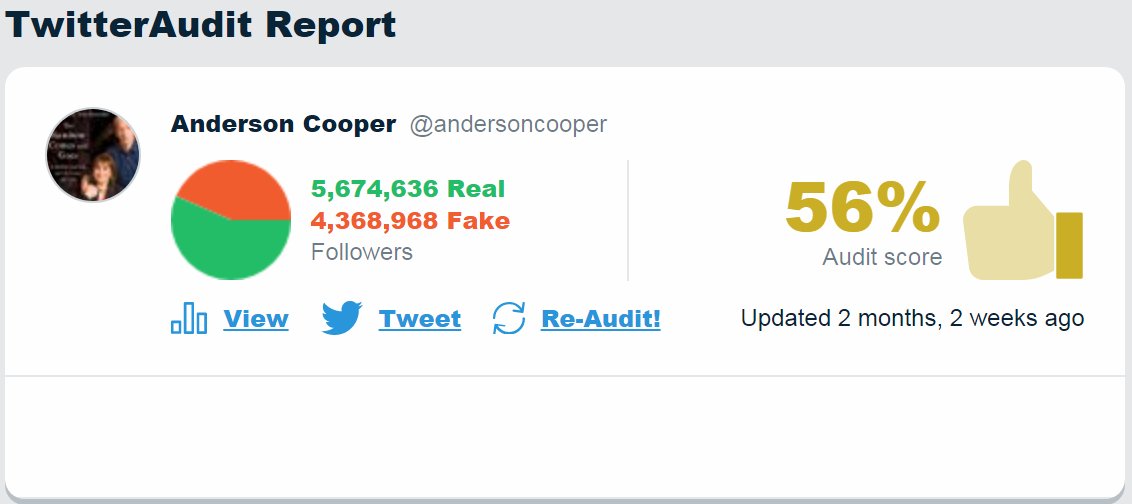 ONLY 50% REAL
4,230,251 Real
4,097,015 Fake
Joe Scarborough
@JoeNBC
ONLY 48% REAL
1,094,907 Real
1,181,407 Fake
Chuck Schumer
@SenSchumer
ONLY 46% REAL
658,747 Real
757,913 Fake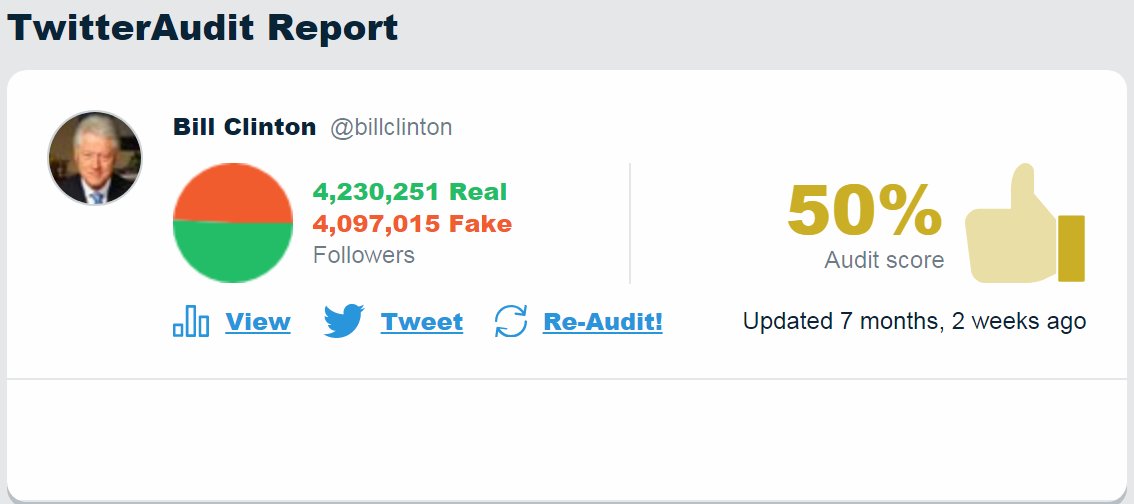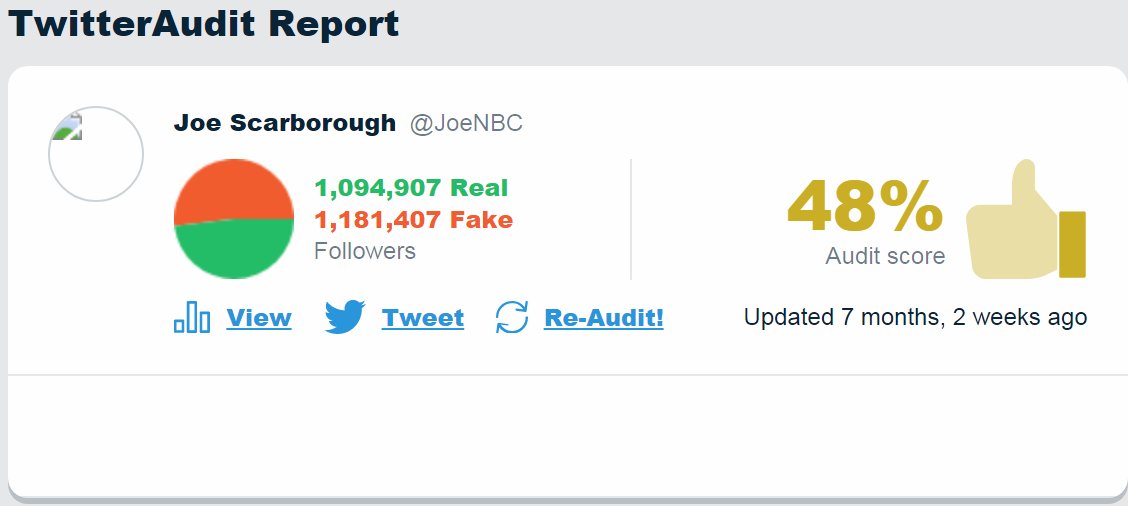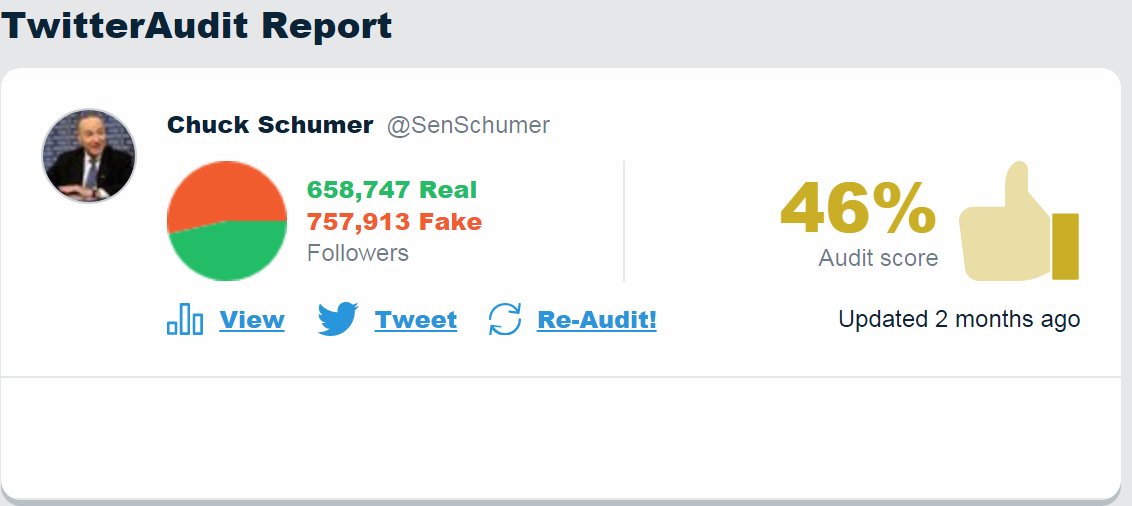 MIXED GEMS..It's still not THAT good..ONE THIRD FAKE AT LEAST.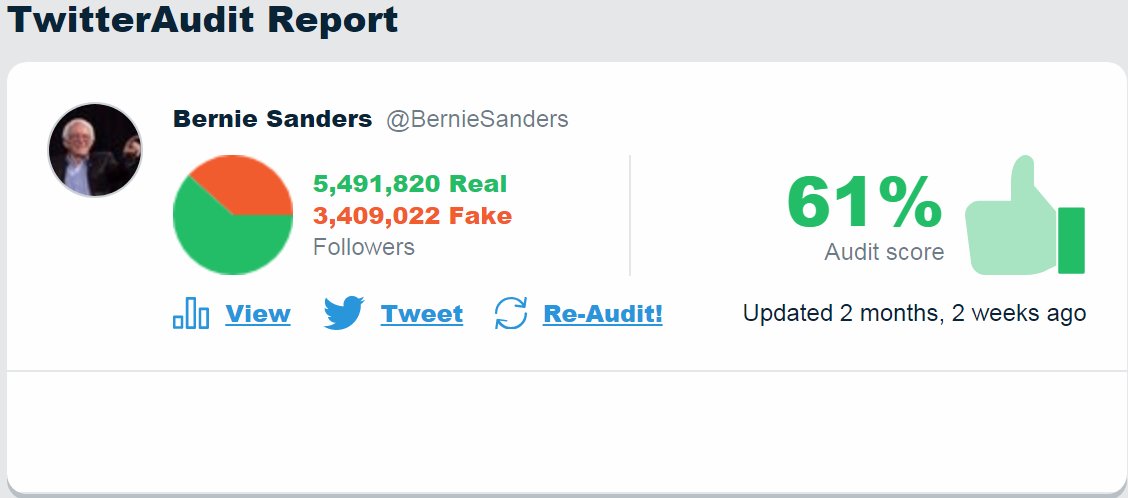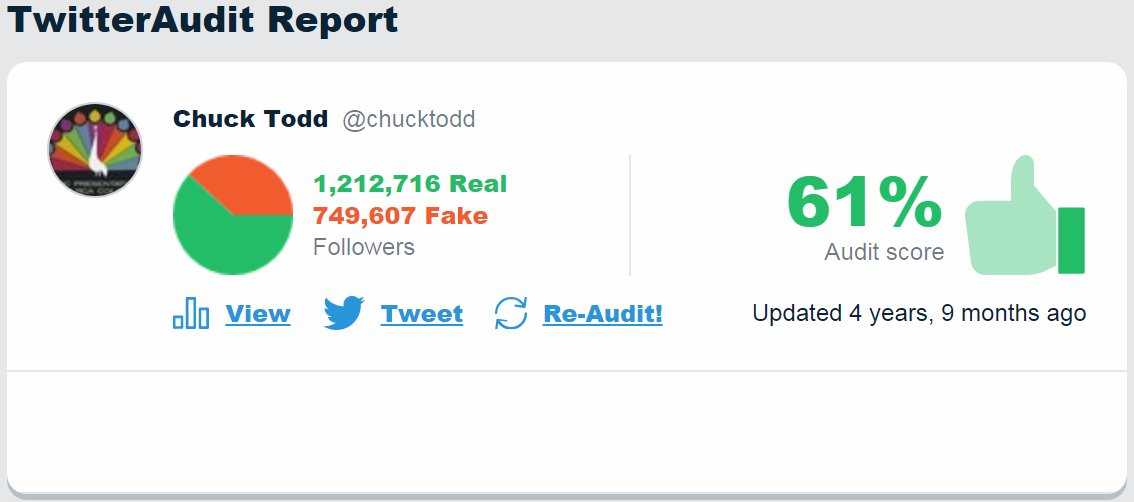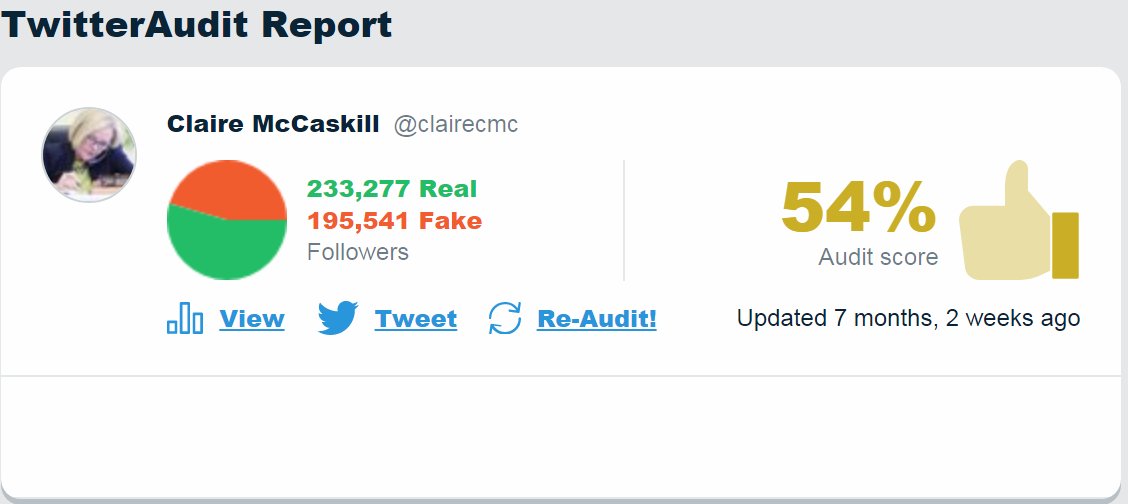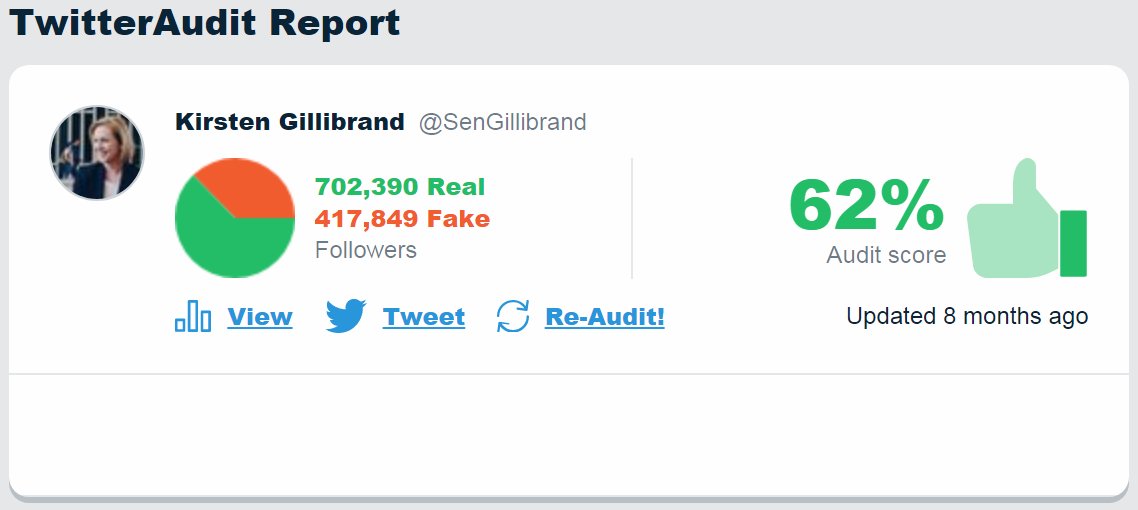 7,894,927 Real
4,460,201 Fake AF..
HOW ARE THESE PEOPLE/OUTLETS STILL VISIBLE OR VERIFIED??
WHY AM I AND SO MANY OTHER PEOPLE STILL SHADOWBANNED OR NOT VERIFIED AND RECOGNIZED AS REAL PERSONS?
@jack
@twitter
@TwitterSupport
@realDonaldTrump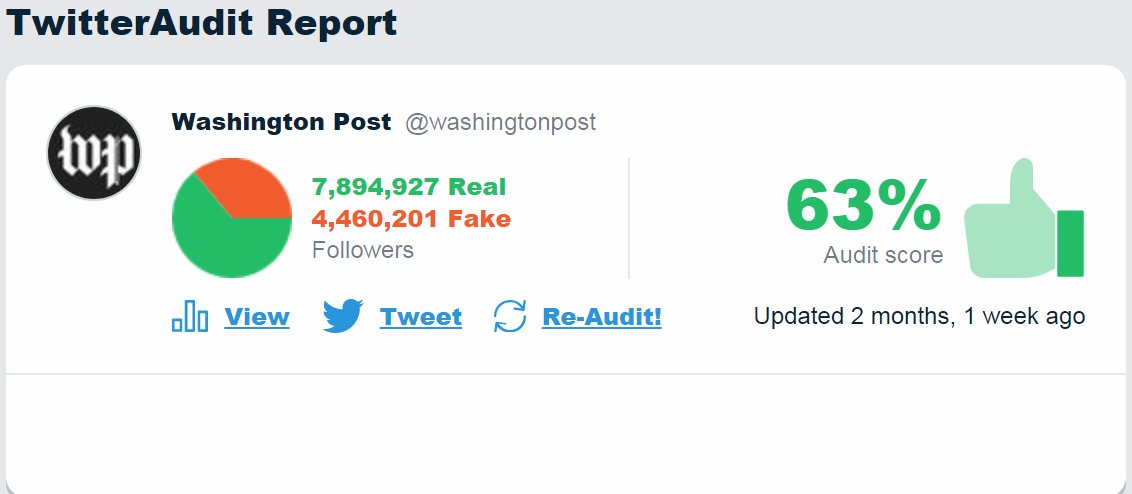 should be next to be heard in Congress and Senate?
How much will HE pay to whom in advance to get softballs thrown at him?
@seanhannity
@TuckerCarlson
@IngrahamAngle
@dbongino
@DLoesch
@JesseBWatters
@threadreaderapp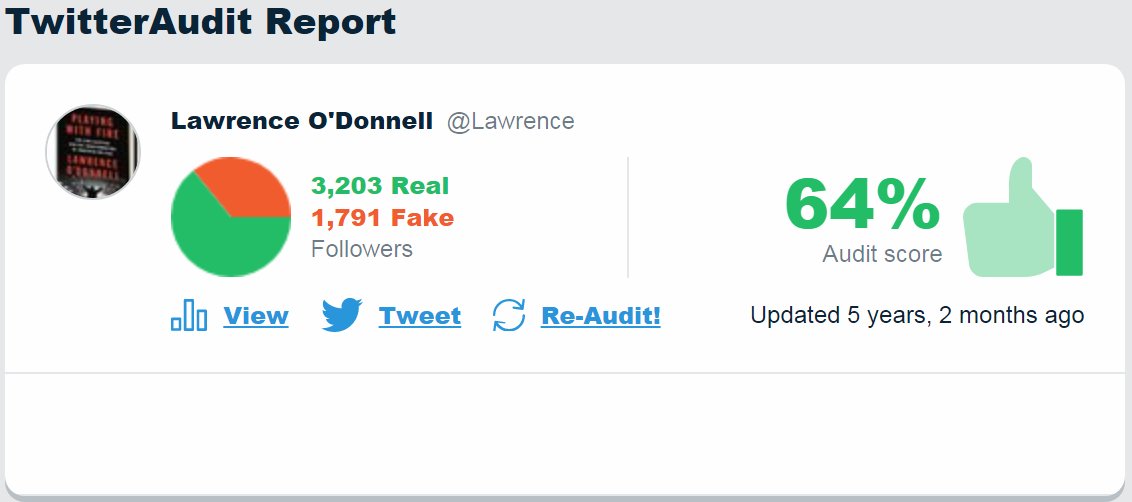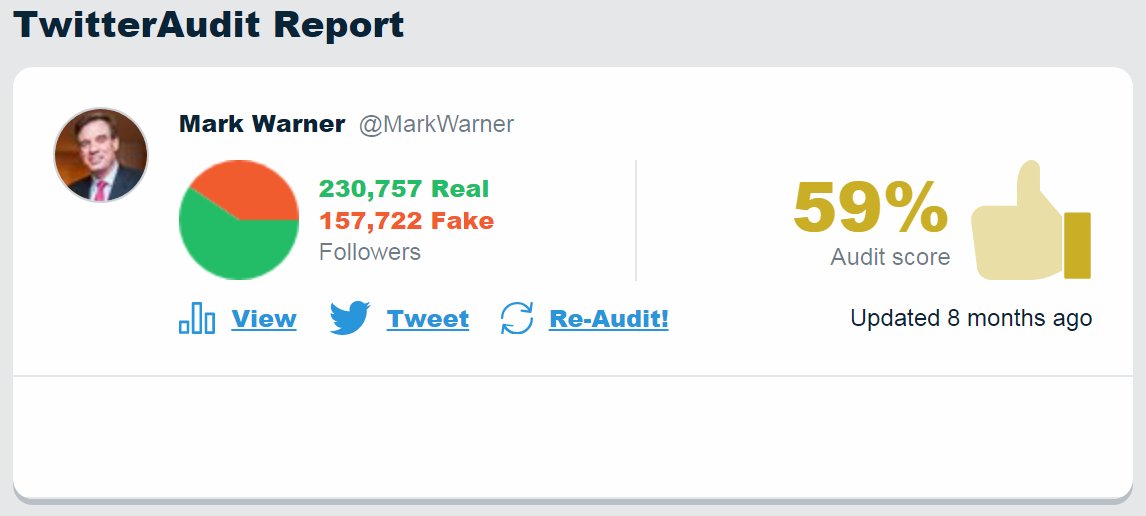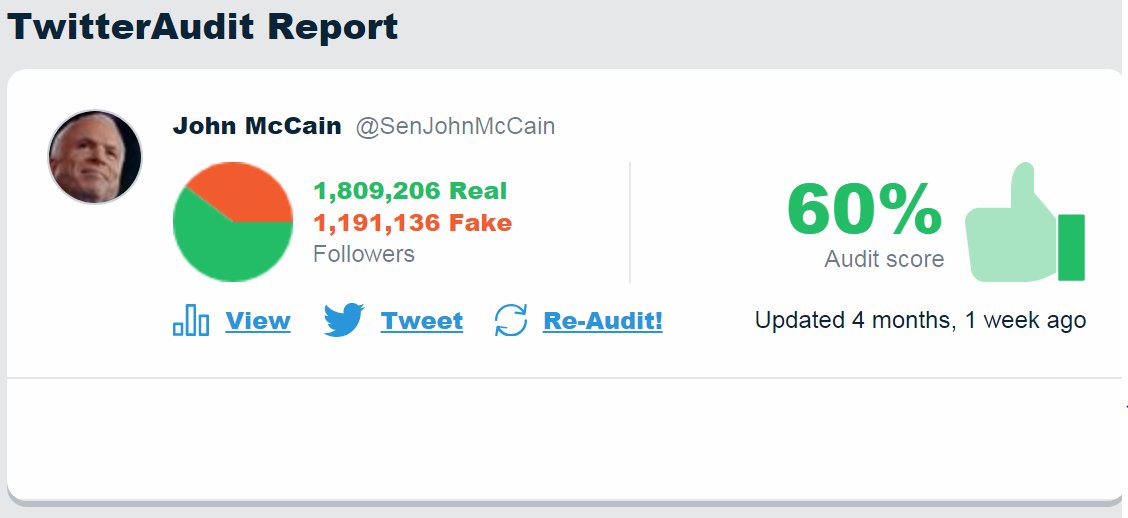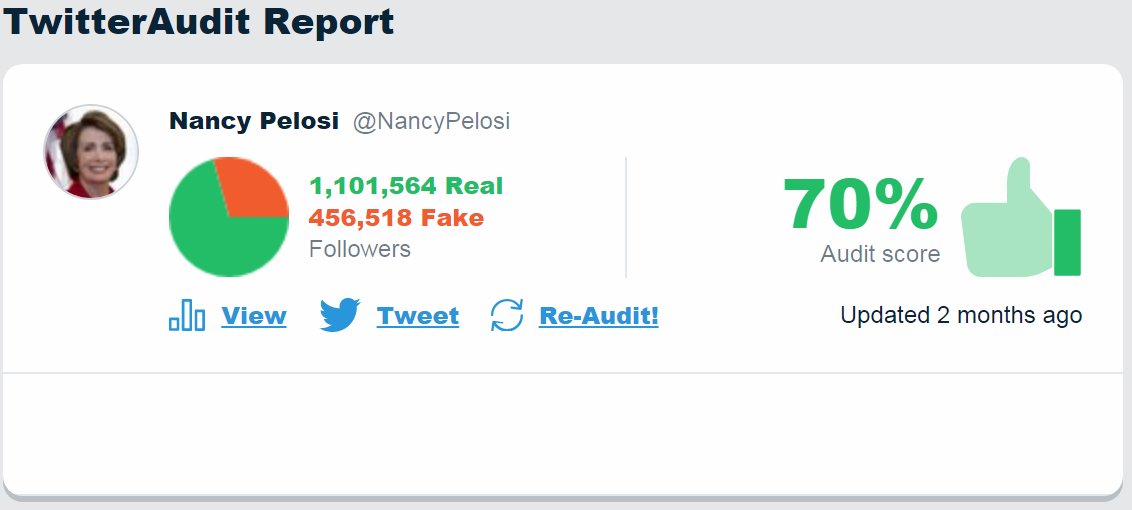 I think there are many more questions to beasked and answered..
I'll leave it with that. If you don't like what you see please retweet and share with your friends.
If you don't see this thread it's because I am shadowbanned.
A BUMMER.
Thank you.
#MAGA
#KAG
#GreatAwakening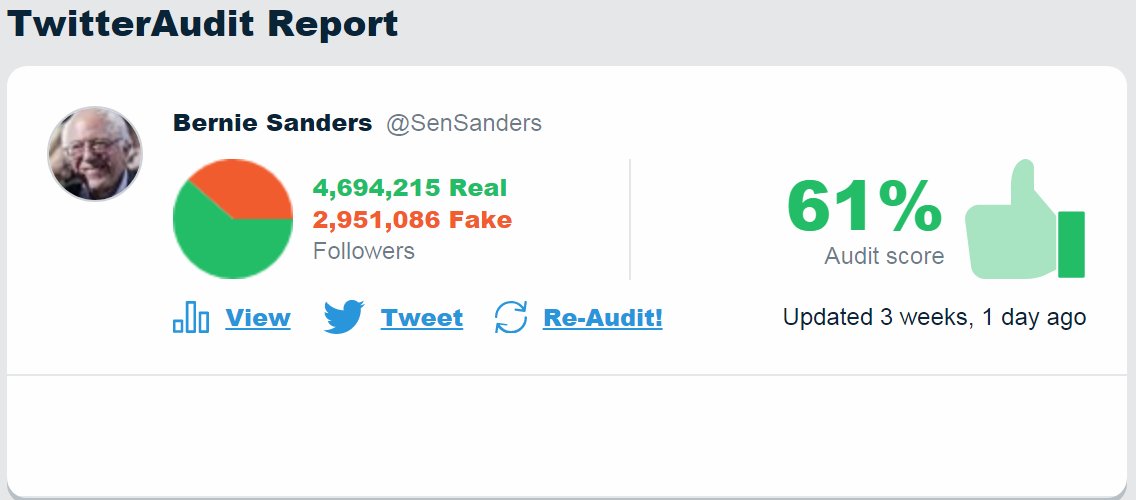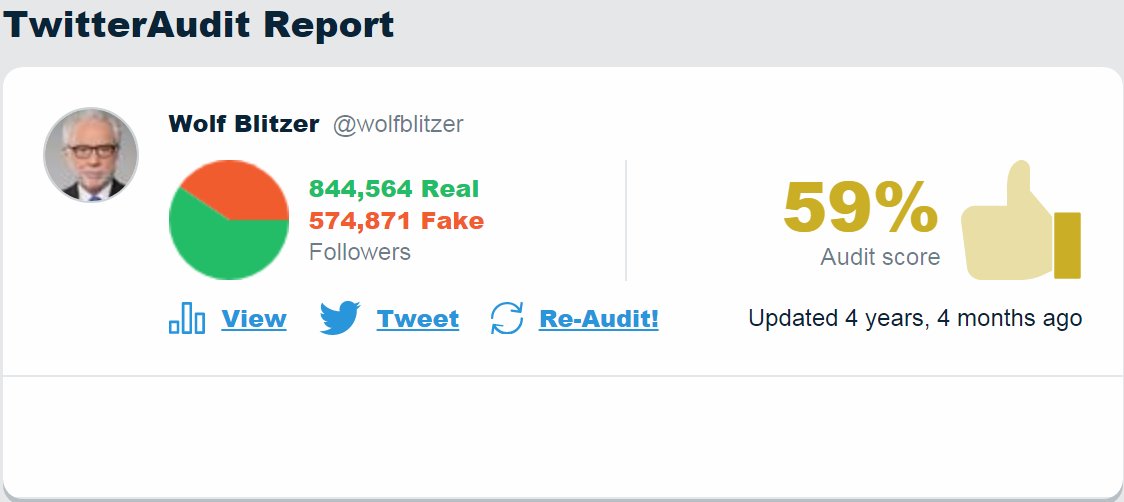 if that's enough for you you could do your magic..would appreciate some more peole to just see it and check it out for themselves..thanks even if you don't unroll it!
She an
#FullOfSchiff
wrote TO Facebook and Twitter..don't know how I got that wrong..it's a mishap..I was distracted..sry folks. I think nobody even sees this thread anyways..
Had Schumer in there instead of Schiff..wow..I've made SOME mistakes..here you have the right screengrab.