The physicist and astronomer Willem de Sitter was born
#OTD
in 1872. He is best known for his work in Cosmology, applying Einstein's general relativity to the dynamics and history of the universe.
Image:
history.aip.org/exhibits/cosmo…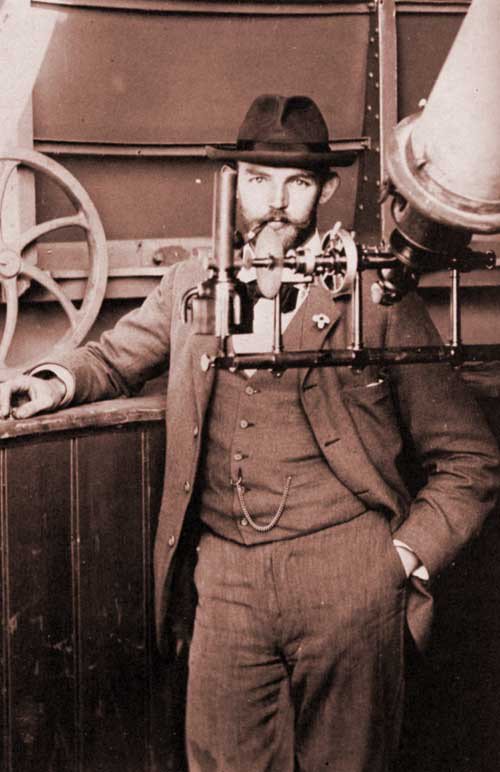 In 1917, a few years after general relativity, Einstein turned his attention to cosmology. A static universe, where things stayed more or less the same over time, seemed self-evident. But he couldn't get it to work. GR described dynamic universes that would expand or contract.
So Einstein famously modified his equations, adding a "cosmological constant" term — an energy density inherent to any volume of space — which, if tuned just right, would oppose the expansion or contraction and yield a static universe.
A few months later, de Sitter (then a professor of astronomy at Leiden) proposed an alternate cosmological solution of Einstein's equations. This hypothetical universe contained no matter, just a (positive) cosmological constant.
The de Sitter universe was regarded as static, in the sense that it was the same everywhere and at all times. But two small objects in this universe would find themselves moving away from each other; the separation would accelerate as they got farther apart.
This implies, among other things, a relation between the red-shift of light emitted by a star and its distance from the observer.
It became relevant in 1929 when, building on work by Vesto Slipher and Henrietta Sean Leavitt, Edwin Hubble proposed a relationship between redshift and distance to explain his observations of distant cepheid variable stars.
In the conclusion of his paper, Hubble hypothesized that it might be the same distance-redshift relation found in de Sitter's hypothetical universe.
Over the next few years, astronomers and physicists began to appreciate that the Universe might not be static, and started exploring expanding models based on earlier work by Friedmann, Lemaiître, Robertson, and Walker.
The Hubble "constant" changes over time in this universe. And if you run the film backwards in you find that the Einstein-de Sitter universe has a finite age: 2/(3H), where H is the current value of the Hubble parameter.
It turns out, their model isn't a very good fit to the large scale structure of our universe. Only about 27% of what's out there qualifies as matter (and about 4/5 of that is "dark matter"). The rest is most likely a cosmological constant.
Over time, matter in an expanding universe is diluted. The cosmological constant doesn't change (hence the name) and eventually dominates the evolution of the universe. In cosmic terms, we're now leaving the age of matter and headed into the age of vacuum energy.
So in the far future, our universe will most likely resemble, on large scales, the original model proposed by de Sitter in 1917.
Willem de Sitter was also the first person (afaik) to predict the geodetic effect in general relativity. He was focused on a precession in the orbit of the Earth-Moon system due to the gravitational field of the sun, but the same effect occurs for a single rotating object.
The geodetic effect, as predicted by general relativity, was tested by the Gravity Probe B experiment. I wrote about it just last week:

And of course there is a typo in the middle of the thread. Henrietta SWAN Leavitt.
Anyway, happy birthday to Willem de Sitter, a remarkably dapper cosmologist. I mean, look at that guy.
This content can be removed from Twitter at anytime, get a PDF archive by mail!
This is a Premium feature, you will be asked to pay $30.00/year for a one year Premium membership with unlimited archiving.
Don't miss anything from @mcnees,

subscribe and get alerts when a new unroll is available!