Once people stop seeing
@GenFlynn
as a poor, poor, unfortunate picked upon VICTIM and realize WHAT HE'S ACTUALLY DONE, they'll quit crying for him and be even prouder of him.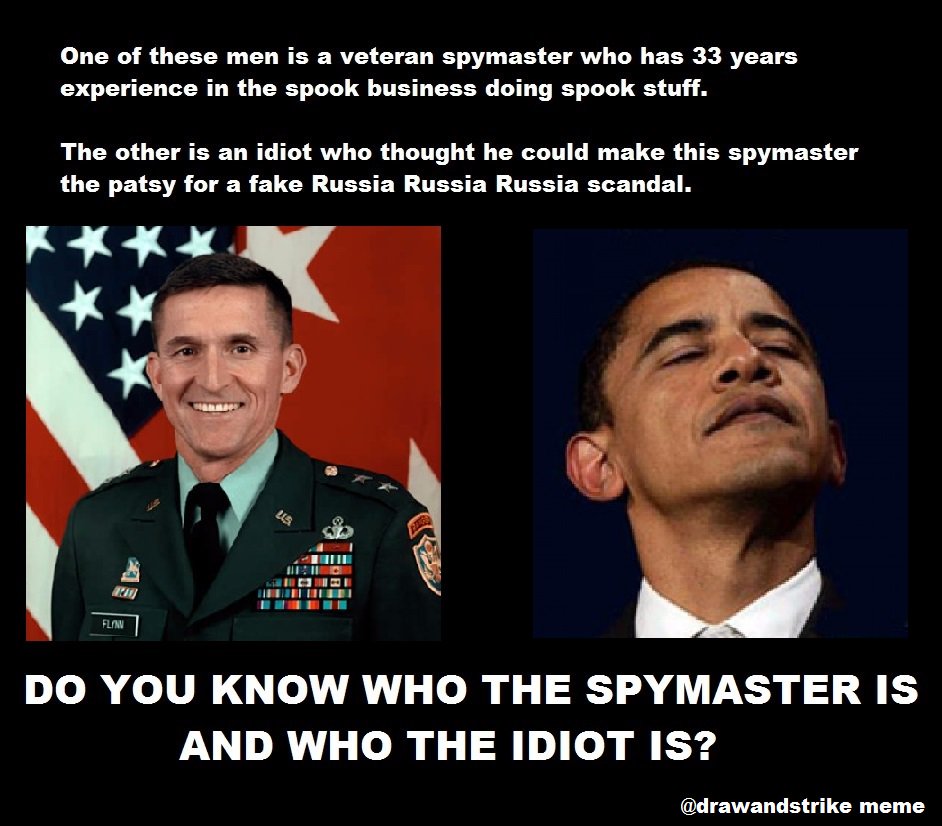 If - as I do - you assume Trump is not a moron or a complete blithering idiot, you would realize long before the election was actually held, Trump would have realized IF HE WON he needed a COUNTER-strategy to handle Intel Community saboteurs.
Trump would have said to himself long before Nov 2016, "If I win, I've got to have a strategy for dealing with all the Clinton/Obama saboteurs who I know are ALREADY spying on me and getting ready to try to impeach me, or at the very least cripple my incoming administration."
Well guess what? Trump actually ISN'T a moron or a complete blithering idiot.

I know this is a hard concept for some of you TRUMP SUPPORTERS to grasp, but it's true.
And so very early on in his campaign. Trump began putting his head together with some very smart and clever people who have vast amounts of counter intelligence experience.

Like, say, for instance, just spitballing here....MICHAEL FLYNN.
Notice as soon as he assumed office, Trump with H.R. McMaster brought in a bunch of MILITARY SPOOKS like Ezra Cohen-Watnick.

The CIVILIAN IC agencies were DELIBERATELY frozen out.

Who do you think formulated this strategy of heavy reliance on military spooks?
While DNC Media focused on mostly invented White House drama [X is fired! No wait, it's Y that's leaving!] these military spooks went to work shutting down all the IC leaks of vital intelligence related to foreign policy and intelligence gathering.
Nobody even noticed in all the "White House drama" and Mueller Team Closing In On Trump! stories for the past year not ONE Trump foreign policy initiative was sabotaged by a leak.
Not one foreign policy act or MILITARY OPERATION in the last year was compromised.

That's not an accident.

Tillerson & Pompeo could go ANYWHERE and it wouldn't leak.

Pompeo could even go to North Korea TWICE and nobody in the media got a leak about it.
Just recently a major summit of top Middle Eastern leaders was held INSIDE THE WHITE HOUSE and the media didn't even know it was going on until it was all OVER and the White House ANNOUNCED that it had ended.

Ponder that.
So that's the FIRST THING that had to be done: Trump & Flynn had to ensure NATIONAL SECURITY of both foreign policy & military action was not compromised by leaks.

Mission Accomplished!
The second item on the agenda for Trump and Flynn was EXPOSING all the Obama/Clinton illegal acts that were done in spying on his campaign & attempting to throw the election to Hillary.

To do this General Flynn deliberately spent months making himself a TARGET.
Having been fired by Obama as head of the Defense Intelligence Agency after a distinguished 30 year career, Flynn played his new role of TRAITOR TO HIS COUNTRY SELLING HIS SERVICES TO THE HIGHEST BIDDER quite well.

He started a lobbying group called "Flynn Intel Group"
After having spent years warning how Russia and Turkey were our geopolitical enemies, all of a sudden Flynn seemed to do a complete 180 and now declared himself OPEN FOR BUSINESS and ready to sell his services to top RUSSIAN AND TURKISH CLIENTS.
YOU BETCHA he *instantly* attracted the hostile attention of the Obama/Clinton cabal entrenched in the civilian Federal LEO & IC agencies.
As the 2016 Presidential campaign unfolded, Trump & Flynn saw plenty of evidence - some of it coming from NSA head Admiral Mike Rogers - that Flynn's bid to make himself a target was working.
Here's what needs to be remembered: although Flynn MET with Russians, and although Flynn through is lobbying group accepted Turkish & Russian contracts, there's no EVIDENCE he compromised himself or actually did any lobbying.

In fact, it's reported money was REFUNDED.
Flynn adopted a role in which he APPEARED to be dirty without ever actually, you know, doing anything dirty.

The goal was to attract the attention of the investigators by APPEARING to be selling out.
As far as the things he actually DID or SAID, Flynn never broke any laws and never engaged in any illegal actions.

Once these crooked investigators swooped in, and couldn't find anything REAL to nail him on, Flynn & Trump knew EXACTLY what these people would do next.
And these crooked investigators did exactly what Trump & Flynn knew they would do: they INVENTED a crime.

And now these crooked investigators are caught. They've been trapped by the guy they were trying to entrap.
The MEDIA has no interest in highlighting where the Flynn case has actually gone from the moment he entered his guilty plea.

To hear them tell it, he's practically in an orange jumpsuit headed for prison.
Keep watching.

These people have no idea who they've been messing with.

/end