I was eight when I learned the word 'shrapnel.'

Our teacher told us that someone had brought a gun to Thurston High School. And gone to the cafeteria. And started shooting. She looked extremely sad, but her teachers' aid looked sadder.

Her son went to Thurston.
She was crying, and told us that she would have to leave to go to the hospital. "He's going to be OK," she told us through tears, "it was just shrapnel." And then she left.
Shrapnel is when something explodes, I told my mom later. It's when a bullet breaks apart and some of it hits you.
Maybe it wasn't the right thing to say to second graders, some of whom had siblings at Thurston. But this was 1998 -- 20 years ago on Monday. Columbine wouldn't happen for another year. School shootings were uncommon.
No one knew how to explain to a group of scared kids that another kid had killed his parents, then killed his classmates. No one really does now, but there are protocols. Every teacher I know thinks about it, a lot.
25 people were injured at Thurston High School. Two people died. The shooter was tackled by other students when he stopped to reload. He had hundreds of rounds on his person at that time.
I can't help but wonder what would have happened, if semi-automatic weapons had been available.
Our parents came and took us home from school. A lot of kids didn't go to school the next day.
When we did come back, we all wore blue ribbons. They said 'promise' on them. We were promising it wouldn't happen again. Elementary school kids promising to each other to try to end school violence.
We were so proud to wear those ribbons, even when we were sad. We felt like we could do something, by wearing them. Like we could make the world a better place.
Once a year, for several years, we would have 'blue ribbon day' on May 21, to remember our promise. But eventually, it stopped.
Maybe because everyone realized it was a promise they hadn't kept.
Our neighbor worked for the city, and still has his Blue Ribbon of Promise, He posted it on Facebook today. "My sadness is deeper today than 20 years ago because we have yet to find a way to end this senseless violence."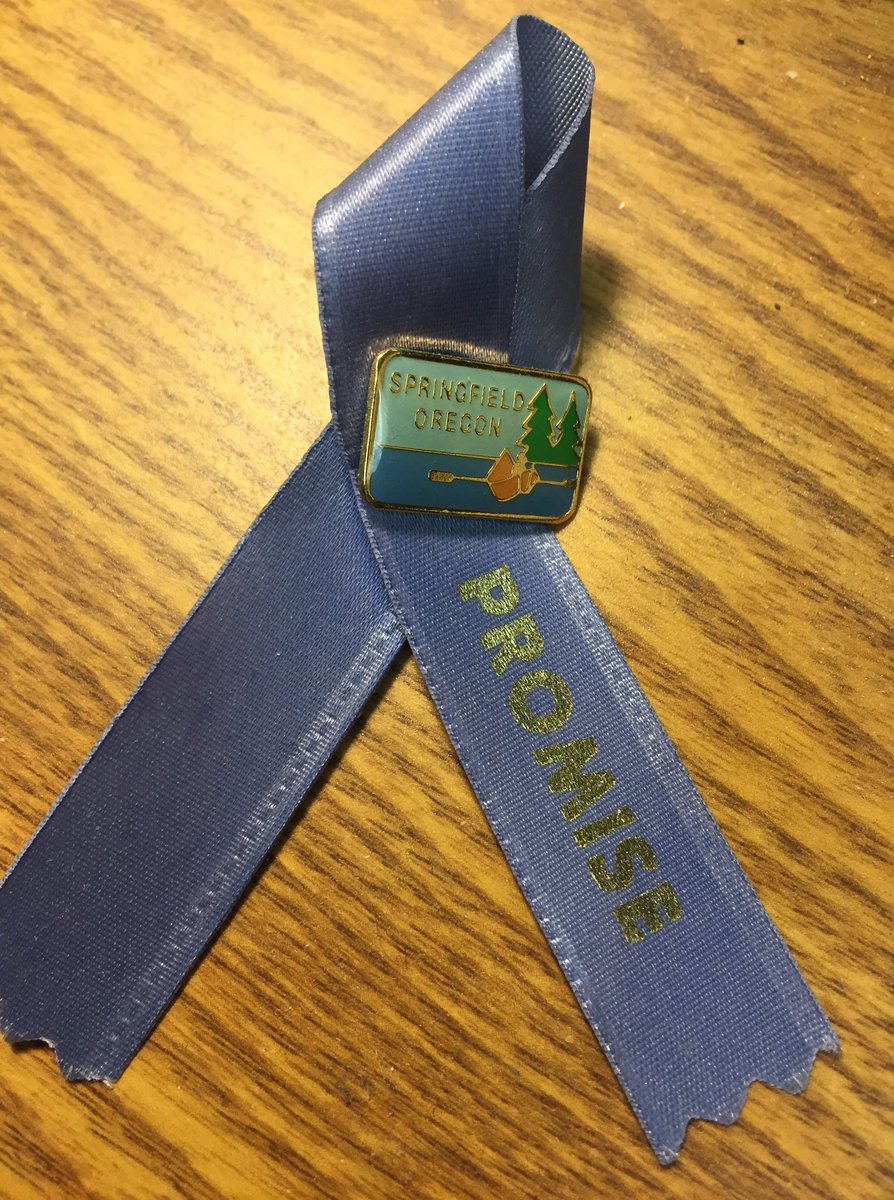 I'm sure my father still has his ribbon, too. He worked for the school district, and was one of the first people at Thurston after everything happened. He still thinks about it a lot. And cries about it a lot.
I didn't see much of him, the weeks after the shooting. He worked for the school district. He was one of the first people at Thurston. His job, for a while, was to handle the media and keep journalists away from students. He had a general rule: local press in, national press out.
Remember: this was 1998. Shootings were rare, even ones like this, that are 'small' by today's standards. There was a lot of news to write.
There was no boilerplate, there was no 'change the dates and names, but the story is the same.' No prescient Onion article.
So the journalists came.

They had our home number. They'd call our house, trying to reach my dad. They came to our front door. They were just doing their job, but it scared me to have strangers at our door.
For a while, as a kid, I was angry at journalists. I felt like they ripped our town apart. And now that I am one, I think about that a lot.
I've written this thread a dozen times, after almost every shooting, and never posted it. Because I'm still not comfortable with my own role in the bigger conversation about disasters and shootings.
But it's been 20 years since Thurston, and there was another mass shooting in
#Houston
today. So if I ever am going to write about it, I guess now's the time.
There's anger at the media after events like this. Sometimes we deserve it. Tragedies drive ratings, and the media knows that. We should hold each other accountable, when we do wrong.
But sometimes that anger isn't deserved.
A senior reporter who covers shootings for national press once told me she doesn't get sad reporting them anymore. She turns it off, and does her job. Packs it away and goes home.
At first I was mad. Really mad. I felt like, if you couldn't have compassion, you shouldn't be doing this job. But this journalist had children. She had to turn it off each day, because it hurt too much not to.
And she does good work. It's what she needs to do, to do her job well.
Now, I watch friends and reporters I admire cover shootings and disasters. They put their hearts and souls into the work they do. They hope it helps, somehow.
They tell the stories of the survivors and the dead, even when telling those stories rips them apart. They're on site, grieving with families. Being exploitive is the farthest thing from their minds.
And sometimes, something good happens because of the work they do and the stories they tell.

If you know a reporter who covers events like
#Houston
, or Thurston, or natural disasters, with compassion, thank them for what they're doing. It really, really isn't easy.
And tell your own stories. Tell stories about the people who you have lost, in your own lives - to shootings, or disasters, or just old age. Stories help.
May 21st is Memorial Day this year. The 20th anniversary of the Thurston shooting. Three days after another tragedy. I know what I'll be remembering.
I don't know where my blue ribbons of promise are. I know I kept them, and I know my parents did. They're in a box somewhere, in storage.
A promise to try to end mass shootings is an awfully big one for an 8 year old. It's a big one for a 28 year old. But do what you can. I will. I promise.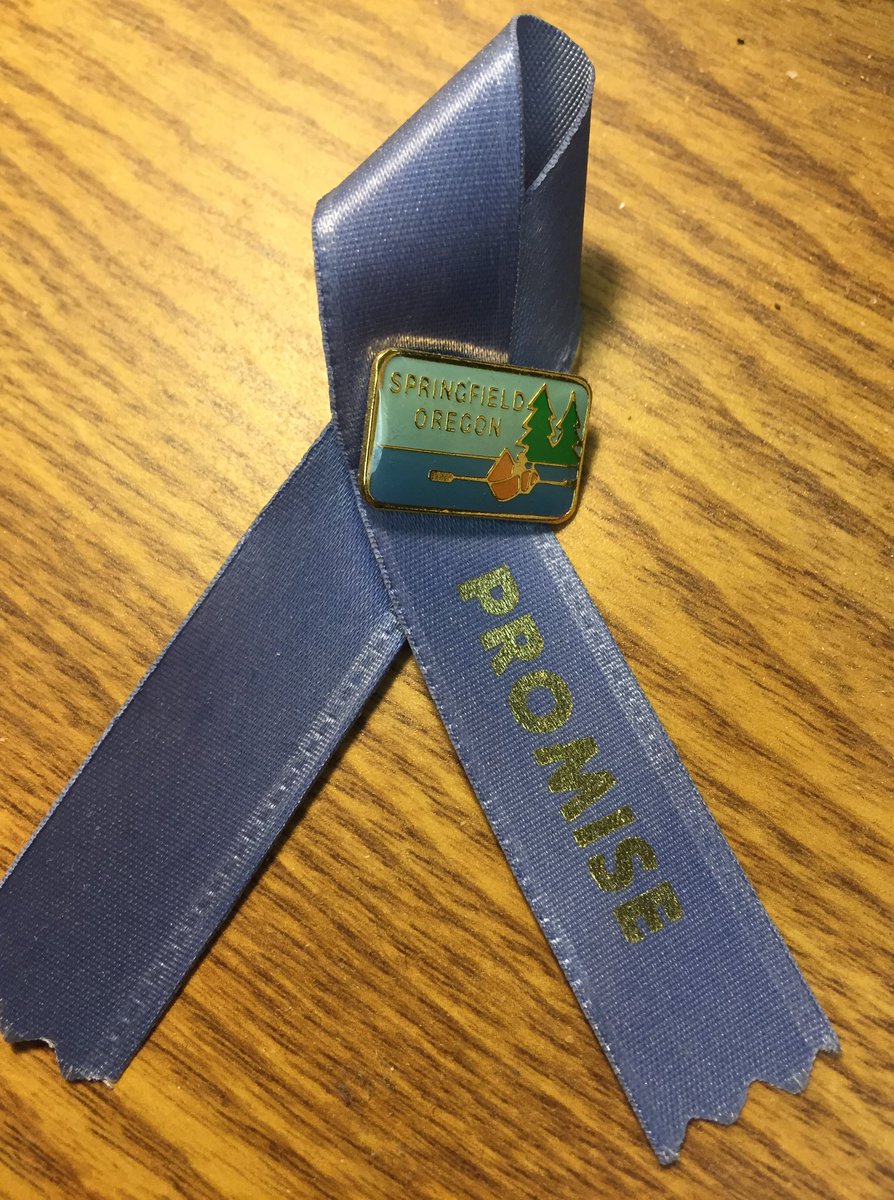 oh wow Memorial day is a week from Monday, sorry y'all it's a rough day