1.
I am about to blow your minds with this thread. It is massive. You will want to pay VERY close attention. The Senate Intelligence Committee released a lot of documents last week and I touched upon this but didn't put two and two together until now.
2.
There is a lawsuit ongoing right now in the UK. Orbis and Steele are being sued by Aleksej Gubarev, Webzilla, and XBT based off of memos in the dossier.
3.
We know that McCain received the dossier via David Kramer back in November of 2016, and then he handed it over to the FBI. I just chose a random article to have it out of his own mouth.
thedailybeast.com/mccain-confirm…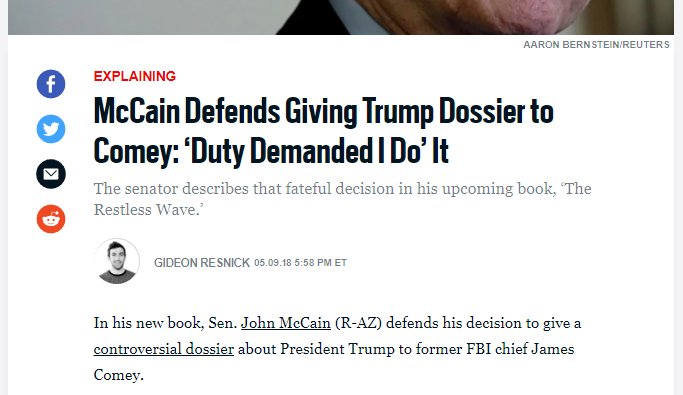 4.
We know that during this time, he met with Sir Andrew Wood (former UK diplomat) to receive it.
theguardian.com/us-news/2017/j…
The "Senator" referenced, is John McCain.


5.
So we know that McCain was involved with Fusion GPS and Steele/Orbis for what we will now call the "pre-election" dossier. But, although alluded to several times, we also now have in our possession a memo written by Steele in DECEMBER. AFTER the election.
6.
When the Senate released their docs the other day, inside was a full copy of the dossier, including the December memo, as well as some of the responses written by Orbis/Steele in the lawsuit. Let's first examine the Memo. My gosh hold on to your hats folks...
7.
Here is the memo. This memo basically states, that Cohen, in Prague, made cash payments to Russian FSB connected hackers to target the DNC and other connected players.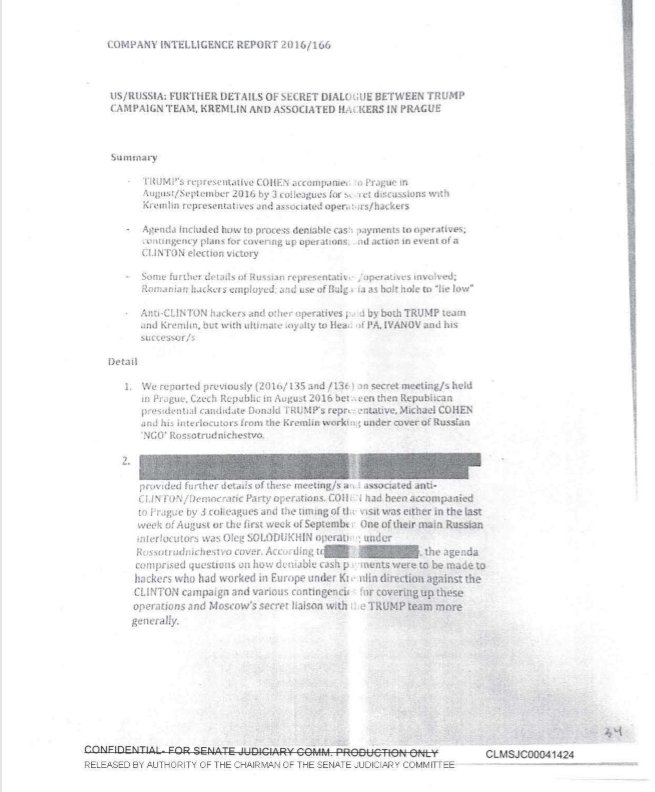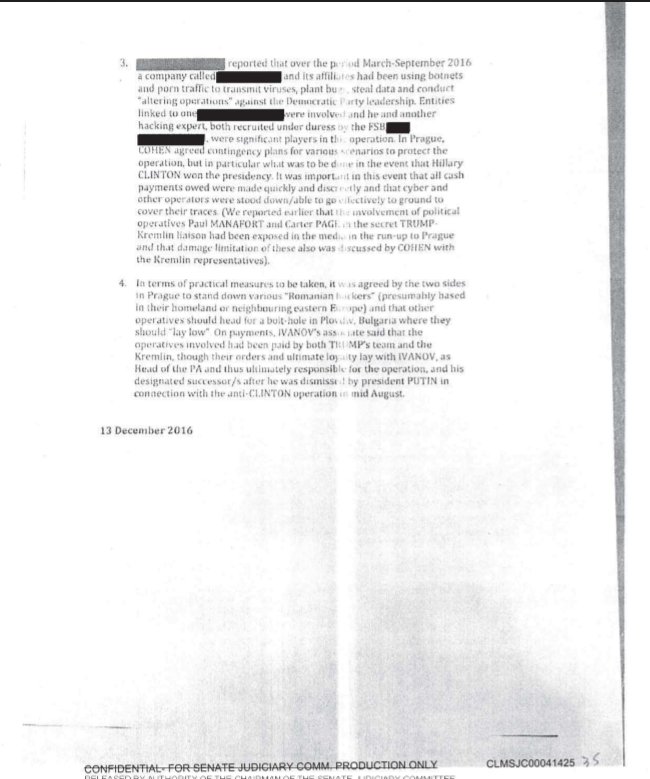 8.
In this part here, they cover "Guccifer 2.0".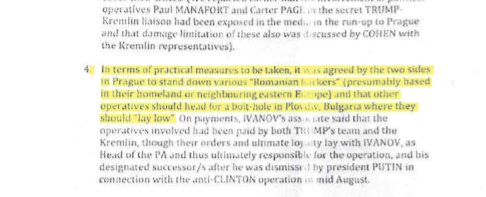 9.
In this part, they cover the phishing and malware that the establishment contends targeted members of the DNC and Podesta: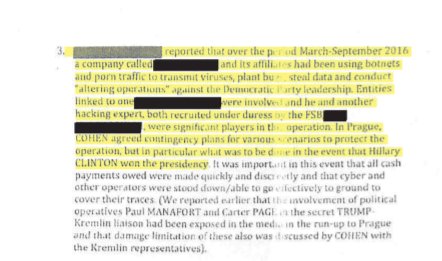 10.
The problem?? MICHAEL COHEN HAS NEVER BEEN TO PRAGUE. It was debunked back after the dossier was released, when Cohen provided his passport, and receipts to prove he wasn't in Prague at the time of this report, or EVER.
mediaite.com/tv/report-inte…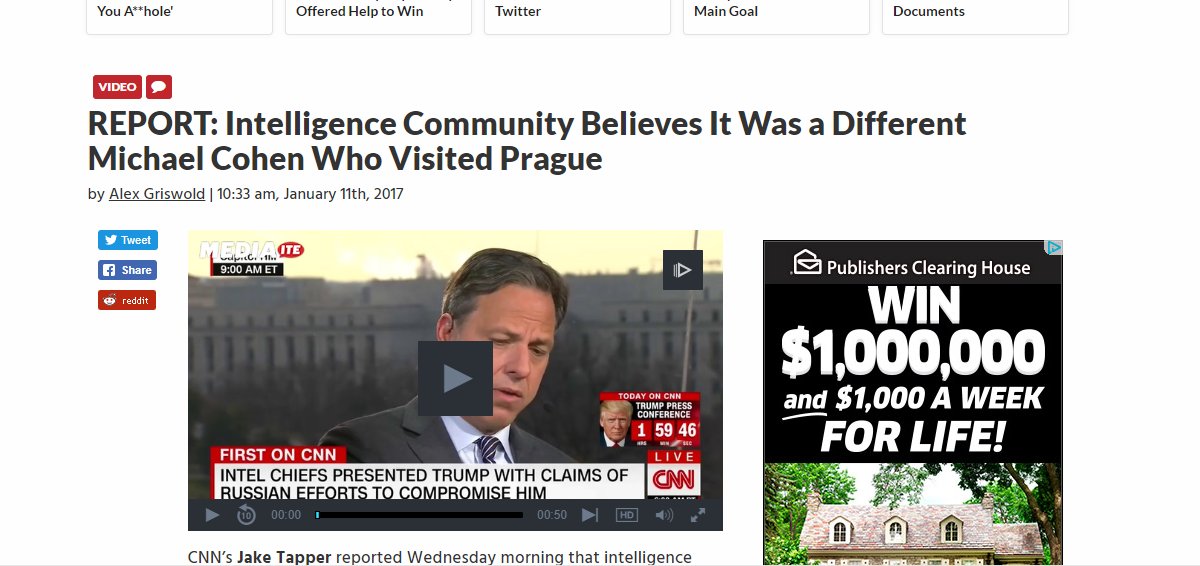 11.
We all scratched our heads a few weeks ago, in mid April, when the "Cohen in Prague" story was trotted out again in front of the media. Why would they be bringing this up again, with such fervor? Oh I know why! Part II: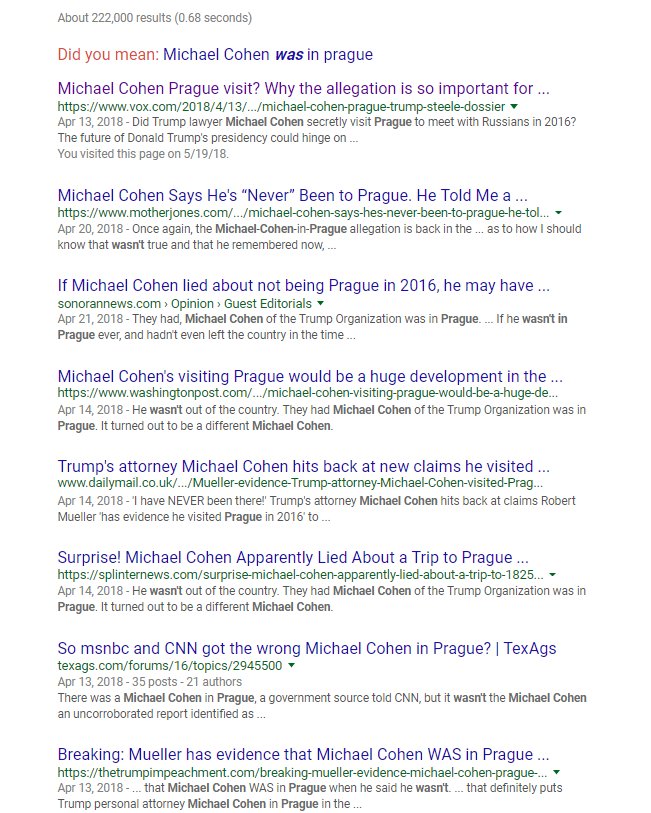 12.
The media was trying to get in front of this story, because of the massive implications it has. We learn in this lawsuit (included in what the Senate Intel Committee dropped) that McCain received this memo, along with a SENIOR LEVEL UK INTELLIGENCE official.
13.
Lets go through the lawsuit together, and I will tie everything up in a moment. Kramer asked that McCain be briefed with anything further in re: to Russian interference in the election.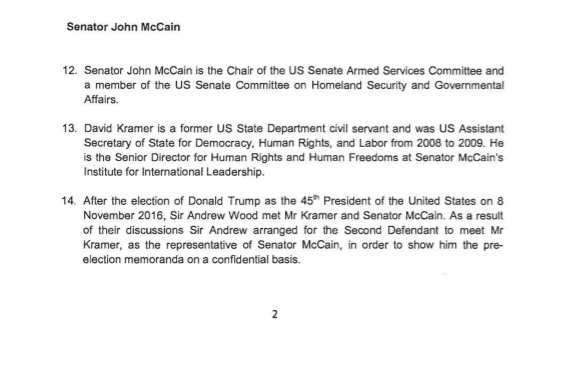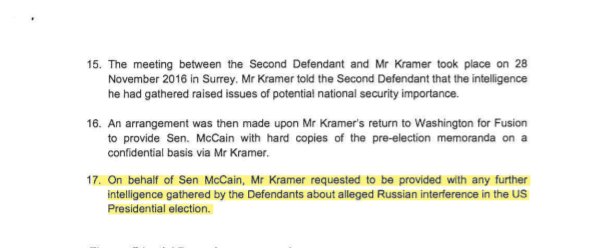 14.
This entire page needs to be read- remember this is Orbis/Steele answering. It states here the Dec memo was given to McCain through Fusion, and then Kramer, encrypted- three hands to get this to him--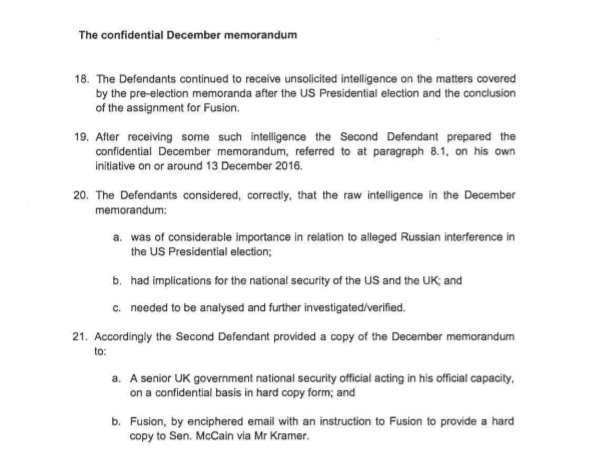 15.
"We had to send this along because it was important. They should have known they shouldn't publish it or share it"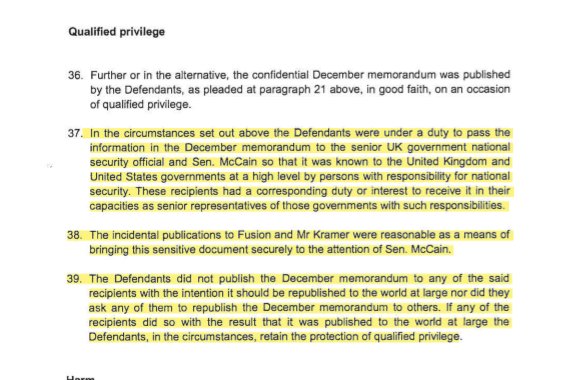 16.
Here, they basically say that Fusion should have known not to disperse the December memo under a previous NDA (aka- Fusion may have leaked it)


17.
"We were providing the December memo to McCain and Kramer under their official capacity- that is how it was presented to us"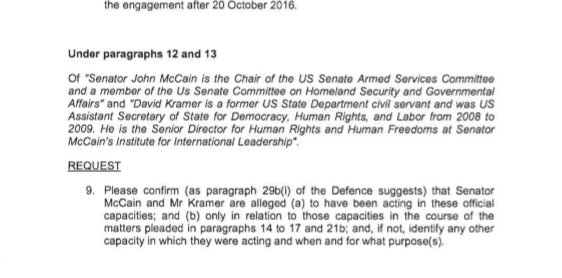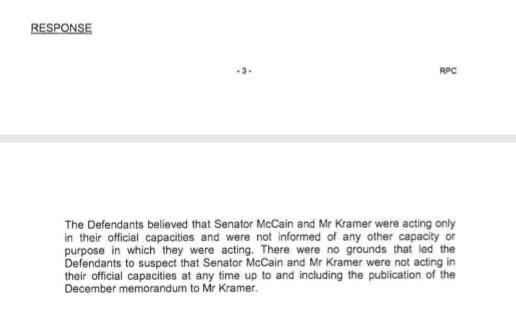 18.
This is interesting, because it states that this intelligence was delivered to Steele without him even asking for it. The question? Who brought it to him. I would be speculating if I answered that question, so I am going to wait until the end to do that.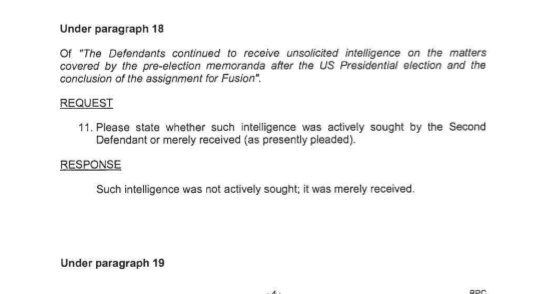 19.
And finally, the big enchilada, they couldn't even PROVE the contents of the memo were true! So again, we have unverified information, which was provided to McCain and Kramer through FusionGPS in December, and was then used for something amazing. LOOK AT THIS.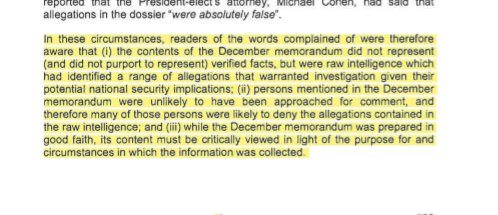 20.
Remember the contents of the memo? Russian and "Romanian" hacking financed by Cohen? Is it sheer coincidence that Crowdstrike happened to come out in December with their "proof" that Russia did the hacking, along with some of the language found in this memo?
22.
It appears that Crowdstrike obtained this memo, either via Fusion GPS (as insinuated in the lawsuit, by Orbis) or via McCain, and then used this memo as the foundation for the charges that "Russia hacked the DNC".
cnn.com/2016/12/30/pol…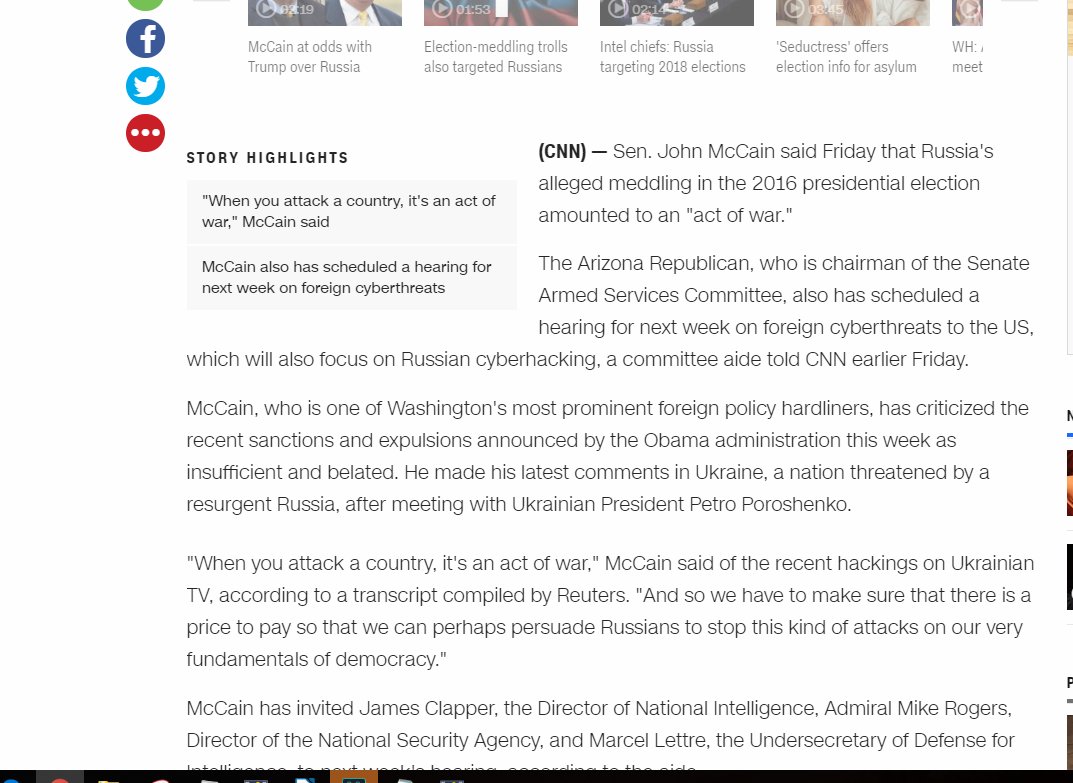 23.
As a matter of fact, not two weeks later, the official intelligence report concluding the Russian hacking was released. Was it all based on this unverified, now provably false, intelligence memo which was handed to Steele unprovoked?
washingtonpost.com/apps/g/page/po…
25.
So it appears, that select folks in the IC, who had used the unverified dossier already to obtain FISA warrants, etc, via Fusion and McCain/Kramer, used this bogus December memo as the proof that the hacking was done by Russia, and then someone passed it on to Crowdstrike...
26.
My question is, who provided the intelligence to Steele? What did McCain have to do with it? Did Fusion provide it to Crowdstrike? Did they even ANALYZE the DNC Servers? did the IC report use this memo as its basis?? IS THIS ALL THEY HAD!?!?!?!
27.
Here is a video report. Please share and add comments below.
AND! It makes it worse that they KNOW THIS in the Senate Intel Committee and they STILL said that there was Russian interference. That committee is biased, conflicted, and useless. First Warner, then Jones (Feinstein) and now this? Wow.