Was there a connection between Russia's Alfa Bank and Trump's Campaign?
The Trump domain was shut down after
@nytimes
contacted Alfa Bank. "That shows a human interaction...Alfa Bank alerted Trump Org, which shut it down."
cc
@ljean
by
@NewYorker
#Maddow
bit.ly/2zUExlf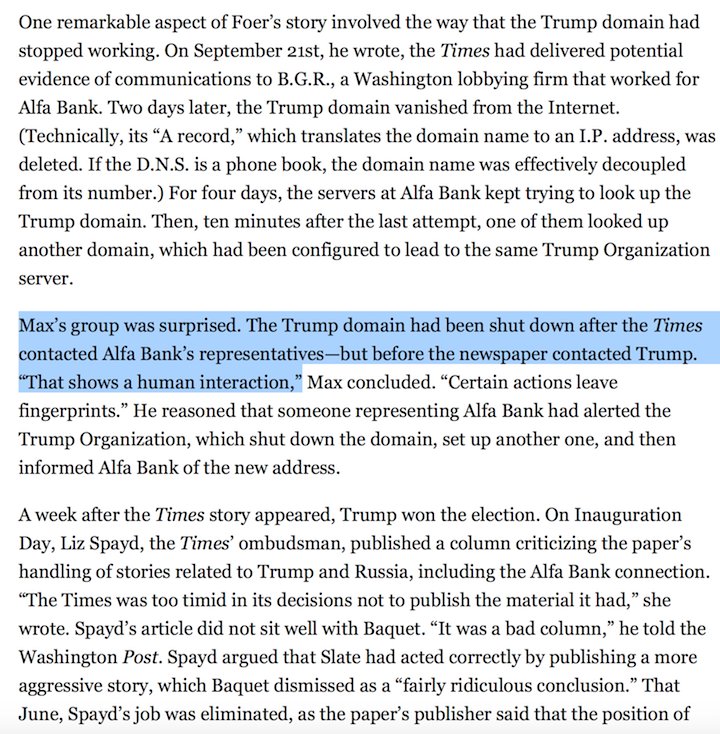 DNS traffic between Russia's Alfa Bank and Trump Tower coincided with Manafort's time as campaign chair and continued after he left. "It could have been a messaging system" using Webmail to facilitate secret communications via 'foldering,' a method favored by Manafort.
#Maddow


Other than Russia's Alfa Bank, only one other entity was pinging Trump Org's domain with any frequency: Spectrum Health, run by Erik Prince's brother in-law, Richard DeVos, husband of Trump's Sec of Ed, Betsy DeVos and heir to Amway, whose most important market is Russia.
#Maddow


ICYMI in JUN 2016: Russian oligarch Mikhail Fridman and his fellow Alfa Bank founders [Petr Aven and German Khan, whose son in-law Alex van der Zwaan worked for Manafort and was indicted by Mueller] to invest millions in American Health Care.
#Maddow
Richard Burt, who helped write Trump's Apr 2016 Mayflower Hotel foreign-policy speech and hosted a series of foreign-policy dinners for Trump campaign advisor Jeff Sessions beginning in Jun 2016, is a "longtime associate" of Alfa Bank's founders.
#Maddow
In Sep 2016, the FBI asked
@EricLichtblau
to delay his Alfa Bank-Trump story as it might jeopardize their Russian election interference probe.
@nytimes
agreed and on Oct 30, ran a false version of his story instead: "Investigating Trump, FBI sees no clear link to Russia"
#Maddow


The same day
@nytimes
ran its false Trump-Alfa Bank story,
@Slate
ran
@FranklinFoer
's story that made a detailed case of a covert Trump-Alfa link: 2 days after NYTs delivered potential evidence to Alfa's DC lobbying firm, BGR, the Trump domain vanished from the Internet.
#Maddow


On Jan 20, 2017, NYT's ombudsman
@spaydl
criticized NYT's handling of Trump-Russia stories [including
@EricLichtblau
's Alfa Bank story] and praised
@Slate
for publishing
@FranklinFoer
's aggressive piece. She was later fired & Lichtblau resigned.
#Maddow
Alfa Bank hired cybersecurity firm Stroz Friedberg to review the data. In Jun 2017 Trump nominated as DOJ criminal division chief, Brian Benczkowski, a lawyer who oversaw Stroz Friedberg's investigation for Alfa, which he claims, "found no link between Trump & Alfa Bank."
#Maddow


READ this piece by
@FranklinFoer
whose original reporting on Alfa Bank communicating with Trump Towers servers was spot on.