#MDSideNote
: As "outside"
#cannabis
comes in, a natural counter-balancing occurs. Receptors receiving too much "cannabis signal" reduce in number (turning the signal volume down) BUT: "this reduction of CB1-R[eceptor]s in daily users can be reversed with sustained abstinence."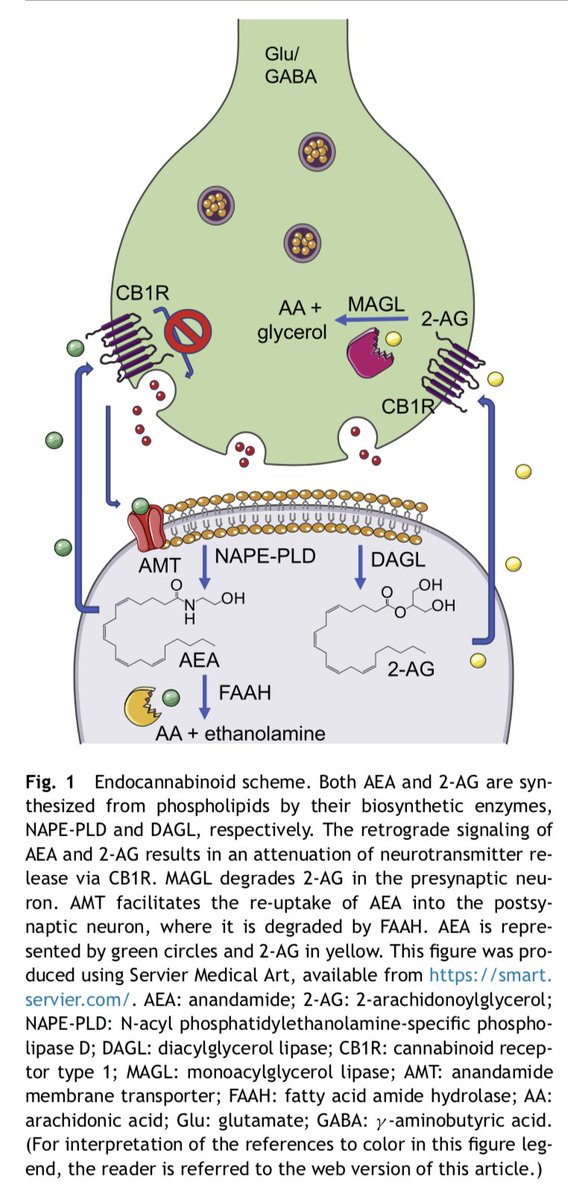 ..But when?
#MDByte
: One study "no longer detected significant reductions in CB1-Receptors after 2-to-4 weeks of cannabis abstinence." Another study "no longer detected a statistically significant reduction in CB1R availability in cannabis users after 2 or 28 days of abstinence."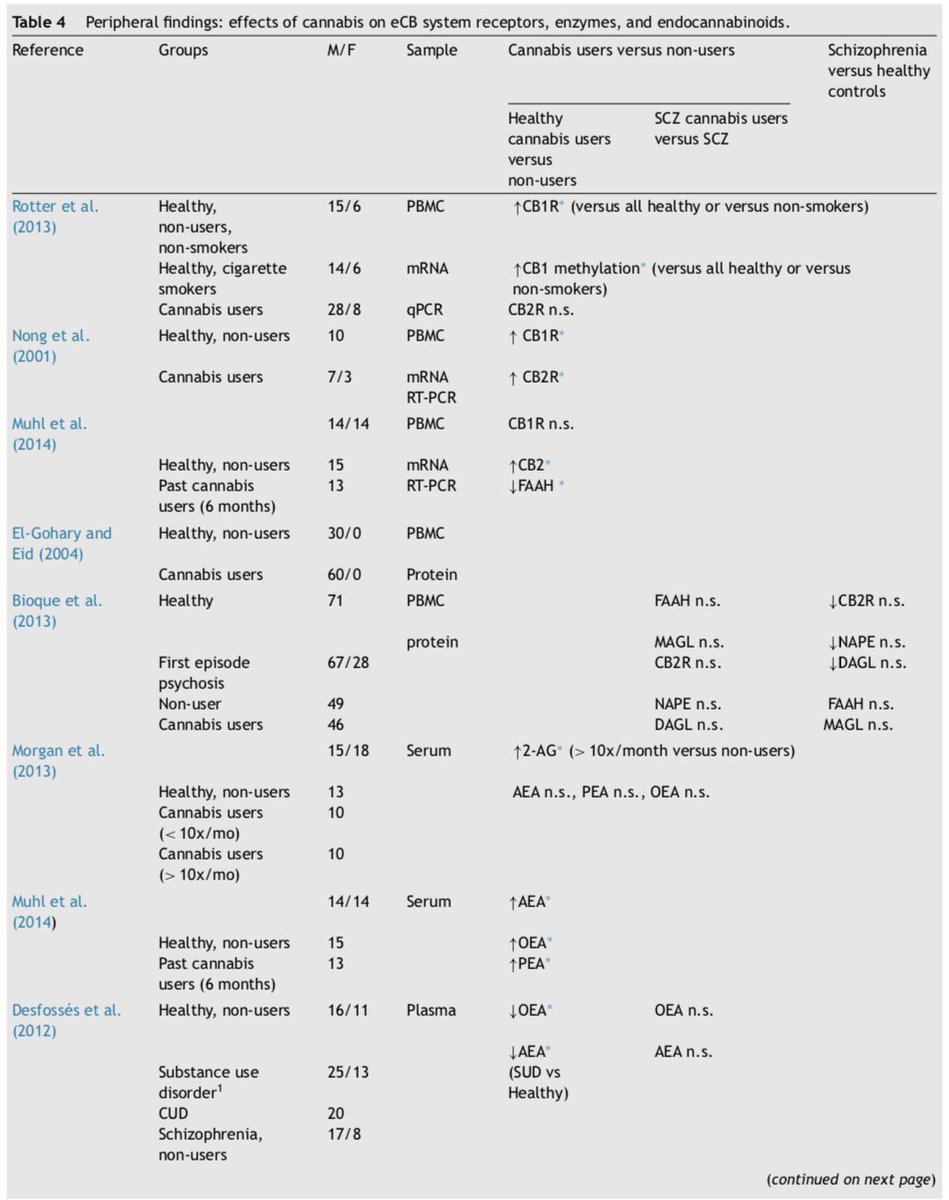 #MDByte
: In another study, "the average time of abstinence []was 4 days when the effect of cannabis on CB1R levels was significant. Thus, the reduction in CB1R availability in cannabis users appears to begin to normalize within a period of 2 days to 2 weeks of abstinence."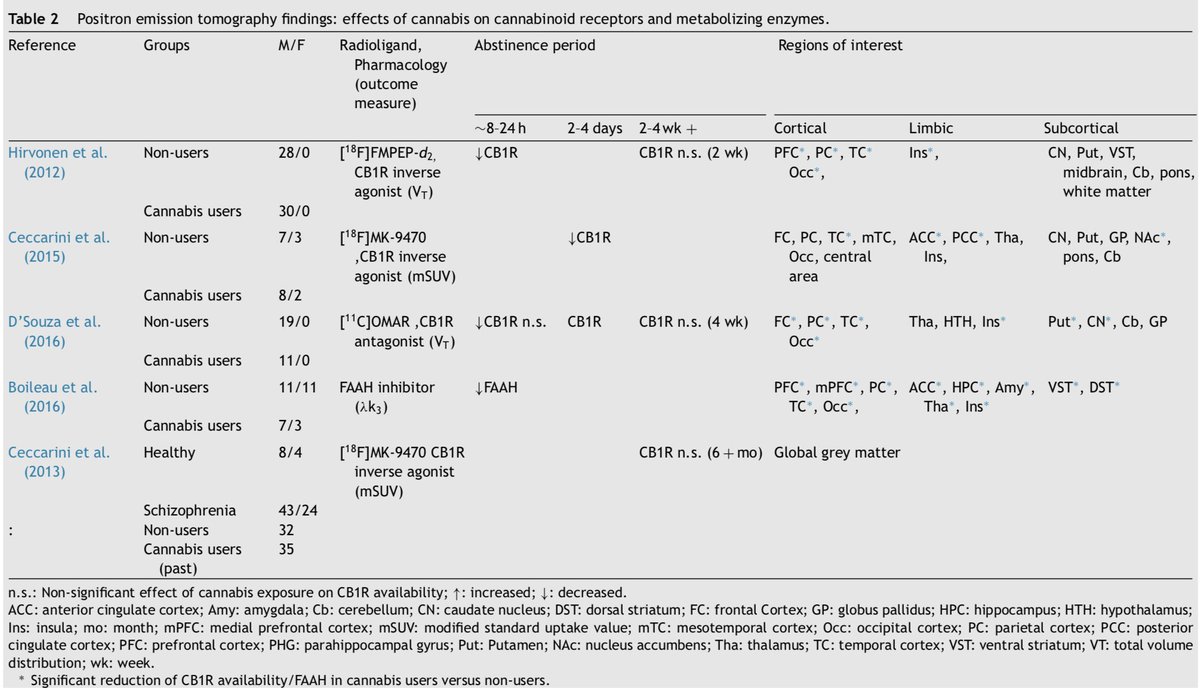 Schizophrenia patients w/ a history of
#MMJ
use didn't have CB1R levels vs non-users. An exploratory analysis found that patients who had used cannabis multiple times daily (at least 6 months prior) tended to have lower []CB1R receptor availability vs multiples times /wk or /mo.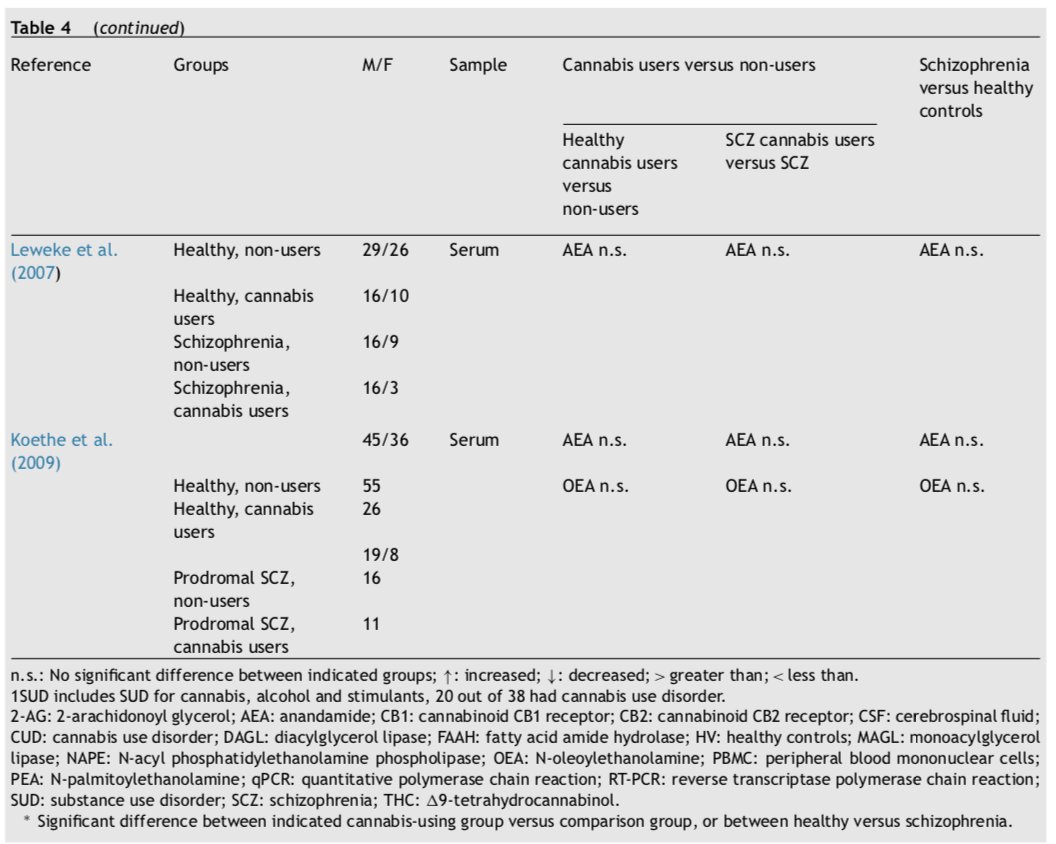 #MDSideNote
: This is basically saying that cannabis users seem to have a less active cannabis-removal-system. It could be that the system is simply preoccupied, or there could be a feedback system that is adjusting to the administration of extra cannabinoids, over time.
"In cannabis users w/ varying degrees of use, [natural cannabinoid] levels did not differ from controls, after 24h of abstinence. However, the []levels were significantly lower in those who used cannabis more than 10x monthly, versus those who used MMJ less than 10x monthly."
#MJByte
: This is an important point for those who incorrectly think that "outside-cannabis" is the same as the natural variety; they are not. They have significant overlap, but as this paper demonstrates well that they are not identical.
"IV administration of THC (0.1 mg/kg) produced a [temporary] increase in [natural cannabinoids] and w/in 30 min, a decrease at 300 min after administration (versus baseline and 15 min post-exposure, respectively), and a normalization within 24 h after administration."
#MDSideNote
: This is a dive into understanding more about the natural chemical cycles of how internal and "outside" cannabinoids interact. This will be helpful for users & product producers alike, toward more precise control of cannabis actions.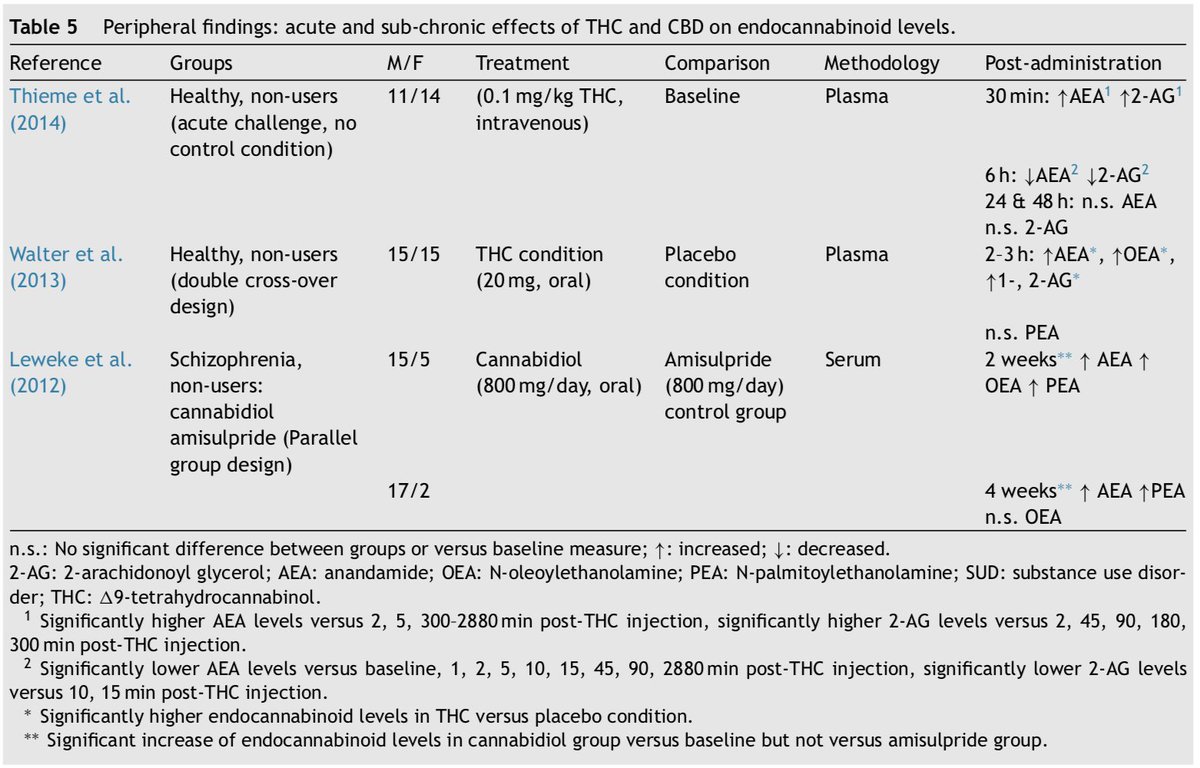 #MJByte
: "After 2 wks of treatment, peripheral levels of [natural cannabinoids] were increased in the serum of the CBD-treated group compared to baseline, w/ the effect remaining []at 4 weeks." This effect wasn't seen in the control [non-CBD] group, so an effect specific to CBD."
Re psychosis: Natural cannabinoids "were found to be inversely correlated w/ psychotic symptoms in a group of schiz. patients w/fewer than 50 lifetime exposures to cannabis. Therefore, an increase of [natural cannabinoids] is theorized to be an adaptive mechanism in schiz...
#MDSideNote
: … and from this paper, we are learning that, at least temporarily, natural cannabinoids go down w/ "outside" cannabis use. [Natural cannabinoid] reduction could be a key mechanism whereby cannabis is associated with psychotic symptoms.
An open look at how the internal endocannabinoid system is affected by incoming cannabinoid exposure. Also addressing the '30's
#ReeferMadness
myths (hallucinations, schizophrenia) & elements overlapping btwn healthy users & those battling psychosis too.
bit.ly/2VRLNaF