I trade what I preach & I preach what I have learnt so in simple words if you practice only what I preach, you can fast track your learning curve.
ICICIBANK has bounced from demand zone & 350CE got more than double. I will share the chart in the evening!
#TradeWithPAL
Attaching the daily & hourly chart of
#ICICIBANK
.
#PriceAction
cant be learnt simpler than this. Just using demand zone on Daily & knowing the critical levels & checking how price behaves on Hourly can do the trick. Hope it helps you learn demand zone better.
#TradeWithPAL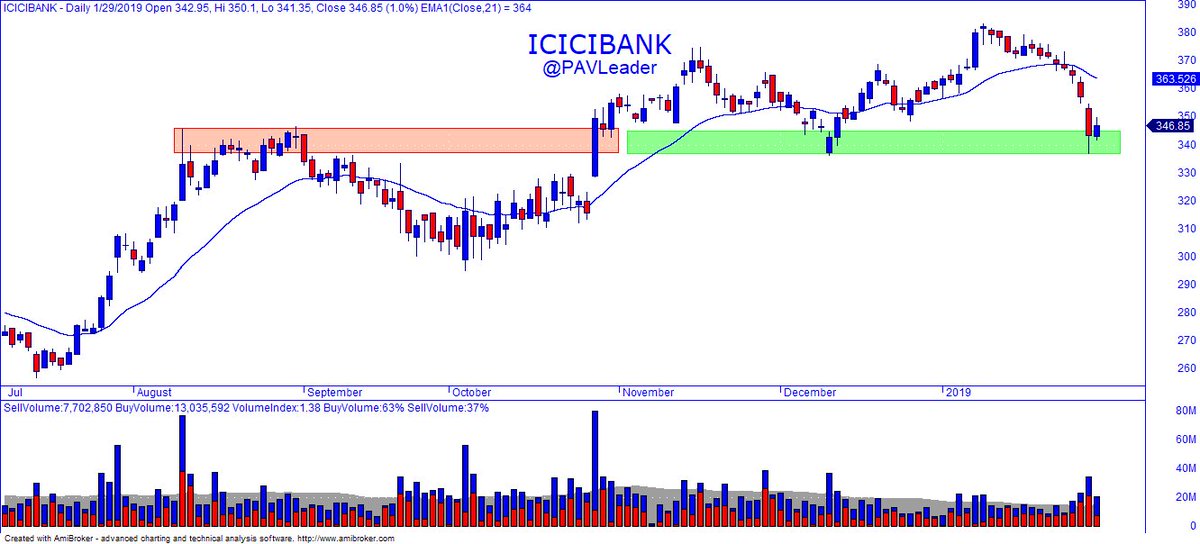 Here is the summary of 8 candles:
1.
Long candle, high vol, long wick, close 30% off low
2.
Shorter than 1 with lower vol & close 70% off low
3.
Even smaller candle, buying vol, close near highs (80%)
4.
Bullish candle, higher volume than previous 2 candles. Absorbed all selling
5.
Long top wick candle with selling pressure, close in the near the lows but bullish close. Price didnt fall further & broke the low of this candle in next 2 candles. Means there wasnt much selling pressure
6.
Weak candle closing near the lows but didnt break low of 5. Also vol is lower than 5. Next candle broke the low of 6 but on lower volume and closed in top 70% zone. Low volume test. Successful.
7.
Bullish candle, higher vol than last 6 candles & closing in top 70% zone
8.
Super bullish candle taking high of 5 & closed above EMA21. Reversal confirmed.
Hope you liked the analysis & learning with me!