A timely reminder that in 2016, several major journalists were revealed to be explicitly coordinating with the Clinton campaign or—at the very least—favoring it and working closely with it. None suffered consequences. These folks will help shape 2020 coverage.

A review: 1/
WaPo columnist Dana Milbank, who recently accused Mitch McConnell of being a Russian asset ("Moscow Mitch"), apparently asked the DNC in 2016 for oppo research on Trump. 2/
dailycaller.com/2016/11/06/wik…
Glenn Thrush, then with Politico and now with the NYT, sent John Podesta a story for approval, asking "can I send u a couple of grafs OTR [off the record] to make sure I'm not fucking anything up?"
3/
washingtonexaminer.com/reporter-to-po…
Thrush also told Podesta "because I have become a hack I will send u the whole section that pertains to u," and said,"please don't share or tell anyone I did this."
4/
And then there's John Harwood of CNBC, who consistently tweets misleading and critical takes on the economy. Harwood's exchanges with Podesta included gloating about his questions at a 2015 GOP primary debate, among many others 5/
dailycaller.com/2016/10/11/nyt…
freebeacon.com/politics/wikil…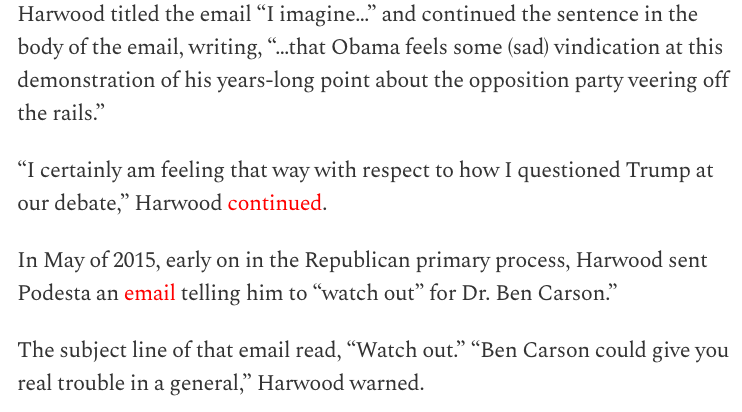 Mark Leibovitch, the Chief National Correspondent for NYT Magazine, told HRC aide Jennifer Palmieri she could "veto whatever [she] didn't want" before he published a story titled "Re-Re-Re-Reintroducing Hillary Clinton." He cut parts she objected to. 6/
newsbusters.org/blogs/nb/scott…
Ken Vogel sent the DNC Communications Director an article about the HRC campaign's fundraising ahead of time, "as long as [the director] didn't share it." Politico acknowledged that doing so was "a mistake." 7/
huffpost.com/entry/politico…
And of course, Maggie Haberman—then with Politico and now with the NYT—was singled out by HRC spokesman Nick Merrill as a "friendly journalist" who was "safe" and had "teed up stories" for the campaign in the past and "never disappointed" them.
8/
washingtontimes.com/news/2016/oct/…
I'm sure there are many other examples, but these are just a few.
In short, it's hard to dismiss accusations of media bias when a number of prominent journos at major organizations actively worked with a Dem campaign in 2016 but are still on the 2020 beat.
9/
Whether you like Trump or hate him, things like this are a stain on the journalism industry. And they're a prime example of why half of the country doesn't trust what they hear from major media outlets. Trump didn't create distrust in media, he exploited it. /fin