Announcing our Long-Term Care COVID Tracker—the most comprehensive dataset on COVID-19 in long-term care facilities in the Unisted States.
covidtracking.com/data/longtermc…
Dating back to May 21, the Long-Term Care Tracker compiles all available information of COVID-19 cases and related deaths in long-term care facilities—nursing homes, skilled nursing facilities, assisted living facilities, and other care homes—and tracks both residents and staff.
COVID-19 deaths in US long-term care facilities have surpassed 73,000, representing 43% of all deaths and one out of every 28 LTC residents in America. And we're still learning how states count and report these figures.
covidtracking.com/blog/long-term…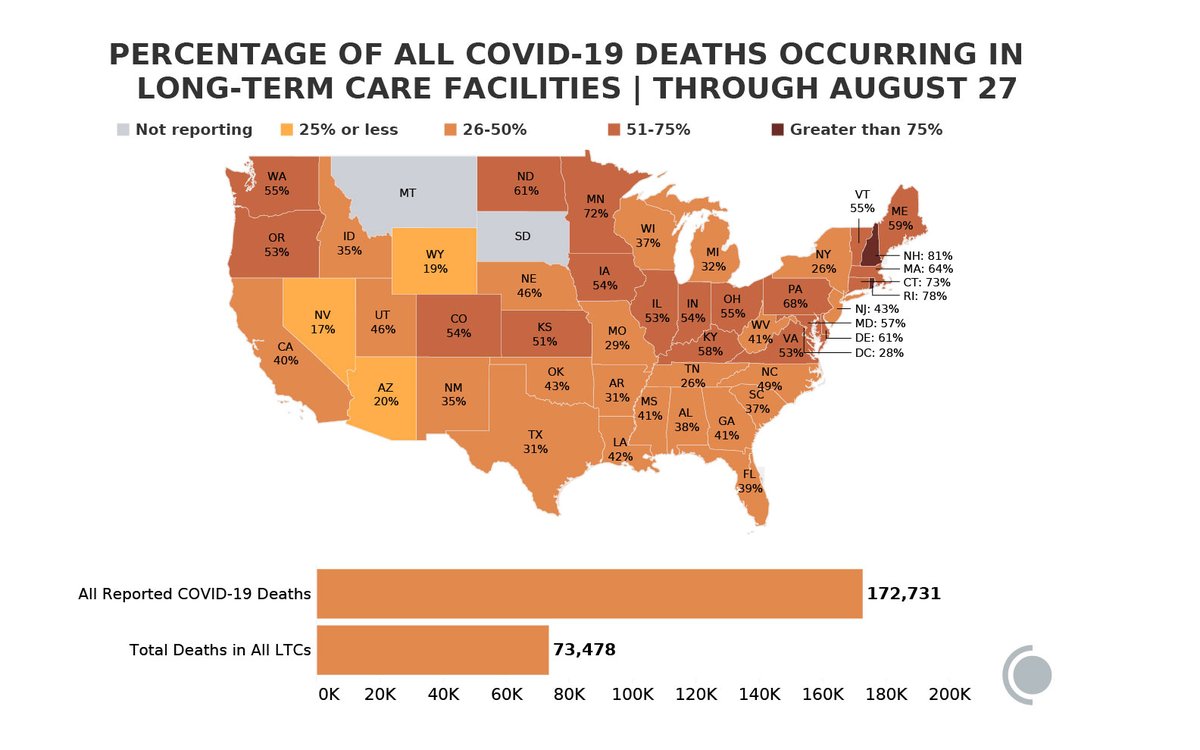 This illuminates a failure to protect these groups after COVID-19's impact on them was known. The first US outbreak occurred at a Washington nursing home in late February, but
@CMSGov
didn't set data collection requirements until May 8 and didn't begin reporting data until June 1
A small fraction of deaths in long-term care facilities are staff members. Nonetheless, researchers estimate that, by year's end, COVID-19 will make working in an LTC facility the most dangerous job in America in 2020.
34,000 LTC deaths have occurred since June. Even after COVID-19's risks were established, facilities struggled to obtain rapid testing and personal protective equipment. One health economist calls the federal government's response a "dismal failure."
Shout out to Colorado, where the health department has clearly placed emphasis on reporting a full, granular dataset on COVID-19 outbreaks. Colorado's long-term care reporting should be a model for other states.
Arizona and Missouri report only facilities with outbreaks, not actual cases, deaths, or facility names—this appears transparent, but doesn't convey COVID-19's true impact. County health depts (Maricopa, AZ and St. Louis, MO) provide both states' most reliable source of LTC data.
This dataset is compiled with hours of care and attention by more than 30 wonderful volunteers. Their dedication and belief in this effort brought it to fruition. We can't thank them enough.
We applaud the massive efforts of other institutions like
@KFF
to gather and analyze this data as a service to the public. No state reports this data in the same way and it's incredibly challenging to gather and standardize.
We'll continue to conduct additional analysis, and we're working toward releasing historical data at the facility level.
Olga Khazan's article at
@TheAtlantic
, published just as cases in the South were just beginning to surge, is also essential context:
theatlantic.com/health/archive…
Some of the belated measures of this summer may be helping to reduce the death toll in LTC facilities, but as we move into the fall, we need to enact national policies to comprehensively protect our most vulnerable populations.