1)
CHAPTER 3: "LIFE AT CAMP PENDLETON - 1948 to 1950"

2)
After Paris Island boot-camp, my dad, Moffett and Eversole were together training at
#CampPendleton
, CA for 2 yrs, from 1948 to 1950. Camp Pendleton Main Gate, c1950.

3)
Camp Pendleton had fallen into disrepair after defense budgets were slashed every year after WWII by President Truman. The old barracks were dilapidated and falling apart, and supplies and equipment for training were scarce. Camp Pendleton Headquarters, c1950.

4)
The Marine Corps itself was also drastically cut down in size, from 155,592 in 1946 to a low of 74,270 in 1950. President Truman tried to eliminate the Marine Corps altogether, calling them "merely the Navy's police force," which the Marines never forgave him for or forgot.
5)
Marine Air Groups were supposed to carry 136 pilots each, but few were close to that and several carried less than 30 pilots. Also, only 25% of the planes could fly due to lack of parts. The rest were mothballed or cannibalized for parts.
6)
But life was not that bad at Camp Pendleton for my dad, with clean clothes, a place to sleep, and three meals a day, sometimes picnic-style, April1950. He actually gained some weight.

7)
Camp Pendleton Marines stayed busy with:
Camping out:
Dad reading letters from home, April 1950,

7a) ...most probably from his high school sweetheart, who was one year older than him. She was also the co- valedictorian of her Class of 1947. She's standing in front of the Courthouse in 1952. She was working as a secretary for her brother, who was an attorney.

7b) They kept the US Post Office busy...with love. Dad in his "gung-ho" uniform w/Carbine.

7ba) The .30cal
#Carbine
dad is holding would prove to be almost useless in the sub-zero temps at the Chosin Reservoir because, when fired, the heat created water vapor which instantly froze in the breach, causing a failure-to-fire situation, which could be deadly in combat.

8)
Camping out, training, and hanging out:
The officers would always put their arm on my dad's shoulder in photos, I guess to show who's subordinate, Nov1949.

9)
Weapons training:
Pfc Eversole "cold-fire" training with M-2
#Flamethrower
, using water instead of fuel, Nov1949. Dad is standing behind Eversole, waiting for his turn.

10)
More weapons training:
Dad "live-fire" training with M-2 Flamethrower, April1950. The training officer watches closely. Weight of M-2 Flamethrower loaded: 74 lbs.

11)
More weapons training:
This is not a "live-fire" session because they didn't want to waste any ammunition for training. There was no money to buy new ammunition, thanks to President Truman. My dad training with .50cal
#MachineGun
(129 lbs) in
#WindmillCanyon
, but...

11a) ...someone is photo-bombing him. I think that's his buddy Ginn. The training officer is to the right, not paying any attention.

12)
More weapons training:
Dad firing M9 2.36 inch
#Bazooka
rocket launcher, April1950, with the training officer watching. This Bazooka was not effective against the Russian T-34 Tanks, so a new 3.5 inch Super Bazooka was developed but never put into mass production.

13)
Marching...a lot of marching:
Drill cadence: "YO LEFT...YO LEFT...YO LEFT, RIGHT, LEFT. I DON'T KNOW BUT I'VE BEEN TOLD..."

14)
Getting ready for Close-Order Drill with rifles:
"FALL OUT! MOVE IT! MOVE IT! MOVE IT!"

15)
Basketball:
Basketball pick-up game: Basketball was the one sport my dad never played. Eversole watches,

15a) ...then he shows them how it's done. That's a good shot!

16)
After all that, they would get weekend passes. Camp Pendleton is located between Los Angeles and San Diego. Favorite locations were nearby beaches, like
#OceansideBeach
. Dad at Oceanside Beach, June1950, with his best buddy,

16a) ...Moffett. While they were sunbathing, storm clouds were gathering as communist North Korea was preparing to invade South Korea later that June. This would be an unprovoked attack that the UN would strongly condemn and react to with military force.

17)
When they couldn't get weekend passes, they would sunbathe at the base in that California sunshine. Officers always wore their weapons. There's that arm on the shoulder again.

18)
Dad's best buddy, Moffett, in the barracks, April1950. Moffett was living in Shreveport, LA when he joined the Marines, but he was born in Texas and had strong family ties to Texas, so they all called him...

18a) ...well, they all called him Moffett, a really nice guy, April1950.

19)
The following group photo was taken before their Dress Blues Parade in March1950.
Top Row: Eversole, Miller, Moffett, Ginn, Taylor.
Bottom Row: Hudson, Hukleman, Dawson.
19a) All was well, except for a photo-bomber in a window before the Dress Blues Parade. Doesn't this photo look "staged," with a space left open for the marine in window? Listen closely: " Ginn, a little to your right. Taylor, a little more to your left. Okay, smile."

19b) Dad says he doesn't remember this and it's not him in the window, but I'm not so sure. Circumstantial evidence suggests it is him. Nineteen year-old marines...whatcha gonna do?!

19c) Here's Eversole and Moffett on the ends. Miller is in the middle. Having grown up hunting ducks and doves, Moffett was an excellent shot. He has both the rifle and pistol sharp-shooter medals on his chest.

21)
After the parade, here's my dad looking dapper in his Dress Blues, except the usual suspects swiped his hat...probably Ginn. Dad also has both the rifle and pistol sharp-shooter medals, as he grew up hunting on the lake behind his house.

22)
All was going well around Camp Pendleton for the guys until communist North Korea invaded the Republic of Korea(South Korea), and there would be hell to pay. In 1950 to 1953, hell was the Korean peninsula and it came in two flavors: terribly hot and frigidly cold.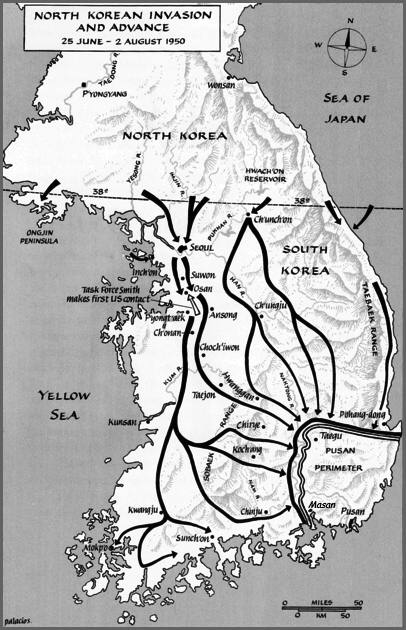 23)
Now things were really jumping at Camp Pendleton. The 1st Provisional Marine Brigade was activated on 7July1950. The Camp Pendleton 5th Regiment boarding amphibious transport ships in San Diego for their voyage to Pusan, South Korea, 14July.

24)
Dad was at home on leave in Louisiana when his unit shipped out. By the time he returned, all his buddies he had trained with had shipped out to Pusan to reinforce the Pusan Perimeter at Masan. So, he was reassigned to the 5th Regiment Anti-Tank Company.
25)
The Marine Corps made an urgent call for former WWII Marine combat veterans to return to service, to help fill out the upper ranks and supply leadership for the green troops. Enough answered the call to fill the ranks.
26)
Tent Camps popped up at Camp Pendleton to accommodate the 25,000 regulars that began flowing into the base. This photo of my dad overlooking Tent Camp One was taken during more peaceful times in 1949. In Korea, climbing hills like this became routine.

27)
Later, Marines sailed from San Diego to Kobe, Japan, on larger USNavy troop transport ships, like the USNS Marine Phoenix, which my dad sailed on. Many got seasick, including my dad, during his 18Aug to 2Sept1950 voyage to Japan. It wouldn't be the last time.

28)
Artifact Found: My dad entered the "Imperial Domain of Golden Dragon" when he crossed the 180th Meridian on 27Aug1950 on the USNS Marine Phoenix. The USNS Phoenix (T-AP-195) was 524ft long and carried 3,674 troops at 17kts.

29)
For his 120mile voyage from Kobe, Japan to Pusan, South Korea, dad was onboard the amphibious troop transport USS Pickaway (APA-222) from 3Sept to 7Sept1950. The USS Pickaway was 455ft long and carried 1,500 troops at 17kts.

From Inchon to Chosin and beyond, "MY DAD's STORY IN BLACK & WHITE: 1930 to 1965" starts here, with 13 Chapters in thread and over 230 B&W photos, with over 90 from my dad's personal
#USMC
Service Photo Album: