What's the deal with with Jeremy Corbyn? For those who haven't followed the story, here's why so many people, and especially Jews, are concerned about the man who presided over the Labour antisemitism crisis. [A thread based on
camera.org/article/jeremy…
]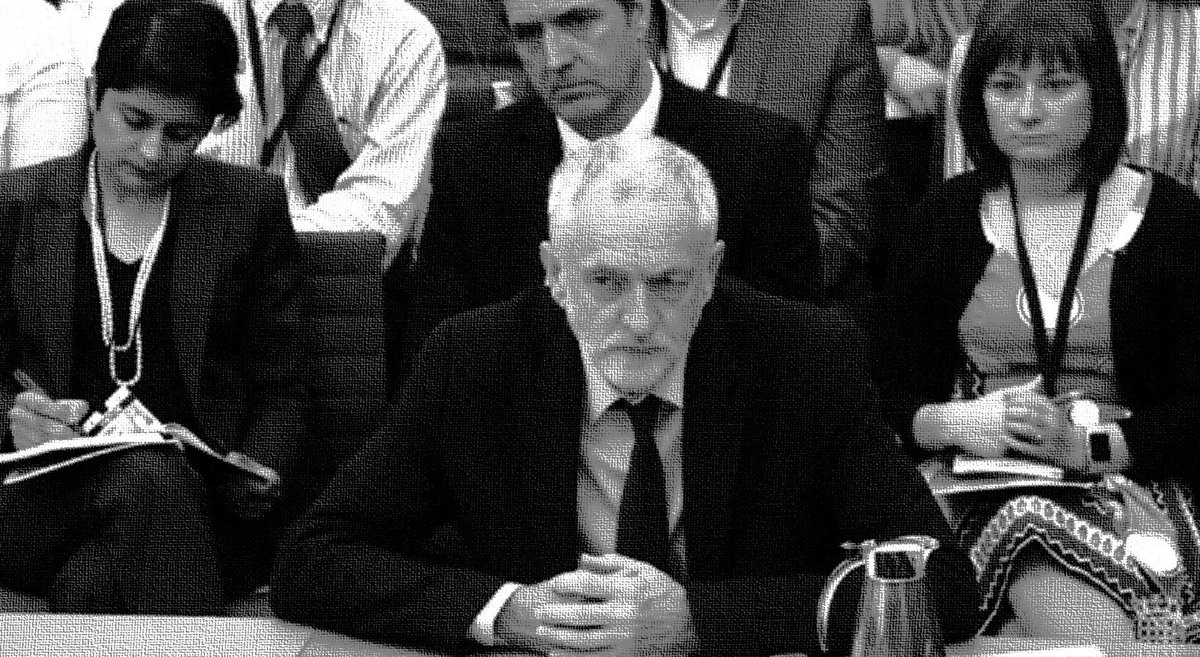 3/
In 2009,
#Corbyn
warmly called Hezbollah "friends," described them as committed to "peace, social justice, and political justice," and called on people to support them. Hezbollah, a proscribed terror organization, inter alia had BOMBED AN ARGENTINA JEWISH CENTER, killing 85.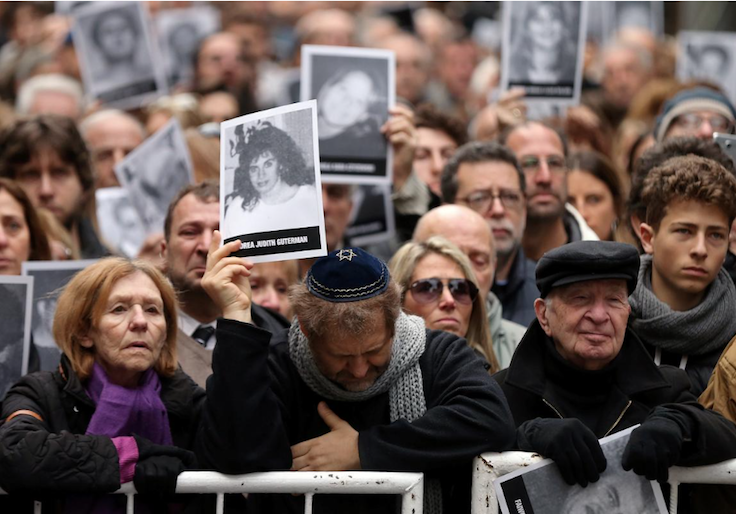 4/
A month later,
#Corbyn
hosted a Hezbollah offical at Parliament during an event he organized with extremist Dyab Abou Jahjah, a man who insisted Europe has made "Jew-worshiping" its "alternate religion" and published a cartoon depicting Anne Frank in bed with Hitler.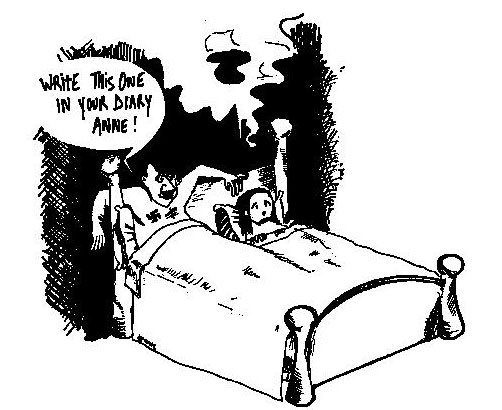 4b/ When later confronted, Corbyn insisted he had no clue who Abou Jahjah is—until a picture of the two emerged and he was forced to admit knowing him.
5/
In October 2009,
#Corbyn
—who had campaigned for the release of British anti-Jewish bombers and supported Lebanese anti-Jewish bombers—expressed empathy for Palestinian suicide bombers who target and kill Jewish civilians in Israel, suggesting the murders are understandable.
6/
On Holocaust Memorial Day 2010, Corbyn hosted an alternate event meant to compete with memorials of the Nazi genocide, and which focused on comparing Israel to Nazis—an act of Holocaust inversion deemed antisemitic by the International Holocaust Remembrance Alliance.
7/
In June 2010, Corbyn evoked the old antisemitic trope of a Jewish puppet-master controlling governments when he suggested speeches by British parliamentarians with whom he disagrees were secretly directed by Israel's ambassador to the UK.
8/
In 2011,
#Corbyn
wrote a gushing forward for an antisemitic book that claims capitalism is controlled "by men of a single and peculiar race, who have behind them many centuries of financial experience" and blames "the house of Rothschild" for European wars. Really.
9/
In honor of Holocaust Memorial Day that same year,
#Corbyn
called for… eliminating and replacing Holocaust Memorial Day—because it is too focused on Jews. Really.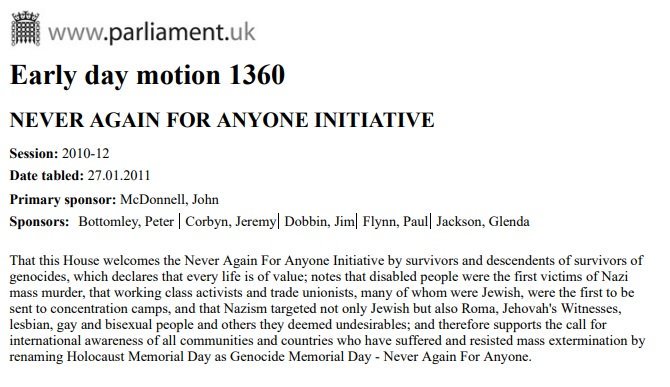 10/
In July 2011, Corbyn was a co-keynote speaker with Leila Khaled, a past airplane hijacker for the PFLP terror organization. Khaled rejects Palestinian negotiations with Israel and calls instead for "armed struggle" against Israel, which for PFLP means killing civilians.
11/
Also in 2011, Corbyn applauded in response to a fringe rabbi calling for the elimination of Israel. (At least the extremist rabbi in has an excuse, in a sense. His fringe sect, Neturei Karta, opposes the existence of a secular Israel as part of its religious dogma.)
12/
In 2012, Corbyn offered support for an antisemitic mural that was to be removed from a London wall. The Labour party later admitted the mural "used antisemitic imagery."
13/
After vicar Stephen Sizer repeatedly published anti-Jewish comments and linked to antisemitic conspiracy websites, Corbyn wrote a letter to Sizer's church excusing his bigoted blog posts as being "due to a technical oversight in terms of computer links." Really.
15/
That year, Corbyn gushed about his "electrifying" meeting with Hamas leaders—including one who promised at the meeting to act "through military and armed resistance and nothing else," and who was responsible for many of the deadliest suicide attacks against Jewish civilians.
16/
During an Aug. 12, 2012 appearance on Iran's propaganda television outlet Press TV,
#Corbyn
peddled the conspiracy theory that Israel was behind a recent terror attack against Egyptian police in Sinai. (This attack:
en.wikipedia.org/wiki/August_20…
)
17b/ Corbyn insisted the release of Umar from prison was proof of innocence: "If there was the serious case…they wouldn't win an appeal." But Umar didn't "win an appeal." He was part of a mass release of Palestinian prisoners in exchange for a hostage held by Hamas.
~~ Let's pause here. With a seemingly never-ending flow of shocking behavior and statements, the shock value fades; it becomes impossible to keep track; and everything starts to blend together into a singular blur that feels like less than the sum or its parts.
But the whole is more than, worse than, the sum of its parts. In this case, the parts thus far include; repeated support for anti-Jewish bombers; repeated collaboration with and defense of antisemites; competition with and even opposition to Holocaust commemorations. A pattern.~~
18ish/ In 2013,
#Corbyn
"othered" British Jews as not organically English when he described a pair of Jewish critics as "having lived in this country a very long time, probably all their lives," but who he insisted nonetheless "don't understand English irony."
19/
In 2013, Corbyn (not for the first time) attended an event organized by Holocaust-denier Paul Eisen. Corbyn had supported Eisen's organization for years. Eisen had been open about his anti-Jewish views since at least 2004, and in 2008 praised Holocaust denial as "honorable."
20/
In October 2014,
#Corbyn
laid a wreath at the graves of Palestinian terrorists resonsible for the killing of 11 Israeli athletes at the 1972 Munich Olympics, along a plague specifically commemorating the terrorists.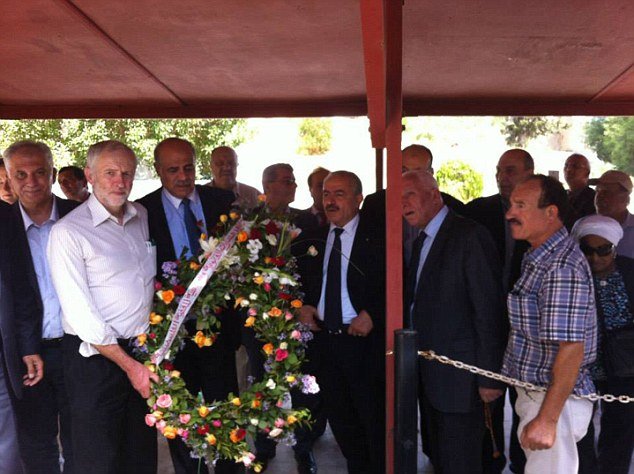 20b/ Corbyn later insisted the event had nothing to do with the Munich perpetrator, but he himself indicated in 2014 that he knew the graves were related to the Munich terrorists. He subsequently claimed "I don't think I was actually involved in it." He was. See above photo.
21/
In a July 2015 telvision interview, Corbyn refused to say that he doesn't consider Hamas and Hezbollah "friends," as he had said in 2009, and claimed his earlier comments were simply a call for "debate" with the terror groups. In fact, he called for "supporting" them.
23/
In 2018, it's revealed that Corbyn had been a member and participant in Palestine Live, a secret Facebook group founded, administered, and heavily populated by well-known conspiracists and antisemites. The group—surprise!—trafficked heavily in antisemitic conspiracy theories.
24/
That year, Corbyn informed major British Jewish organizations that he rejects endorsing the widely adopted International Holocaust Remembrance Alliance (IHRA) definition of antisemitism in full. Eventually, Labour defied Corbyn by adopting the full definition.
25/
Corbyn chose Naz Shah to be Labour's shadow minister for Women and Equalities, responsible for combating discrimination. Shah had been temporarily suspended from the party after Facebook posts she wrote urging people to vote in an online poll because "the Jews are rallying."
(She later made amends with a comprehensive apology.)
26/
In 2018, 68 British rabbis representing a broad spectrum of denominations decried Labour's reluctance to adopt the full IHRA antisemitism definition, saying that "antisemitism within sections of the Labour party has become so severe and widespread that we must speak out…"
27/
In July 2018, Veteran Labour MP Margaret Hodge told Corbyn he is "an antisemite and a racist."
28/
That month, Britain's three leading Jewish newspapers publish a joint editorial on their front pages warning of "the existential threat to Jewish life in this country that would be posed by a Jeremy Corbyn-led government."
29/
In August, Labour MP Luciana Berger said Corbyn's behavior "makes me as a proud British Jew feel unwelcome in my own party."
30/
In an interview with the New Statesman, Jonathan Sacks, Britain's former chief rabbi, said Corbyn has "given support to racists, terrorists and dealers of hate who want to kill Jews and remove Israel from the map."
"We have an antisemite as the leader of the Labour party."
31/
In August, longtime Labour MP Frank Field resigned, saying Labour's leadership is "becoming a force for anti-Semitism."
32/
A September poll found that over 85 percent of British Jews believe Jeremy Corbyn is antisemitic and that there are high levels of antisemitism within his party.
33/
In February of this year, there were mass resignations of Labour MPs.
34/
In April, leaked documents showed that Labour's investigation into antisemitism had been hindered by delay, inaction, and interference by Corbyn's office, contradicting earlier denials by Corbyn about his involvment in the investigations.
34b/ The documents showed a failure to take action against Labour members who had praised Hitler and spread anti-Jewish conspiracy theories.
34c/ The Jewish Labour Movement passed a motion of no confidence in Corbyn, saying he is "unfit to be prime minister." The Board of Deputies, the UK's main Jewish organization, said the Labour leadership has put its efforts into a "cover-up operation."
This is just a partial list. But, to go back to the first tweet of the thread, it should explain why Jews, their allies, and other decent people (including many who despise Boris Johnson) are horrified at the prospect of Jeremy Corbyn taking power.