A thread.
Investigating the extent of acceptance worldwide of the role of
@Bioconlimited
's
#Itolizumab
in the treatment of
#Psoriasis
- a disease that afflicts upto 2% of the population. I conducted a search on PubMed.
The objective was to "compare the efficacy and safety of conventional systemic agents (acitretin, ciclosporin, fumaric acid esters, methotrexate), small
molecules (apremilast, tofacitinib, ponesimod), anti-TNF alpha (etanercept, infliximab, adalimumab, certolizumab), as well as..
anti-IL12/23
(ustekinumab), anti-IL17 (secukinumab, ixekizumab, brodalumab), anti-IL23 (guselkumab, tildrakizumab), and other biologics (alefacept, itolizumab) for patients with moderate to severe psoriasis and to rank these treatments according to their efficacy
and safety.
So here was a chance for
@BioconBiologics
' Itoloxumab to shine. The PASI 90 score was asessed in all the studies included in this review. PASI stands for Psoriasis Area and Severity Index,
PASI 90 is an outcome metric used in research trial that measure the proportion of patients who achieve a 90% reduction in the PASI score. Most clinical trial only report outcomes at 12 weeks.
The summary of findings on page 6 of this review puts Itolizumab well below the leading treatments with a SUCRA score of 56. SUCRA stands for Surface under Cumulative Ranking and the score runs form 0 = when a treatment is certyain to be the worst to 100 when it is the best.
There was only 1 trial for Itoluzimab with 225 patients and the quality of evidence was judged to be 'low' The Relative Risk of improvement (RR is a multiple or fraction of the improvemkent in the placebo group.) was 184/15 = 12.26 with HUGE confidence interval 0.76 to
198)
The comment on Itlozimab trial was "Downgraded one level due to imprecision (wide CIs) and one level due to risk of bias (moderate risk using credibility of evidence)
Comment:
@Bioconlimited
makes much of the advance represented by Itolizumab as a novel monoclonal antibody but when it comes to pragmatic clinical trials it sells itself short by not exerting hard enough. In contrast the highest ranked drugs were trial heavy: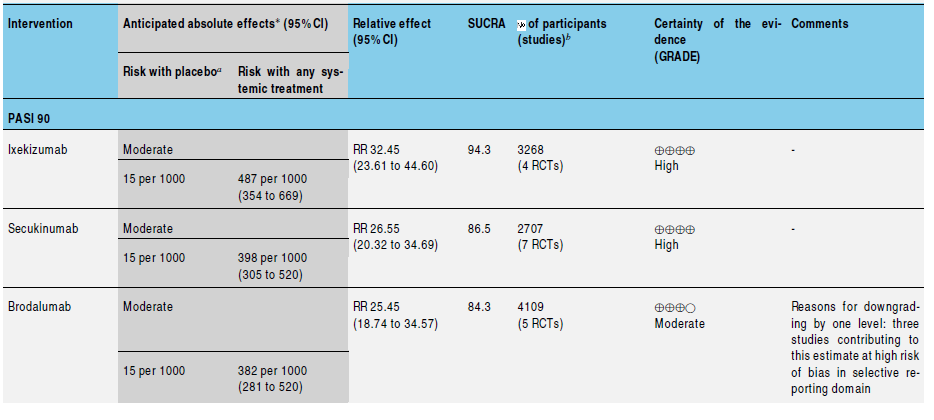 Moral of the story: The world of biologics in the pharmaceutical business if highly competitive and to succeed you need both the basis science to produce the novel molecules but also do the hard slog of clinical trials to gain acceptance in world markets
Addendum. The Cochrane review searched for all RCTs up to Dec 2016. Of course
#Itoluzimab
had already been approved in India for Psoriasis. if anyone is aware of any new RCTs that have reported since then please share the details.