Couple dozen police vehicles up here on Rte 26 and Rd 27. They will only tell me, "we're investigating a crime, the areas closed until then."
#26rd27
one vehicle leaves the scene, no idea where he's headed except west.
I'll thread from here for now. May not work as I try to upload video clips.
#26rd27
Group of officers, police and sheriffs gather in the background behind the crisis negotiation Team van.
#26rd27
Sheriff approaches the Supervisor vehicle, sits for a moment, emerges wearing a face mask. Stops back at the group and is now on a radio or phone, has been for a number of minutes.
#26rd27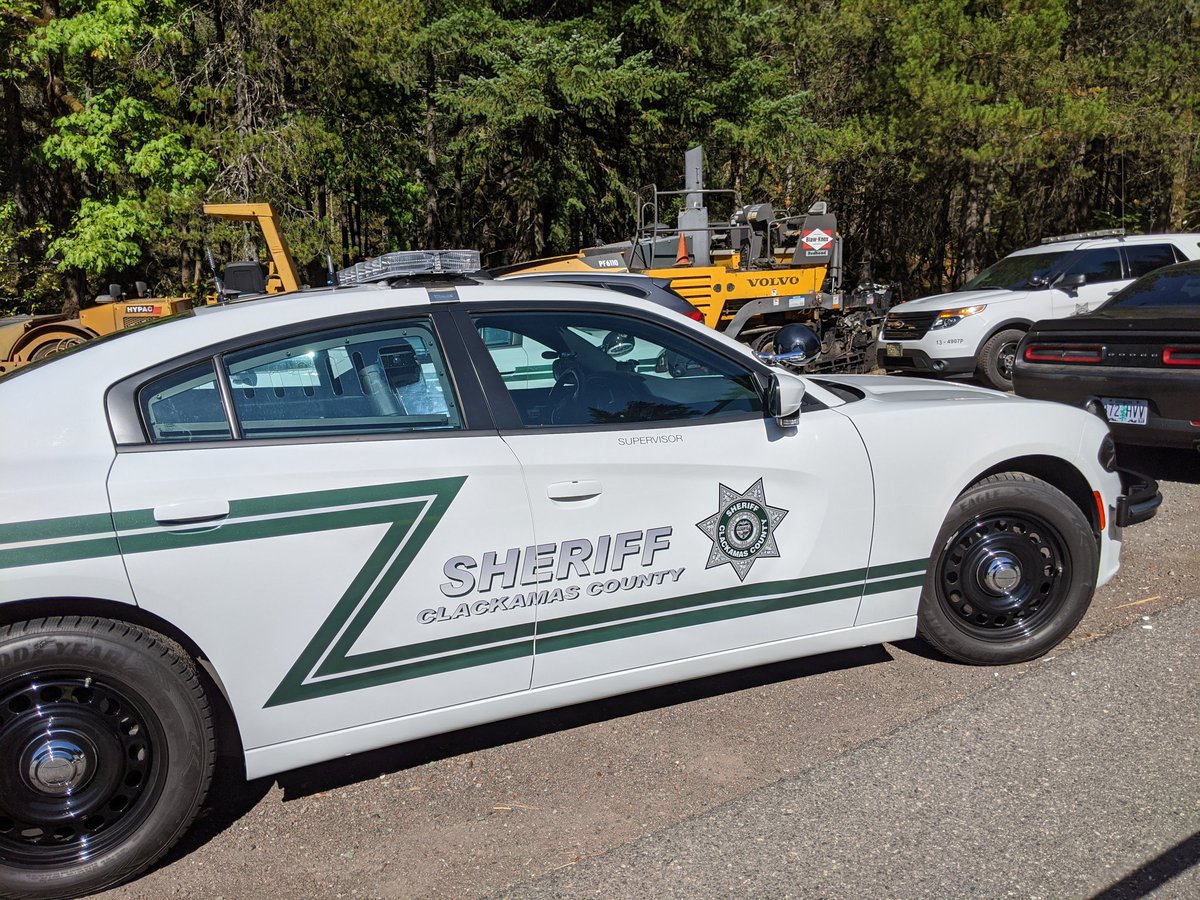 I can see about a dozen officers hanging out in the shade. I wish they'd let me back there. Must be a lot more officers up the road.
#26rd27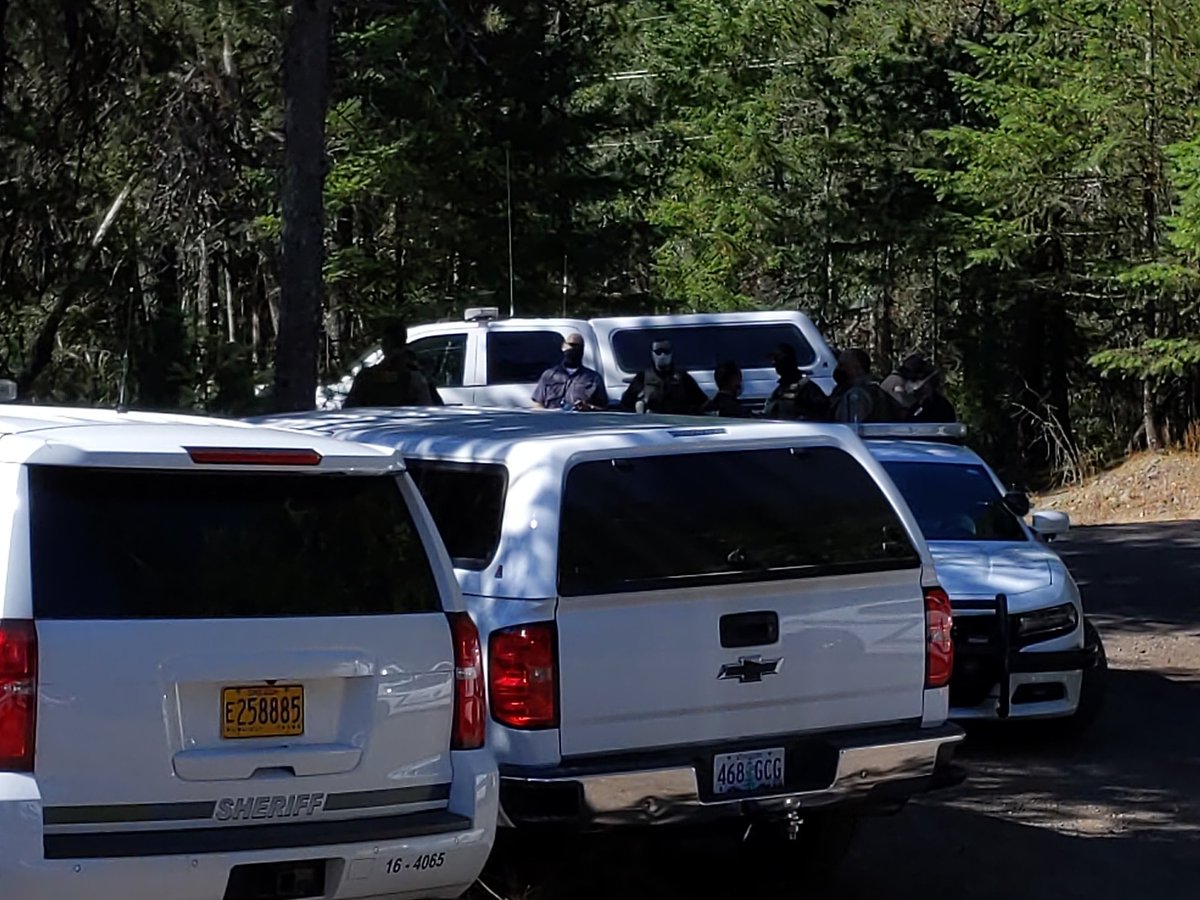 It occurs that it's worth mentioning that while police from several nearby districts are represented, there are no vehicles here from Multnomah County Sheriffs nor Portland. The two districts that could have arrested Proud Boys downtown. yesterday
#26rd27
Some other folks here telling me the police scanner said they had SWAT surrounding the building and we're trying to establish communication. That was 45 minutes ago.
#26rd27
Officers still very calm, a bit if walking about but nothing of note.
I'm also hearing there's been a post from a neighbor on a Mt Hood Facebook page said that their neighbors are housing "Alan Swinney's group" or "the Proud Boys" on their land. Speculation this could be the location. It's certainly nearby.
#26rd27
Of the dozen or so officers visible hanging out in the shade it now appears about a half dozen have disappeared. I didn't see where they went, could be in cars with AC running--i wish I was doing that--but they may have gone up the road.
#26rd27
You can just see where Forest Road 27 turns to head up the mountain. From there it's a 3.5 mile drive to the end of the road. There's all manner of places to put other vehicles and anyone's guess where they're at.
#26rd27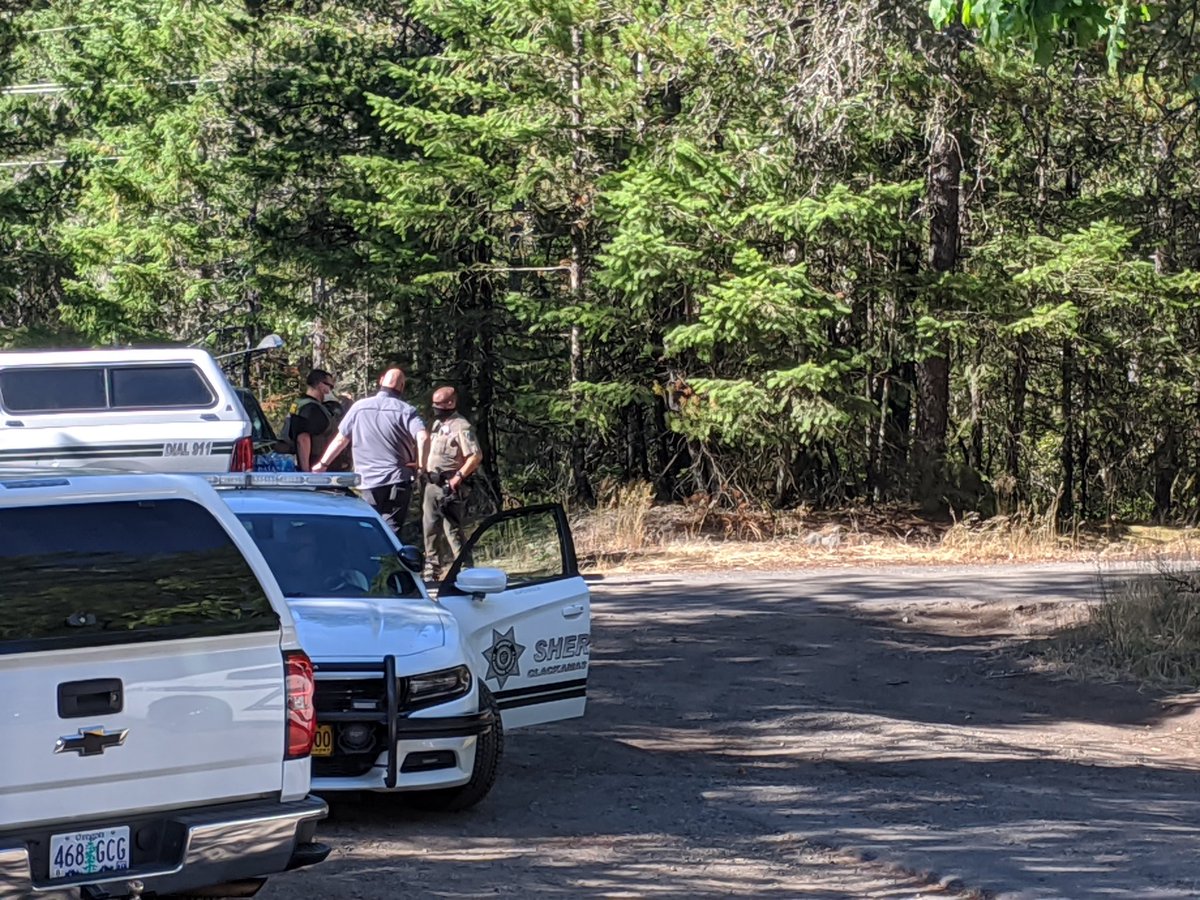 Alright I'm going to step back and get some new batteries. With any luck that's when they'll be driving the SWAT vehicles down...
#26rd27
Clackamas County Sheriff tells me it doesn't look like they're leaving anytime soon. Can't say more than that, have to see what the PIO is going to put out. Unclear if he's on the scene.
#26rd27
I'm taking a break from the scene to get some dinner and recharge batteries. I'll be back after an hour or so. Sooner if I get word anything changes.