How is it possible that the market is at historic highs IN THE MIDDLE OF A PANDEMIC? Where does that wealth come from?

Maybe it's taken... from you?

Thread
[1/18]
And several industries, such as clothing, restaurants or travel having tanked.
[4/18]
opentable.com/state-of-indus…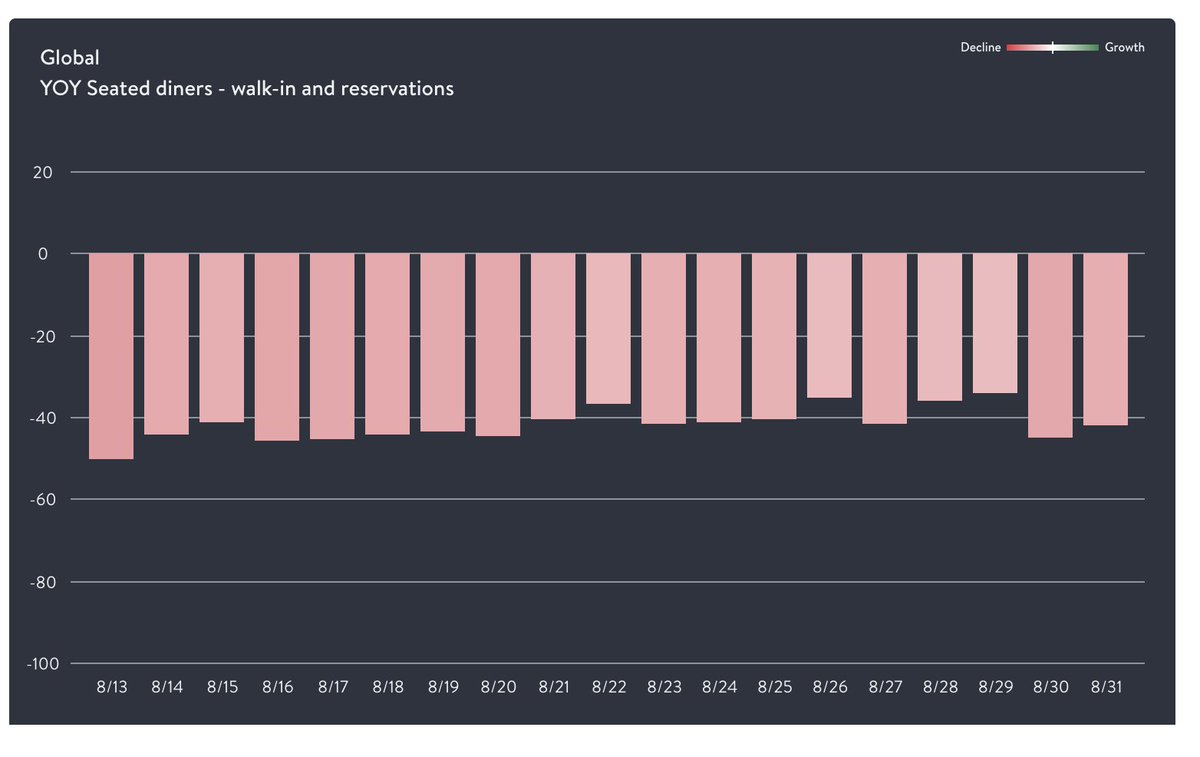 Some industries such as Tech have benefited, but all in all the market should have gone down, dragged by all these other industries that have lost from the pandemic.
In fact that's where it was heading until March 23th. What happened that day?
[5/18]
federalreserve.gov/newsevents/pre…
That announcement looks nice:
"The Federal Reserve is committed to using its full range of tools to support households, businesses, and the U.S. economy overall in this challenging time"

But don't be fooled.
What's really going on?
[6/18]
The Fed has printed trillions of dollars. They call it Quantitative Easing
In the 2008 crisis, it bought mostly government bonds and also securities from distressed businesses such as banks and insurance companies.
[7/18]
history.com/topics/21st-ce…
This time they're doing the same, and more.
They're not just lending to the government and banks. They're also lending to big corporations (by buying their debt), and also have programs for small and medium companies.
And they're spending more overall.
brookings.edu/research/fed-r…
This also has the effect of lowering interest rates, which are at 0% right now. But because there's inflation, they're in fact below 0% ("negative in real terms").

It's as if you had to pay the bank for it to keep your money.
[9/18]
The loans to the government go into the stimulus package. A chunk of that went to people who lost their jobs or couldn't pay their loans. But half went to businesses.
[10/18]
cnn.com/2020/03/25/pol…
Some, like airlines, took the money under the condition of not laying off anybody until 9/30.
Layoffs will come on
10/1
abcnews.go.com/Travel/wireSto…
[11/18]
Why? Because it's worth less now with all this printing.

When a government prints money and lends it at 0% interest, it's as if it was giving $ away.

Those who get it are richer, and all the rest are poorer. But we don't notice because we're not tracking the USD value every day
The ppl who have $ know this, so what do they do with theirs? They invest it in the stock market, in gold, in bitcoin, in real estate... In anything that's not cash in the bank because that's losing value like there's no tomorrow.
[14/18]
So basically the government takes money from the hoi polloi, who leave their cash in their bank accounts, and puts it in the pockets of those who are invested in the stock market.
[15/18]
This has been happening since the gold standard was eliminated in 1971, which is also one of the key sources of inequality growth since the 1970s.
But since 2010 the Fed has realized it can print $ without inflation, so it's off to the races.
wtfhappenedin1971.com
[16/18]
Corollary: If, over the long term, you're not investing most of your $ in the stock market, the government and investors are taking advantage of you.

(But don't go investing all your $ right now. Go slow. There might be a crash coming. You never know. You can't time the market)
I'll be covering more and more topics in the future. Inequality is a big one.
Sign up if you don't want to miss my future articles
mailchi.mp/b44a5f38b4f7/c…