The EIA'S Weekly Petroleum Status Report provides weekly estimates of U.S. crude oil supply, including a measure of how well the supply of crude oil and the disposition of crude oil balance with each other. This measure is called the "adjustment".
#OOTT
bit.ly/32tS2od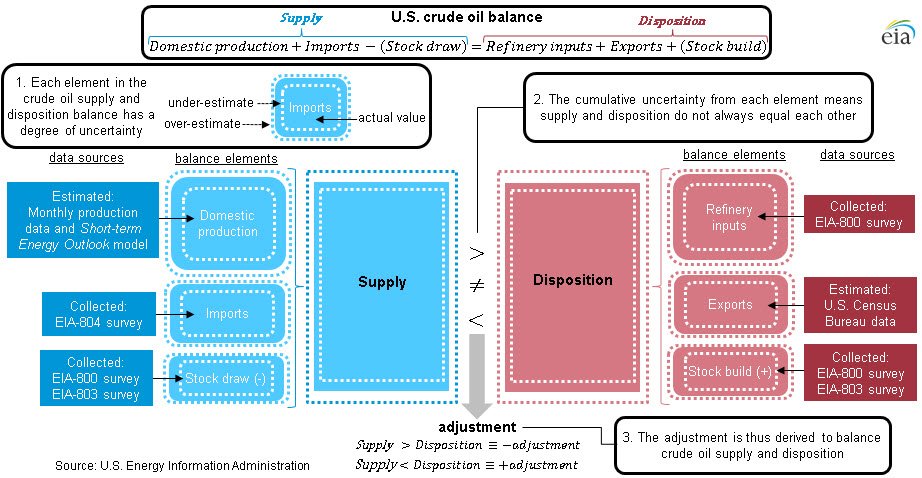 If the reported supply and disposition of crude oil balanced perfectly each week, the adjustment would equal zero. For several reasons, however, this is rarely the case. Hence the need for the adjustment.
Weekly U.S. crude oil supply and disposition data are based on a combination of EIA survey data, U.S. CBP data, and modeled estimates. All statistical samples using survey data have small but unavoidable imprecisions, and model estimated data's precision can vary.
This imprecision in estimating each element of the crude oil balance can result in some over- and under-estimation in both supply and disposition.
Although the sources of imprecision in EIA collected and estimated data—and therefore the source of the adjustment—will vary from week to week, EIA has identified several constant sources.
For example, as U.S. crude oil production and crude oil exports have increased significantly in recent years, the uncertainty around each has also increased, contributing to a larger derived adjustment.
As U.S. production of crude oil has increased, so too has the volumetric imprecision surrounding EIA's weekly crude oil production estimates.
In other words, when U.S. crude oil production was 7 million barrels per day (b/d), an imprecision of plus or minus 2% would represent a range of 280,000 b/d.
Because U.S. crude oil production is 12.1 million b/d in the latest monthly data, an imprecision of plus or minus 2% increases to a range of 484,000 b/d.
In addition, because EIA's estimated weekly crude oil production data are based on STEO modelling and lagged monthly data, any rapid change in crude oil production trends may not be fully represented until they appear in monthly data.
Additionally, both EIA's data for imports, collected by the EIA-804, Weekly Imports Report, and the U.S. CBP data, which captures exports, have the potential for timing discrepancies.
For example a volume of crude oil may clear U.S. Customs, and thus appear in EIA data as an import or export in one week, but it may physically arrive or depart in another week, causing a disconnect between the volumes traded and volumes reported in inventory.
EIA receives raw, unedited U.S. CBP data without the ability to directly validate reported data with those filers. EIA also must add estimates for data not reported by U.S. CBP, such as crude oil exports to Canada.
Because U.S. exports of crude oil increased to 2.8 million b/d in April, the volumetric imprecision of crude oil export data also increased to a range of 132,000 b/d at plus or minus 2%.
Other factors possibly contribute to a higher crude oil adjustment, but they are challenging to identify or quantify with data that are currently available from EIA's surveys and other sources.
These factors include condensate from natural gas processing plants added to the crude oil supply chain and unreported blending of other oils with crude oil.
Volumes of very light crude oil, also known as plant condensate, that get separated out from wet natural gas streams at natural gas processing plants may be ending up in the crude oil supply chain.
These volumes would then get counted as crude oil inputs into U.S. refineries or exports without being captured as crude oil production or supply in EIA data.
In this instance, EIA data would capture the wet gas-derived condensate being input into refineries or exported as disposition without capturing its production, contributing to an under-estimation of supply.