I live in a state that has all mail voting. And, guys?
We LOVE it.
Colorado has proven that mail-in voting is, not only extremely safe and effective, but well liked and popular too!
#DemCast
#DemCastCO
@TheDemCoalition
Thread 1/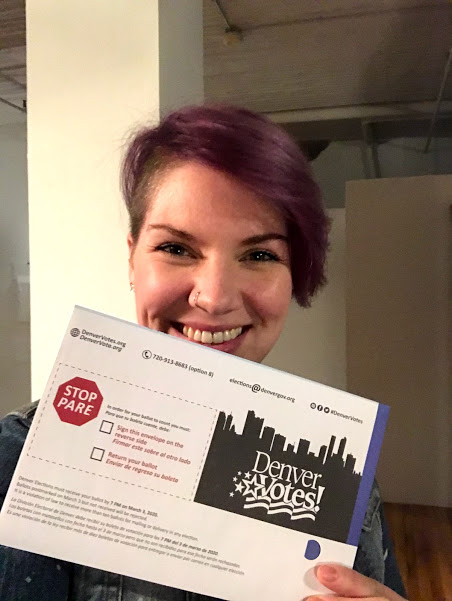 I have a confession to start off with:
Until I saw the fiasco in Wisconsin (where the GOP forced people to choose between risking everyone's safety or not voting), I didn't realize just how hard it is for most people to vote.
Because here... it's EASY.
@JenaGriswold
@GovofCO

2/
In Colorado, you are automatically registered to vote when you get a state driver's license, or you may register online or in person.
All registered voters receive a mail-in ballot unless they choose to opt out.
3/

ballotpedia.org/Voting_in_Colo…
About 3 weeks before an election, you get your ballot in the mail along with a book containing a plain text, impartial breakdown of what's on the ballot (we call the it "The Blue Book").

Then you sit at home, with your ballot and your Blue Book, and ponder your vote.
4/
When you have made your decisions and marked your ballot, it goes into a privacy sleeve that you seal and sign.

This can be dropped back into the mail up to a week before the election, or in one of the many ballot drop boxes around your town if it's less than one week out.
5/
You can then track your ballot online to ensure it is counted.

Once you get confirmation of that, you're done! You have voted.

All without leaving your house (unless you're me and take too long to make decisions).
7/
Ballots are counted by an electronic scan machine.

Signatures are audited to ensure they match what's on file, and discrepancies are tracked down.

The entire system is monitored closely for any security flaws.
8/
So far, we haven't had any issues.Our system is secure.

We still have in person voting for those who prefer or need that for any reason. But, despite our consistently high voter turnout, it isn't widely used and doesn't result in massive crowds or wait times.
9/
There is no downside to mail-in voting.

It does not lead to "rampant fraud".

It is not more costly (it actually ends up saving money).

It is not "dangerous" or "impossible" or any of the other things that Republicans keep trying to say it is.
10/
What it DOES do is engage voters.

It allows people to make their voices heard, regardless of ability to leave their home or not.

It creates a culture of voting. When your home is where you vote, it also becomes a place where you talk about voting!
11/
The only reason the GOP is fighting this so hard is they fear voter turnout. Trump came right out and said it, they can't win if everyone can vote.
They are determined to use this
#coronavirus
crisis to silence our voices so they can retain power.

12/
WE CANNOT LET THAT HAPPEN.
An all mail system of voting will take time to implement. Time that we have, but only if we act NOW.
Call every one of your representatives.
Do it now, and don't stop until we have national
#MailinVoting
, so everyone's voice can be heard.

13/