Since March 2020, 9.13 crore farmers have been paid Rs 18,253 crore under PM-KISAN during the
#lockdown
. About three crore farmers with agri loans totaling Rs 4,22,113 crore availed the benefit of the 3-month loan moratorium.
@RBI
@FinMinIndia
@DFS_India
@PIB_India
(1/n)
To provide stressed MSMEs with equity support, Government will facilitate provision of Rs. 20,000 cr as subordinate debt.
#AatmaNirbharBharatAbhiyan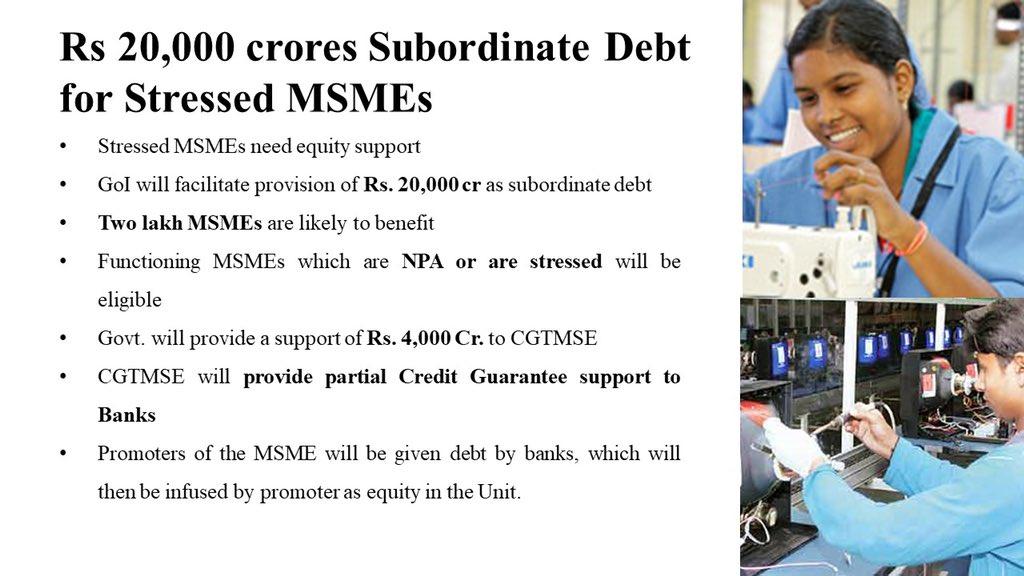 (3/n)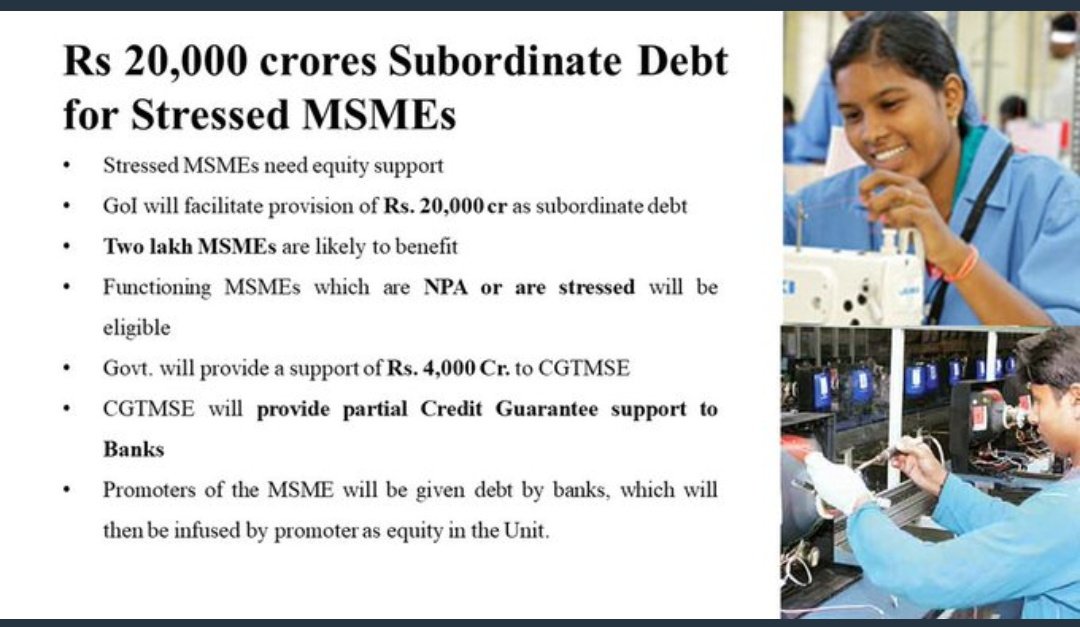 "मध्यम वर्ग को सस्ते घर उपलब्ध कराने के लिए मोदी सरकार हाउसिंग सेक्टर को बढ़ावा देने के लिए 70 हज़ार करोड़ रुपए की स्कीम ला रही है"
#AatmaNirbharBharatPackage
|
@narendramodi
@FinMinIndia
|
(4/n)
"2.5 करोड़ किसान, मछुआरे और पशु पालने वाले किसानों को कम ब्याज दरों पर कर्ज की सुविधा मिलेगी जिसके लिए मोदी सरकार ने 2 लाख करोड़ रुपए का प्रावधान किया है"
#AatmaNirbharBharatPackage
(6/n)
"50 लाख ऐसे स्ट्रीट वेंडर्स को, जिनकी आमदनी पर लॉकडाउन की वजह से असर पड़ा है उन्हें 10 हजार रुपए तक का स्पेशल क्रेडिट मुहैया कराया जाएगा ताकि उनकी रोजमर्रा की जरूरतों के लिए उनके पास कैश रहे"
(7/n)
Credit Linked Subsidy Scheme for Middle Income Group was operationalised from May 2017. CLSS was extended up to March 31, 2020. Government will extend the CLSS Scheme up to March 2021. Scheme has benefitted 3.32 lakh families so far: Smt
@nsitharaman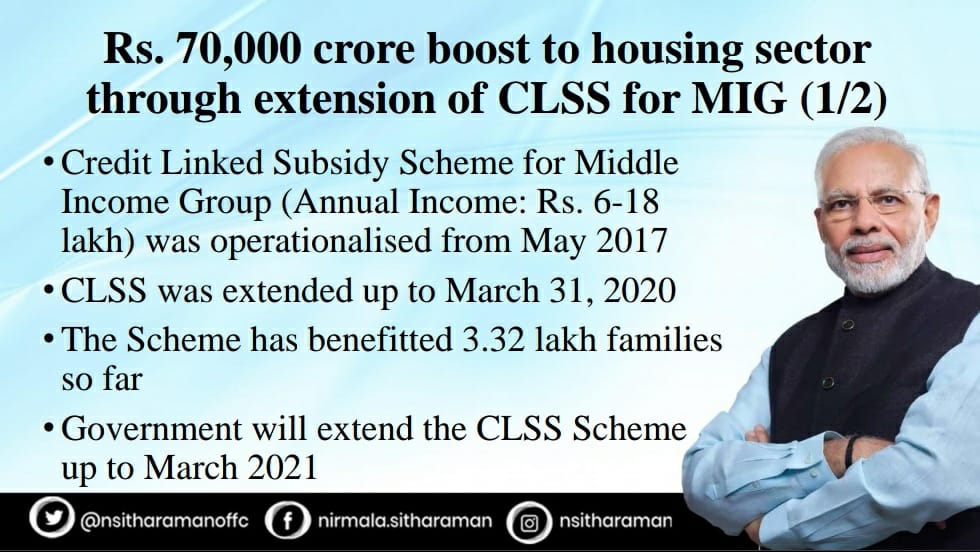 (8/n)
FM
@nsitharaman
recalls measures taken by Govt. to support farmers during
#COVID19
lockdown
✅₹ 74,300 crore Minimum Support Price purchases during lockdown
✅₹ 18,700 crore transfer to farmers' bank accounts
✅₹ 6,400 crore PM Fasal Bima Yojana payment
(9/n)
Funds transfer worth Rs 18,700 crores has been done under PM KISAN in past 2 months and PM Fasal Bima Yojana claims worth Rs 6,400 crores released in past 2 months: Union Minister
@nsitharaman
#AatmaNirbharDesh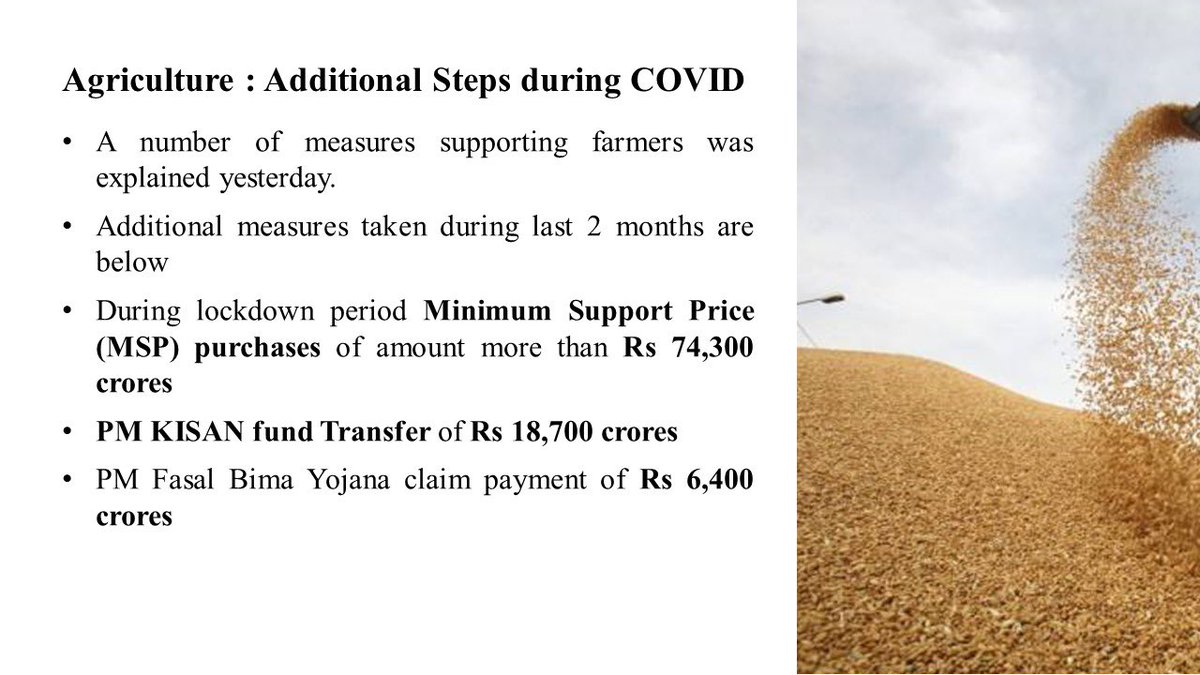 (10/n)
#BankNirbharBharat
We are waiting for our wage revision since
#928Days
which was due in November 2017.
That's more than 30 months!
I know people will call us selfish, raise the issue of wage revision during this pandemic!
But after reading this thread you might be aware! (12/n)