More drama in
#QAnon
world, as PamphletAnon, high priest of Patriot's Soapbox 24/7 Livestream, purges popular but troublesome acolyte Reed Walker from the ranks...






As an aside, a few days earlier Reed obliquely discussed there being drama behind the scenes when on the air:

You can see the differences of opinion here. Some immediately label him a "weed" to be pulled from the garden, others hope they can still stay in touch with someone they regard as a friend. For a lot of people caught up in
#QAnon
, I think a big appeal is the social aspect of it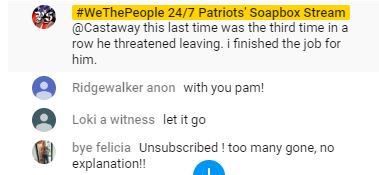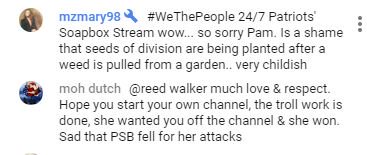 I don't really have a great conclusion to add here, and honestly of the like 25 people who follow this account I think half are
#QAnon
supporters who just auto-followed me because I used the hashtag, but I'll say this: Hang out with your grandparents and shit...
If they believe in
#QAnon
, if they believe Hillary Clinton sells drugs out of Little Rock and has hitmen kill people, if they're extremely online in the boomer fashion, they're probably lonely AF, and talking to their conspiracy theorist friends is all the socializing they get
so maybe if they had some IRL interaction more often they'd feel less *need* to find something else to belong to. idk, I mean I don't have a better idea, like jfc do I not have a better idea
Here's a longer piece of the livestream I posted a clip ofr. It's about 20 minutes which is a long listen, but captures better the point I'm trying to make. For many, the real
#QAnon
was the friends they made along the way
So god speed Reed Walker, wherever you are.

I mean, technically speaking I think you're delusional and should talk to a mental health professional, but we all have our flaws, and you seemed like a warm and decent person.