@GauntletRPG
Symbaroum last night was great! I didn't expect such a good starter adventure. Somewhat disillusions you as the colonizers escaping their dying land and going into a new one, where indigenous folks are already about.
If you don't mind spoilers continue reading!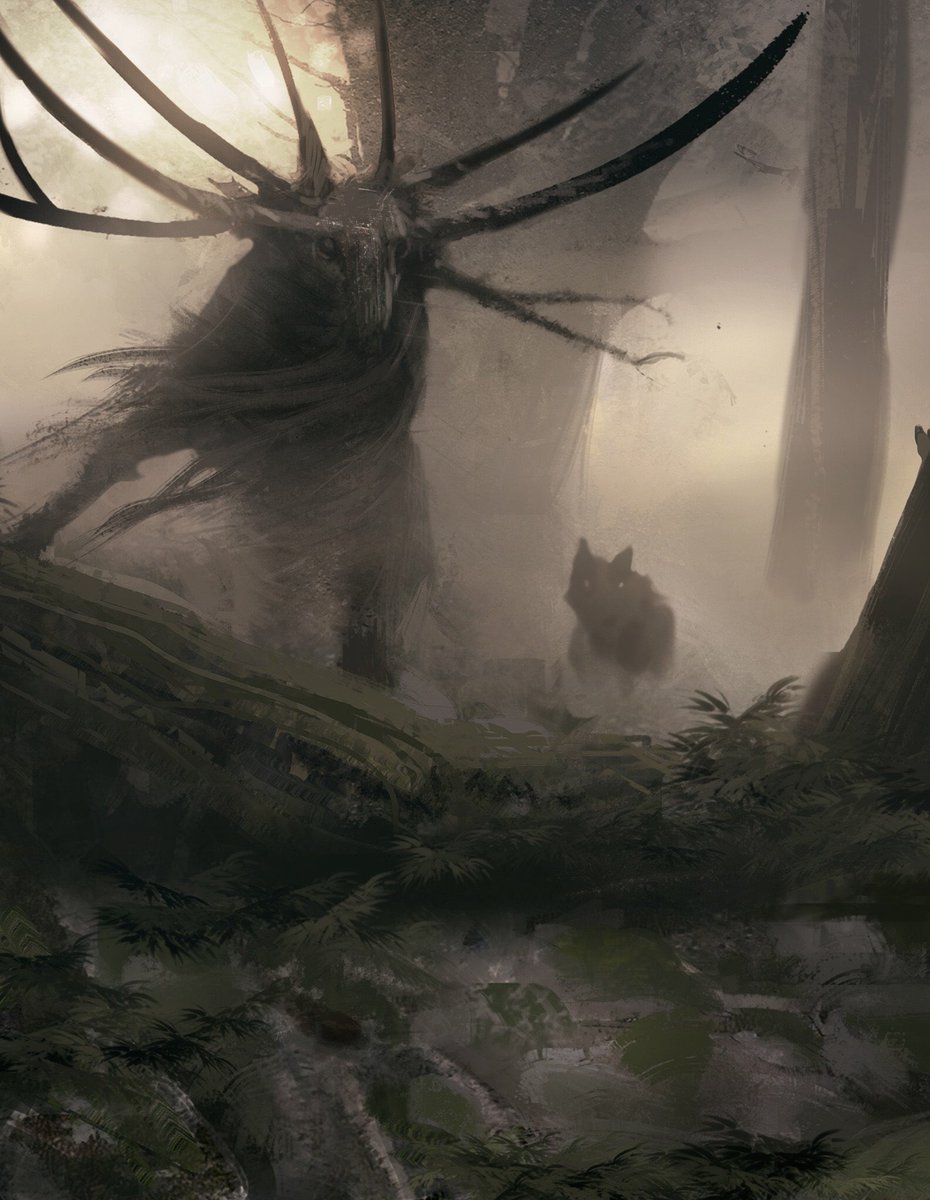 (Pic from the core book) Our characters were all a part of a caravan going to the new land. To get on we had to fight some guards to prove ourselves able and basically entertain the leader as he was fucking with us. It's a fairly trad
#ttrpg
/2
Somewhat like
#dnd
but you roll under. You take abilities, Boons, and Burdens; the later of which really help you create a unique character. Variol Hope, my character, is a witch hunter that specifically goes after abominations. Blighted, corrupted creatures. But on a hunt
/3
years back sustained an injury from one such creature, twisting her nature with Dark Blood (Burden), granting her a Bestial trait (Boon). Her skin is tough as nails and she has unnatural strength, making her Robust (Boon) and bloodthirsty (Burden). As a witch hunter
/4
she now keeps this Dark Secret (Burden) from everyone. If people knew this there is a chance other witch hunters would strike her down for this corruption, for fear she too would become an abomination.
You can really see how these things springboard character concepts!
So,
/5
since we had to fight these caravan guards there is a chance she would be revealed. If she's wounded she becomes blood thirsty and when she uses bestial traits, there is also a chance of being discovered.
I actually ended up being able to describe some pretty awesome
/6
combat maneuvers instead, though. Rushing in and attacking the guard and striking their armour, but using her strength to push through it and draw just a bit of blood. The second guard got pretty messsssed up but I still wasn't discovered. Woot!
Along our path rangers hunted
/7
in the forest for food. On one such trip they were set upon by a Hunger Wolf (kinda like a dire wolf) and we rushed in to help. I've the slowest quick in combat so I always go last, but when I did I let off a well aimed shot, burying my arrow in the wolf's head. But then, to
/8
my/our horror, the wold transformed into an elf. So I pretty much murdered someone when Variol's goal is to find a way to rid herself of her bloodthirsty nature, as well as start anew, leaving her past behind. Thematically this was so damn compelling!
As we proceeded,
/9
two elves approached and demanded we give over the two rangers, claiming they were corrupted and as good as dead. And though we had killed one of their companions, were nothing like what our lore of elves suggest. Basically painting them as rabid forest creatures. Obviously,
/10
the characters' preconceptions were entirely wrong. Though we had murdered one of their own they did not want to start a war and were there to make sure abominations weren't born from the ostensibly corrupted rangers of our group. After some deliberation,
/11
Iomigoi purposed we ask that the elves follow us and if the rangers "turned", we would end them. When this was purposed to the elves already one of them was turning and it turned into a fight to slay the abominations. Clearly the elves were right all along about this as well.
/12
I really liked this because it showed the massive biases we had as playing the main human colonizer folk. And struck a cord with the themes I was going for with my own character. The other players were also great and
@litrallydead
ran the game very well! I am stoked to play more!