Why I disagree w/
@ucu
-appointed JNC member
@Sam_Marsh101
's view 👇 that "It's unforgiveable that USS are not attempting to implement [in full] what JEP advised."
1/
...and w/ Sam's related claim 👇 that "USS seem eager to please tPR". 2/
tPR says in most recent public letter that, though they're "unlikely to take ... action", Rule 76 2017 valuation
#USS
is about to submit is "at the very limit" of what they would find acceptable, as it involves "higher risk" than manageable for "tending to strong" covenant. 3/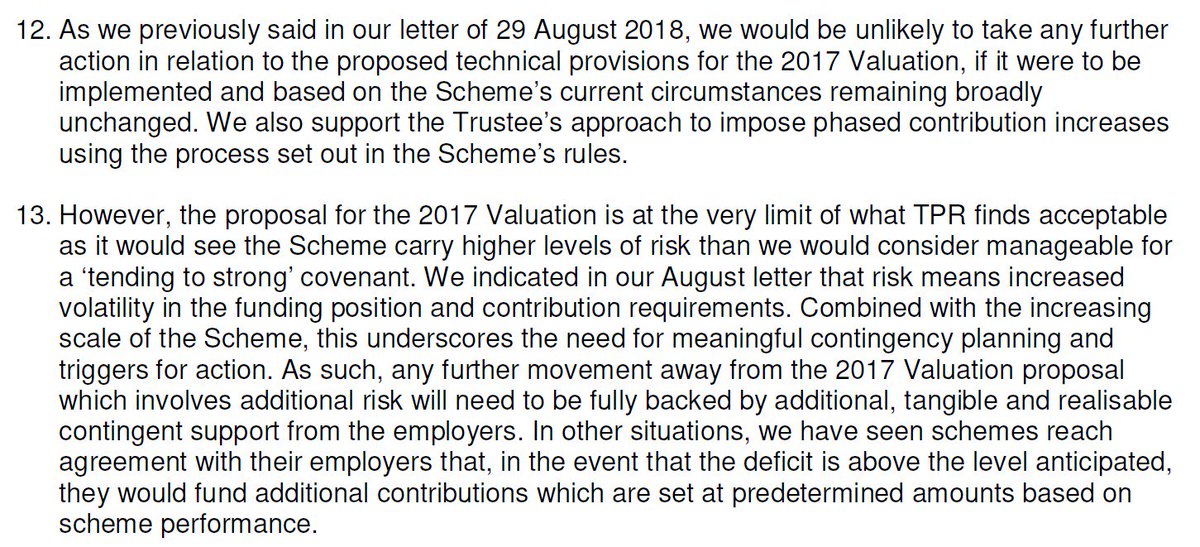 Full implementation of JEP recommendations includes postponement of consideration of introduction of triggers or other contingent support till next valuation.
5/
Though a case could be made that
#USS
should submit a valuation w/o any triggers which clearly flouts tPR's letter, it's clearly not "unforgivable" of them to attempt to accommodate such clear tPR guidance.
6/
I also think Sam's claim that "USS seem eager to please tPR" is contradicted by the fact that USS is proposing a valuation that assumes a "strong" covenant, in spite of tPR's claim that they continue to regard the covenant as "tending to strong".
7/
tPR also said they regarded Sept 2017 valuation as at the limit of acceptability for a strong covenant. That valuation included automatic triggers. It also failed to incorporate two further JEP recommendations, re £13 bn reliance & 6 yr smoothing of future service.
8/
Given their effect on the discount rate for past accrual, incorporating both 10 yr delay in de-risking & £13 bn reliance would clearly give rise to a valuation beyond tPR's stated limit for USS 'strong' covenant, esp if automatic triggers rejected.
9/
Pushing for such improvements is what
@Aon
's letter for
@USSEmployers
, co-authored by
@kevinwesbroom
recommends. The letter suggests smoothing of future service as in lesser conflict w/ tPR guidance than increase in reliance or delay in de-risking.
12/
This is part of an attempt to get the increase in contributions down from 3.7% to the 3.2% that employers have also accepted on a 65:35 basis, via means that tPR might be able to live with (even if they declare it beyond what they deem acceptable.)
13/
Given the clear statements from tPR about the need for contingent support, Aon is also trying to find a form of automatic triggers that both tPR & employers will be able to live with. See this thread for more on Aon's advice 👇.
14/
I have yet to see a convincing case for rejection of Aon's approach & instead insisting on nothing less that USS acceptance of JEP recommendations in full, including no automatic triggers for this valuation.
15/
What I'm instead seeing is the construction of a caricature of the
#USS
in-house team as the villain.
16/
I say this even though I have been & remain highly critical of
#USS
executives (e.g., their "large and demonstrable mistake") & the composition of the board. I stand by the following:
17/
In spite of all their flaws, it is not "unforgivable" or even unreasonable of
#USS
to refuse to submit a valuation that goes far beyond clear tPR statements regarding the limits of what they would find acceptable. 18/18
Re
@felicitycallard
's claim 👇 re "intransigent"
#USS
exec & trustees, for reasons I mention 👆, I don't think failure to accept JEP in full implies USS intransigence. BUT...
1/
...if
#USS
fails seriously to engage w/ Aon's recommendations on behalf of
@USSEmployers
& refuses to make more than trivial adjustments in the light of them, THAT would clearly demonstrate intransigence. Things to pay attention to:
2/
a. Lack of any lowering of lowest bookend +3.7% contributions down to JEP-modelled +3.2%, e.g., via smoothing future service and/or DRC outperformance 👇.
3/
b. Failure to accept & act on Aon's sensible statement that "Contingent Contributions will be more credible if they apply in more extreme scenarios rather than business as usual variations;..."
4/
Aon has spelled out a highly reasonable "approach that all stakeholders (employers, members, USS Trustee, TPR) can live with given their different points of view".
5/
They are not banging their fists on the tables and insisting on acceptance of JEP in full, no matter how out of line with tPR statements in their letters re the valuation.
6/
If, in spite of all this,
#USS
refuses to budge in the manner of a & b, that will be a clear indication of intransigence on their part.
7/7