Several other division heads at Glencore are also stepping down including those running the copper & agricultural divisions. Both of which also face corruption allegations in various parts of the world!
Does this mean they are getting close to Glasenberg?
reuters.com/article/us-gle…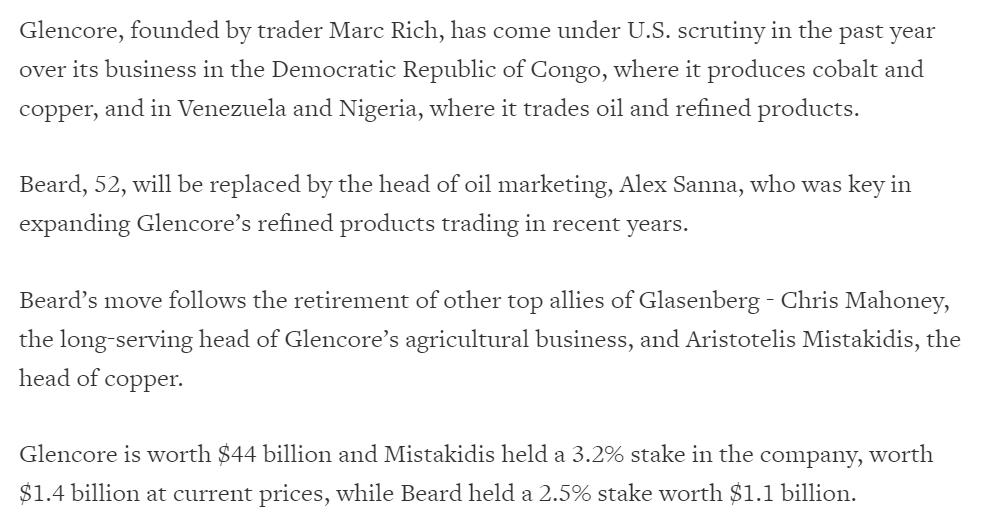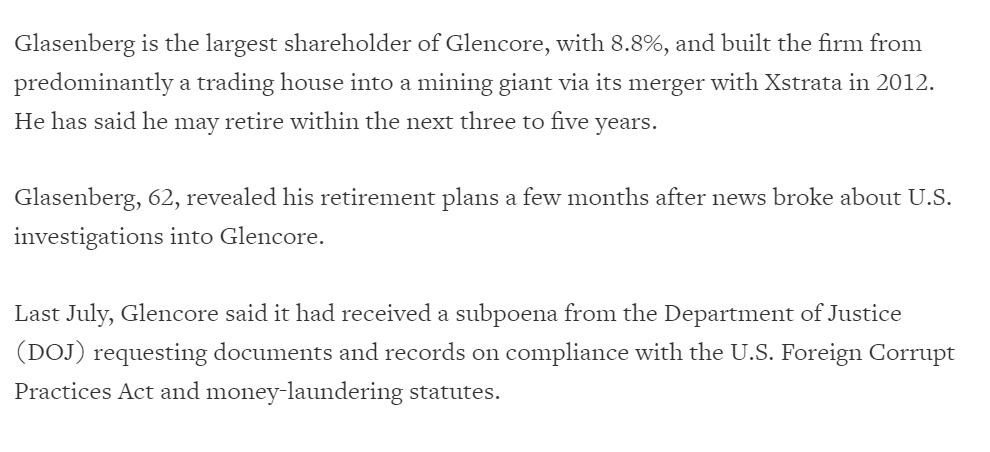 Glencore long served as the middle man for corrupt deals between commodities companies like global oil companies & the dictators & state run oil companies in 3rd World countries that had the oil. They then expanded into just producing the energy itself...
thetimes.co.uk/article/glenco…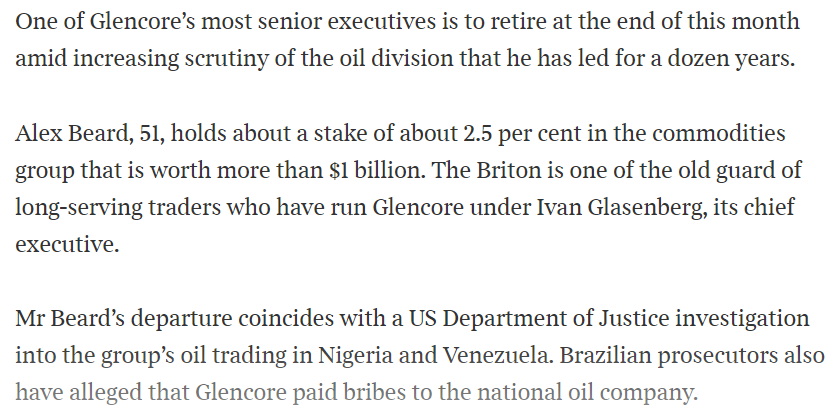 There are a large number of investigations currently targeting Glencore. They have been in the crosshairs since about 2014, when the FBI started handing over the receipts from Swiss banks to a variety of countries like Brazil...

Glencore & Marc Rich helped plunder the assets of the former Soviet Union, putting up cash to support the oligarchs in exchange for a cut of the corruption. They may even tie into the same networks used to U1 payments...

Glencore was also the middleman & partner to Qatar in buying a huge stake in Rosneft, the Russian energy company. This was the sale allegedly offered to
@carterwpage
but was really going to these friends of the Swamp.
The Gambia corruption case is big enough that someone assassinated a retired French spy on French soil after he confessed to involvement in an assassination plot against a Gambian opposition figure.
#AssassinatingTheAssassins
Shell & Eni are currently on trial in Italy for their roles in Nigerian corruption that also included Glencore as the middleman in some of the deals.

Glencore also played a major role in corruption in the Republic of Congo & is one of their 2 largest debtors...

Some of of these cases even tie directly into lawyers within the Clinton circle of friends. Not to mention Bill Clinton pardoning Marc Rich on his last day in officer while Rich was still a fugitive.

Marc Rich & Glencore have made a lot of money over the decades by violating sanctions against rogue states. Libya, Iran, Iraq & many others!

Even the UK has joined in, hitting Glencore with a bill for $680M in tax evasion!

I don't have a thread on it, but Glencore's Agricultural division has been implicated for a variety of corrupt activities including the "Oil for Food" program & the U.N. food program where they got the contract to provide food to various poor countries, at an excessive rate...