So in last few days, both Russia & China have been flooding the US w/ digital propaganda, looking to hijack the nationwide protests/violence for their own agenda.

There's a lot to unpack here. Giddy up.

<<cue thread>>
Let's start off w/ the basics. Since May 30,
#GeorgeFloyd
#BlackLivesMatter
& other US-related hashtags have become a mainstay of official Russian/Chinese
@Twitter
activity. Here's the top 10 most-used hashtags. See a trend?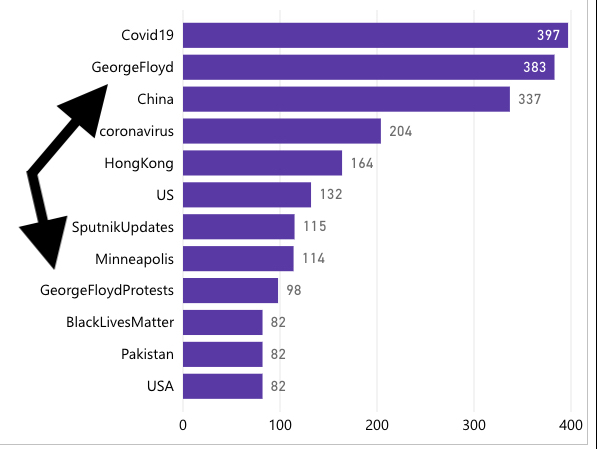 @Twitter
And it should go without saying that the US has now surpassed China in the country getting the most mentions, collectively, from Chinese/Russian official Twitter users.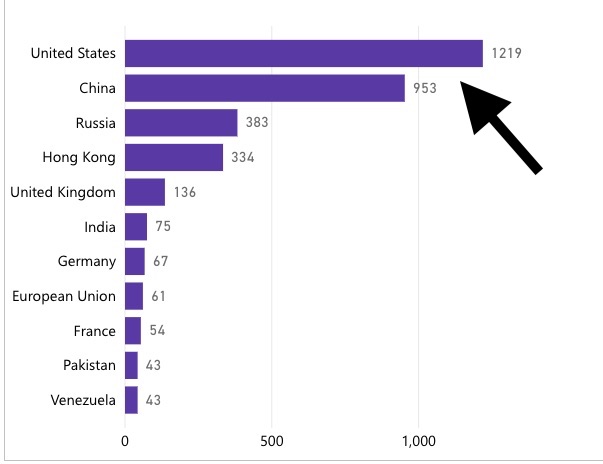 By official Twitter users, I'm talking official embassies, ambassadors, media outlets — pretty much any official govt-linked accounts, including those media outlets that have (mostly) Kremlin links, more on that later
Let's be clear here. This is Russian/Chinese activity linked to the US protests. And sure, you could say some of this is coming from state media outlets & it's the biggest story in town right now (even outdoing the
#coronavirus
)
But these are Chinese/Russian official accounts we're talking about here, so it's not like it's independent media. It's specifically linked to govt messaging coming from Moscow & Beijing. Politics are all over this.
So what are they tweeting about, I hear you ask? Well, let's start off with the most retweeted message (from
@redfishstream
, which is backed by Kremlin). So far, this has 3.2k shares & 5.5k likes
And then there's this from
@ActualidadRT
, also Kremlin-backed media, in Spanish: "They hit you w/ a truncheon & accuse you of attacking them." More than 50 years ago, Malcom X accused US police of mistreating African Americans. Hs the situation changed?"
This is a trend you see from both Russian & Chinese accounts (particularly Chinese): tweet Russian-backed media outlets to say things that are more provocative than you would be willing to say on your own. RT doesn't mean endorsement, amirite?
But then you have
@SpokespersonCHN
, spokeswoman for China's foreign ministry, who tweet "THUGS & HEROES HYPOCRISY" along w/ this
@RT
content on May 30
That came the same day that she retweeted
@statedeptspox
w/ the "I can't breathe" attached, which has become emblematic of the
#georgefloyd
protests
Just going to let the irony settle here of a Chinese official using the words "I can't breathe" w/ what's happened across China in recent months/years. But I digress
Across the board, a pattern emerges — efforts to promote a line that 1) the US is on flames (it is, so yeah…); 2) the US is divided more than ever (ditto); 3) The injustices are there for all to see; 4) The US should not be throwing stones from its glass house
Final outshout must go to
@libijian2
, Beijing's consul general to Karachi. He's an avid retweeter — particularly when it comes to undermining the US. This morning he retweeted this from
@CGTNOfficial
To be clear, that's a Chinese govt official calling out US police for "excessive force."

The world we live in.
Rant over. Thoughts appreciated.
PS: HT to
@SecureDemocracy
for their great online social media analysis tools that I used in my initial analysis. It's really good, take a look:
bit.ly/32zqwVO