DYC J begins by interjecting GSank to say one does have multiple identities but Aadhaar does not destroy those identities. As a father or a husband, of one's citizenship etc.
GSank: Aadhaar as a number who identifies me as a beneficiary of a subsidy, benefit or service.
GSank: I support Aadhaar because of the safeguards and pillars on which the Act stands. But 139AA takes away those.
GSank quotes Madhu Kishwar on something related to identity ( will give the reference shortly) and is now reading Justice Kaul's opinion in Puttaswamy.
GSank: Aadhaar has none of the dangers. And jokingly quotes the linke in Dwivedi's profile as outed recently here on twitter about his cricker career. Jokes how noone could find if Dwivedi was a batsman or a bowler. And states he was an opening batsman.
CJI asks GSank if there is no mass surveillance through Aadhaar.

GSank concurs and says there is no mass surveillance because of Aadhaar. The privacy concerns are valid. But the Act passes all the tests laid down, he states.
GSank: Aadhaar Act makes Aadhaar number a pure entitlement and does not make it mandatory.
GSank: Section 4 clearly says aadhaar can be used as proof of identity..and does not say that it shall only be for purposes of this Act. Section 57 is therefore not really required.
GSank: Section 5 enjoins UIDAI to take special measures for vulnerable groups. It shows there is an element of discharge of obligation by the State. Section 7 is also a beneficial provision.
GSank: Even if someone does not have Aadhaar, obligation on the state to identify, because right to identity is a 21 right, which is why Section 7 is worded in the way it is. Recognition of identity of every person is an international obligation.
GSank: Cites multiple European and US cases on right to identity. Cites a European judgment that upheld a dutch couple's right to change the surname eventhough it was disallowed in the Netherlands.
DYC J asks GSank to counter the Petitioners' contention that making aadhaar as the only identification mechanism is being mandatory.

GSank says answer is in 266 (3) of the Constitution. Says it has to be in accorance with law. Government will have to discharge...
...that onerous obligation to secure public funds and that is why Section 7 is reasonable.
GSank: But the government argument on trying to argue that Section 7 is in furtherance of FRs is a flawed argument on many counts.
GSank: Once you are already identifying beneficiaries under laws, there is no question of FRs. It is only a directive principle.
DYC J: right to nutrition.

GSank: it is only a negative right in the sense, you can file a 32 petition asking Govt to not interfere with your right to nutrition...but cannot file a 32 petition asking to be fed.

DYC J: There is also a positive aspect in the sense, ....
.... it confers reasonableness on State action in furtherance of such a right. It creates a judicial restraint to that extent.

GSank agrees.
GSank: Next point is his concern on Aadhaar becoming the universal idenification and all other POI documents becoming irrelevant.
GSank: But he says allowing 18 POIs and make it available for all residents make the absolutely foolproof identification claim of the government doubtful. That needs to be had in mind in deciding proportionality. Aadhaar is also only as secure as any of the 18 POIs.
GSank: Aadhaar Act has that balance because of the limited purpose in Section 7. But 139AA of IT Act does not have the balancing. Stresses how mandatory aadhaar for purposes other than Section 7 is manifestly arbitrary
GSank: this limitation of purpose is important right at the threshold at the time of enrollment. I understand prior to the Act, the enrolments may be on problematic ground, but this Court ought to take a pragmatic view of it..given public money has been spent etc.
GSank: the balance in Aadhaar Act ...and it makes it reasonable and proportionate only if Aadhaar remains voluntary for purposes other than Section 7.
GSank: Reiterates DPSPs and how the fundamental obligation is on the state and that gives the balance for Section 7.
GSank: Comes to proportionality. Says least restrictive test does not apply because proportionality deals only with balancing. Also says embedded cards are less secure than CIDR because people could mis place the cards. So it is reasonable for any given person to choose to...
...entrust CIDR rather than oneself.

GSank: Security is an object of the Aadhaar Act. That and legal safeguards and creation of offences are good balancing factors for proportionality. However challenges Section 47 which falls foul of natural justice.
GSank: Reiterates how Aadhaar Act is in furtherance of DPSP but not 139AA. So 139AA has to go.
GSank: There has been hubris by authority in their security levels etc. One is not entirely sure. Even encryption level of 2048 bit assymetric key is not the best in class.
GSank: Shows auth history of CEO UIDAI and shows how he does not trust biometrics and has locked his biometrics.

Rakesh Dwivedi clarifies he has only been testing.

Bench rises for lunch.
Post-lunch hearing resumes. Rakesh Dwivedi objects to GSank arguing against 139AA given his IA not being issued notice etc. Bench overrules that objection. Gives GSank 20 minutes to argue.
GSank says Government has to flush out the big holes in terms of security and exclusion and authentication failures before rushing everybody in.
GSank: Safeguards under Aadhaar act are in addition to Section 43A and Reasonable security practices Rules under IT Act.
It Rules under IT Act apply, then informed consent required when Aadhaar is used for purposes outside the Aadhaar Act. Also opt out.
GSank comes next to interpretation of Section 57. Because 8 applies, informed consent is a necessary precondition therefore no question of mandatoriness in 57.
GSank next challenges Section 8 (4) where "any other appropriate response sharing identity information" is provided. Says this is a privacy violation that has no counterbalancing state interest. Even address may be a private matter. Why should that be given to a KUA.
GSank: Next argument is that Section 29 violates RTI Act.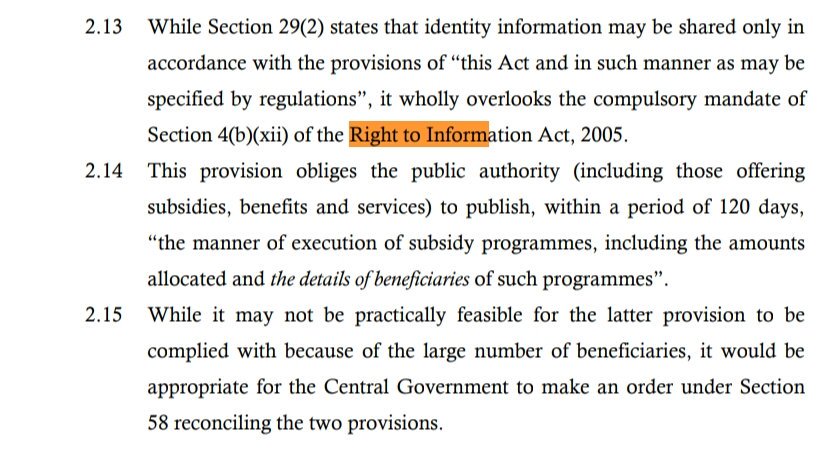 Next challenge is on Section 139AA on multiple grounds.
Among other points that he quickly runs through, he says the data is with the government and government has to discharge the burden of reasonableness by showing that data.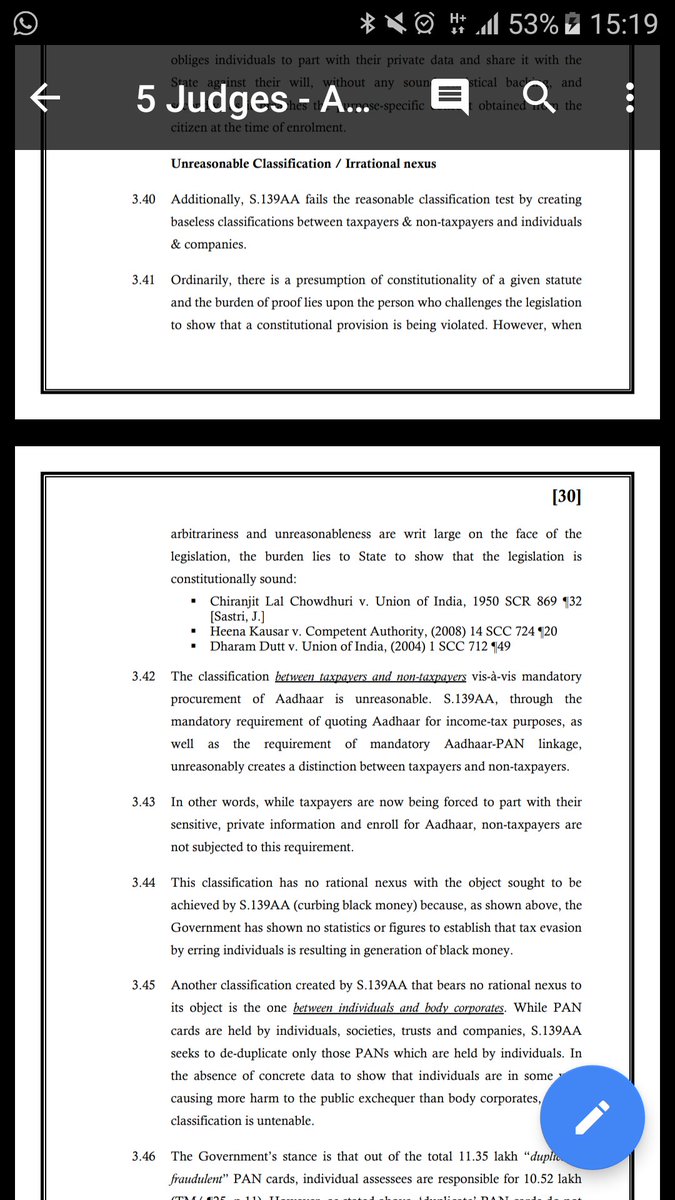 Gsank concludes with saying how there have been a number of incidents that cause a trust deficit with the state and petitioners grounds are all valid grounds.
Neeraj Kishan Kaul, senior advocate, begins arguments for Digital lenders association and other businesses who claim that they have built businesses around aadhaar.
He says free flow of information necessary.

Cites how banking correspondents have empowered the poor. And empowered women and have helped migrant labour.
Cites yolo bikes example where insurance premiums a lot lesser if there is aadhaar verification of the hirers. Insurance companies demand the same.
DYC J asks NKK of Section 57 and the compelling state interest or compelling public interest.

NKK says he only wants Section 57 to be voluntary by consensus.
For example, microfinance etc. aadhaar is critical. Through kirana shops and BCs.

DYC j asks why they need Aadhaar's central authentication.
NKK: Aadhaar already exists. An effective way and a cost effective way. Why should we not be entitled to use it?
Bhushan J: Who is stopping you now?

NKK: We want to make sure we are heard before you make observations on 57.

NKK: the central info in aadhaar is very minimal.
NKK: Aadhaar very different from cambridge analytica. Statutory control. No learning algorithms etc.
NKK: All that we want to say is that if there is a powerful tool of identification, pvt sector must be allowed to use it.
NKK: info that comes in ekyc is actually collectible even dehors aadhaar. The problem is unauthorised sharing, which is a problem even outside aadhaar..no reason to strike down 57.
NKK: Now virtual id will be even better so no KUA or AUA stores the aadhaar numbers.
NKK: speculative possibility of identity theft will not defeat the statute.
NKK: Location of AUA or KUA is never shared with UIDAI. So surveillance does not arise.
NKK concludes. Zoheb Hossain begins his brief submissions for UIDAI.
ZH: Now thinking has developed that economic and social rights are enforceable. Cites Amartya sen capabilities approach and Martha Nassbaum.

Cites balancing approach again. All 21 rights have to be enforced.
ZH: Canvasses a weight theory in balancing proportionality.

In this case it is not balancing privacy and other rights...but interference with privacy with all other rights.
ZH reading Maslow hierarchy of needs.
ZH: Aadhaar is that infrastructure that helps progressively achieve positive duties of the State under article 21.
ZH reading from Sandy Fredman article on positive duties emanating from economic social rights.
ZH appeared for Maharashtra and UIDAI.

Bench rises for the day.

Hearing resumes on Wednesday, 2nd May. A-G will finish submissions that day including
Money bill and Lokniti order. (Me thinks: damage control from yesterday).