Since y'all are here for it here's another spoiler alert🚨: Bernie isn't running to be POTUS, he's running to shit on all the *real* Democrats who are running to be POTUS so that by the time 11/2020 rolls around you hate/distrust all of them & stay home or vote 3rd party instead.
Bernie's polling is atrocious and he knows it, so don't think for one second that he's jumping into this race with intentions of becoming the nominee of a party he STILL refuses to fucking join. He's only here to throw premeditated shit at the walls, just like he was in 2016.
He's gonna trot out the same fantastical bullshit and pander to the WWC who inflicted this disaster upon the country without the slightest hint of insight or irony. He's gonna flip the bird to marginalized groups who will be flipping it right back. We've all seen this movie b4.
IOW, the whole spoiler alert is Bernie's a spoiler. 🚨
We aren't going to let y'all forget. 💅🏾
Bottom line is prepare for the Bernie trolls, anti-Democratic propaganda and fuckery bc he still has yet to answer for the role his rhetoric (and mere presence in the 2016 Dem primary) played in helping Putin throw the election to Trump and he plans to do the shit all over again.
Bottom line is Bernie's already been vetted by the base of the Democratic Party aka the Obama/Clinton coalition aka women, POC, LGBTQ and reliable White allies, and he didn't pass the smell test. He doesn't stink any less today than he did then and nothing will unspoil him. 🤢
Bring that hot ass colorblind mess through the South again in this racist fucking KKK political climate and expect to have it rejected more forcefully than we did the last time. Reinvent yourself as a believably reliable ally (highly improbable) or don't even bother. 🔥
#protip
Bernie isn't going to just magically cease being intersectionally challenged and unreliable to marginalized people just because the Bros think he deserves another chance. His myopia for and fear of alienating the WWC leave very little room for courtship of the Democratic base.
Don't hold your breath waiting for Bernie to explicitly address the lasting socioeconomic consequences of institutionalized racism like this or to leave any oxygen in the room for the people who can.
Don't hold your breath waiting for Bernie to say anything other than WWC, millionaires & billionaires and identity politics over and over again, he's unwilling to acknowledge the racist underpinnings of US class warfare or empathize with the targets of the oppression he ignores.
To be even more frank, I don't care whether you call yourself a liberal, progressive or whatever, Black American voters are NOT going to let y'all take the easy way out of confronting systemic racism by pretending vulture capitalism can be fixed w/out dismantling Jim Crow. GTFOH.
For the cheap seats in the back...
This is yet again a concerted effort to muddy the waters of the D primary by unleashing a candidate and ideology that will assuredly repel the base but find fertile ground in the subset of miseducated White "moderates" who fall for race/sex tinged propaganda like flies on shit.
IOW there are a lot of people who identify as left of center and sincerely think that socialist economic policies can be successfully sold to the White electorate without a solid majority of them cringing at the mere thought of their tax dollars helping people they hate.
It's not that hard to sell pipe dreams of fixing all of America's economic problems without having to address the subjugation of marginalized people at the root of the issue because it's more comfortable for the people who benefit from it to deny, ignore and avoid it.
Bernie speaks to that segment of the populace that just wants to focus on economic theory without peeling back the white sheet or looking under the white hood to expose the bigoted barriers to equality. He speaks to the collective mass of defiantly unexamined White privilege.
This is also what makes Bernie (and any other 3rd party/Independent) so appealing to Putin and Trump by extension. The math is very simple, they already know how many voters they need to misdirect with propaganda and they already have an army of online trolls to disseminate it.
All I'm saying is don't act brand new or be surprised by the audacity of Bernie or the Bros when we've already been warned repeatedly by the intelligence community that their tactics and ideology provided comfort and cover for a fucking cyberattack. Stop denying history & facts.
Here's another spoiler alert 🚨, the GOP didn't bother dropping oppo research on Bernie in '16 b/c HRC was their fave punching bag for 30 yrs & the clear frontrunner. Without her in the picture they'll roll out the red scare and they have ample ammunition.
You're deluding yourself if you don't think Trump and the GOP are salivating at the chance to vilify both Bernie and socialism in general, or that the WWC he's so intent on wooing is highly susceptible to red scare hysteria.
en.wikipedia.org/wiki/Red_Scare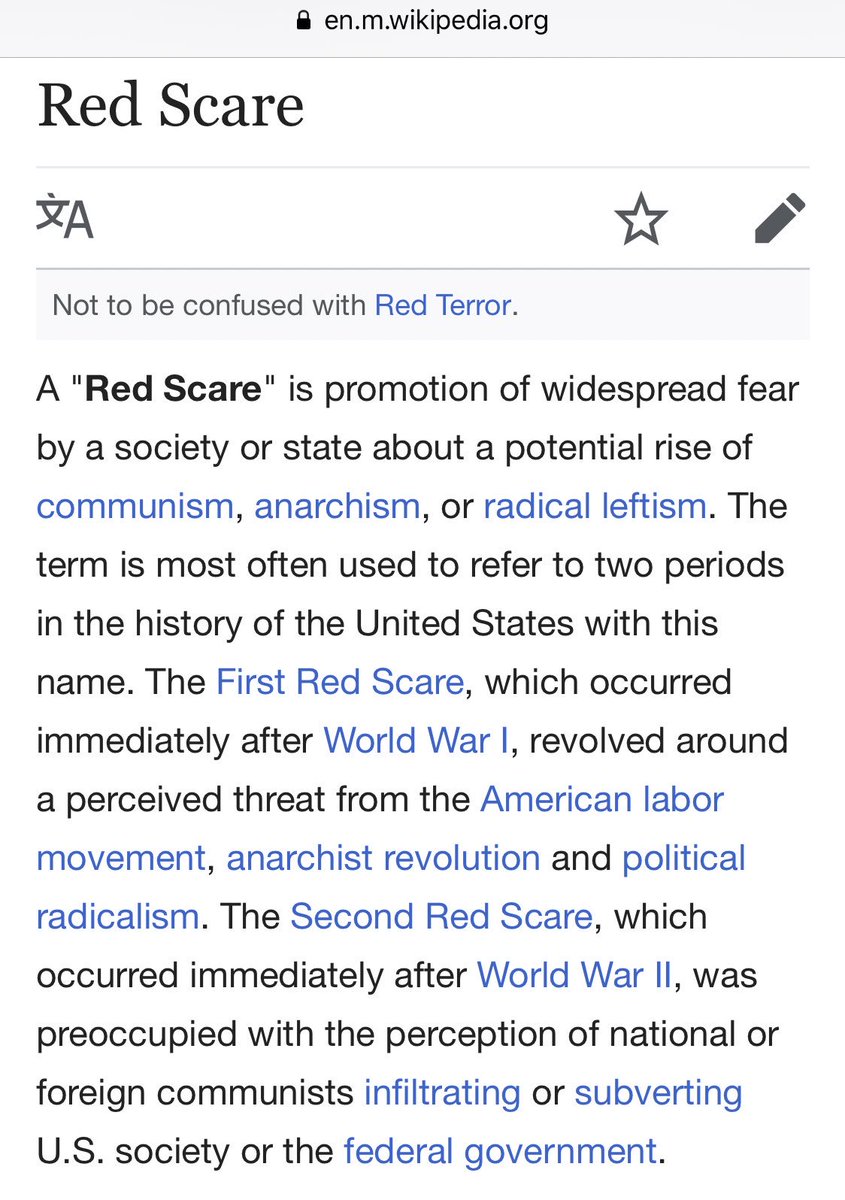 I recognize that these factors are incompatible with the magical thinking of the folk who claim Bernie woulda won b/c all the White electorate needed to reject Trump was an angry White guy socialist opponent but oh fucking well.
Deal with it cus your 🦄s are about to be tested.