OK. After vehemently arguing about it for days with
@FerdiGiugliano
(among others), time has come for a thread on what I think will happen in
#Italy
and what my view is on all of it.
1/
Short version: I think we're gonna get some version of a technocratic/national unity/scope government backed by PD, M5S and possibly FI deserters. And I think this is positive: it's not ideal, it doesn't spark joy, but it's the lesser of 2 evils we currently can choose from
2/
Long version: bear with me. Let's start from what happened. After getting literally everything he demanded from the government he's part of, League's leader Matteo Salvini suddenly felt unaccomplished and triggered a political crisis. Why now?
3/
Over the past days, many have made the argument that the League was pulling the plug because it was scared to be involved in the looming thorny 2020 budget negotiations. Reminder: 23bn to be found to stave off a VAT hike worth some 1.2% of GDP.
4/
This is a wrong. League is enjoying unprecedented political strength, polling at 38%. That's 2 pp away from governing alone. A coalition with FdI yields a comfortable majority buffer for what would be an ideologically coherent and internally consistent far-right government
5/
That makes pushing budgetary legislation through Parliament easy: : if the League is calling for early elections now, it is not because they are running away from the 2020 budget, but because they want to be the ones who get to write it.
6/
Wait - the argument goes - but isn't the 2020 budget a massive pain in the ***? what about those 23bn to find to offset the VAT hike? What party would want to put themselves through that, unless they have a death wish? I hear all that, but it's based on a misconception.
7/
Squaring the circle of the 2020 budget is a pain only if the government wants to offset the VAT hike through lower spending, rather than simply through more deficit. That has been common in the past although smaller amounts (see this from a paper by
@lorenzocodogno
and me) 8/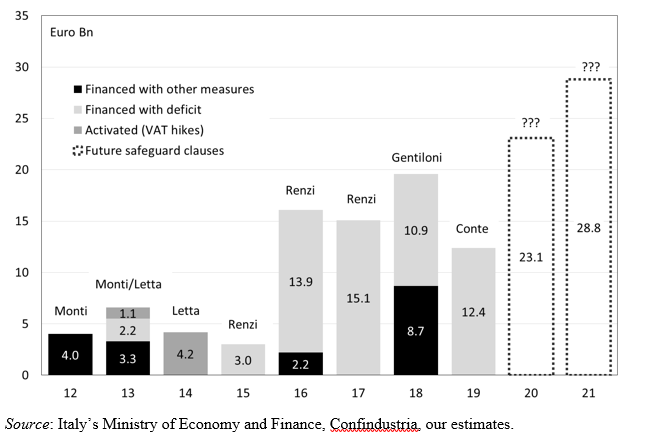 Lower spending would be the reasonable offset choice for a government to remain in good terms with BXL. Scrapping Quota 100 (which is worth about 5bn in 2020 according to
@upBilancio
) would certainly please BXL that never liked it 10/
ec.europa.eu/info/sites/inf…
Some more savings could come from scrapping the flat tax currently budgeted for 2020 (0.1% of GDP, according to the Draft Budget submitted in 11/2018). Citizenship income would most likely stay, but you could carry over to 2020 the savings from 2019.
11/
Overall that makes some 7.5/8bn savings. If EC will be OK with a headline deficit of around 2% as long as no structural deterioration, that gives some room to cover part of remaining VAT offset with deficit. Still not a piece of cake, but down to manageable numbers.
12/
What about the alternative far-right Eurosceptic League government? Matteo Salvini said yesterday his budget would feature "at least 50bn" in lower taxes (the cost of the full flat tax plan is 50-70bn). That is 3% to 4% of GDP, ON TOP of the currently budgeted deficit.
13/
Even assuming (harshly) that (i) RdC is dropped (make it 5bn) and (ii) Renzi's anti poverty measures are dropped (about 9bn), you are still left with some extra 9bn needed to offset the VAT hike. If you do it with deficit, you shoot to >3-4%.
14/
As a result you trigger the mother of all fights with BXL and, in a country with no growth and >130% debt, you likely trigger a crisis of confidence too. As a result you may quickly end up where MiniBOTs-loving League's economists want you: out of the Euro.
15/
A PD/M5S deal is far from my ideal of government, it doesn't spark joy, it will be uncomfortable for both and it may not be an electorally-savvy move. But it is by far the lesser of the 2 evils we currently have a choice from, and that is good enough for me. end/