This weekend is for me to celebrate. I recovered all my 3 years loss including corona. Let me tell my story. I was doing great till 2017 end. Was part of the small/mid cap rally and in nutshell paid SCG of nearly 3 lakhs. And then things turned around badly 1/n
Then from there I was part of the crash of small/midcap. Portfolio was fully into small stocks which cannot withstand the headwinds. I jumped from one stock to another like a monkey and intensified the loss.
2/n
Then came the election I decided to take advantage of the situation and to recover my loss, I indulged in futures and options during election time. my political predictions were wrong and made huge loss. To put into perspective, I cagr of my 13 years of market became 1-2%
3/n
Then then came the revenge part. Hell lot of revenge trade during July- September period of election year. All went wrong, I literally ruined all my gains and portfolio is into loss after being into market for 14 years.
4/n
During whole this journey I am/was cushioned by my Job and put my saving into FD and waiting for a correction. And then came COVID. I didnt exit my positions and my then folio loss was nearly 47%. but then I showed the courage to break my FD and "pump" during the carnage.
5/n
Now from where I got that courage. Thats 2008 story. I paid my one year salary to market in 2008 to get the courage😀.
Also I looked for odd wisdom and found
@BMTheEquityDesk
letter -
"If you are alive 60 days from now, you will regret losing" 6/n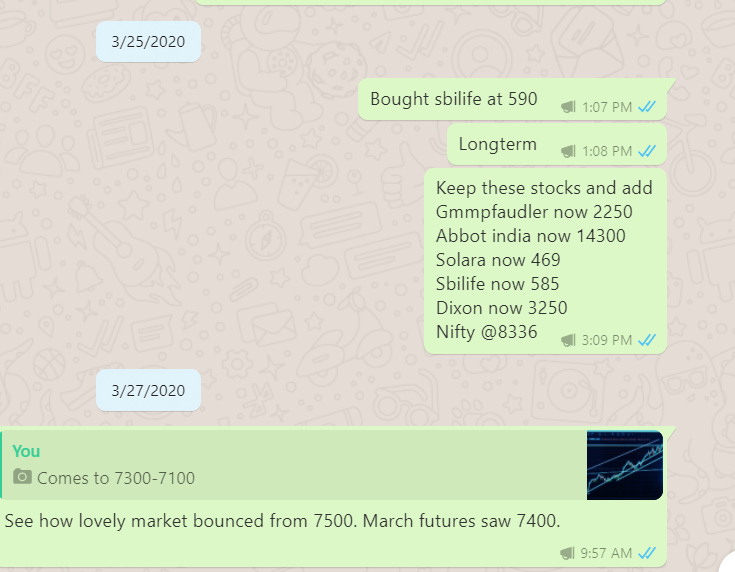 I got the courage/luck to pick the best ones.
#Dixon
#GMmpfaudler
and my 2 micro cap picks
#manoramaindustries
#neogenchemicals
and few others. Also restructured my folio by moving 50% of cash to nifty etfs. So happy to tell you that I recovered all my losses by this week. 7/n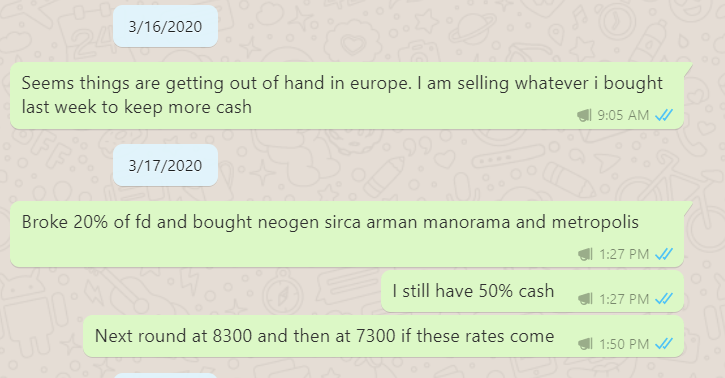 But I am more happy that I found that holygrail to move on and a well defined plan now.
#nifty
#Niftyfutures
#sensex
#investment
#trading
Thanks to whole twitter trading community and building the wisdom around us!! 8/8